In the previous article, we explored the importance of CRM, and today it's time to unfold its benefits so you can be sure it leverages your performance no matter the business size and industry. CRM, or customer relationship management, is a perfect tool to collect and store all the necessary information, monitor customer communication and marketing campaigns, expertly deal with rising issues, and improve sales rates. 
The benefits of CRM help companies find success. No wonder the software market keeps growing so fast: it's expected to expand at a rate of 14.27% from 2020 to 2027. In other words, a decently employed CRM system can be perceived as a variety of opportunities that might improve business metrics quickly and efficiently.
Benefits of CRM software to make your customer relationships better
Before learning about CRM system benefits, you should decide if they're really satisfied with the quality of current lead and customer interactions. To assist you, we designed this modest survey: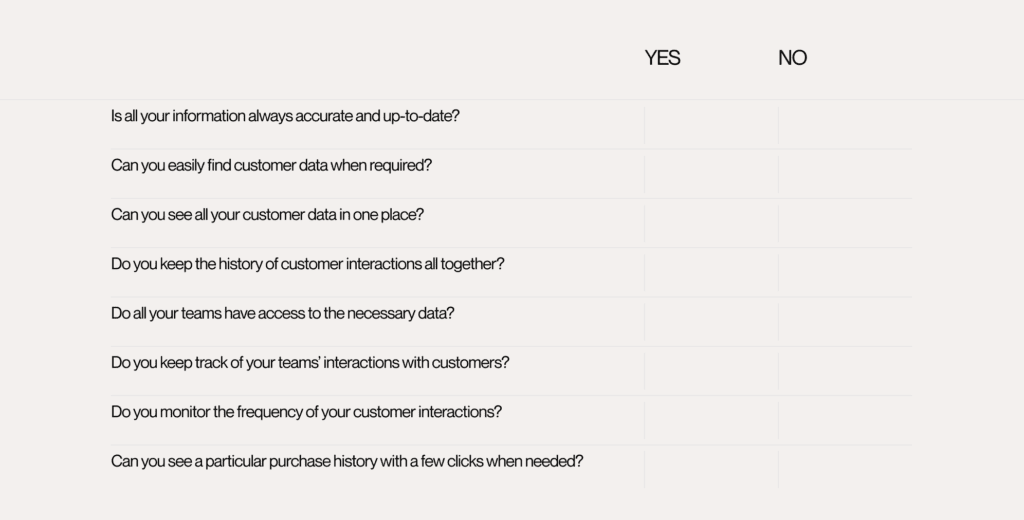 If you answered "yes" to all the questions, congrats! Everything seems to be already perfectly systematized in your case.
However, if not all your answers were positive, some parts of your management system might require a little more organization: optimized and consistent communication with clients can significantly influence your sales. For even better results, you can turn to integrated CRM systems; they are needed to merge your customer data with third-party systems to boost your profit as well.
But now, we have no less important topic to discuss. Let's look deeper into the main CRM benefits for businesses:

01 Closer business-customer relationships
The CRM system gathers and manages all the necessary information about your customers: from their age to the purchases they've already made. Such an approach provides the members of your organization with key client data, which makes it much easier to develop solid relationships with them and increase their loyalty. 
02 Boosted sales
It's only natural that opportunities to increase your productivity and, hence, profit come with closer customer connections. A CRM tool can also analyze the purchase information, automate certain tasks, and aid you in setting up a new sales process.
03 Segmented lists
To become really successful, you need to know your audience and their needs well. With CRM, you're able to divide your data into several categories and create segmented lists. It's particularly great for sales since this segmentation enables you to choose the right marketing campaigns to make your customers feel even more content. 
04 Customer retention
Finding and engaging new clients is amazing, but what about your loyal ones? It's vital not to let them feel neglected and to keep them happy. Luckily, CRM can manage this too.
For starters, it will help you remember your appointments and avoid getting them mixed up. Another major benefit of CRM is that it can be used for sending automated follow-up emails, which are especially practical when it comes to consumers that haven't been in touch for a while. In other words, it means better customer retention and the encouragement of their interest.
05 Striking analytics
We all know how important analytics is, but sometimes it's hard to use it most beneficially. That's where the CRM tool comes in with its embedded capabilities to divide examined data into actionable components, clarify and present them in easily understood metrics such as click-through rates, bounce rates, etc. 
06 Faster replies
There is nothing unusual about having tons of emails, phone calls, and any kind of text messages from customers, but how quickly can companies reply to all of them? That's a tricky question. 
As a rule, making your clients wait does no good. CRM is here to help you save both their and your time. For instance, it allows you to turn to automated email templates, newsletters, invitations, and so on. It means your customers will quickly get a response, which will make you stand out from the crowd of competitors. 
07 Data privacy protection
It's always better to be safe than sorry. Especially if we're talking about the protection of data privacy. A CRM system can also help you by gathering your leads and customers' permission to keep and use their personal information. This way, you'll also be able to control your clients' subscriptions to email newsletters and other notifications. 
08 Lead nurturing 
Potential customers and their nurturing are crucial to any company. With CRM, you can track all their journeys from the very first interaction, send automatic letters to spike their interest, and take certain actions to transform leads into actual clients when needed.
09 Automated reports
One more primary benefit of CRM is the opportunity to help your team members optimize their work. Thanks to CRM's reporting features, they'll be able to manage all the business processes, assess the efficiency, and appraise their progress towards the goals. 
10 Sales forecasting
Automated sales reports are a dream of many, but that's not all of it. You can also use CRM tools to recognize new trends and correct your goals to successfully adapt to possible future changes in sales cycle performance.
Of course, those are not all the benefits of using CRM. However, just these ones are enough to improve your overall work and make life easier at the same time.
What businesses can benefit from CRM
You won't probably be surprised to learn that businesses from completely different industries use CRM. If you have leads and customers, this tool will most likely be valuable to you, and if you have sales and marketing teams, even more so. 
The benefits of CRM software are helpful for companies that need to organize their work, track sales, simplify communication between various teams, and manage customer relationships. So, whether your business is connected to banking, retail, marketing, consulting, or anything else, you will definitely find ways to employ CRM to your advantage.
FAQ
How does a CRM increase sales?
One of the most important things when it comes to profit-making is the relationships with your clients. If you want to boost your sales, you need to prove you're acting in your customers' best interests and always consider their wishes. That's where you're going to turn to CRM.
With its aid, you'll ensure all your team members have access to a customer's journey, automate numerous tasks, and ensure no information gets lost. It'll enhance your productivity and make clients' experiences extra enjoyable.
Can a CRM solution help me find more leads?
There is no such thing as too many clients, so it's common for businesses to look for new ones. CRM allows you to see what exactly attracts them and how they interact with your products. You can use this knowledge to engage your leads and offer them specifically what they're interested in.
How will CRM save me time?
The importance of CRM is hard to overestimate. One of this system's benefits is exceptional mechanization processes, which reduce the number of things you have to do manually. And, hence, save you some time. For instance, you can automate the creation of repetitive email tasks, virtual address books, or any possible files and lists. You can also track recruitment and onboarding activities as well as your customers' behavior on a website.
How does CRM help customer satisfaction?
Here, the rule is quite simple: clients need your attention, and if you can't provide it, you lose. It can be really hard to manage all the interactions and not get anything mixed up or forgotten, and that's where CRM comes in. With organized operations and automated messages, none of your consumers will get left behind. In this case, they'll feel satisfied and appreciated by you.
On a final note
Employment of a CRM software system is an excellent way for businesses to grow and connect with their customers. It improves your teams' productivity and saves their time; it organizes and stores all the data in one location; and it contributes to a better understanding of your customers, which leads to closer relationships with them. If you're still not sure whether the CRM features and benefits are suitable for your business or need a helping hand, don't hesitate to reach out to us. We're always here for you.