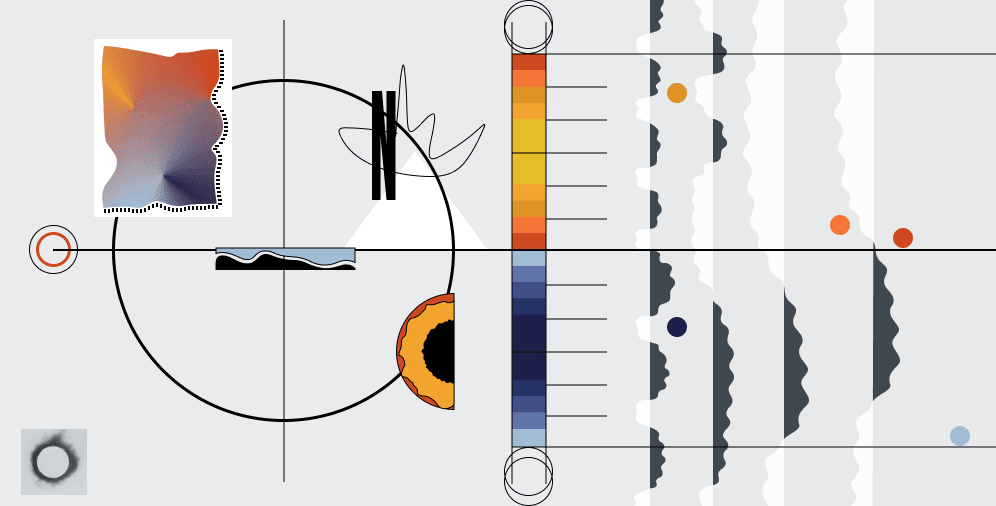 It has become quite simple to get and sell various goods and services with just a single click. But they are a part of something bigger – a business model called e-commerce. Let's take a closer look at this issue.
Everyone has at least once heard the word "e-commerce" and every year the interest in this phenomenon is growing rapidly. And this is not particularly surprising because it is extremely convenient, easy, and, in most cases, cheap to make purchases online.
After reading this article, you'll understand how it works, learn about an efficient ecommerce web design, its advantages and disadvantages, and what needs to be done to become successful in this business area.
What does the term "e-commerce" stand for
Electronic commerce or e-commerce denotes processes of buying and selling online. From the perspectives of the business owners, manufacturers, and suppliers, e-commerce is the promotion and provision of their services and goods via the Internet. From the customers' perspective, it's about choosing, comparing, and ordering.
Despite being relevantly young, e-commerce has already become one of the most powerful tools for many companies. It unites such global categories as online sales, e-banking, ticket and hotel booking, intellectual property, and digital services. Nevertheless, this list is not exhausted, as e-commerce is not going to stop in conquering the online market.
Depending on the target audience, e-commerce can be divided into various types:
B2B (Business-to-Business) implies commercial relations between two businesses (business interaction). The most common scenario is when companies make agreements for the delivery, sale, and purchase of goods or services.

B2C (Business-to-Consumer) is about the sale of goods and services, provided by the company (retailer), to the consumer. It's a sort of retail sale taking place via online platforms (stores, banks, etc.).

C2C (Consumer-to-Consumer) means sales between consumers. Such sales are conducted through popular online platforms such as eBay, Craigslist, Etsy, etc.

C2B (Consumer-to-Business) happens when the customer offers the company their products or services (mostly). Freelancers, photographers, designers are typical examples of it.

D2C (Direct-to-Consumer) is the newest type of e-commerce. The point is that the consumer can buy a brand avoiding any middlemen, which makes it different from B2C. So, here you buy not from the retailer, but from the manufacturer itself.
Knowing these types, the first thing you should do is to choose which one suits you best. But before jumping in with both feet and making a decision on running your business online, let's get acquainted with some facts on e-commerce that you may find interesting:
In 72%, free delivery motivates customers to make a purchase

77% of customers consider reviews before buying products

70% of products are added to the cart without the following purchase

96% of Americans has at least once purchased online

74% of customers reckon on social networks while making a decision to make a purchase

15 seconds – that's the average time customers stay on the website if they fail to find the products they need (then they leave)
See how e-commerce develops and influences the market? Now it's high time to study its advantages and disadvantages.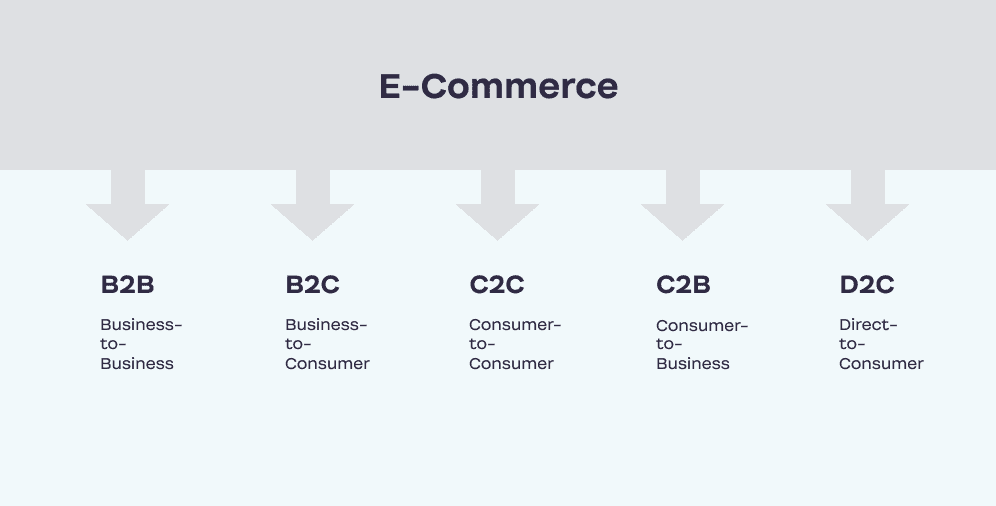 What are the advantages of e-commerce
It's cheaper to set up than a regular store
Taking place online, there is no need to rent any facility to open the business, which entails paying not only the rent of the premises but also utility bills, insurance, inventory, etc. Moreover, running the store online means that you don't need to hire a big number of employees. You can have just a few ones (or, in the early stages, you may even be able to do it yourself).
By the way, it's money-saving not only for the company. The customers also don't have to pay for traveling to your shop (petrol, bus tickets, etc.).
Receive 24/7 continuous income
Compared to ordinary stores which work from 9 a.m. to 5 p.m. (mostly), you don't have fixed opening and closing hours. That means that anyone working irregular hours or staying up late has an opportunity to visit your website and become your potential buyer.
Thus, by providing the customers with an opportunity to order or buy something 24 hours a day, you can earn money non-stop.
Get an opportunity to sell internationally
Conducting web business presupposes that you can do it on a global scale. In other words, you can sell your products regardless of your own or your customer's location. The only thing you should do here is to settle the question with the delivery and shipping (when it comes to tangible goods). What is more, selling online makes the process of putting your brand on the map much easier and faster.
It's easy to display bestsellers in your store
Bestsellers are products indicated by how frequently customers purchase them and how happy they are with them. Since brick-and-mortar shops can only show their bestsellers with the help of signs, posters, or a whisper of a shop assistant, the e-commerce store can demonstrate them as a separate category on its website, accompanied by customers' reviews and feedback. In the eyes of the users that means that these goods or products are trustworthy and proven.
It provides the maximum flexibility and speed
Remember standing in an endless queue because of rush hours or one cash desk opened? And if we add that it's summer and the air conditioning doesn't work? Let's increase the level of intensity: you have to take your kids from dance classes in 20 minutes. Sounds scary, right?
You can't face it in e-commerce. You can buy anything you want simply sitting on your favorite chair, or even lying on the beach. No rush, no panic, no inconvenience.
There is a less intrusive experience for users
Hardly anybody likes the situation of coming into the shop and being attacked by shop assistants with their "May I help you?" or "There is a 10% discount on this raspberry soap", and you don't even want this soap! In most cases, we prefer to make our choice independently, without anyone's "help", and here we observe one more advantage of e-commerce. In case of any questions or problems, the users have an opportunity to contact the support team, or simply look up the information in the FAQ section.
Get easy access to customer data
Most websites ask for signing in, or, at least, to fill in an application form to get the products customers need. Under these conditions, the company easily gets information on the users, their name, physical or email addresses, date of birth (so that you have a chance to congratulate them on or provide them with a discount), and so on. These things may help you in building good relationships with them and personalizing the user experience to the utmost level (which brings us to the next point).
Users get an individualized shopping experience
We are all different, and so are our customers. Compared to an offline store, which literally can't define a person's needs and interests at a glance, an e-commerce store easily provides such an opportunity.
Talking about potential customers, they can be provided with different categories of products and services to navigate fast. When it comes to regular buyers, then, according to their purchase history (or cookies as well), your website can even offer some products they might also like.
Moreover, remember that you may also personalize your website by showing prices in customers' currency, which will also be of help.
There's an easy way to redirect or remarket customers
Sometimes we are all facing the situation when we come to the shop and we've found something interesting or useful there, but due to some reasons (too expensive, no need for it right now, etc), we went away empty-handed, thinking that we'll come back later. And then, obviously, we forget about it. When it happens, we have no one to remind us of that several days or weeks later.
Fortunately, online stores have such an opportunity. They can add some ads to subtly show the users the products they've been interested in before. In such a case, they will have their time to think over and, finally, to make a purchase.
You have the ability to handle a big number of orders
One average shop has 4-6 cash registers (supermarkets, for instance). In most cases, 2 or 3 work at the same time. Just imagine these poor cashiers working without a break, processing orders and purchases, along with listening to grumbling impatient customers who are too tired of waiting. An unpleasant image, right?
Here we come to one of the greatest advantages in favor of e-commerce, which is the lack of limits on the number of orders that are processed and paid simultaneously. What is more, you don't have to wait till this woman in red buys a bag of chips and milk.
Visitors are provided with detailed product information
As a rule, along with the product, there always goes its description with the help of which process of choosing this or that product becomes not only easy and comfortable but also deliberate. Moreover, before buying online you can always google the product of your interest, study its reviews, and so on, to get a complete picture of the product.
Besides that, between reading unstructured (usually) information on the reverse side (with font size 5) of the product offline, and systematized information (having an opportunity to "zoom in/out") normally contained in the table of the online product, which one would you probably choose? Sounds more like a rhetorical question.
It's much easier to encourage an impulse buy
When you come to the shop you are guided not only by the list of goods you need, or money available but also by their weight (especially when it comes to women). Due to the lack of necessity to carry them home (they will be delivered), online shopping has the power to encourage people to buy more. This is one of several factors that can stimulate impulse purchases.
What is more, you can use catchy and attractive pictures of products or ads that may cause interest in these goods. One more factor is the trick with a time-limited offer (countdown timers). In this situation, users may probably not need this service or product, but subconsciously they will immediately start thinking about buying it, and there's a big chance to get an order from them.
Get an opportunity to scale your business quickly
When brick-and-mortar stores decide to add some products, they immediately face a variety of issues to solve. They need to buy additional stalls or equipment, hire more employees, and even start looking for a bigger premise. And all these matters are quite costly.
Since your business is conducted via the Internet, you'll have no problems or difficulties with enlarging your product line (at least in terms of the premises and stalls). The online store has no limits in square meters. The only thing you should do is to add new products with captivating pictures to your store and wait for the orders.
If you own a brick-and-mortar store, one of the most important things is its location. Ideally, it should be a place with huge traffic of people, more likely, city center (renting which will cost you a pretty penny). Having your store online, in its turn, means that you're not limited by the number of potential users or customers (as you're not restricted by geographical boundaries). In other words, your company is available for thousands of potential customers. You just need to invite them to visit your store.
Automation minimizes human error
We are all human beings and we are not perfect, which means that we can't avoid making mistakes while working at the cash desk or communicating with the customers. This is one more benefit of e-commerce as everything is automated and machines are deprived of bad mood or problems, as well as they can't get tired by the end of the working day. All these factors are reasons for possible human mistakes that can bring harm to your business.
There's a more affordable and effective marketing
Every business owner wants his/her brand to be well-known among customers and here comes marketing. If we compare with e-commerce stores, the promotion of brick-and-mortar shops requires much more time and investment: billboards, posters, neon signs, advertisements via TV, radio, and so on.
Meanwhile, the success of an online shop depends on more simple and inexpensive operations: advertising on social networks, popup ads, etc. By the way, the overall look of your brand also plays a big role (creative design, attractive pictures, custom illustrations, and fascinating content) as it becomes recognizable and popular.
You have a chance to grow your business naturally
Today many online companies benefit from having their own blogs (in the form of articles or videos), where they are not only helping their regular customers but also attracting new ones to the brand. This may be perceived as another marketing tool. But the main difference here is that it happens in your own ecosystem, thus you may save money (you don't need third parties) and increase the interest of potential customers in using your services.
Having reviewed the e-commerce benefits, it's time to proceed with its disadvantages as nothing in the world is just black or white.
What are the disadvantages of e-commerce
No sales in case of a site crash
When it comes to online companies, the only thing that you have is your website. Thus, when it crashes, your business literally stops working, nobody can buy anything, and as a result, you have no income. And that brings us to the conclusion that the e-commerce business is 100% dependable on web platforms.
That's why you should choose a reliable platform for running it. Don't choose according to the prices only. Those which offer you just cheap services will most likely crash all the time, affecting the work of your company. Among trustworthy platforms, there are Shopify, WooCommerce, Magento, and BigCommerce. Moreover, it's essential to always keep an eye on its accurate operation (react quickly in case of going down).
Users can't try stuff on before buying
When we talk about brick-and-mortar stores, we know that they offer their customers samples of products to see if they like them or not. Being offered products online, customers lack the physical ability to interact with them. Nevertheless, the impossibility of trying a product on is no longer a deadlock towards reasonable purchases.
Nowadays there's such a tool called augmented reality that helps customers to "touch" a product before buying it. What is more, there are some companies that tried to include the "free returns" function (if you try and don't like the product – send it back and get the refund), but such a way just leads to an increase in returns.
The e-commerce world is extremely competitive
Even before the pandemic, it has been a real challenge to earn your place in the sun, especially when it comes to the online market (which is growing every single day). Depending on the business sector, your company may face a huge number of competitors. And to become successful you need to be unique, creative, and accurate in everything you do.
In addition, if your e-commerce business is in a highly competitive niche, you have to make sure to invest a lot of money in ads and marketing in general to outstand the rest of the companies.
There are risks of long deliveries
Sometimes, while ordering products, the first thing customers are interested in is its price, and they can forget or not pay too much attention to the delivery terms. And here we may face one more disadvantage.
Compared to physical stores, where you pay and get the product immediately, online companies can't provide their customers with such an opportunity (if it's not something intangible). Moreover, a customer's package can be lost during the shipment or boundaries may be closed for an indefinite period. And in such cases, the customers won't at all or will get their orders with a delay. So, the only possible solution here is to be honest with the customers concerning the terms of the delivery.
Customers can be impatient
When it comes to buying online, customers, especially the inexperienced ones, may have various questions – from payment details to product quality, or delivery terms. And they expect a prompt response. While visiting the ordinary shop they are offered shop assistants' help straight away, which they get at the time of asking the question.
The physical presence is a great advantage of brick-and-mortar stores. That's why when conducting business online, you need to pay attention to the customers' needs. Create a support team with the help of which customers will instantly get responses to their queries.
Offline stores are still more popular than the online ones
Despite e-commerce growing so fast, there are still many customers who support the idea of traditional shopping (because of either distrusting in buying online or doing shopping as a hobby). That means that soon you won't probably see them among your customers. But there's also a way out.
The best option is to have both offline and online stores to cover all types of shopping lovers. This is what Amazon did. The greatest online shop realized this fact and now they are turning to brick-and-mortar stores too. And it also works vice versa. Nevertheless, it's quite an easy process for rich companies that have resources for such a modernization, as it results in big investments.
You may face security breach or credit card fraud
Risks are an integral part of any kind of business. The biggest risk for brick-and-mortar shops is that they can be robbed. When it comes to online shopping, in most cases, the customers need to sign in. That presupposes providing the company with their personal information, including but not limited to their bank details.
However, unfortunately, cases with hacking or information leakage are not so rare. Because of that, e-commerce companies should fully understand this kind of huge responsibility (and risk) they take. Security of the customers' data is the crucial aspect companies should always consider. Consequently, they should take all the precaution measures available to ensure the safety of the customers' personal information. Certainly, it will cost the company a lot, but the risk of losing the whole business is a good motivation, isn't it?
There's an obligation to register that restricts users' privacy
Continuing the topic on security, we should also note that due to the above-mentioned hacker attacks many people today are not fans of sharing their information through registration. And it makes clear why people are not eager to submit their addresses, phone numbers, etc.
No one wants their information to be disclosed to third parties. Especially in today's world, when there's even more lack of privacy, we need something to be strictly ours. The only thing the company can do is to offer the customers an opportunity to purchase as a guest.
Some products are difficult to buy online
There are some product categories that are difficult to be purchased online: jewelry, clothes, shoes, etc. These things are included in the following category as they need to be tried on before deciding on buying them or not.
Pictures and tables with sizes provided are not enough for the customer. Such things are hard to be chosen even offline, as it takes so much time not only to find the required product but its right size (not speaking about the price). Besides that, we can also add perishable products to this category that are not so suitable for e-commerce, due to their strict transportation conditions.
Users may be uncertain about the product quality
Despite being provided with a detailed product description and pictures, there's absolutely no guarantee that the product delivered will meet the customer's expectations. Even the availability of reviews cannot ensure that the customers will be satisfied with the order. It will still be a pig in a poke.
Here the company reputation plays the decisive role because if the store has never had cases with broken or spoiled goods delivery, or with delivering wrong products (not corresponding the ordered ones, or with a situation "expectations vs reality"), then you have more chances to get the order from uncertain buyers.
There's a lack of personal touch and real communication
This point denotes several aspects. The first one is about the lack of a chance to touch, smell, or taste products. For some categories, for example, perfume, food or furniture it's a big con, as these parameters are the most important for the customers.
The next aspect denotes the lack of interaction with the sellers/consultants, as they are supposed to be professionals who can give you advice on the product.
Besides that, we shouldn't forget about the fact that sometimes for customers shopping is a part of relaxation, entertainment or a chance to communicate with other people. Certainly, the companies have their support teams, but let's face it – nothing can be better than offline conversation when you see the eyes of your interlocutor.
You'll have to deal with tricky tax issues
Striving to become an owner of a global company, you need to consider the tax regulations of not just your own country but of all the countries and states of your operation (and these taxes differ from region to region). Because of that you should calculate and consider your prices reasonably in advance, as well as ensure that you comply with them, since conducting e-commerce business may become unprofitable. That's why this point may be regarded as the most critical one.
There's a whole set of legal problems to settle
Since an e-commerce store is a legal entity, to start running it, you should be fully aware of all the laws and regulations concerning selling and buying products. That includes not only your rights and obligations but also those of your customers.
In addition, there are a lot of differences between conducting business online and offline which you should consider as well to avoid unpleasant situations. Moreover, legislation systems are not so fast in their development compared to the technologies, and because of that sometimes companies create their own regulations (without the participation of the government).
Customers experience fear while purchasing online
One of the reasons behind traditional shops' popularity is the fact that there's no surprise element. Why should they be surprised, right? They can see, touch the product, and promptly get the information on it. So, there's no fear of choosing the wrong color, size, or material used. Besides that, customers are not obliged to give their personal data or credit card number to buy something. Moreover, they pay and get the product immediately without any delays.
They do almost everything by themselves, thus, they have this feeling of control, which they lack when dealing with online stores.
Bear high technological expenses
As we already know, e-commerce stands for electronic commerce. That means that everything here is done not only via the Internet but also with the help of computers and technologies that ensure continuous workflow.
To make that happen you need to buy good equipment, constantly monitor the updating of programs, software, and work with advanced platforms and servers only. All these things require large investments that not everyone is ready for.
There's no doubt that all companies need highly qualified employees. But if we compare the staff from the physical store and the e-commerce one, the difference in skills required is enormous.
When it comes to online shops, here we are talking about tech-savvy, experienced employees with rather high salary expectations, as at least the company's brand and income are in their hands. So, you need to be ready to pay them substantially. Furthermore, to stay in line with this highly competitive e-commerce world, you also need to invest in your employees' training.
Getting acquainted with the pros and cons, now you are provided with the whole picture of the e-commerce industry. Therefore, it's up to you to decide whether the glass is half empty or full, to run your business there or not.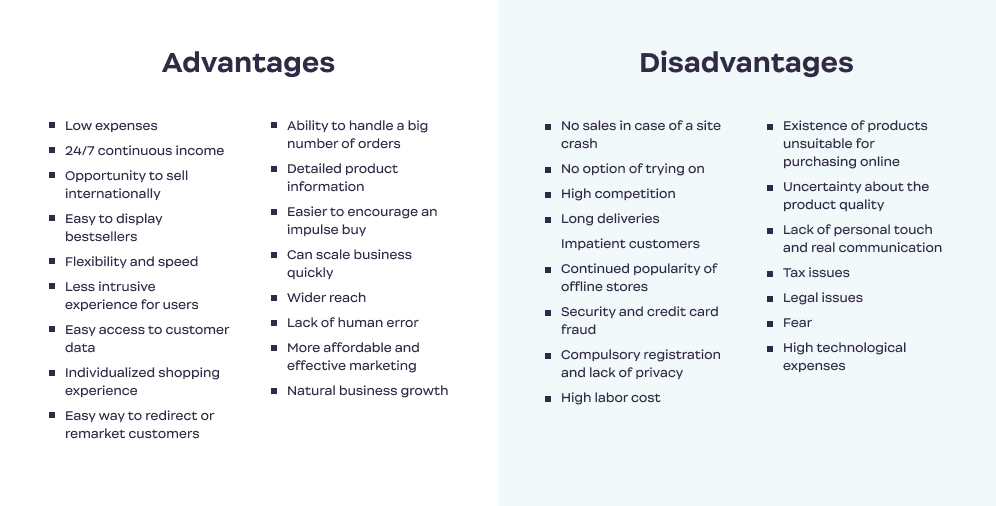 How to attract online customers to your store
Now let's imagine that finally, after the consideration of all the advantages and disadvantages, you've decided to start your online business. So, the legislative and taxation systems are considered, the successors of Bill Gates are hired, the website is ready, and the products are bought (made). But still, something is missing. What's that? Customers of course!
Like in any business, to make it work after the creation of the store itself, you need to know how to attract and retain your customers, and the information below will (hopefully) be useful.
The process of attracting customers may seem difficult and scary, especially when it comes to operating in the field of such a challenging market, but here we are to give you some tips.
Make the website fascinating and eye-catching
We judge the book by its cover, the same goes here. The website is the presentation of the company. Your store must stand out from the crowd. Be creative, use custom visuals, incorporate your brand style. Don't overplay it though. Don't forget that consistency is the key to ensure your recognizability.
Be guided by the target audience's preferences
If you have chosen to sell products for women or men only, or within particular countries, then you should be aware of the latest trends. This will help you to decide and include only things of great demand into the list of your products.
Provide the customers with the reviews
Before making a decision on purchasing the product, the majority of customers would like to know about the experience of previous customers. Moreover, some of them would also like to leave their own reviews. That's why you have to make sure that they are offered such an opportunity.
To promote and advertise your brand, don't avoid taking the help of such powerful tools as social networks. Almost everybody today has their accounts on Instagram, Facebook, and other outlets. Use it as a chance to display your products and services.
Such words as "discount", "free", and "special offer" have a magical effect on customers, and seeing these words will at least catch their attention. You may provide new customers with a discount for their first purchase, or the potentially purchased product may go along with a free one (it may be just a sample, but still it's free!). Do not neglect the customers' desire to pick up good bargains.
These were the most common but effective tips on how to attract and retain customers. Choose those that you like most, implement them into life, and enjoy running your business successfully.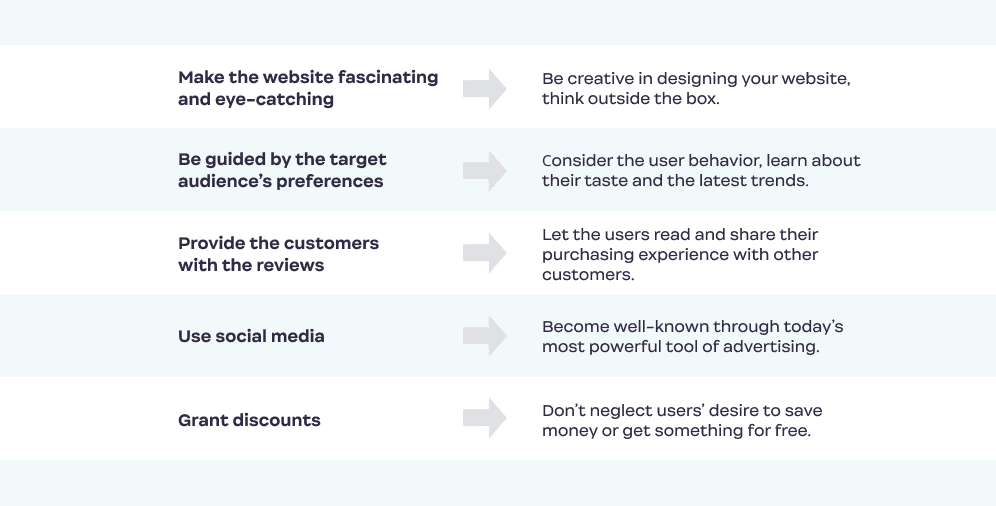 On a final note
In the article, our B2B website design agency provided you with the most crucial facts about this challenging but super trendy thing as the world of e-commerce. It has its advantages that make people think about starting their successful business there. But also we shouldn't forget about its disadvantages that may prevail for someone and be a major turnoff for operating in the field.
However, it's certainly a thing to be considered, and it's up to you to decide whether it's a suitable way for running your business. Anyway, we hope that you gained valuable insights on this topical issue.
Captivated by e-commerce but still have questions? Contact us and our Ester professionals will do our best to help you.