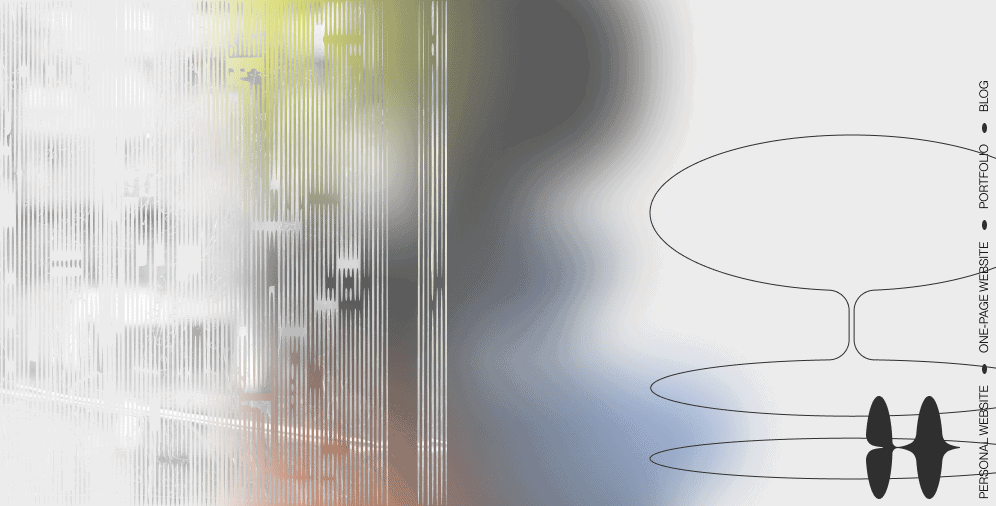 Without any exaggeration, people look things up on the Internet every single day. Whatever you do, you can find a lot of users interested in your products online, but you'll need an excellent personal website to become truly successful. 
Websites can offer you any type of information, products, or services. If you want to efficiently present yourself, get in touch with your audience, or boost sales, you have to own your online space. To get to the top, it's necessary to know how to build a website from scratch in the best way possible. So, how to make a personal website neatly and expertly even if you're not a pro at web development? That's what we're going to talk about in this article.
Why do you need a personal website
If you want to develop your own brand, show off your expertise in certain subjects, or simply become a part of a digital community, then a personal website is the best way to achieve these goals. Besides, there are many other reasons why creating a website is worth the effort. Here are our top 3 of them:
Whether you're looking for new customers, readers, or listeners, a properly built site will help you to draw their attention, make them stay longer, and prove your value.
As a rule, the more consumers know about you, the bigger your profit. Besides, a high-quality website increases your reliability and the user's trust level in you, which also results in better sales.
If you want to create your own brand, you need to ensure visitors will remember and recognize you. And what else can contribute to this than a website with a unique design and authentic logo?
Apart from all the things mentioned above, such a website will help you to stand out and give you a chance to show off your creativity and skills. 
10 steps on how to make a personal website
Now it's the perfect time to walk you through all the steps necessary to answer the burning question: how to build a personal website. Let's take a look at what you have to do to achieve the desired results:
01 Decide on your purpose
Do you intend to run a blog, post your recipes, set up a photo gallery, or demonstrate your web design portfolio to the world? Think about your site's purpose and theme. Consider how you wish to be perceived by viewers and the message you need to deliver to them. Knowing your exact goals will allow you to understand clearly what type of website is right for you.
02 Determine your audience
Normally, it's wiser to aim at specific categories of consumers rather than try to engage everyone. Since you're making a personal website, it's crucial to know who you are trying to reach out.
Are your followers around the same age as you? Do you share common hobbies? What could potentially interest them? Contemplate the answer before taking it further. All of your content should be created to attract users, after all.
03 Choose the type of your website and find a template
The next step you're supposed to take is to look through the website types. Depending on your goals and audience, you'll probably want to select one of these options:
— One-page website
If you're not ready to build something massive, start with a basic landing page. Tell your visitors about yourself and your ambitions, and attach the links to your social media accounts. Such websites are usually informative and simple, which is great for those who have no desire to manage a lot of complex technical pieces.
— Portfolio
Whatever your skills are, portfolios are a marvelous way to aptly show them off. If you're passionate about web design, photography, 3D animation, creative writing, or anything else, this is definitely for you. Prove your expertise and start working on a personal brand to get remembered and gain new admirers.
Fear not, even though similar websites often contain more elements than one-page ones, they are still not that hard to build, especially when you're employing the templates. 
— Blog
Lastly, we have blogs that require persistence and constancy from their owners. If you enjoy creating regular content and sharing it with your viewers, give this one a thought. 
You can make a website about yourself, your hobbies, work, travel, and so on to connect with the audience and find those who relate to you. Just remember to stay authentic and address the things you are genuinely interested in.
If you don't want to delve into the technicalities or hire a professional, you can turn to templates. They are quite easy to use for everyone, and all you have to do is to find the most suitable one. 
04 Customize your design
Next, you'll get a chance to flaunt all your creativity by customizing your own website. Remember that viewers judge what they see almost immediately, which means that design should be a demonstration of your skills. 
If you've already chosen a template that fits just brilliantly— great! However, there are a few extra things you have to consider.
Firstly, your logo. It's a critical element of your branding that is usually placed in the most visible parts of your website; for example, the main menu.
Secondly, a layout. The simplest approach here is to use templates that can be quickly transformed into ones that are ideal for your content.
Then we have a color scheme. How do you want your site to be perceived? Do you prefer it to be dynamic or calm, strictly professional or artistic, traditional or innovative? What feelings and emotions ought it to evoke in people? Don't be afraid to experiment with color combinations or apply a special generator tool to get the necessary results.
In addition, take time to find the best fonts. Try them out and see what fits your website better, or get inspired by looking through your favorite web pages once again.
05 Provide a clear layout
It's hard to appreciate a disorganized website with tons of text or images. When users see a cluttered web page, they're prone to leave without a second thought. To prevent this, ensure your layout is nice and consistent. It should also be highly intuitive and have enough white space.
06 Add your content
Here comes the fun. You'll need to establish what you're going to post and set up your first drafts. It's always better to prepare everything in advance, so don't miss out on this step and take care of the main sections of your site.
On the whole, there are a few components that are fairly common:
— Homepage 
The homepage is essential since it is the first thing users see. Make it clear and inviting to leave an immediate good impression. Present yourself and your mission concisely. 
— About me
The name of this segment speaks for itself. It's a detailed introduction of you, your background, and your talents, whose aim is to assist you in getting closer to visitors and reveal your personality. For resume websites, it's a brilliant opportunity to attach your CV.
— Image and videos
Even if you're building a personal website that has nothing to do with art, do not underestimate the power of visuals. Include photos of yourself working or simply smiling at the camera to enhance the audience's trust and ensure everything looks lively.
— Your achievements
You can share your best work by creating a showcase page or just adding the samples you love. It can be videos, images, written stories, or statistics and links. 
— Blog
Let's suppose you plan to publish articles or any notes on your blog. Regular postings attract attention and make people come back, which is incredibly important. So, keep in mind that you might want to write a few pieces before launching your website to not get behind on schedule afterwards.
— Testimonials
Nothing proves your credibility more than testimonials. It's crucial to include reviews or quotes about your work while also avoiding fake or overly flattering ones. Ask consumers for honest opinions and put their feedback on your site to look trustworthy. 
— Contacts
Finally, leave your contact information. It can be a phone number, an email address, or links to your social media accounts. Put it in an easily noticeable spot to provide your audience with easy access to it when needed. 
07 Regard SEO optimization
In good hands, search engine optimization is a way to positively influence your website's rankings and make it "visible." It's all about strategy, so you have to determine the key words and phrases that should be included in your written content as well as get all the technical work done.
08 Maintain mobile-friendliness
Most of us browse the Internet all the time, and not only on PCs. A lot of traffic comes from hand-held gadgets, and ignoring this fact isn't going to benefit you.
Modern websites can look equally amazing on any device, so always optimize your design for mobile versions too. Sometimes you'll have to make some changes, but the goal will remain the same — provide consumers with smooth navigation and well-defined content.
09 Gather feedback
There is nothing more important left than getting a second opinion. You can double-check everything to be certain that all the errors and broken links are gone. Once you're satisfied with the outcome, let someone else inspect it. Ask your colleagues for feedback, or create a small focus group of your friends and get their honest opinions.
10 Consider a few technical things and promote your website
In the end, you'll probably want to purchase a domain name and select a web hosting service. Determine your budget and do your research before making the ultimate decision, not to regret it later. 
You can promote your website by actively managing your social media accounts and sharing relevant links on them. Send newsletters to your subscribers and notify them about new content, or collaborate with bloggers from your industry and advertise each other's sites to increase the number of visitors.
On a final note
Creating a personal website isn't the easiest thing to do, but it's essential in raising awareness of you as a professional and your work. The most exciting part here is that you're in complete control over it and can still be yourself even on the web pages.
Whether you're interested in building an online space for a digital project, portfolio, or anything else, getting a website will give you opportunities to find and connect with the audience, show your talents, and achieve your boldest goals. If you have any questions or need a helping hand, don't wait to reach out to our team. We'll answer you ASAP.