There is a huge variety of businesses around the world, but enterprise owners want the same when it comes to customer experience: to make it as great as possible. While some companies keep focusing on the quality of their products and services, others ensure simplicity during the purchase process and work on advanced security.
Of course, it's always better to consider all these factors simultaneously, but there is still one more thing that could give any business a powerful boost — and it's neuromarketing. It's hardly surprising since understanding human behavior literally means you have the advantage of using the power of neuromarketing to build customer loyalty. But what should one know in order to apply it in web design successfully? We'll talk about it right here in this article.
What is neuromarketing
As a rule, consumers make a lot of their decisions subconsciously. With the endless number of options these days, it's not that easy to make a logical purchase. So, it's hardly surprising that customers themselves aren't usually able to tell the reason behind some of their choices. 
Neuromarketing is what studies those reasons and estimates consumers' responses to marketing stimuli. As Wikipedia claims, neuromarketing is a "commercial marketing communication field that applies neuropsychology to market research." In other words, it can be used to create highly effective marketing strategies and influence people's decisions about certain purchases.
Even though neuromarketing may be very beneficial, it's still quite expensive; not every company is ready to spend a solid sum of money on its newest equipment and technology. Still, due to the growth of neuromarketing popularity and constant marketing research, practices that are accessible without high expenses have already been found. 
Does neuromarketing always use neuroscience
To answer this question, we need to specify what exactly is meant by neuromarketing here. If we're talking about the use of neuroscience tools that help marketers evaluate business products, services, etc., then the question isn't quite correct. 
In the past, professionals actually turned to tools such as EEG and fMRI to measure brain activity. Today, the situation is slightly different. First of all, some modern tools (eye-tracking, facial coding) are considered to be behavioral in nature. Secondly, not all neuromarketing tools necessarily measure brain activity. For instance, there is measuring data like heart rate and so on.
On the whole, neuromarketers' purpose is to gain a deep understanding and prediction of the customers' behavior. Therefore, in order to comprehend them better, one needs to consider various fields of cognitive science, including psychology and behavioral science. It wouldn't be too smart to rely solemnly on a narrow group of technologies, and, hence, utilizing as many tools as possible is the best option. The science field doesn't matter that much in the end.
What is consumer neuroscience
Have you ever heard of consumer neuroscience and wondered what makes it different from the old good neuromarketing? Well, even if you haven't, you're going to get the answer.
To make a long story short, both terms are basically the same — at least, at the present moment. For some time now, "consumer neuroscience" and "neuromarketing" have been used interchangeably — but that was not always the case. 
In the beginning, university researchers didn't even acknowledge the term "neuromarketing" as it was associated with pseudoscience and had a bad reputation. In 2012, things changed. It was suggested to rebrand neuromarketing as consumer neuroscience and point out its neuroscience-based approaches. Since then, the usage of these terms has become more of a personal preference, and they both have been mentioned in various academic studies. 
Want to know how to improve consumers' experience and boost sales?
Contact us and we promise to disclose the secret
Explore
How to use neuromarketing to leverage your corporate website performance — solutions and examples
Once you decide you are ready to use neuromarketing in order to improve your website's performance, the "what do I do next?" question may appear. Yes, neuroscience can immensely help your business, but what exact solutions might it suggest, and how can they assist you? Let's find out and look at the actual examples to get a better understanding.
Decision paralysis
It's getting more and more common to stumble across racks full of goods in multiple sizes and flavors. Having a huge choice is important for customers, but can it always be considered a good thing? The researchers claim — not really. 
It turns out that the more options customers have, the harder it is for them to make a decision, which results in fewer purchases. Such a "decision paralysis" was proved by Columbia University's Professor Iyengar in 1955.
His team arranged a stand of various jam jars. They changed their selection between 6 and 24 jams every couple of hours and got a striking case in point. Even though most people were intrigued by the wide selection (it attracted about 60% of visitors, while the smaller stand interested 40% of them), only 3% of the larger selection's customers made a purchase. At the same time, 30% of the smaller selection couldn't resist buying a jar or two.
Interesting, isn't it? And the conclusion is quite simple: consumers often get overwhelmed with too many choices. So, if you want to improve your conversions, don't forget the saying "less is more" and make sure your web pages aren't too cluttered. Otherwise, your potential customers may get slightly frightened and leave your website too soon.
Color judgment 
Did you know that people tend to judge websites faster than their eyes blink? Yes, that's true. Subconscious judgments can be made within 0.05 seconds after getting on a web page, and that's why it's essential to create a great first impression.
If you're wondering what you should pay attention to, then the answer is — everything. All visuals matter, from small texts to large images, but the colors are what may tip the judgment scales in your favor.
As the University of Michigan's studies state, simple fonts are a great help in order to win customers' hearts. In addition to the carefully picked colors, it can significantly influence visitors and make them trust you more. For example, just look at this nice soft image with light colors that successfully transmits that this brand is undoubtedly about self-care, beauty, and self-confidence: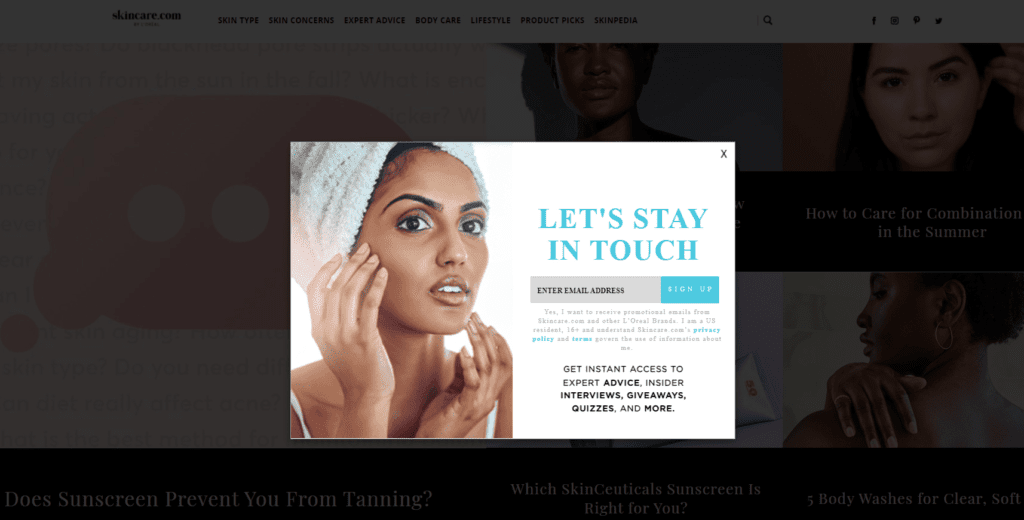 The right color choice can also enhance the level of your clients' trust. Thus, before choosing your color scheme, don't forget to decide what message you want to transmit through the visuals. Consider your audience's specificities and wishes as well, and you'll have no problems gaining their support. 
Sound games
We've established how important visuals are, but what about sound? Well, you won't probably be surprised by now to find out that it can also nudge customers to make a purchase. 
The group of English researchers David Hargreaves, Adrian North, and Jennifer McKendrick once decided to conduct an experiment in the wine department of the local supermarket and turned on French and German music by turns. Can you guess what happened next? 
That's right. French wines were bought again and again when French music was on, and German wines became more popular once German music was played. It does sound incredible, but the most curious thing about it was the fact that all the customers denied the influence of music on their decisions.
In neuro web design, you can also use this knowledge for your own good and add specific sounds or videos with the background music on your website to increase conversions and make visitors' experiences more satisfying. It may not be the most traditional way to achieve business goals, but it is still quite effective, so why not put it to work?
All these examples repeatedly prove that there are a lot of tools that can mess with people's minds. Apart from the things brought up above, we'd advise you to take into consideration the following factors:
the safety

of your brand (to trust it, visitors need to see ratings, social proof, reviews, etc.);

the speed

of your website (no one wants to wait a decade to pay for their purchase or update a web page).
These can be considered neuromarketing tools since they influence clients' behavior just as much as the previous ones. It's also helpful to try out different neuromarketing techniques with the intention of finding those that fit your business perfectly and bring it the greatest benefits in the long run.
On a final note
There is no sense in denying that neuromarketing, with its brain science-based web design approaches, is a force to be reckoned with. Thanks to numerous studies and experiments, it's now easier to comprehend the power of humans' unconscious impulses and influence clients' decisions when it comes to purchases. 
However, to use neuromarketing web design tools successfully, it's vital to stay reasonable. It's never a good idea to blatantly overuse such knowledge — we're all consumers, after all. If you're still not sure what to make of neuromarketing or need a helping hand, don't hesitate to contact our team. We're ready to answer any questions in no time.