Communication is a fundamental aspect of human nature, and as social creatures, we have an innate desire to share our experiences and ideas with others. The emergence of social media platforms has further amplified this inclination, providing individuals with a powerful tool to connect and interact with people across the globe. Creating a social media account not only offers a means to express oneself but also provides an opportunity to establish a robust digital identity and build a community of like-minded individuals.
For businesses, the benefits of social media are twofold. Firstly, it enables companies to reach a vast and diverse audience, facilitating the promotion of products and services to potential customers. Secondly, it offers a means to establish a personal connection with their audience, building trust and loyalty, and creating a strong brand image. Thus, social media has emerged as an indispensable tool for modern businesses, facilitating their growth and expansion in a highly competitive market.
The Power of Social Media Branding: Creating Lasting Connections with Your Audience
Social media, which was initially used for entertainment, has evolved into a powerful communication network that offers numerous opportunities for businesses to connect with their target market. From simple account operation to accessible analytics tools and powerful visual performance, social media provides brands with the perfect platform to establish themselves and engage with their audience.
However, social media branding is not just about having an appealing account name or posting suitable visuals and inspirational texts. It involves creating an environment where users can interact with the brand, understand its values through the content, and share their experiences. In other words, it's about building long-term relationships with customers that are vital for business growth.
Effective social media branding generates trust and boosts brand awareness without relying on desperate advertising. It's a natural and efficient way to cultivate customer-brand relations, and it brings impressive results when done right. Therefore, it's essential for businesses to understand the importance of social media branding and invest in creating a unique brand experience for their audience. By doing so, they can establish a strong brand identity and stand out in a crowded market.
The Benefits of Social Media Branding: Why It Matters for Your Business
Social media has become an essential tool for businesses to build their brand and connect with their target audience. By leveraging the power of social media, businesses can reach potential customers where they already are, establish a unique brand identity and voice, drive brand awareness and sales, and develop meaningful relationships with customers.
Reaching Potential Customers Where They Already Are
With millions of users logging onto social media platforms every day, social media presents a massive opportunity for businesses to reach potential customers. By creating a business account and sharing relevant content, businesses can connect with their target audience without employing elaborate marketing schemes.
Establishing a Distinct Brand Identity and Voice
Social media branding allows businesses to establish a distinct brand identity and voice. By using their brand name and logo as their profile picture and sharing content that reflects their brand values, businesses can create a strong first impression and build trust with their audience. Social media's versatility enables even the most complex ideas to be transmitted comprehensively, making it easier to communicate brand values and ethics.
Driving Brand Awareness and Increasing Sales
Social media channels are a powerful tool for exhibiting your brand to the outer world. By expanding your reach and highlighting your online presence, social media branding can increase your brand awareness and attract new customers. Positive reviews and tags from satisfied customers can go a long way in engaging new customers, and high brand awareness can positively influence your business performance by boosting sales.
Developing Meaningful Relationships with Customers
Social media branding is not just about pushing a product or service; it's about creating a community around your brand. By focusing on being more of a companion that is concerned with the users' needs and interests, businesses can create meaningful relationships with their customers. Sincere relations with customers urge them to be more loyal to your brand, and satisfied customers become your devoted supporters.
Building Your Brand on Social Media: A Step-by-Step Guide
Social media branding is a powerful tool for businesses to connect with their target audience, drive engagement, and build their brand. However, it requires a clear plan and consistent effort to be effective. In this step-by-step guide, we will explore the essential steps to building your brand on social media.
Step #1: Determine Your Target Audience and Choose the Right Platform
The first step is to choose the most appropriate social media platform for your niche. Each social media platform has its own unique features and possibilities, and businesses need to understand how they can benefit from them. For instance, Instagram is a powerful visualization tool, while Twitter is text-oriented. Defining the most appropriate channel of brand distribution is essential for building a strong social media branding strategy.
Step #2: Create a Consistent Brand Image Across Platforms
Once you have chosen the right social media platforms, the next step is to maintain consistency across all of them. Every touchpoint should be meaningful and conform to the overall brand identity you try to establish. Incorporating your brand's distinct markers, such as color palettes and logos, into your social media platforms ensures that users have a holistic experience when interacting with your brand.
Step #3: Establish Your Brand Voice and Messaging
Establishing your brand voice is crucial to creating a meaningful connection with your audience. Your profile name, bio, and mission statement should coincide with that of your brand. This helps initiate customer-brand communication and form the basis for future relationships.
Step #4: Humanize Your Brand to Deepen Interaction
Humanizing your brand is vital for creating a more relaxed and natural environment for your followers. Entertaining them with your story, sharing some valuable insights, asking for feedback, and encouraging them to enter discussions are all ways to deepen interaction and create a sense of community around your brand.
Step #5: Polish Your Content for Maximum Impact
Content is the foundation of your social media branding success. Before posting anything on your page, define the niche you want to disclose and dilute it with some valuable learning, entertainment, and inspirational pieces of information. Defining the style and color palette, adding impressive images or photographs related to the topic, and optimizing all images for better visibility, using #hashtags are all crucial for creating meaningful content. 
Step #6: Post Regularly to Build and Retain Your Following
Posting regularly is important for retaining your followers and attracting new ones. Create a content calendar, and decide what topics you can cover. Having a plan is better than meandering through the sea of possibilities. Consistent, regular posting may retain users and urge them to follow your story.
Step #7: Leverage Off-Page Social Media Benefits
Apart from on-page possibilities, there are external opportunities such as influencer marketing campaigns that can help broaden your outreach and amplify your messaging. Encouraging influencers to share authentic, sincere reviews about your products and services or creating some discount coupons or promo codes for their followers can bring crazy results and contribute to your brand's further extension.
Step #8: Analyze Your Performance and Adjust Your Strategy as Needed
Analyzing your social media performance is crucial for revealing pain points and deciding whether to alter your course or improve the existing one. Social media comes with a pre-built set of analytics, enabling businesses to measure their efforts and collect enough information to continuously improve and succeed.
Brands That Nailed Social Media Branding: Learn from the Best
All in all, building a brand through social media can be painful sometimes. But the following examples prove that it's absolutely worth it:
CHANEL
Being one of the top 5 followed accounts on Twitter, Chanel continues to expand its influence across Instagram, involving millions of followers worldwide. Though the social media strategy hasn't been integral to the fashion house's success, still, it's the most vivid example of excellent social media branding. Its Instagram page looks stylish and leaves a memorable impression even on those who're not into fashion at all. Consistent design, unique content layouts, and impressive visuals create a powerful brand identity that is highly distinguishable. Being a part of such a delightful environment is more of a pleasure. And that is what makes Chanel's social media channels so outstanding.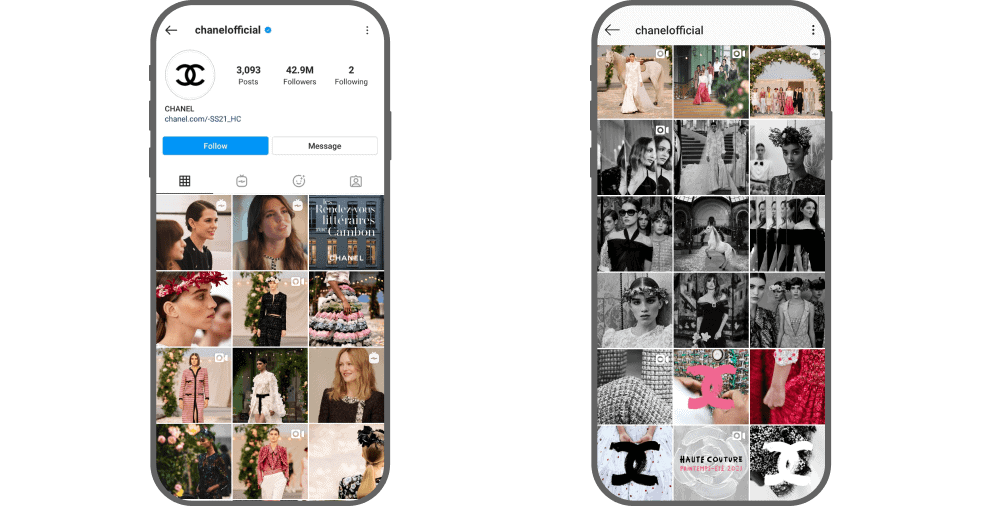 SpaceX
Another social media giant is SpaceX. Its Twitter account has millions of followers, while its Instagram stirs the imagination with fantastic visuals. Each day it updates the Twitter feeds, maintaining relevance and supporting the audience's interests. That shows how even a modest social media policy can bring you to the top.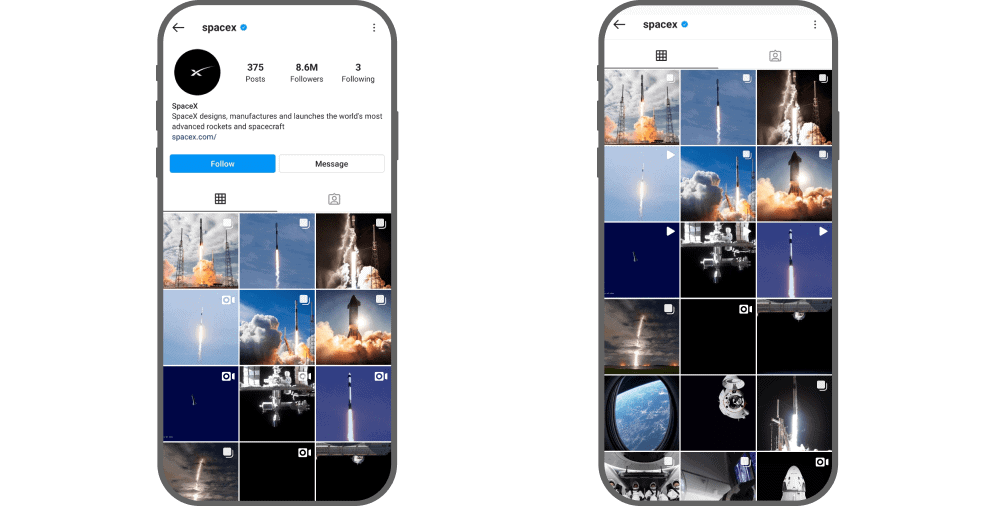 Adobe
When you enter Adobe's Instagram page, you can feel a burst of energy that is powerful enough to inspire you. Its brand mission is clear – to celebrate and empower creativity everywhere within everyone. And that statement goes hand-in-hand with its social media strategy. Adobe employs splendid visuals, framing them with a bright color palette. It uses a short yet thrilling hashtag that captivates and excites. Apart from that, Adobe has established a daily ritual of the creative horoscope in Stories, engaging users and providing them with joyful experiences.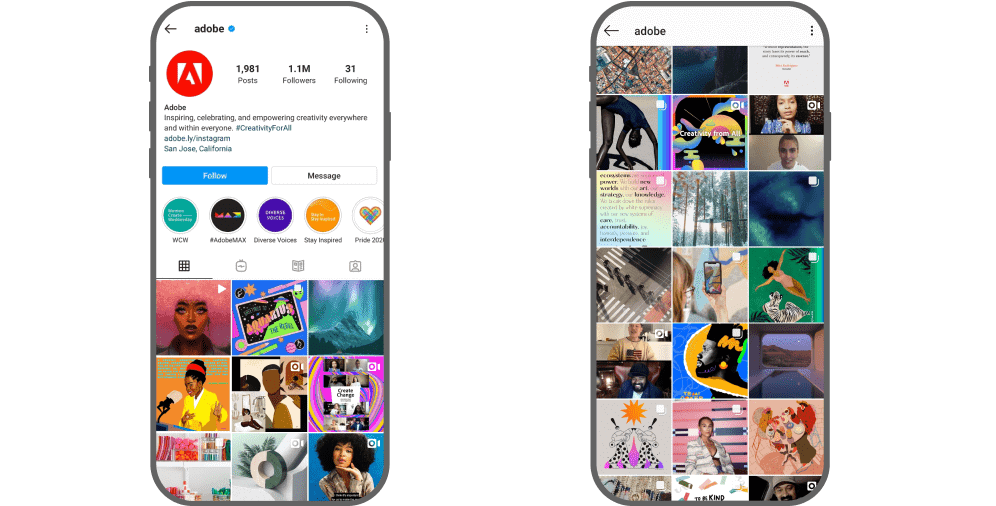 Starbucks
It's hard to resist the temptation of taking a cup of a fragrant coffee, when exploring the Starbucks Instagram profile. It evokes emotions, and that's how social media branding should work. The color palette is perfect and coincides with that of Starbucks logo design. The same hues are used for each channel – be it Instagram, Twitter, or its website. It produces consistency and generates brand awareness. Who else still can't recognize the Starbucks logo? Probably nobody. The facts are clear.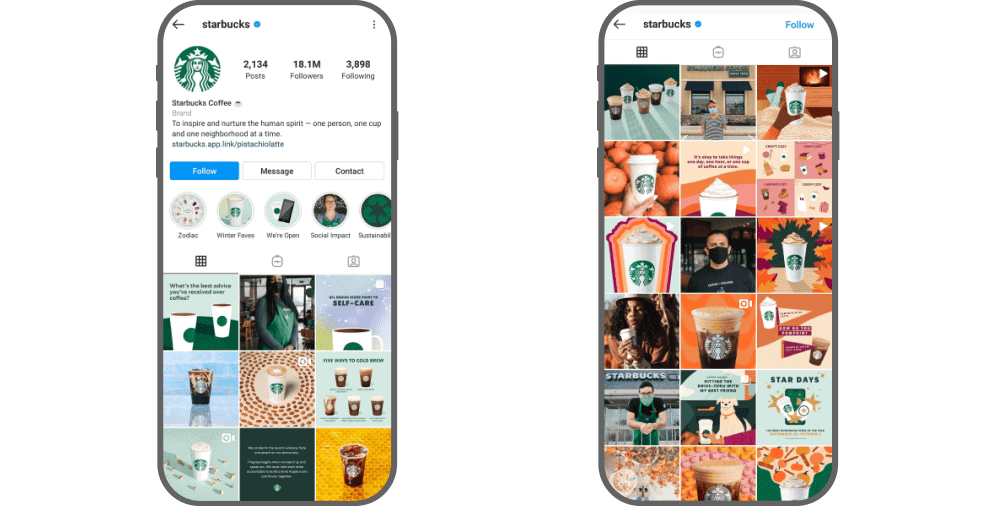 NASA
NASA's Twitter account comes with 43,3 million followers. Though it was launched in late 2000, it still doesn't deprive NASA of being one of the most prominent social media outreaches. The brand upholds consistency across all platforms it employs. Bringing the mission to the storefront, it manages to captivate users with its simplicity. NASA deals with specific issues yet finds time to entertain and engage with its audiences. Its fascinating Instagram masks can turn any user into a big flight director boss. And that's how you can effortlessly build solid relationships with your subscribers.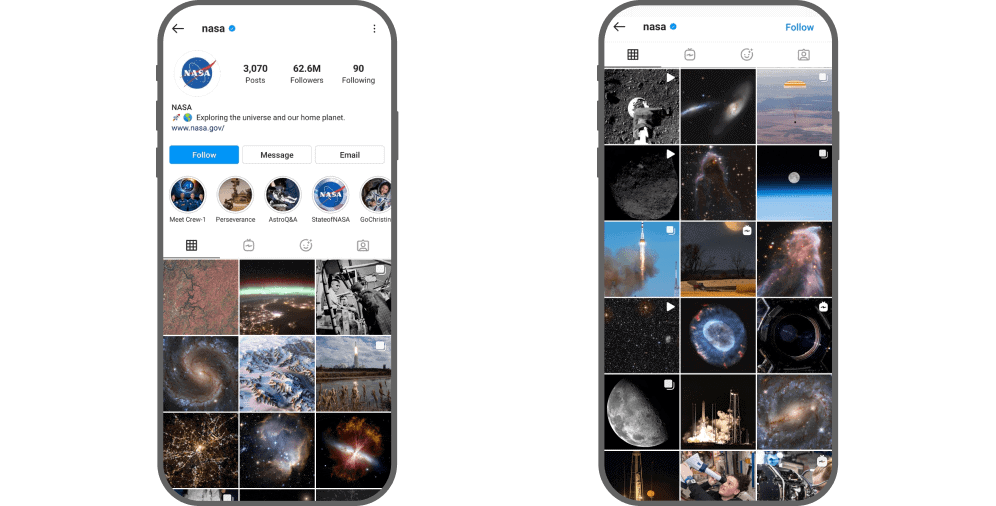 On a Final Note
Social media branding is not just an optional extra for businesses – it's an essential asset that can significantly boost brand awareness and elevate relationships with your audience. However, as more and more brands attempt to establish their social media presence, it's becoming increasingly challenging to master. Some companies resort to posting anything and everything in a bid to gain followers, while others seek alternative methods to achieve success.
The truth is that effective social media branding starts with your brand identity and personality. The best way to succeed is to be authentic and genuine with both yourself and your audience. By building a social media environment where your followers can communicate, interact, share, and explore ideas, you can create a loyal following with long-term benefits for your business.
At Ester Digital, we understand that navigating the complex world of social media branding can be daunting. If you have any questions or require further information, please don't hesitate to contact us. Our team is always ready to assist you in creating a powerful social media presence that will help your business grow and succeed.