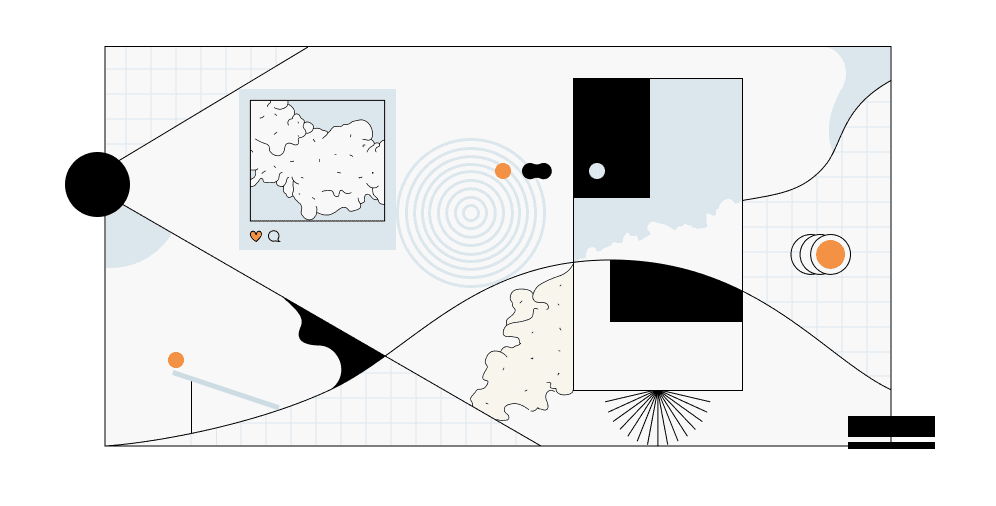 We are hard-wired for communication, and we tend to share our experiences, expose ideas, and interact. That's the reason why social media is so powerful nowadays. When building your account on a social media platform, you have an opportunity to create a strong identity and gather people around you who will support the same viewpoint as you do. And while social media works so well for individuals, it even doubles its benefits for businesses.
What is social media branding
Having been mostly used for entertainment in the past, social media has evolved into a robust communication network. Today's social media platforms encompass a vast range of opportunities for running businesses online. It concerns uncomplicated account operating, simple management methods, accessible analytics tools, and powerful visual performances. Such evolution made social media a perfect place where brands can expose themselves and easily connect with their target markets.
In a nutshell, social media branding lies in establishing the brand and employing social media platforms and facets. Sounds easy enough – but in reality, it isn't. When it comes to brand strategy consulting, having an appealing account name or a loud mission statement at the top of your bio is not enough. The concept involves more. Posting suitable visuals and writing inspirational stirring texts? Perfect yet insufficiently. Creating a trendy logo and pushing it to the forefront of your account where it's possible? Or how about employing persuasive ads to boost brand awareness? Our advice – just don't do it. At this point, you may find yourself going in a vicious circle, and it won't stop unless you stop looking at social media that superficially. The truth is that people buy from a brand because of the experience they have when interacting with it. And social media branding is about creating one.
If we delve deeper, social media branding means forming an environment where users can interact with the brand, grasp its values through the content, and share their experiences. Such an environment cultivates long-term customer-brand relations that are vital for each business. Social media branding, if done right, generates trust and boosts brand awareness even without desperate advertising. It's natural, thus efficient. And that is not the only reason why social media and branding bring impressive results when united.
Why use social media for branding
The first and the most apparent reason to employ social media branding is that social media hosts millions of users online every day. Why miss such a perfect opportunity to catch a massive chunk of potential customers? You can reach customers where they already are and connect with them without employing elaborate schemes on drawing attention. But let's delve further and explore what else social media can do for your brand:
Create a social media brand voice. Your social media account is a business mouthpiece. From there, you can easily share your brand's values, display your brand ethics, and deliver messages. Given how versatile the social media functioning is, even the most complex ideas go transmitted comprehensively.
Establish a distinct brand identity. When you launch a business account, you probably name it according to your brand name and use the logo as your profile picture. And that's the perfect way of emphasizing your brand identity. Your account name says it all to newly-arrived when the profile picture provides a more vivid understanding through the means of visualization. Ultimately, it's the first impression your brand produces, and excellent social media branding can make it favorable.
Drive brand awareness. Social media channels are a perfect tool for exhibiting your brand to the outer world. If done correctly, social media branding expands your reach and highlights your online presence. Your satisfied customers can post reviews and tag your business account. The story is spreading like wildfire across social media. Thus, other users get to know about you, and this happens round by round. That way, you can boost brand awareness and increase the number of your subscribers, and, correspondingly, gain new customers.
Increase sales. Social media is a place for everyone to share experiences and information. Even if one customer posts a positive review, tagging or marking your account, the results might be astounding. As users start liking, commenting on, and sharing, your content may reach those who are not in your target market and appeal to them. High brand awareness can positively influence your business performance by progressively increasing your sales.
Develop relationships. If implemented well, social media branding is capable of raising a whole community. When a business doesn't seem to be commerce-oriented but focuses on being more of a companion that is concerned with the users' needs and interests, it brings customer-brand relations to a higher level. Such a way of communicating evokes a sense of belonging and emotional resonance among the audience. Now, your subscribers are not just small icons within the fields, and your brand is not just a business-generation machine.
Bring loyal customers. Tight, sincere relations with customers urge them to be more loyal to your brand. And if you maintain that integrity, you'll get more than a simple clientele. Satisfied customers do not just continue buying from you but become your devoted supporters.
Steps for social media branding
When it comes to branding yourself on social media, you can't just throw up several profiles and expect your business to thrive. What is more, jumping in without a clear plan, you may get your performance deteriorated and efforts wasted.
Since social media branding brings better results if done consistently, knowing each step on the way is essential. It's all about a social media branding strategy that helps you not get off track and enables order in the workflow. With a direct course, your brand has better chances to get beneficial exposure. Why deprive yourself of that? Here is a step-by-step guide on how to use social media for branding your business:
Step #1 Choose the most applicable social media platform for your niche
Social media platforms vary, and their features and possibilities may differ. For instance, Instagram is a powerful visualization tool, while Twitter is a text fighter. At this point, you have to define the most appropriate channel of brand distribution. Think about how you can benefit from this or that platform and how its functioning assets can strengthen your brand building policy.
Step #2 Sustain consistency everywhere
You may choose multiple social media platforms, but make sure you maintain consistency across all of them. Every touchpoint should be meaningful and conform to the overall brand identity you try to establish. If your brand has some distinct markers, then include them in your social media platforms. Got a brand color palette? Incorporate this into your profile. Have a splendid logo? Make it shine on your cover photo or profile picture, so you're instantly recognizable to the audience. Consistency provides users with a holistic experience when they interact with your brand and forms positive impressions.
Step #3 Establish your brand voice
When users arrive at your social media account, they want to know what it's all about. And that's your opportunity to make your brand heard. First, ensure your profile name coincides with that of your brand. Second, announce your mission and values or give a short self-presentation in your bio. Here, you can provide a link to your website or other social media platforms to form that big picture for your potential customers. Once you nail this down, the customer-brand communication launches, assembling the basis for future relationships.
Step #4 Humanize your brand to deepen the meaning of interaction
The brand voice doesn't end in your bio. It goes far beyond the platform operating and should mold your brand personality rather than business performance. Would you enjoy a person who bursts in with a persuasive sales pitch? How about those who keep themselves superior to others by exposing their outstanding, almost fantastic traits? At best, it will make you scoff sarcastically, at worst – cause an immediate and irreversible turn off. Make your brand sound more relaxed and natural. Entertain your followers, tell them your story, disclose a secret, or share some valuable insights. Ask for feedback, and encourage them to enter discussions. Make your social media account the place where people can communicate, but not only acquire.
Step #5 Polish your content
What you put on your social media profile and how you frame it is a big part of a game. It is the foundation of your social media branding success. Then, it makes sense to give it a closer look.
Before posting anything on your page, define the niche you want to disclose. Ideally, take what your business encompasses and put it in a comprehensive way diluting it with some valuable learning, entertainment, inspirational pieces of information.
Once you decide what content to incorporate into your social media, it's time to brand it. Define the style and the color palette you will utilize for each new input. Pick up at least several colors that represent your brand, and combine them. Make sure they look appealing together. Since colors have an emotional connotation, you can make them work in your favor. Besides the color scheme, work out the content disposition. Social media pre-built formats, design elements, and frames can help you to smooth out the overall layout. Thus, standalone inputs are more likely to merge into an enjoyable unity, ensuring a holistic experience.
Another crucial point here is that of the visual. Users engage better with posts that include imagery more than with those that don't. Add impressive images or photographs related to the topic. They have the power to encapsulate your brand's identity and deliver the messaging, producing better impacts. Make sure you employ only high-quality visuals if you don't want to look mediocre in the users' eye. Next, optimize all images for better visibility using #hashtags. That is a brilliant maneuver for highlighting online presence and bringing new outreach you don't even expect.
Step #6 Post regularly
Social media users are online every day. Thus being always here for them with brand-new content is a must. It doesn't mean that you need to post nonsense only for posting's sake. Create a content calendar, and decide what topics you can cover. Having a plan is better than meandering through the sea of possibilities. Consistent, regular posting may retain users and urge them to follow your story. Another precious thing here is that you can establish your own traditional rituals – be it a Sunday morning online quiz on Instagram Stories or a new portion of Monday inspiration on Pinterest.
Step #7 Utilize social media off page benefits
Social media is advancing, and your brand shouldn't stay aside. Apart from on-page possibilities, there are external opportunities. One of them is an influencer marketing campaign that is very popular today. It's a form of the bilateral relationship that advances both of the parties. Encourage influencers to share authentic, sincere reviews about your products and services. You can also create some discount coupons or promo codes for their followers. Influencer campaigns are effective at broadening your outreach and amplifying your messaging. Thanks to the influencers' positive reputation and loyal followings, such cooperation can bring crazy results. It contributes to your brand's further extension, which is paramount for each brand.
Step #8 Evaluate the performance
When you start analyzing, you can reveal some pain points that were invisible at the beginning. The beauty of social media is that it comes with a pre-built set of analytics. Thus, you can measure your efforts and collect enough information to decide whether to alter your course or improve the existing one. Improvement is one of the prerequisites for success.
Social media branding examples
All in all, building a brand through social media can be painful sometimes. But the following examples prove that it's absolutely worth it:
CHANEL
Being one of the top 5 followed accounts on Twitter, Chanel continues to expand its influence across Instagram, involving millions of followers worldwide. Though the social media strategy hasn't been integral to the fashion house's success, still, it's the most vivid example of excellent social media branding. Its Instagram page looks stylish and leaves a memorable impression even on those who're not into fashion at all. Consistent design, unique content layouts, and impressive visuals create a powerful brand identity that is highly distinguishable. Being a part of such a delightful environment is more of a pleasure. And that is what makes Chanel's social media channels so outstanding.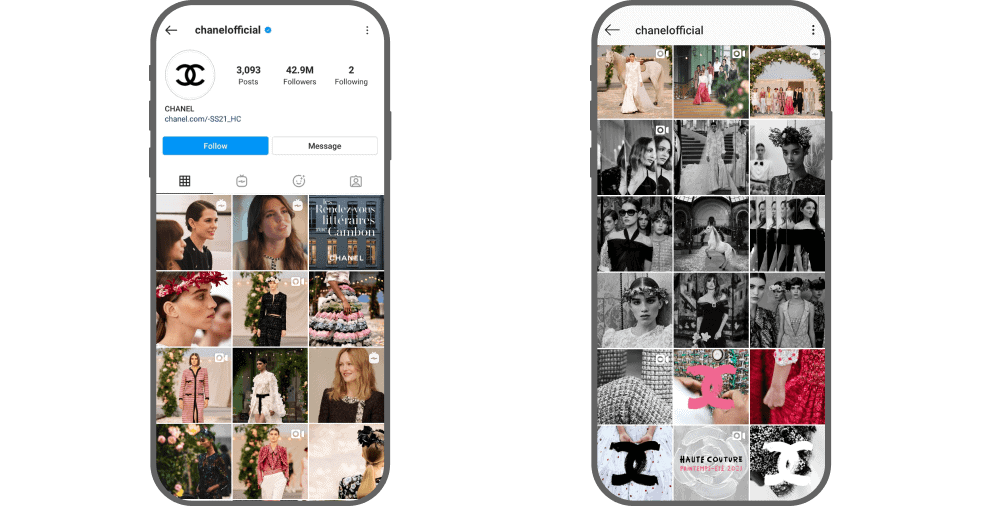 SpaceX
Another social media giant is SpaceX. Its Twitter account has millions of followers, while its Instagram stirs the imagination with fantastic visuals. Each day it updates the Twitter feeds, maintaining relevance and supporting the audience's interests. That shows how even a modest social media policy can bring you to the top.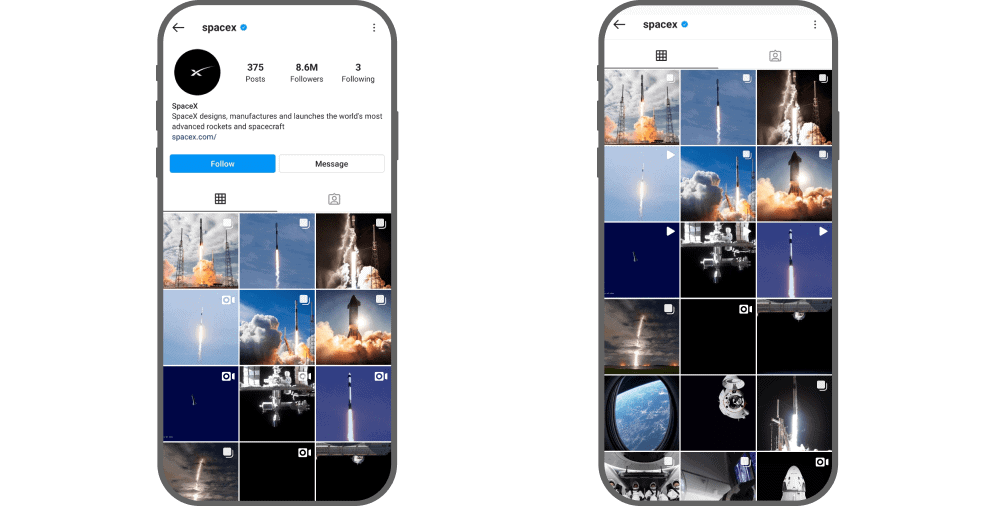 Adobe
When you enter Adobe's Instagram page, you can feel a burst of energy that is powerful enough to inspire you. Its brand mission is clear – to celebrate and empower creativity everywhere within everyone. And that statement goes hand-in-hand with its social media strategy. Adobe employs splendid visuals, framing them with a bright color palette. It uses a short yet thrilling hashtag that captivates and excites. Apart from that, Adobe has established a daily ritual of the creative horoscope in Stories, engaging users and providing them with joyful experiences.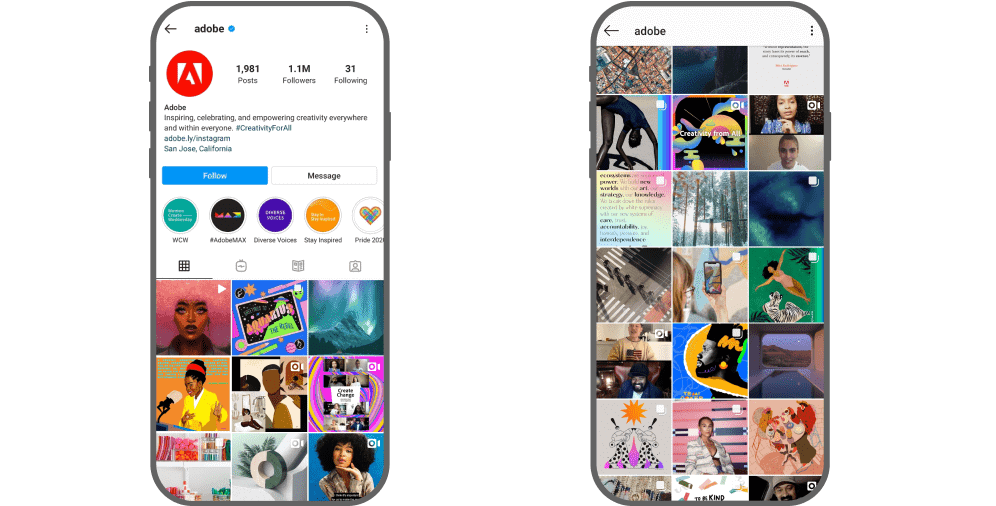 Starbucks
It's hard to resist the temptation of taking a cup of a fragrant coffee, when exploring the Starbucks Instagram profile. It evokes emotions, and that's how social media branding should work. The color palette is perfect and coincides with that of Starbucks logo design. The same hues are used for each channel – be it Instagram, Twitter, or its website. It produces consistency and generates brand awareness. Who else still can't recognize the Starbucks logo? Probably nobody. The facts are clear.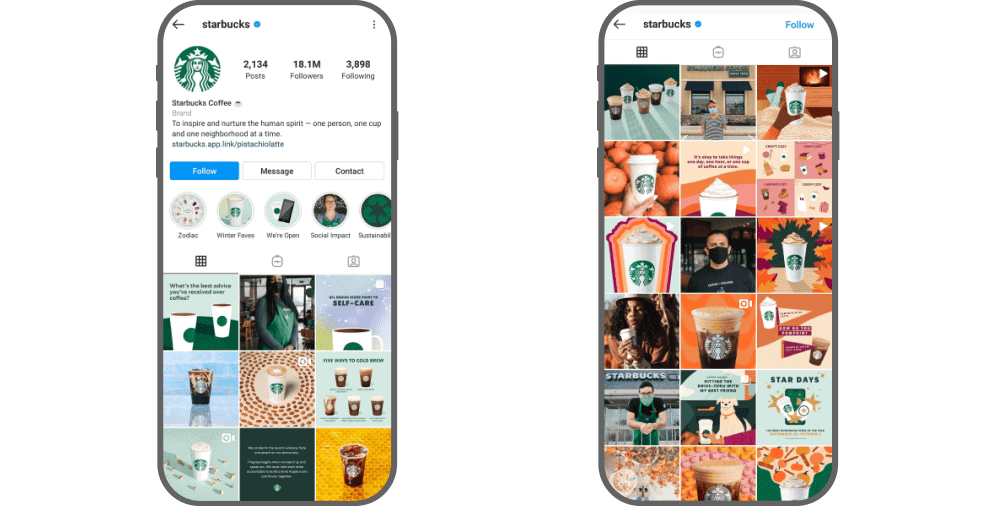 NASA
NASA's Twitter account comes with 43,3 million followers. Though it was launched in late 2000, it still doesn't deprive NASA of being one of the most prominent social media outreaches. The brand upholds consistency across all platforms it employs. Bringing the mission to the storefront, it manages to captivate users with its simplicity. NASA deals with specific issues yet finds time to entertain and engage with its audiences. Its fascinating Instagram masks can turn any user into a big flight director boss. And that's how you can effortlessly build solid relationships with your subscribers.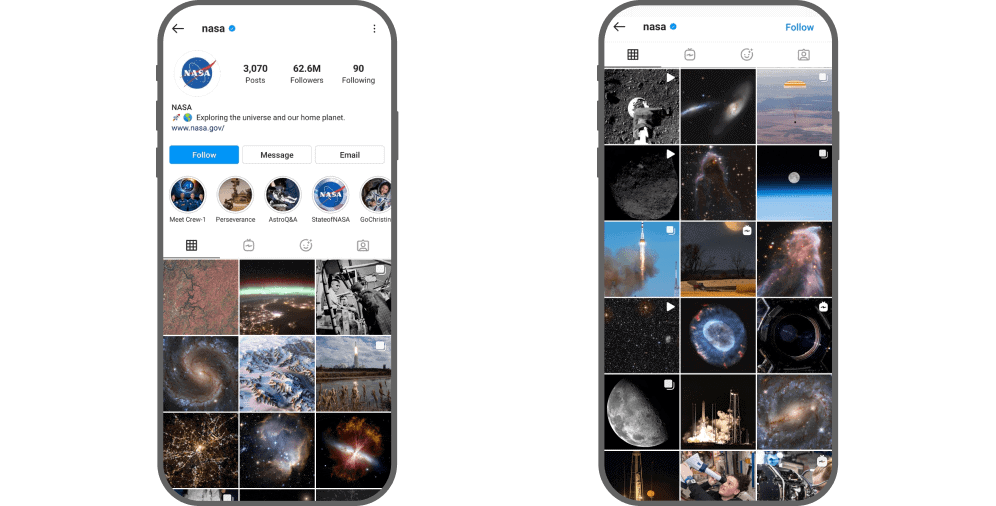 On a final note
Social media branding is not obligatory yet a highly vital asset to have. Not only it boosts brand awareness but gives you a chance to connect with your audience, bringing the relations to a higher, more prolific level. Since more and more brands try to jump on the bandwagon, the social media branding channels are becoming harder to master. Some businesses start desperately posting whatever things, some seek alternate backup ways of attaining more followers. But the truth is that excellent social media branding begins right from your brand and your brand personality. The best way to master it is to be honest with yourself and your audience. Authenticity is the key.
Ultimately, social media branding has long-term effects. Don't create a mere business. Build a social media environment where your followers can easily communicate, interact, share, and expose ideas – and you will reap your laurels for long ahead.
If you still have any questions about social media branding performance, feel free to contact us. We will provide you with all the necessary information and even more. Ester Digital is always ready to assist you in creating your social media powerful presence.