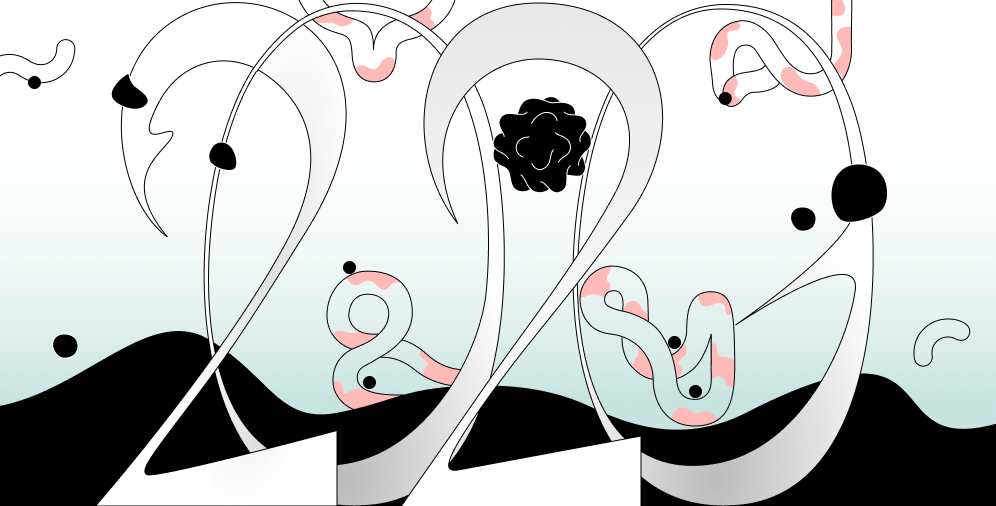 2020 has been a crazy rollercoaster. Let's just say there were a lot of challenges and new experiences. Lots of ups and definitely lots of downs (bet you can name a few of the top of your head). With the COVID-19 pandemic, lockdowns, and radical decrease in customer rates, many companies have lost a large portion of their client base or even had to sell or lose their business entirely.
Some enterprises are still experiencing a lot of trouble and will have to renovate their approach and change direction. In other words, 2020 hit us all really bad. But let's try to breathe deeply and think about Christmas, overeating to an unhealthy degree, pointless New Year's Eve resolutions no one is going to achieve, and ugly deer sweaters. Basically, all the good stuff.
This year has come to an end, and we need to celebrate it as a whole, both good and less good. Let's remind ourselves of the struggles and successes we had in 2020 that will inspire us to move towards 2021 with a bit of hope.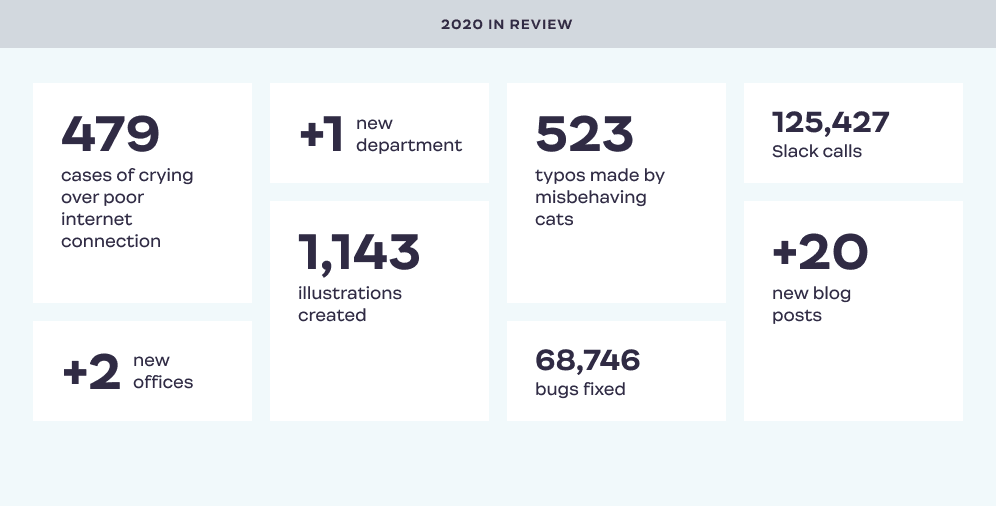 In 2020, Ester Digital celebrated its 5th anniversary with a few major "reaching milestones" moments. We started off by opening a few offices: one in New York and one in London. This entailed expanding our design team and even taking in a wonderful intern! Even though we worked remotely for most of the year, the offices are fully equipped and impatiently waiting to be invaded by brainstorming hurricanes that are our developers and designers.
This year also marked the creation of a new marketing team increasing our total number of staff members to 26. The newly developed department concentrated on expanding our digital presence, strategic business positioning, and being aware of all the marketing trends we need to follow.
One of the most vital tasks for the team was to put a lot of focus on our blog (shameless self-advertising here, but be sure to check it out!). We wrote a bunch of cool articles about graphic design, branding, types of websites, and many more. All of our posts are engaging and interesting, but if we had to absolutely narrow it down to top 4, here is our list: Figma vs Sketch, responsive vs mobile-first design, abstract and minimalist design, and logo design. Next year we won't restrain ourselves that much, so get ready to a top 27!
Together with new staff members, we pushed through some new uncharted territories such as healthcare and finance industries, as well as social media and entertainment. Working with clients from different fields, we expanded our creative and professional horizons by thinking outside the box and building up our artistic muscles, which ensure we bring the best possible results every time.
Like a lot of people in 2020, we developed a few new survival skills, the most crucial of which was working remotely. What seems like a great idea in theory for a web design and development company was quite a struggle at times, especially for the team leads who had to juggle everything at once with even more restrictions than usual. Team leads and project managers are unsung heroes for IT companies this year.
Together with a slightly underdeveloped skill of working remotely, we honed our soft skills as well. For example, empathizing with others when they're having a hard time, or not freaking out and dealing with situations when your coworker tells you that he's sick for the third time this week. Generally, 2020 seemed really useful for people with major anger issues, don't you think?
On a more serious note, we vastly improved our data visualization, 3D modeling, and gamification skills, as well as incorporated a character animation feature in a few of our projects. This year we also had our first public speaking experience: our Design Partner & Art Director Tanya shared her expertise in large-scale design systems in a webinar for Adeva, a tech talent network for developers worldwide. Along with those sets of skills, our designers also took some Udemy and Futur courses on UX and typography.
The gist of the whole year is, of course, the projects. Every new skill we got, every new team member we hired, every little piece of knowledge we acquired – everything and everyone was dedicated to the work and committed to bringing their best to the table. Since 2020 has been so tough on everyone, including our clients, we made it our rule to prioritize considerate and amiable communication above all else.
No matter the scale of the company or the number of employees, Ester Digital always sought out to have a wonderful relationship with our clients which will serve as a strong foundation for future cooperation in many years to come. Such clients as Jaktar, BOA Ideas, and Morningside not only have highly functioning websites with a top-level UX/UI design created by us but also enjoyed a customer-oriented approach to fit their needs and flexible teams that were able to rearrange everything if something was going wrong (which rarely did!).
Besides the day-to-day work with our clients, our side and non-profit projects also varied greatly: from volunteering to work on the COVID-19 contact tracing solution to the various creative challenges our designers happily indulged themselves in. We wrote articles on data visualization psychology, submitted illustrations for social causes, and partook in some personal creative experiments on social media pages.
Jokes aside, 2020 has been a lot of things: exciting, interesting, disappointing, and even heartbreaking at times. But let's think of it this way: if we all managed to survive and thrive now, what can possibly bring us down? We managed to achieve some great results with numerous restrictions, we provided our clients with high-quality services, we worked on improving our skills and gaining new ones and deepened our knowledge about design, branding, and web development, always ready to help out our clients whenever they need.
As our Development Partner Roman says, this year mainly included coffee, nicotine, and code. We don't recommend trying to live a year only on three of those things, but we certainly recommend trying to stay positive and have a bit of a laugh. Even though we can't see the path clearly, we look forward to the new 2021  and 2022 seasons with a vague sense of hope and humor, which is always a good idea! Right? RIGHT?
If you want to know more about our work or what and how we do, contact us – and we will bombard you with more isolation and lockdown jokes, promise.