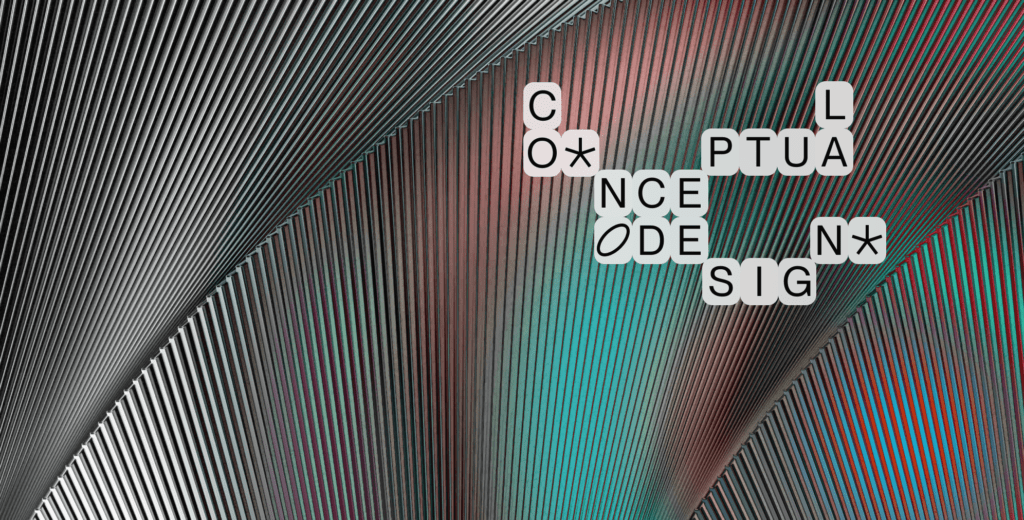 Good design requires much more than a set of qualified skills and creativity. And if we think about what makes it so good and catchy, so it sits in people's minds, then the answer will probably be a meaning. Why? By design, we intend visual communication that transfers certain messages to the audience. To be comprehensible, the message must suggest an idea or core value that would be continuous throughout all cycles of interaction. 
That is the issue of conceptual design, and in this article, Ester will walk through its ins and outs.
What is a conceptual design & how it works
Let's consider conceptual design as the foundation of the house. The construction process starts here, and depending on how you lay the foundation, the building will grow into a particular shape and outline. You might know what you want to see as a result, and correct calculation is a guarantee your house won't sink because of poor geometry and will stand still. Now, let's turn the house into a project where its foundation is a conceptual design.
Being a bedrock of an overall design process, concept design glues intangible, theoretical, and visual representations of an idea, while also keeping it at the forefront until its execution. It doesn't go into the details much but addresses key design choices, so the vision is always clear, and it integrates into other components. Let's delve deeper and look into its definition.
Conceptual design definition
Conceptual design is an initial phase of the design process that sets up a broad intention on which the ultimate product will stand. Additionally, it includes a strategy on how to communicate that idea and illustrate it within the project's settings.
As a rule, the conceptual design phase takes place between the product requirements and the detailed design stages. The designers get the requirements and settle on a particular solution, mapping and brainstorming various concepts. What is important here, we don't decide on colors or patterns but build up the big picture.
However, "concept" and "design" should also be considered apart from each other. It means you can't have a successful design that connects to the viewers and appeals to them without a definite thought behind it, while a poor design will blemish even a flawless concept.
Purpose of concept design
Essentially, the conceptual design focuses on a holistic visual representation of an idea from its development to its execution. In addition, it also contributes to the following:
So, we have a brilliant concept and the determined settings — be it a website or graphic design. But how to bridge the gap between the conceptual idea and tangible result? This is where the design language enters the scene. By describing design elements to specify our concept, we create a particular visual language as an instrument to ground the initial notion and the ultimate representation. Thus, conceptual design acts as a link between these two and helps both ends meet in a consistent product.
While design should be aesthetically pleasing, we shouldn't forget it is also meant to solve practical problems. For example, a logo is not just a visual entity but a reliable tool for conveying the brand code, namely brand image, mission, and concept. Thus, artwork can not be determined by creativity and emotions only. It should be always clear for what and why we use it in this or that way. That is what conceptual design does, meaning logic.
With so much done in visual design and so many ideas present on the market, it is hard to stand out from the crowd. Pattern corporate images are no longer attractive to contemporary consumers, and innovation can be hard to achieve. The beauty of the conceptual design process is that it celebrates uniqueness and originality. During the ideation phase, designers can take a concept and expand, elaborate, and refine it until they are sure this is it.
Have a great concept in mind but don't know how to realize it into a feasible design solution?
We are here to help you
Explore
Conceptual design process
Now that you know what is conceptual design and understand its functions, let's move to the process itself. It can fall apart into four stages:
#01 Definition
Start the design project by defining the problem. What issue do you need to solve? What is the goal of the project? Answering those questions must lead you to a specific solution and uncover concepts resonating with it. However, this step might appear a lot more intricate than it seems at first glance. The reason is that the problem can be complex, and to find the right answer, you need to dive deep into the essence.
#02 Research
Conceptual design can't exist out of context — it should be grounded in complex research. First, before implementing any idea, explore the brand personality to ensure the chosen concept connects well with the brand image and is viable to the brand mission.
Another integral step here is to conduct a target audience analysis and get to know their needs and preferences. Otherwise, how do you provide an effective solution without understanding the end consumers? Similarly, you can look through the competition and define some industry conventions to combine with your concept or escape corporate monotony. Finally, you might also need to research other works for inspiration and reference material. At Ester, we put all searches into mood boards that help us keep to the direction and alter it without losing the previous progress.
#03 Verbal ideation
Here, we should shape the concept with specific characteristics so it could become more substantial. During the verbal ideation stage, you will usually brainstorm various imagery and try to connect it with definite associations. 
For example, you associate the product with professionalism and expertise. You can translate it through sharp linear graphics, a minimalistic brand palette, and bold typography. It significantly narrows down design choices, excluding those that don't fit the concept (like glitch art or intense color schemes that are more applicable for creative and lively products rather than corporate, expert-like images).
#04 Visual ideation
This stage is where the concept takes the leap from abstract to concrete visual interpretation. It usually implies sketching on paper or digital canvas. Here, you don't need to illustrate everything in detail. Sketch visualizations are needed to test your ideas, compare and choose the most reasonable one, and then refine it into a more precise version.
Conceptual design benefits
Not convinced yet about the importance of conceptual design? Ester will provide you with its benefits so you can evaluate concept design effectiveness and form an outright opinion.
The point of conceptualizing is in its power to establish a solid foundation of product development to keep to until the execution. Knowing what your product can do at the beginning of the design process can save you from encountering inconsistency on the way, which may cost you a lot of time and money. A variety of choices is great, but you don't want to sink into a sea of options and eventually find yourself with nothing concrete. Concept design forms the clarity of vision you need to achieve an impeccable result.
Design is a complex system that includes many other processes, and conceptual design can be a bond between them all. It will tie together the different parts of the design model, and determine the strategies, while also explaining the content type and components to feature in the final product.
Streamlined communication
Concept design can help to create a clear user interface that is easy to comprehend and interpret. Thus, users will effortlessly catch the signals you expect them to catch and then can freely move to actions. Following one concept that is viable to meet the users' needs and referring to it in all design decisions results in streamlined and transparent communication between the product and its target audience. And where there is direct interaction, there are more chances to establish positive relationships.
On a final note
In conclusion, conceptual design is very helpful since it can guide you through the sophisticated workflow right to the goal you intend to reach. Although creating a valuable concept can be difficult and exhausting, believe us — it will pay off. The market is rich in different designs — some better than others and some worse. But what makes an excellent design stand out from these two categories? It is the meaning behind it. 
With the conceptual design, you can create an authentic and logical product instead of a uniform entity that wouldn't capture the public, even with its trendy wrapping. Trends come and go, but individuality and consistency are priceless, and that is the ultimate answer to success. 
If you are still not sure about conceptual design or want to get more insights into the theme — contact us. We will provide all the necessary information and answer all your questions in no time.