Have you ever had trouble managing all your conversions with clients and leads and not missing a single detail? If so, then you must have pored over mountains of spreadsheets or databases that take a lot of time and require full concentration. Disorganization, in its turn, makes everything even more difficult. Fortunately, there is a solution, appreciated by many — and it is CRM.
What Is CRM System
If you wonder what does CRM stand for, then it's the right place to get an answer. Customer relationship management or CRM system is a special software entity that enables business owners to gather and track all the necessary data quickly and efficiently. CRM system definition often goes associated with a technology that substitutes numerous apps and keeps information of all kinds (from calls, texts, and meetings) in one place, making it easier to develop closer relationships with clients.
What Businesses Can Use a CRM System
Now you're probably wondering if the CRM system is suitable for your business, and we completely get it. Good news: whether your industry is connected to marketing, sales, business development, or any other, you'll most likely benefit from employing this tool. Provided you have customers or leads and need to collect or track their information, CRM is certainly for you.
The importance of the CRM system is not exaggerated. It's known for its transparency and accessibility, which are equally crucial for big and small companies as it allows their teams to see everything that's been going on, from the ways of communication with clients to the products they bought and the sum they spent. In other words, CRM is a way to make everyone's work more pleasant and profitable, and it's undoubtedly useful for various types and sizes of businesses.
How Can Your Company Save Money With CRM
There is one more important question: is it possible for a company to save money with CRM? The answer is yes. How? Let's look at a couple of examples. 
Firstly, there is the human factor. When you and your staff have planned a lot of business calls, meetings, and so on, the information can get messed up or even lost. Incidents happen, and that's alright. At least, if you're not the one who has to spend extra time and money on restoring the data. With CRM, it's quite easy to keep all the details well organized and safe. 
Secondly, we should consider customers and their tendencies to reach out to you on any possible platform through phone calls, e-mails, etc. CRM allows you to save time and money (again!) by using a common one for different forms of interactions.
Lastly, there is an issue with keeping all the collected information in order and being able to quickly find the needed pieces of it. It may be hard for managers to track their teams' activities or promptly help in case of need. CRM takes care of it as well and ensures your staff has everything they need for smooth and productive work while also offering you the opportunity to be more practical.
The 4 Types of CRM Software
Before dividing CRM software into four groups, it's worth mentioning that all CRMs are basically the same when it comes to their main functions. They're needed to track the "leads," collect the essential data and control interactions with clients. Even though CRMs are normally interchangeable and have similar features, there are some nuances you should know about. Here are their types:
Operational CRM
Operational CRM is often preferred by smaller companies. Not only does it include average CRM functionality but it also allows you to automatically monitor all of your clients' steps, beginning with their first interaction with your products. It's seen as a great advantage since it significantly reduces the amount of manual labor and lets you concentrate on other things. 
Considering such great attention to automation features, it's no wonder this CRM type is so popular. Who wouldn't want to reduce the number of their tasks, after all?
Collaborative CRM
As the name of this CRM suggests, it's all about collaborative work. Strictly speaking, it mainly focuses on simplifying the operations among separate development teams and provides all of them with access to relevant information about consumers and their actions.
Any kind of data (from the moment of a lead's engagement with certain content to the actual purchases someone has made) is out in the open for any team member. It means that it's much easier to find the particular record or figure out what interests clients the most without turning to other teams for help. 
Analytical CRM
If you get a lot of data in your business, you can't avoid its analysis afterwards. It doesn't matter what exactly you are looking for or trying to change — competently performed analytics can substantially improve your results.
Analytical CRM is a great tool that'll help you to understand your clients better and show what type of marketing strategy is better for you. It'll also be useful for enhancing your client support and sales rates.
Marketing CRM
Finally, we have a marketing CRM whose distinctive characteristics are also connected with automation. If you choose this type of CRM for your business, then its marketing features will be put straight into the software and used in any possible way to facilitate the work. 
For instance, you could use marketing CRM to automatically notify your loyal customers about a sale by email. Additionally, you could decide to send an automatic email with a discount promocode to those who have shown an interest in your products but haven't made a purchase yet. Either way, it'll demonstrate to your clients that you appreciate their involvement and make you stand out from the competition.
Not sure what type of CRM software fits your business best?
Contact us, and we will provide the perfect solution and even more
Contact us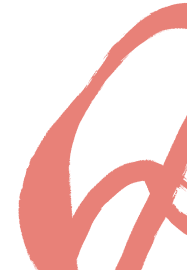 Spreadsheet vs. CRM
We all know how hard it is to break habits and try something new, and it's relevant to the tools we use too. Let's take a spreadsheet as a sample: it's familiar to everyone and quite manageable, which sounds great.
However, it's still not the same as CRM, and the explanation is simple. While spreadsheets are good for smaller lists (under 100 contacts) and basic data like names, phone numbers, and emails, CRM systems allow the creation of huge lists with dynamic data. It means that if you want to know whether your potential customers open your email or not, a spreadsheet is not a great helper. CRM is just what you need.
Of course, that's not all of their differences. To see more, take a look at the table we've created for you: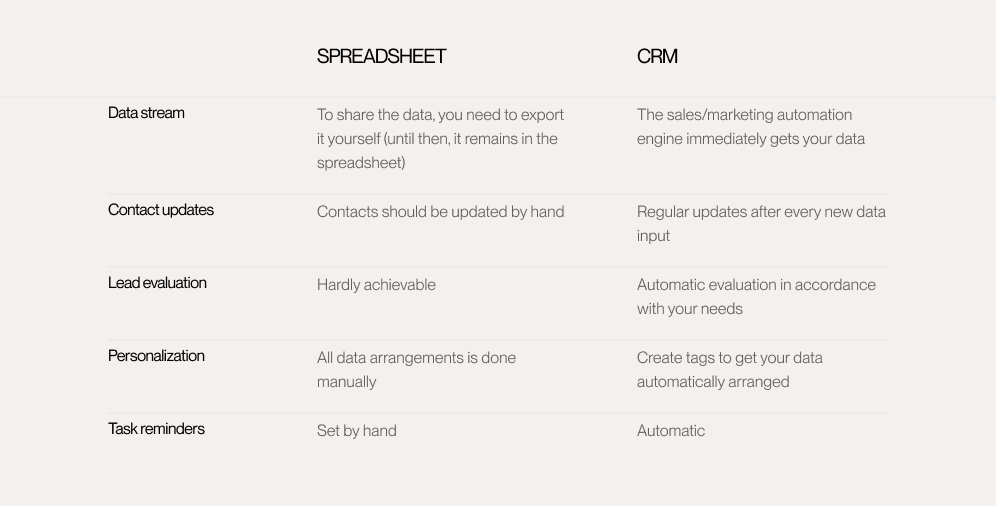 How to Choose the Right CRM Software
You made up your mind about spreadsheets and CRM and chose the latter — great! Now that you fully understand the importance of CRM in business, you'll have to make a decision again. This time, we're going to talk about Cloud CRM and On-premise CRM, their differences and advantages. But first, let's check out a quick definition of both. 
Once again, Cloud CRM software is hosted on the CRM provider's servers. The only thing your customers need to get access to is a connection to the Internet. With Cloud CRM, you don't have to install anything on your company's computers.
On-premise CRM is very similar, apart from the fact that it requires certain software installations on all your work devices. This means that only your IT team will be able to make updates and maintain them. 
As for the pros and cons, here they are:
Best CRM Software Tools
CRMs are getting widespread by the day, its numerous tools are also becoming well-known. It's only natural that all companies have their own preferences, but we can still name a few CRM integration services that are most commonly used and give you a brief explanation of why they are so good.
01 Zoho CRM
Zoho CRM is one of the favorite choices for a lot of huge companies, such as Amazon and Netflix. With Zoho, you can automate any possible process, build unique models, and customize your layouts just the way you need them. 
02 SugarCRM
Next, we have SugarCRM, with its marvelous ability to strengthen any connection that helps businesses to cooperate. It is a striking tool that helps companies from completely dissimilar industries make their marketing campaigns more successful and increase their sales.
03 Salesforce CRM
Many sources call this exact CRM the most popular in the world, and it's entirely understandable. Not only does it let users track the sale activities, but it also ensures the tracking is perfectly mobile. Your company's size or industry doesn't matter in the slightest — Salesforce CRM will benefit anyone. 
04 Hubspot CRM
Who hasn't heard of Hubspot? Well, their CRM system is no less than magnificent with its trustworthy analytics and user-friendliness. Just try it once, and you'll see how easy it is to employ. 
05 Pipedrive CRM
Can't find a CRM that fits all the criteria? Test Pipedrive, its amazing customization and automatic tasks. It'll help you to monitor any data you need, always stay up-to-date, and improve relationships with your clients. 
Want to integrate a CRM but lack resources and time?
Our dedicated team is eager to help you with this
Contact us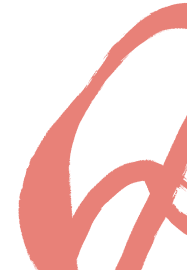 06 Copper CRM
If you're an active Google user, this CRM might become your number one. Its main distinguishing feature is its ability to function as a Chrome Extension, which means it will sync with apps like Gmail and Google Drive to make business processes faster and more productive.
07 Nimble CRM
In case your business isn't that big yet, pay close attention to Nimble CRM. It provides clients with the chance to get their fingers on the pulse and easily track everything that's going on. 
08 Microsoft Dynamics CRM
A lot of companies trust Microsoft and their immersive CRM system. It's a brilliant solution for clients that are interested in creating multichannel marketing campaigns and automating sales processes. If you're also into delivering complex services, don't miss out on this CRM. 
09 Agile CRM
Agile customer relationship management is known for its mobile optimization and fast loading speed. It's a reliable tool that ensures your data's safety and makes users feel comfortable.
10 Capsule CRM
If your primary goal is to focus on improving your relationship with customers as well as sales processes, then Capsule CRM might be the right fit for you. It's original, robust, and perfect for those who are trying to get as organized as possible. 
On a Final Note
To conclude, customer relationship management software is a dynamic, powerful tool that keeps winning the hearts of business owners from completely different industries. It enables them to track all the necessary data as quickly as possible without the need to spend extra money. Choosing a CRM means you have all the opportunities to strengthen your connection with customers and make your work process more efficient.
Whether you have a small or big business, CRM will make your life easier, believe us. If you want to give it a try or simply have additional questions, don't hesitate to reach out to our team. We'll be in contact with you in no time.