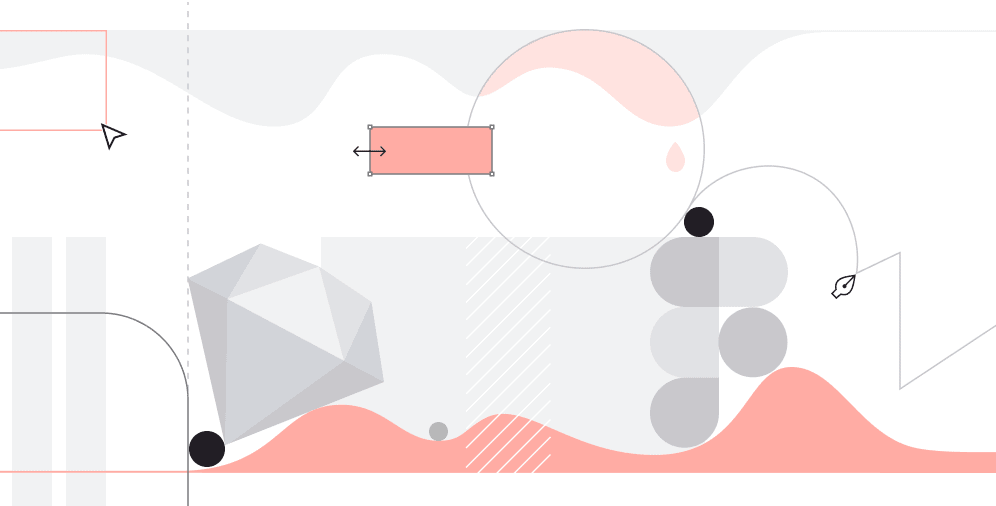 For many years Sketch has been the primary design tool for most professionals around the world. However, there is a web app that can pose a threat to Sketch's monopolistic position on the market.
Browser-based Figma was created in 2015 as a graphic design alternative to the collaborative mechanism of Google Docs. The co-creator of Figma, Dylan Field, claims that at the forefront of Figma's ambition is to bring collaboration between all participants in the design process to the highest level.
Sketch app has been a long-time favorite tool for designers all over the world, but maybe it is time for a new tool to shine?
Therefore, being solid experts who provide user experience design services we have decided to take a look at those two programs to see which one is better equipped for the ever-changing design world.
What is Figma?
Figma is an interface design app that can run on any operating system. Created as a Mac-only Sketch alternative, Figma can convert Sketch files into its own format to allow designers to work on projects collectively.
In recent years there has been a surge of UI designers who switched to Figma for good. A lot of professionals unanimously attribute this newly found popularity to several features that make Figma extremely effective and beneficial. Let's examine them more thoroughly.
One of the first things that is instantly noticeable when you access the app is Figma's design. Smooth and refined look, refreshing, and lively color palette, convenient, and easy-to-navigate interface contribute to the satisfaction of using this tool.
Another useful Figma feature is its browser-based nature. You don't have to download anything or worry about the compatibility of operating systems anymore – a working browser and internet connection is all you need to work on the project. Users don't have to invest any resources to start the process.
Figma offers a range of tools that can facilitate the design process: for example, all kinds of templates and plugins, a cloud-based storage system, swift export of files, easy prototyping, getting feedback, extracting code data, and many more.
However, the real ace in Figma's sleeve is an opportunity for real-time collaboration. Figma allows you to communicate the design process and share it with each member of the team. Times when you have to save all files and send them multiple times if you altered them in any way have passed. Figma provides an unprecedented opportunity for immediate collaboration in real-time!
But what about Sketch? An old-time favorite, Sketch has been a faithful assistant for a lot of UI/UX designers. However, recently a lot of them turned to Figma. Is Figma better than Sketch? Let's get a closer look at Sketch software to find out.
What is Sketch?
Why is Sketch so popular? For many years Sketch has been the number one go-to design tool for UI and graphic designers. With a clear and polished interface, multiple-face layout, plenty of useful plugins and simple prototyping, Sketch is greatly valued by the design professionals.
One of the most prominent Sketch features is its astounding scope of various plugins. Plugins in Sketch are incredibly diverse and serve as a great tool to expand the design functionality and possibilities.
Another extremely important feature is Sketch symbols. They can be applied and automatically updated across the whole file or a project. This can greatly improve and accelerate the design team's productivity and save a lot of precious time.
Plugins and extensions is what Sketch relies on. They can help to overcome certain hurdles, increase the quality of the final product, or streamline the design process so that designers won't have to worry about unnecessary details that impede their work.
An industry standard, Sketch is quite easy to use and can be used by anyone with even little design background. If you're still struggling with certain aspects of work in Sketch, there are myriads of tutorials available online and a specific Documentation page that guides a wayward traveller through the editor.
If that isn't enough, there are also such portals as Sketch App Resources, and Sketch Repo where you can download ready designs or templates that can jumpstart your project in no time.
Sketch also has the benefit of third-party integrations, such as InVision for prototyping and importing files, Zeplin for developer handoff or Lokalise for localization and translation. All files are easy to share, save and perfectly in sync with other programs.
The most obvious Sketch drawback is its Mac-only nature. If you work in a team, every member has to work on Mac, otherwise the bugs and errors are inevitable.
We've made our competitors known, now it is time to choose a real winner. Let's look at both programs more closely.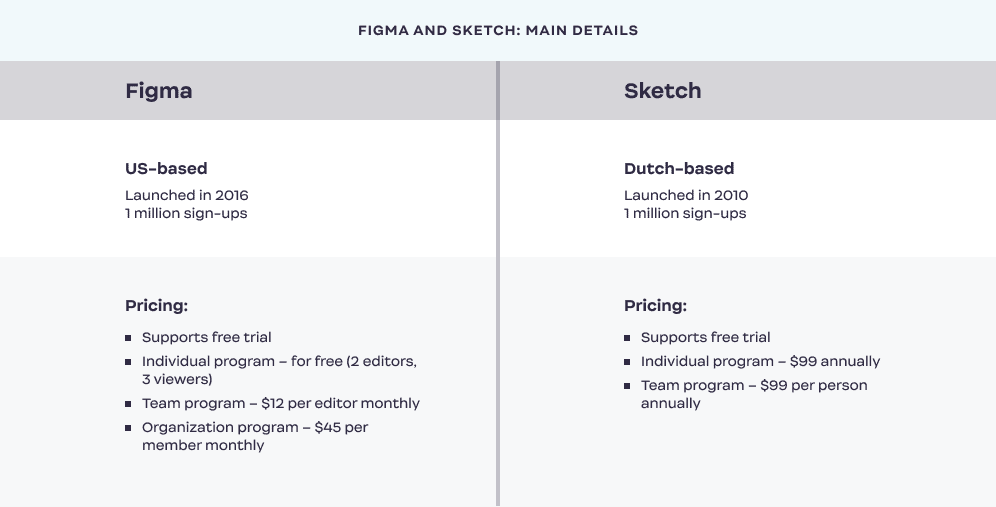 Interface
The similarity between Figma and Sketch interface is instantly noticeable. Even though Figma is a browser-based app and doesn't require any installation, its interface evidently resembles that of Sketch.
Essentially Figma app is a modernized browser-based version of Sketch. They are incredibly similar: both Figma and Sketch have the canvas in the center, Properties panel on the right (called Inspector in Sketch), block with layers on the left, tools on the top, and even the same keyboard shortcuts.
Learning Figma is easy if you're already familiar with Sketch. The only difference is the terminology: in Figma, Artboards are called Frames, Symbols in Sketch are called Components in Figma.
The resemblance in the interface is not accidental: Sketch has raised the bar so high that its competitors didn't have to reinvent the wheel – only add their own feel to it and improve upon the aspects they believe are lacking depth or functionality.
Even though Figma added its own features, like real-time collaboration and easy file sharing, it loses some points to Sketch in terms of interface, which is a pioneer and a founding father for many design tools, including Figma itself.
Performance
Before switching from Sketch to Figma a lot of designers ask themselves: is Figma easy to use? How can I work at Figma?
The main difference in performance between the two programs is that Figma is a browser-based tool available on any operating system, while Sketch is a Mac-only desktop app. It should be noted that Figma requires an Internet connection, which can be a problem for designers who have to work or download files offline.
The performance of web-based applications can be less efficient due to the certain restrictions of a browser-based operation, but Figma has the edge over most desktop-based programs in that regard.
However, the fact that Figma is a web-run application can hinder the availability of certain shortcut commands, but these problems can be solved easily since Figma has a fully functioning desktop version and is constantly updated and modified to ensure the highest operability of the program.
This round Figma also wins since it is accessible via any platform through a browser, is not locked in with Mac, and keeps providing users with new features and updates that continue to eradicate possible hurdles in the design process.
Features
No matter how stunning and practical the tool can be, such programs as Sketch and Figma are applied for one purpose only: to create a design. In order to fully grasp the functional capabilities of the tools, we need to take a deep dive into the features they present.
Figma wins by a wide margin in terms of live collaboration. It allows multiple users to view and even edit the same file within one design project. There is no need for sharing and saving files multiple times, waiting for the feedback or comments – each user can see them in real-time and add or alter anything in the workpiece (more on that later).
This feature helps to centralize and facilitate all the working processes and can provide fantastic opportunities for remote teams. The fact that Figma is an in-browser app and doesn't have any strict technical requirements also adds to its usability and versatility.
Other great instruments include Figma prototyping and developer handoff capabilities. Now designers can see how their creations appear as close to the final product as possible, and share their files with developers and move their projects from design to development more expertly.
Another powerful Figma feature is the so-called frames. Essentially they serve the same function as artboards in Sketch, but their practical value is much higher. Unlike Sketch, Figma allows for nesting of frames, which ensures that they are linked and interconnected, have a separate custom grid, and can help build intricate and multilayered interfaces.
Another powerful Figma feature is the so-called frames. Essentially they serve the same function as artboards in Sketch, but their practical value is much higher. Unlike Sketch, Figma allows for nesting of frames, which ensures that they are linked and interconnected, have a separate custom grid, and can help build intricate and multilayered interfaces.
Tools
Both Sketch and Figma provide a set of primary design mechanisms such as basic shape tools, a free form vector tool and symbols/components that serve as building blocks for the larger design systems. Both also support boolean operations that combine, intersect, and subtract shape layers.
The similarities pretty much end there. Figma provides an advanced version of shape tools: for example, ellipses can be easily turned into pies and donuts, unlike in Sketch, which requires a special plugin or a team of highly qualified scientists to figure that out.
Along with that, Figma supports a unique feature called 'vector networks.' Most tools draw objects that need to be reconnected at a specific point and in a particular direction. With vector networks, you can create paths that have no specific endpoint, and that can move around randomly as much as you want. That gives designers more flexibility and an excellent opportunity to improvise while looking for inspiration.
Sketch seems to lag behind in terms of novelty, even though it keeps updating and improving its boolean operations and constantly checking and fixing all the bugs. It notably provides a wider spectrum of tools and plugins, however, they can be redundant and seem to overcomplicate the "getting acquainted with the program" part of the design process, as well as lack Figma's flexibility, ease, and nuance.
If comparing both programs in terms of functionality, they go hand in hand: while Figma seems to be much more responsive and adaptable, Sketch can face any challenge with its various plugins and updates.
Collaboration
This round has an indisputable winner: it's Figma. Figma's capabilities for collaboration leave Sketch defeated and embarrassed.
Real-time collaboration is one of the most valuable Figma features and probably the one that made it so popular. Figma allows team members to view and edit the project files as they are being made, applying the same principle as Google Docs with online documents.
Being an in-browser app, Figma is much easier to use and leave feedback with no reference to any specific platform or operating system. Figma pricing scheme (more on that later) allows for an adaptable subscription and provides a handful of useful features if you work as a remote team. Designers can immediately agree upon alteration or comment on each other's work without anything being lost or misinterpreted in the process of sharing, resending, or resaving.
Sketch, on the contrary, does not provide an opportunity for a live collaboration. Moreover, since it's a Mac-only program, only Mac users can view the Sketch projects once the program is installed.
However, Sketch offers a new team program that aims to improve the collaboration between design team members through providing a cloud-based storage per team. While a massive improvement on the Sketch part, it's still not a rival to Figma's live collaboration tools.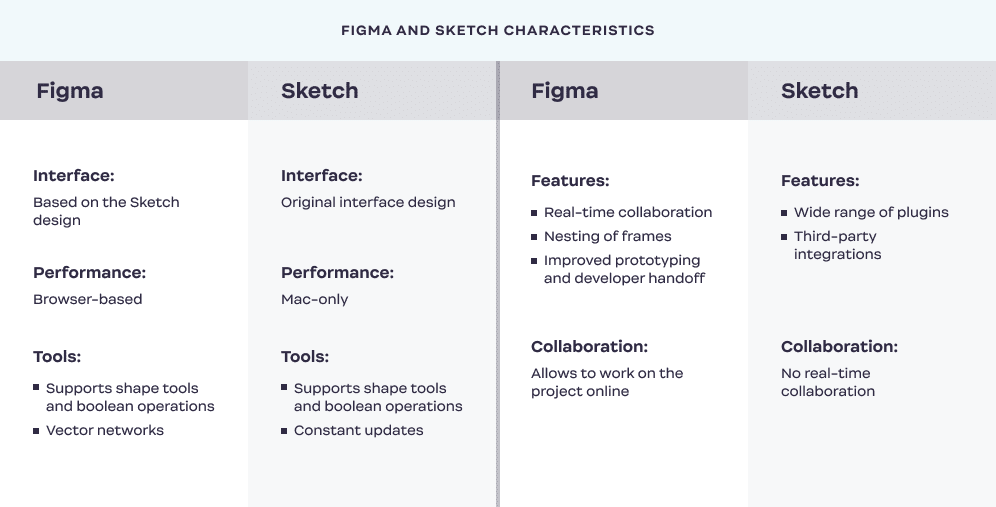 Pricing
It happens in life sometimes: you find a tool that ticks all the right boxes and makes you feel excited for all the projects you plan to work on using it, when you see the subscription fee, you realize you didn't really need it that much. Let's compare Figma and Sketch pricing to evaluate the financial advantages of using either of them.
Sketch pricing scheme works like this: as an individual, you can make a single $99 payment for a year-long license. This license allows you to have your own cloud workspace to store your work files and have access to Mac app updates. You can renew your license and get access to these features for $79 once your year-long one expires. If you choose not to do that, you can still use the program without additional updates and cloud storage.
Along with a pricing program for individuals, Sketch provides a special team pricing scheme that presents a subscription to the product, updates, and cloud storage for the whole team for $9 monthly, or $99 annually per each person.
Figma pricing model includes three different options. The first one is 100% free and allows an unlimited number of viewers, but only includes up to 2 editors and 3 projects. The second pricing plan costs $12 per editor per month if billed annually and $15 if billed monthly. It provides an unlimited amount of projects, version history, and special team libraries. The third option for the organization is a $45 per month subscription which can be billed only annually. It provides a wide range of perks such as private plugins and plugin administration, a great authentication scheme, and many more.
Both programs provide a free trial, so you can get acquainted with them and their characteristics prior to subscription.
What do our designers say?
We asked our design team to express their opinions on both instruments and share their Sketch and Figma review.
"We've been working on both Sketch and Figma software for quite a while now, but only recently we switched to using mostly Figma. I find Figma much more useful when you work as a remote team or if you're in a hurry and need to make some changes as soon as possible which is all the time for us. I personally love that I can collaborate with my team in real-time and comment on the work as it's being done. It saves a lot of time and trouble, and nothing gets lost in translation." 
Irene Baranova, Senior Visual Designer & Head of the UI/UX Team

"While Sketch is a well-known standard and something I've been using for ages already, I admire how much Figma grows and keeps reinventing itself. In such a short period of time since its launch, it got so many devoted followers, including our company. We like how flexible Figma is, and how fast it changes. At the same time, Sketch plugins alone are a goldmine. I think choosing the best UI design software between those two is like choosing who you like more: your mom or your dad."
Tanya Donska, Design Partner & Advisor

"You can ask any designer – we are always excited about new tools, and we will always check out whatever new comes into the market. Like many other design teams, we'd been using Sketch religiously, but since the past year, Figma has been pretty much the only UI designing tool that I work with now. That being said, I think that designers should try out all tools they can get their hands on to see which one suits them the best."
Ira Mostovnikova, Senior Visual Designer
On a final note
We've discussed the most crucial points for both design programs. What is our final verdict? Sketch vs. Figma: who's the best? Is Figma better than Sketch? Or is it the other way round? Here's a table highlighting the main differences between the two.
The most striking and important difference between the two is the collaboration capabilities. Figma was created with that in mind specifically, so it's an absolute winner for teams who work remotely or need to cooperate on their work constantly.
Sketch is only available on Mac which is a big drawback for design teams utilizing other operating systems. However, Sketch pricing is more affordable: $99 both for individual programs and for teams versus $45 for organization monthly for Figma. Also, Sketch wins in terms of plugins functionality: they can easily substitute most of the best Figma features.
In the end, both programs can create stunning interfaces and graphics, both offer free trials and you can try them out to see which one is the best for you. Sketch is an industry-standard and a tool that's been loved and cherished by designers for ages. However, Figma has incredible potential to be a designers' favorite and a valuable asset for any design team.
All in all, the choice depends on your company, its goals, and its capabilities. If you still have any trouble with choosing the best-fitted option or if you don't want to concern yourself with such technicalities, contact us and we will provide the results you're striving to get.