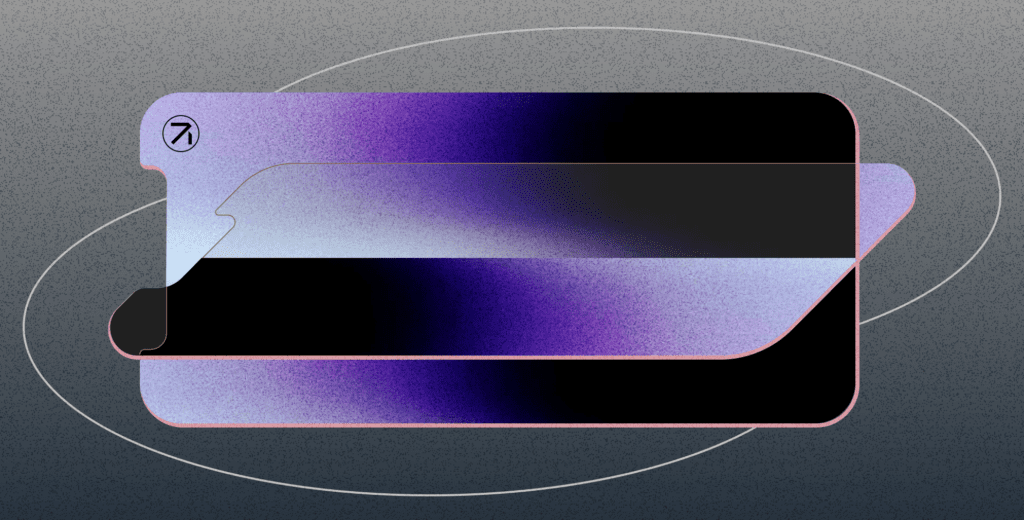 Designing an app is always challenging, as it requires a complete understanding of what you can bring to the table. With all efforts made and knowledge implemented, you will withstand the competition to draw your clients' attention. And only if you keep a close eye on the needs of potential users will you be able to convert your business into a demanded product.
Speaking about customers' interactions, it is vital to mention that the first thing to attract them is obviously a striking app design. So, if you want to combine your ideas with visual effects, apply UI/UX app design. It enables app visitors to get a positive user experience and fall in love with its functionality and graphics. To extend clients' databases, with good UI/UX design, you can make the application load faster, facilitate the navigation process, organize the information consistently as well as assemble colors, typography, content, and visuals.
How do you create a great app design
However, before starting the app designing process, you should think over every detail: from determining the goal to actual launching. So, it's high time to find out how to design mobile applications in 6 steps:
Step #01 Determine the goal of your application
No matter the business or industry, it's integral to outline the eventual result first to know where to head with the project. Stepping up to creating any product, you should know exactly what benefits it can give your clients and what aims you want to achieve. To set the relevant goals, it is essential to know the answers to the following questions:
Why is your project important?

Who is your potential audience?

What problems can your clients solve using the app?

How will you stand out from a crowd of competitors?

How do you create a great app design to engage users?
When the answers are enunciated, you have a basic understanding of your objectives. But you still need to have a strong purpose you can focus on in the future. It should be specific and clear. That's why look through the current apps you already have at your fingertips. It is vital to evaluate what you like about them and what needs improvements. It will help you avoid mistakes and choose better functions when you'll start designing your mobile application. Keeping all the information in mind, at this stage, you can work out an intelligible idea and direct it further.
Step #02 Research your competitors 
With the first step accomplished and the idea specified, you need to go on market research. If you come up with a definite concept, you may be one hundred percent sure that somewhere in the world it already exists. So, analyze your competitors carefully, defining their strengths and weaknesses. We all have access to many applications in the app store, so you can start strongly by looking for them there. Inspecting the potential competitors, go deeper into each similar app, and pay attention to its interface, functionality, and monetization.
To get even more precise insights, we recommend you to catch reviews and ratings the users provide. In this section, you can open up a world of complaints and praises. Maybe the app owner employs an intricate interface that makes the user experience troublesome, or the app design is gaudy, or it hasn't been updated for a great while. It'll certainly give you food for thought. However, don't restrict yourself only to the app store analysis — share your ideas with your friends, colleagues, and acquaintances. You'll be surprised how precious their feedback can be.
Once you get the idea validated, you can fix some shortcomings and make sure that your concept is meaningful and can help others make their lives easier. All in all, with a thorough research you'll have a great opportunity to gather all pros and cons and implement this knowledge in designing your own app.
Step #03 Create design wireframes of your app
As you recognize the goals of your project and understand customers' needs, embark on visualizing it. At this stage, you can take a pencil and paper and make a sketch. Concentrate on arranging the information reasonably. While working on UX wireframes, you can decide on app core functions. For example, users must be able to create their accounts and register, and you can determine sign-in methods: should they use passwords to log in or could they do it other ways? After that, you can think about adding other supporting features (for instance, sign-in via Facebook, Google, etc.). 
Once the features are specified, move on to the actual creation of the wireframe, which should be a viewable representation of the mobile application. To make it more structured, create a user journey map. Primarily single out the number of screens and the type of information included. So, organize each element in the way you would like it to see as if being the user. Then place the required buttons, making sure that future visitors will be able to reach them without effort. Besides, you should clearly understand how the users can get from one item to another without trouble. In other words, they should navigate intuitively and understand further moves from the first look. If they think which button to choose or where to click, that means the navigation is a total mess. All these features should be usable and clear. 
As you've probably already figured out, during this phase, you have room to imagine your desired app and engage in this process with excitement and full commitment. Moreover, there, you can change things easily without additional costs. Still, everything should be thought out deliberately, as wireframing influences the further development of your product. And making it properly, you can create a solid foundation for your future app design. 
Step #04 Design your app 
Currently, the number of apps is proliferating, and you can see it for yourself by clicking on the app store icon. You will be like a kid in a candy shop, as there are a variety of applications on different topics. Here, pay close attention to the way you choose the one particular app you need and what attracts you most. Why do you call it your favorite one? We bet it is an UI app design that makes an application appeal to people. If you want your project to stick in the minds of the target audience, it should shine brighter than others. So, the next step is to add visual interest to the app with the following elements and make them flow together:
The first thing you should think of when starting with UI design is colors — they can be the representation of your brand and something that it is associated with. Besides, they create the overall aesthetics and empower other app design elements.
As picking perfect colors can be rather challenging, study the color meanings that can help you understand users' psychology. Decide on what your brand embodies and what emotions you would like to lead the visitor to. So, using UI color schemes, you will combine visuals with project connotation. Would you like to represent peace and calmness, creativity, or energy? These all come from colors.
Then apply contrast. It means you should make elements visible so that viewers don't have to make an effort to find the right button. To be accessible, the buttons should be easily differentiated. Ultimately, if you already have your website or brand, make sure that the colors used will match.
It is necessary to mention that after the colors are chosen, you should harmonize them. Don't let app users be confused by creating chaos. Just make the colors agreeable and easy to perceive. To achieve it, you can implement the 60-30-10 rule:
– your base color should occupy 60% of the interface so that it is like a blank page to paint on;
-dedicate 30% to your second primary one, which will stand for importance and value;
-fill in 10% of space with accents like call-to-actions and links to direct the user to go where you need.
By and large, if you choose the right colors and integrate them correctly, they will certainly serve the project's purpose and make the interface visually appealing.
One of the ways of communicating with the user is text material that is crucial to be readable and attractive. That's why to improve the perception of information and make app users look through it enthusiastically, you should employ appropriate fonts.
A well-chosen font serves two purposes: functional and meaningful. It should be coherent and accessible, as well as express the mood of the brand. To simplify the choice, decide on whether you want it to be recognizable or completely new, which totally depends on your target audience. If you choose a classic one, you can find a wide range of approved fonts on the Internet. Whether you opt for up-to-date ones and want to stick out of the crowd, take help from experts in the field. They will assist you in creating a unique product vibe by offering high-quality options.
After that, move on to the functional part. To avoid visual conflict, choose clear fonts that will be usable in different sizes. It means they should be comprehensible when you either maximize or minimize them. Good fonts are always scalable so that it shouldn't be a problem to adapt them to various screens. So, be careful as to whether the user has to look closely to understand what is written — you chose too tiny fonts. That's why it is essential to make them legible. Adopting the right font is a significant step toward the perfect visual brand representation.
After selecting the fonts, pay attention to typography, but don't be confused: they are not the same thing. It is an indispensable part of user interface design that deals with the process of arranging typefaces mindfully. To provide visual convenience, you should keep them logical and systematic. 
As the body text is a key element of your product, choose one particular typeface for it. But don't mix several ones in order to be more creative — you may get visual clutter. Look through various styles to make the text consistent and hierarchical so that the user will naturally understand the app layout and focus on the content. 
Another element you shouldn't forget about is spacing. The more balanced the vertical distance between lines is, the easier information can be perceived. So, don't underestimate typography principles as not following them may ruin your users' experience and distract visitors from using the app. 
While designing icons, it is important to implement the principles of simplicity and individuality. Every icon should be pretty understandable and captivating at the same time. It is better to customize the icons to make them more lively and unique. Follow one style, size, shape, and outline to bring them to coherence. Undoubtedly, they should be practical. For instance, if the user wants to send a message, they will look for paper airplanes or envelope tabs. All these things are quite recognizable and logical, so don't change the meaning, just add some flavor.
When all the details are considered, you need to put them together and define whether they are compatible while presenting your project purpose. Here, you can address other people and ask them to evaluate the general mood of the app design. Collect the feedback and adjust or complement your mockups. Remember, the simpler the interface is, the more likely your app will be a success. 
Step #05 Get your app developed 
If you are sure of your app design and ready to bring it to life, so welcome to the development stage. It is a crucial step, and here, if you don't possess any technical skills, it is better to hire a qualified team. They will generate a functional part of your app, putting everything together and making it breathe. However, that is not the end of your duty, as while coding, developers will certainly contact you to specify the app design or alter some details. It will require time and effort to make the app run like clockwork. 
Don't know where to start to get your application developed?
Rely on us for a smooth and fast launch
Explore
Step #06 Testing and launch 
After your app is functionally ready, it is vital to make sure that the designers and developers put their heads together. Keeping your shoulders to the wheel during the creation process, you and your team can lose the freshness of vision. So, it is high time for testing and getting new insights about your product from other people.
The first step is to upload the beta version of your application. Thus, you will give the potential users the opportunity to verify it and deliver the feedback. Besides, it is important to know your beta audience and select it mindfully. Your testers should be the ones who actually need the app and will use it in the future. Moreover, they should be ready to give review and discuss all pros and cons as the purpose of testing is to receive an unbiased assessment and iron out the kinks.
If you want to avoid creating a testing community on your own, you can just use open beta so that anyone with a link can join it. It will obviously simplify your work and provide reliable analytics. That's why the two chief advantages of this option are the ability to define the number of users and scale their experience. You can easily track their behavior by gaining data reports. With this process finished, you will figure out the interface speed, the number of bugs, the level of app compliance with its goals, and the quality of its appearance on different devices.
At the final stage, move on to showing your product to a bigger public. When thinking about the right app store to choose, you need to be aware of your target audience's preferences. You can look through market research to find the information on the number of users according to a particular region. Besides, don't forget that every marketplace has its own requirements the app should meet. So, study their documentation thoughtfully. However, if your app fits different platforms, you can not limit yourself to picking only one. Thus, you will have access to a wider audience. Still, for a start, it is better to focus on one platform for your idea to be approved.
On a final note
To sum up, designing a mobile application is always complex, sometimes stressful, and requires your full attention to the process as each stage matters and brings a lot of tasks to do. At the same time, it's completely worthwhile. No project will live long without good app design because it is the first thing to get into people's minds and support their interest with excellent functionality and clear-cut, exciting design.
We hope that our article helped you puzzle out the topic. If you still have some questions, be free to contact us. Being masters of app design, Ester Digital will assist you in overcoming difficulties and implementing your idea in the best way possible.