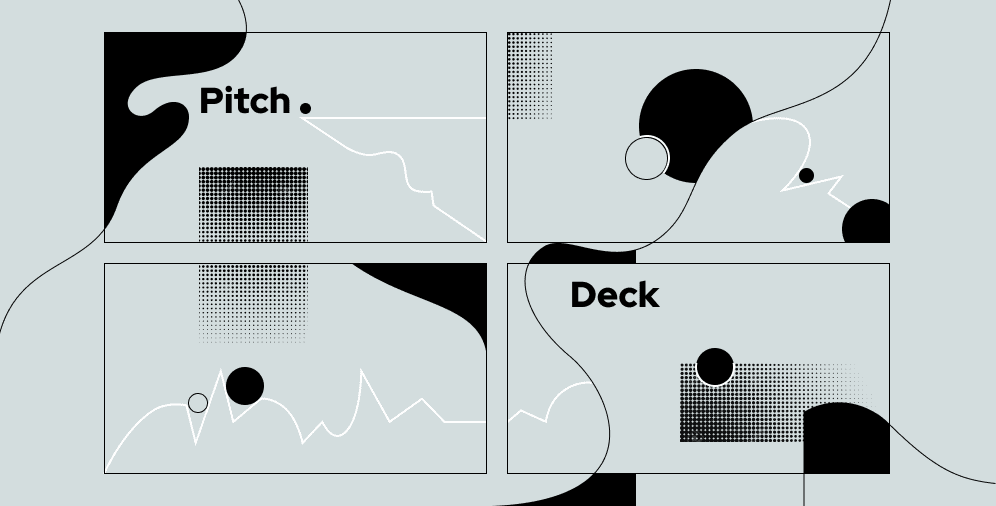 When you look at today's business giants like Airbnb or Uber, it's hard to imagine that they started out as small enterprises. Behind each of them there was an idea and unbelievable enthusiasm. However, they wouldn't fully realize their potential without enough financing. By raising substantial financial backing, it's possible to get the business off the ground and bring it to the market. Depending on how effectively the founders manage to prove the validity, their projects go or do not go live. At this stage, it's crucial to demonstrate the concept is worth working with and prepare the story that will give an incentive to help and join. In other words, you need a pitch deck.
What is a pitch deck
When it comes to startup company website design, many brands choose another path of making it to the top. They prefer to highlight their online presence first. Since we're living in a digital era, building a corporate website seems quite reasonable. But it doesn't mean that startup pitch decks are losing their momentum. Far from it – its popularity continues to grow.
In a nutshell, a pitch deck is a brief overview of a draft business plan. Typically, the pitch presentation includes a set of 10 or more slides, but it's not just a mere PowerPoint slideshow. Firstly, it is a unity of business-related data, contributing to the one aim – get financing. Investors need to understand your purpose and objectives. And pitch deck is a structured and comprehensive way of delivering yourself as a business.
Secondly, a pitch deck is a screen marketing presentation that also serves as a performance. It is your business mouthpiece explaining the validity of the project you want to establish. Put the money aside. Investors are human beings. And if you are silent and unemotional, the chances are little.
Finally, it is a perfect visualization tool and the very first impression you produce on potential shareholders. And you want it to be favorable.
Without a self-representation, it's hard to capture attention and build relations. A great pitch deck comprises a significant part of the communication process between founders and investors. And to make it run smoothly, you need to exude your personal charm to get them excited about your ideas the same as you do.
Pitch deck outline
However, few investors give money because of the sympathy. They need clear facts and proofs. Pitch deck fixed formula is what you need here. There is a set of slides that makes up a basis for almost every pitch deck format, capable of creating killer projects.
Introduction. The first piece of your pitch deck is an introduction slide. Here you place the company's name and what your business is all about, portraying its features and declaring the mission. The importance of the introduction is clear. It's the starting point of the communication process. And depending on how fully, transparently, and professionally you expose your business, the rest of the performance will run. Thus, don't miss an opportunity to connect with the investors from the very beginning of your pitch.
Problem. If you don't handle any actual problems, what is the purpose then? At this slide, you define problems your business intends to solve. No one cares about general things. Inaccurate and ambiguous statements can urge shareholders to doubt the whole project. Focus on two or more critical issues that relate to your business niche and concern your potential customers. Be specific.
Solution. To every problem, there has to be a solution, and who to provide it if not you? Determine the ways your business will solve the cases you mentioned lately. Here, avoid assumptions displaying your enormous potential. Explain the core functions and capabilities of your product, demonstrating your competence through facts and eliminating many questions. Investors are more likely to trust actual premises than obscure prospects.
Product. At this stage, you introduce the product that should comprise all the solutions to the problems you've articulated lately. Outline its key features and define how it differs from others. Here, investors expect you to be as precise and clear-cut as possible. And how you manage to expose your product influences their decision directly.
Market. Each business operates within the market. Here, you name the market your business covers and determine its size and your position within it. Then, you expand on who your target audience is and what your target segments are. That ensures that your business operates in a real environment and not some imagery settings.
Traction. When seeking financial backing, a business should present traction as evidence it's developing and worth investing. Moving is living, and no one wants to contribute static projects that have high risks of failure. Show investors your project can give them a sizable return. This slide is an insight into your overall proficiency, progress, and other achievements. Include numbers and stats that can demonstrate your business scope and scale. The more specific you are here, the more businesslike and down-to-earth your ideas are.
Business model. Stakeholders want to know the operating principles of a project they're going to contribute. This slide displays the overall functioning of the business. In other words, here you explain how you're going to earn money, illustrating your business structure and characterizing its mechanisms.
Competition. Employ this slide to set your business apart from the competitors and show how you differentiate yourself. Display some beneficial peculiarities your business possesses. Is your product more affordable than others? Is it more innovative than others? Finally, why invest in your product but not others?
Team. Behind every business, there is something or someone that brought it to the scenes. Present your team members on this slide. Include their names, titles, roles, achievements, etc. Don't forget to apply images. It bridges the gap between the parties, increasing credibility and trust.
Ask. The last but not the least paramount component of a pitch deck is the ask. It is wrapping up part of your performance. Thus, it should be powerful enough to encapsulate all the information and push investors to take action. At this stage, don't explain much in detail. Tell your final word, and state your ask clearly.
How to design pitch deck
Including all the components in your pitch deck is paramount yet almost hopeless without great design. When creating a presentation, you have to focus on details. There are many points to consider, but these are fundamental:
Step #1 Employ fitting color palette
Make use of one color palette that suits your project best. Avoid colors that are too bright or too plain. Since colors influence the readability, pick up those that blend well with that of typography. In other words, keep the contrast in mind while designing.
Step #2 Make use of proper typography
The fonts you choose also have an impact. Make sure the audience can get the point effortlessly while viewing the presentation. Otherwise, you're running under the risk of being abandoned just because investors can't get across the data on the screen. To make the content more readable, employ a visual hierarchy – use bigger fonts for titles and headers and smaller ones for body copy.
Step #3 Employ white space
Don't try to pack all the space on the slide. Leave some areas blank. White space contributes to the balance and helps to avoid a cluttered picture. That way, your slides will be more digestible and the content easier to perceive.
Step #4 Incorporate visuals
Images can tell much. It is a powerful visualization tool that makes complex concepts achievable. With consistent use of graphics and charts, you can dilute numbers, ensuring a better understanding of the data. Visuals evoke an emotional resonance among the audience. Thus, it's your chance to connect with the viewers.
If you want to include images of your team members, make sure they are optimized. All of them should be of one size and one disposition, with similar coloring and background. Good and professional visuals provide a pleasant experience to those who view them.
Step #5 Exhibit your brand
How would investors want to bankroll your business without merely knowing your brand, its name, logo, or values? If you already have some branding attributes – use them in your pitch deck. Don't be faceless. Expose your brand image and make it memorable. That is your chance to produce a lasting impression and get finance.
Step #6 Arrange the content
Cluttered pitch decks are not comprehensive and hard to manage. If you have much information to show, try to organize your content. First of all, replace some data with graphics if possible. Include illustrations, pie charts, and icons. These are the best ways of presenting the information straightforwardly, excluding tons of text.
Another trick is to apply the rule of three or use grids. People tend to remember things better if they are divided into groups. When describing the problem, solution, or highlighting the product features, group the data into three or more columns. That ensures consistency and makes the content easier to navigate.
Step #7 Design the pitch to be relevant
Before getting an investment, make sure your pitch is potent. When creating it, keep up with the latest progress and avoid out-of-date information. That will show your competence and demand within the relevant markets that every investor seeks.
Step #8 Make sure the pitch deck can stand alone
When building your pitch, think about the presentation as an independent asset of your performance. Investors might want to look through the deck once again. And if instead of a cohesive story, they will see nothing but a series of random slides – you fail. Thus, design the pitch to narrate the story without you being there to tell it.
Step #9 Be focused on a single message
When you're designing a presentation, it's better to stick to a single message. Look at your pitch deck as a whole, determine its final aim. That will help you to drive your energy in the right direction and maintain consistency throughout the project.
Step #10 Keep the presentation short
Ideally, the presentation should be 10-20 slides long. The average timing for a pitch deck is 20-30 minutes. If it is more, investors may lose interest and forget what it's all about. Keep your pitch short. Make sure you leave enough time for further questions and discussion.
Step #11 Make use of pitch deck templates
Creating an excellent pitch deck from scratch might be painful. Actually, not might – it is going to be painful. It takes time and effort to build the structure and mold it with proper design. Hopefully, there is a vast range of professionally designed pitch deck templates. You can land them according to your needs as they are highly customizable. Using them, you can cover all the key features of your business in a short time, avoiding many inconsistencies.
If you're not as strong in design as you are in business, and you don't want to choose one of the ready-to-use templates that won't share your character and vision – you can contact us. Our professional team can help you to create an impressive pitch deck that suits your brand perfectly, and even more. We will shape your brand personality with a consistent branding policy, including social media. If you want to have an all-around performance, we will create an excellent corporate website for you. At Ester Digital, we deliver smart solutions for startups that make them grow.
Pitch deck examples
Pitch decks vary. Some can lack the components, but it doesn't mean they are incomplete and superficial. Those who obey the rules can be defeated by those who are imaginative. The success depends mostly on the manner of delivery rather than the structure itself. And the following famous pitch decks confirm it:
Airbnb
The Airbnb founders claimed the traveling sector experience was deteriorating due to the poor renting services. Prices were high, hotels disconnected visitors from the city culture, and there were no easy ways of renting from locals. That urged them to come up with a definite solution that continues to grow. Even though Airbnb's original pitch deck was introduced in early 2009, the presentation remains an excellent reference for many present businesses. What is so special about that? Throughout the whole pitch, we can observe that triptych approach. In other words, almost every slide has three sections of information. That is the best way of delivering the data to make the project comprehensive and appealing.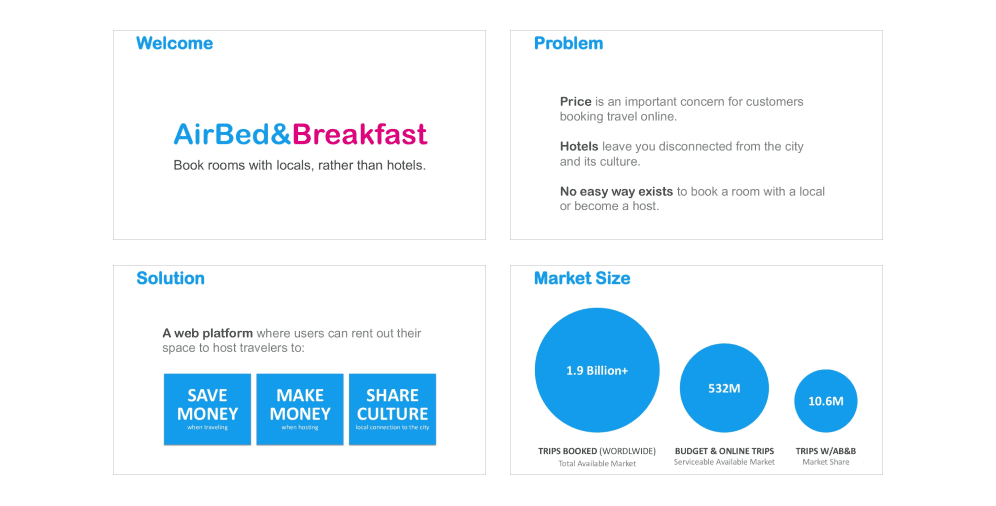 Buffer
With the growth of social media, the demand for additional publishing management tools has grown as well. The Buffer pitch deck is rich in reliable facts and numbers. Its milestone slide demonstrates high traction the business has already achieved: numerous users, significant annual revenue, and decent achievements on the app integration. That shows investors that they're not funding a static company but a striving one, ready to change the market. And that is quite enough to convince investors to join that wonderful journey.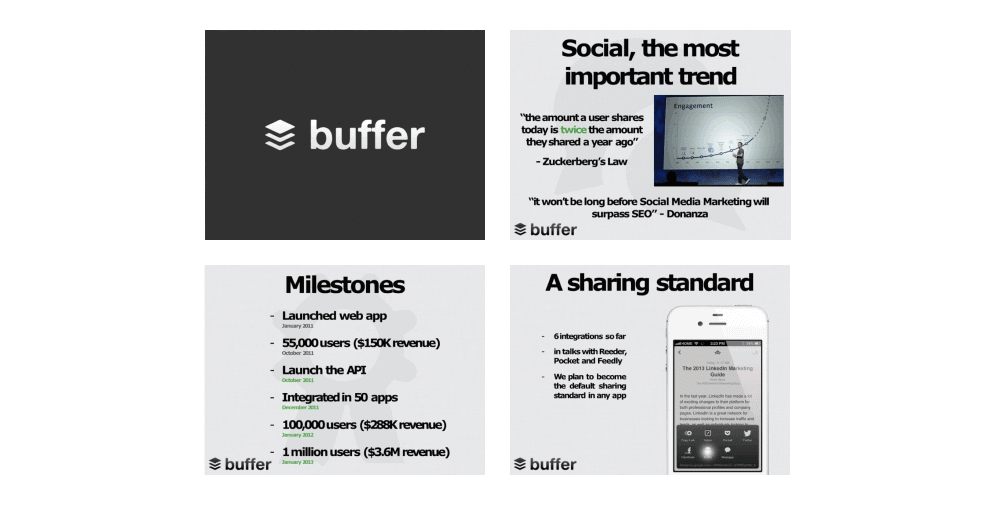 Lexop
When creating a pitch deck, it's crucial to maintain consistency. Lexop's pitch deck goes far beyond and manages the whole story. The startup addresses those who have to struggle with an enormous flow of email delivery. The company suggests an email tool with proof of delivery that eliminates many working obstacles. Their purpose is evident right from the first slides, and as the story unfolds, the pitch introduces the product. Thus, it gradually leads investors to the main point, producing a higher impact.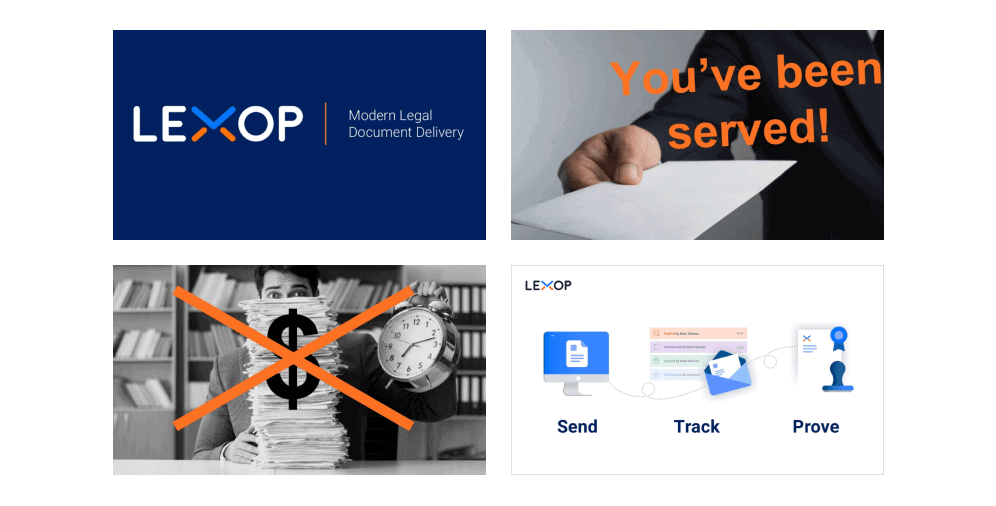 Uber
Even though Uber's original pitch doesn't represent the company as it is now, it is one of the best investor presentations of all time. The pitch consists mostly of bullet points that would turn the slideshow into a cluttered picture unless Uber employed a grid structure. It even goes far beyond, creating an impressive amalgamation out of the tiny pieces by consistent messaging. This approach is smart enough to make the investors see the idea the way the founders see it. There is no impressive traction to expose. Still, it proves that all-around messaging is a big part of a game.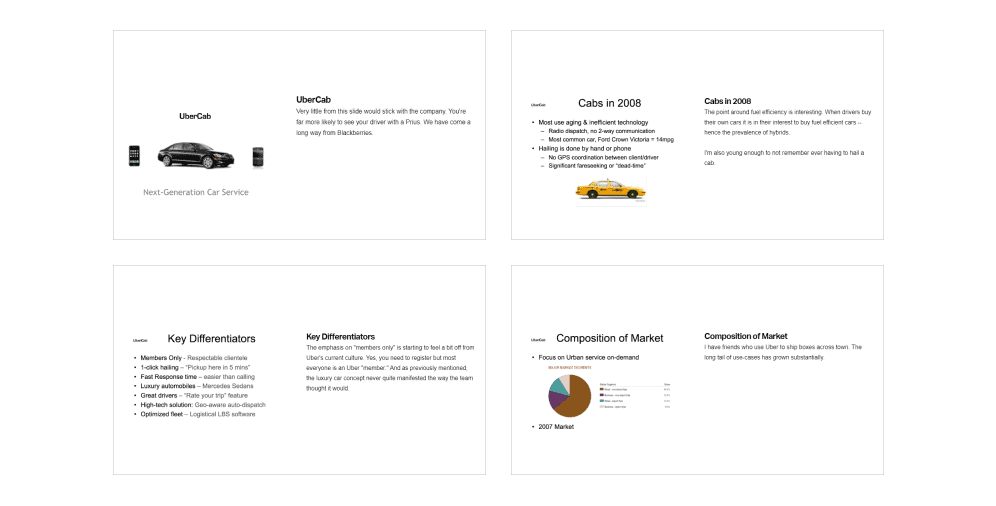 Canvas
Canvas' original pitch deck addresses the problems of the paper-based learning process, suggesting digital transformation as the solution. An outstanding feature of that presentation is that it perfectly combines textual information with descriptive visuals. It makes the pitch more vivid and engaging. At the same time, it effortlessly pushes the message at the forefront of the presentation.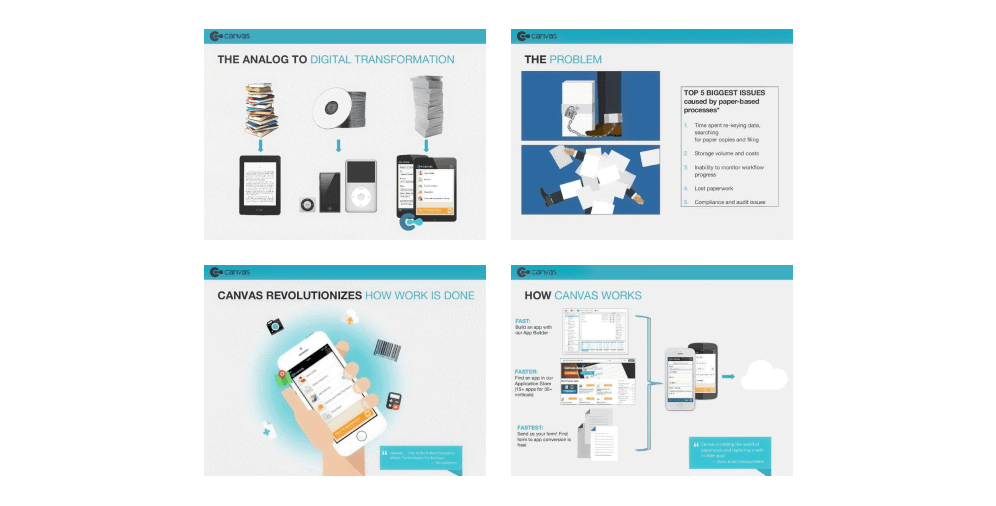 On a final note
It's crucial to understand how vital an excellent pitch deck can be for your business. When making one, you have to focus on multiple things simultaneously. Starting from the content, messaging, storytelling, right to the design. But if created properly, the pitch deck can urge the investors to trust your business, leading them to investment. It is the smartest way of building relations with your potential shareholders rather than aggressively persuading them to join your project.