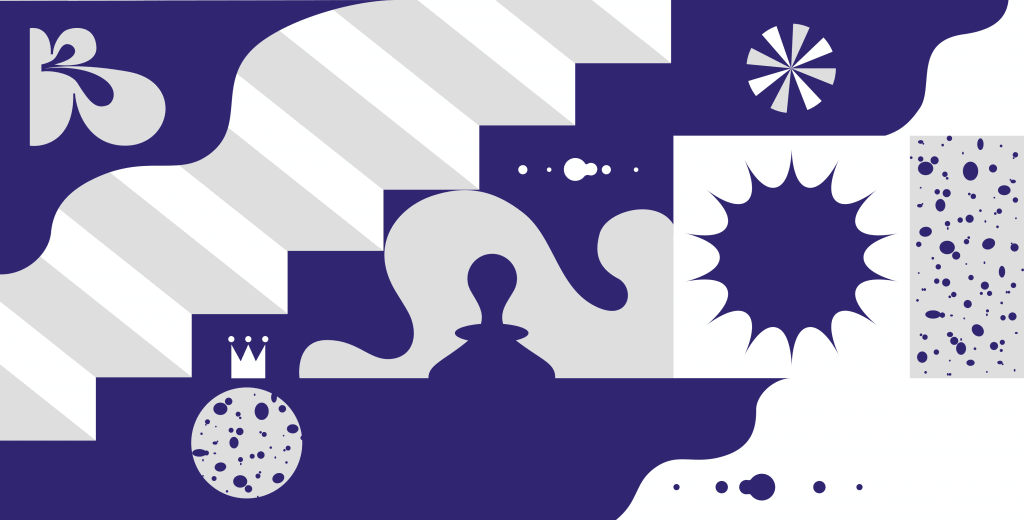 Have you ever wondered how many businesses are in the marketplace today? Only in 2016, there were 25 million Americans that were starting or already running their own business. A staggering number! And the most crucial thing is that living in an abundance of similar offers means making choices every day.
On what factors do consumers rely on while deciding? Is it the popularity and importance of a brand name or rather its product's functionality? Is it the quality or appealing price? Can it be a captivating slogan and the company's engaging positioning? And that is what our branding and identity agency is going to help you to reveal in this article.
In all fairness, all these aspects cross a customer's mind in the process of decision-making. Therefore, it's extremely important for business owners and entrepreneurs to develop a product's set of exclusive characteristics and provide their customers with an exceptional experience. So, what does branding mean in business?
What is branding?
Before we start, let's explore what the brand is. The concept of a brand encompasses much more than a recognizable logo or a trendy design. It touches upon all aspects of the company's performance – from products and services it delivers to the ideas it conveys. It also concerns the overall experience one undergoes when interacting with a business – as a customer, a partner, or a mere passerby. A company's brand is a total of everything individuals think, see, know, feel, and hear about an enterprise and the impression of a brand holds a solid position in the minds of the customers.
Branding is the process of building and developing a brand. It's a complex and multifaceted mechanism that takes a long time and effort to be put into action. One may wonder – what's the purpose of branding and why is it so important? Is it worth investing money and energy? Given how competitive the present market is, the fundamental purpose of branding is to establish a significant and distinctive company's presence in the marketplace. Brand building means developing and applying exceptional features to your business to stand out and be distinguishable from others.
Strong and effective branding guarantees a maximum lifespan on the market and constant growth and development. It has been a faithful assistant for many companies that are regarded as industry leaders nowadays. There are plenty of successful branding examples to choose from, but since we're extremely original and imaginative, we'll give an example of a little start-up brand which logo features an apple with a bite taken out of it. We think it's called Apple and we believe it will have a great future in the business.
Jokes aside, it's safe to say that Apple nailed down the branding process and became one of the most recognizable brands on the globe. Everything the Apple company creates shapes the brand and communicates its exceptional features – from the slogan to the packaging design. The clear positioning and straightforward communication of values contributed to its unrivaled reputation, captivating enormous numbers of customers. This example gives a clear understanding of how important branding is.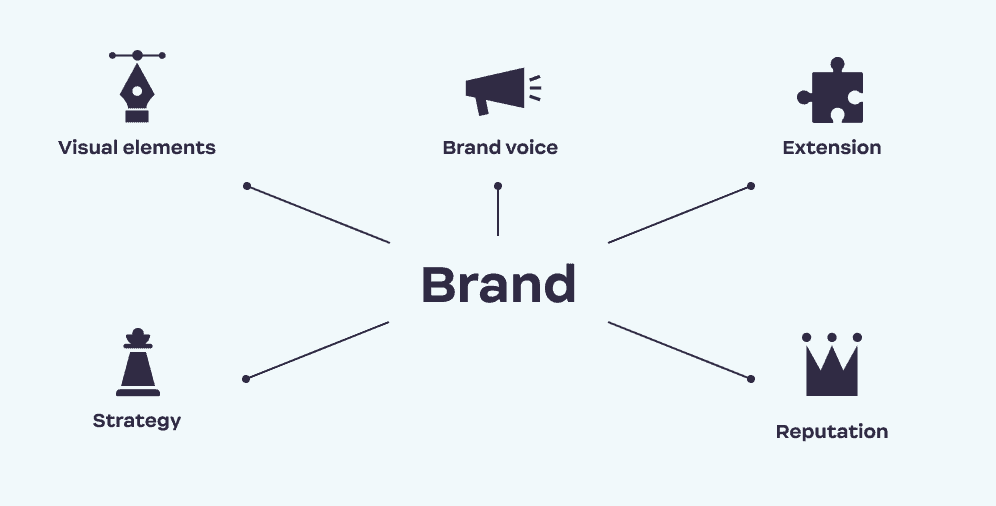 Branding elements
Building a brand strategy is an inseparable part of any business that takes its first steps towards success. If you think about strong brands, what exactly comes to your mind? Is it an admirable logo or a powerful slogan? What things make you appreciate this or that brand? What does branding include and what are the branding elements? Branding is a complex concept which consists of several elements that need to be thoroughly considered. Studying them carefully leads to a clear understanding of how branding works.
To discover what is included in a branding package, let's check the list below.
01 Visual elements
Before bringing any product or service to the market, the first thing you need to do is to think about its visualization. Visual perception plays a big role in the process of brand recognition. Each day people/customers/clients are bombarded with tons of visual data. The purpose of branding is to bring a unique and memorable visual experience urging them to think about the brand right away each time they interact with it.
The brand logo is probably the most important attribute of visualization. It gives a clear understanding of what you suggest. A good logo conveys a brand's unique features that differentiate it from the competitors and leave a strong impression on those who experience it. Moreover, a powerful logo can become your business's trademark.
In case you're completely in the dark about logos, their types, and functions, there's a thorough post on logos in our blog, completely by accident. You can check it out here.
When building the brand, it is important to apply a coherent design decision to everything your company suggests to the world. The consistent design supports the holistic nature of the brand and assures the integrity of all aspects the business encompasses. Before applying the design, think about the colors that more precisely translate the overall mood of the brand. It's important to stick to the one color palette that fits your criteria and transmits the general idea of your business. Whether minimalist or vibrant, the applied visual arrangement should be comprehensive and fitting for your unique profile. The same applies to the illustrations or animations that you use – they ought to be of the same visual plane.
02 Brand voice and positioning
Brand voice and positioning are crucial means of the brand's engagement with the world. They distinguish your brand from its competitors by conveying your unique purpose, goals, and personality.
Brand voice channels what your brand speaks and how it funnels its core principles. It humanizes your brand, making it possible to easily communicate central ideas to potential clients. The brand name can tell much to the customer, but your slogan specifies the purpose of your business existence. Slogan involves the brand's philosophy and transmits it to the outer world, disclosing the company's main values and ideas.
Another important issue is brand positioning. It is an instrument of self-representation: how you describe yourself and to which kind of business you adhere. It's extremely important to know who you are and what you propose to the customers. By stating what you offer in a straightforward way, you promote reliability and attract new clients because they can clearly distinguish you from others.
03 Brand extension
This branding element represents the capability for development and progress. Constant growth is what can make your business to be always relevant in the market. Good brands prosper and have the possibility to offer new products and services, thereby expanding their clientele and becoming more recognizable. When building a brand, make sure to add the direction of prospective development and list all possible channels of growth.
04 Brand strategy
Strong brands are not built in one day. It all starts with a basic idea but you need a plan to turn that idea into reality. It's much easier to follow an elaborated course rather than wandering about numerous possible paths. Planning every step and its consequences on the way to the goal means building the strategy. The brand strategy helps you to determine your principal objectives and to guide the business's development back on track. With a thoughtfully generated plan, you can set up a desirable image of your company and transmit it right to your clients, ensuring they get a cohesive customer experience.
05 Brand reputation
It's impossible to predict or to plan out your brand's reputation. Being an intangible element, reputation is hard to control. You can't be sure whether it will be positive or negative, as it doesn't fully depend on some specific operations that can guarantee high positions. It's mostly about how the world perceives you and how it feels about you. Every decision you make influences your company's reputation. The key to managing this issue is to provide your customers with impeccable service, thereby confirming that your principles go along with your actions.
Branding is an undoubtedly intricate procedure. Believe us when we say that with all its pains and difficulties it is highly rewarding. It helps to build a solid future for your business and establish its position on the market. What is one of the key benefits of successful branding? Once the meticulous and elaborate process is launched successfully, you'll reap the benefits from its results for a long time ahead.
Types of branding
In order to fully understand what is branding in business, one needs to study its main components and approaches. How does branding work in this or that scope of business? Here is a list of the most common branding strategies.
What is global branding?
When a company expands its marketing influence and enters new countries, it's crucial to maintain a consistent image on all platforms the business encounters. Consumers' preferences and habits may vary per country and even the smallest differences can ruin the company's overall performance and lead to failure. 
Global branding is the process of creating globally standardized advertising and marketing strategies. Its goal is to uphold a product's or service's unique features that will be recognizable, regardless of the country, continent, or region where the customers experience it.
What is corporate branding?
Corporate branding is the process of building a brand for an entire corporation. The corporate building comprises every sphere of the company's performance and it is basically all about the company as a whole. It includes services, products, management policy, corporate culture, and corporate social responsibility of the company.
The corporate building is usually aimed at delivering a company's mission and portraying its values in each activity carried out either by the company itself or by its own employees. The point is that a company's positive features should be promoted in each point of the contact it has with the outer world ‒ be it a prospective or a current customer, a partner, or an employee.
Strong corporate branding has long term effects and contributes to better recognition. Customers tend to automatically trust new products when they are associated with a brand they already recognize. Also, the company attracts better job applicants and encourages them to pursue long-term cooperation. That enhances the overall reputation and establishes a solid position in the competitive marketplace.
What is co-branding?
The marketing partnership between two or more businesses is the issue of co-branding. This approach represents a great possibility to advance your business and expand its capabilities to new horizons.
Co-branding is a marketing partnership that focuses on beneficial bilateral relationships. What is more, it may grow into one joint venture, influencing each other positively and breaking into new markets. Co-branding is good for adjacent businesses that have common features and can benefit from each other.
Take a look at the partnership between Levi's and Pinterest, which is a great example of co-branding. The purpose of this campaign is to bring the benefits of the Pinterest digital environment and the marketing strategy of Levi's together. Pinterest provides Levi's with a social platform with millions of users interested in visual offerings, and Levi's meets these needs using its visual-focused boards. This partnership promotes both companies, leveraging their performances.
What is product branding?
Imagine walking through a supermarket filled with various products that feature unique packaging, color, design, and logo. That's exactly what product branding is.
Product branding is a type of branding which aimed at making a single product distinct, recognizable, and attractive. It enhances the visual look of the product making it both recognizable and exclusive. Symbols, logos, and designs are an essential part of product branding. With the help of these elements customers can easily identify the product or to recognize it due to the vivid and memorable packaging design. Successful product branding is what makes people trust your product and choose your brand over another.
What is service branding?
This type of branding focuses on enhancing the efficiency of the immaterial assistance provided to the customers in a form of service.
It is aimed to fulfill the needs of the customer by ensuring that the services they get are unique and distinctive and possess all their brand attributes. Usually, people who interact with service brands get some extra benefits, such as a bar of chocolate on the airplane board or some additional prizes that come into the package with every purchase. That's how the service branding works.
What is no-brand branding?
It may sound quite controversial, but there is also such a thing as no-brand branding or minimalist branding. Brands employing this type of branding can be rather standardized and generic. They let their products speak for themselves without applying any branding strategy.
Usually, the design is extremely simple and doesn't contain any colorful and eye-catching elements. However, these products are quite successful in the market because people enjoy their simplicity.
No-brand branding is aimed to provide customers with fairly priced high-quality products. Emphasizing the lack of brand, a company shows customers that they don't have to overpay to get branded products. This results in high credibility and trust among the customers.
What is audio branding?
Probably all of us have heard some melodies that evoke the image of the brand in our minds. The use of audio, songs, melodies, and even voices in the process of brand building is namely audio branding. Audio can increase the impact of branded visuals and make us recall them each time we hear a familiar song. This type of branding is about applying specific and unique voicing to your brand.
To narrow down the list above let's have a look at one of the most iconic brands – Starbucks and the branding policies it adheres to.
Probably all of us have seen the company's logo at some point. This Starbucks' visual attribute leaves a strong impression and makes us think about the brand each time we encounter it. We can easily identify and distinguish it through a great number of similar goods due to the great product branding policy. Undeniably, this powerful logo has already become a trademark recognizable all around the globe, becoming a successful example of corporate branding.
Founded in the USA, Starbucks has been rapidly expanding its stores worldwide and now reached the milestone of successfully operating in 80 countries. Moreover, the brand manages to maintain its original image and provide all the customers with a consistent experience. This is a great example of an efficient global branding strategy.
Another point is that of the service it suggests. Starbucks' brand philosophy is to provide customers with a relaxing and delightful experience by offering them an ideal place to pop into and enjoy a cup of coffee. Starbucks focuses on the emotions it can deliver. That's exactly how the consumer-centric approach works. Therefore clients are ready to pay more for the relaxing atmosphere and impeccable service the stores offer.
Let's delve into Starbucks' partnership with a powerful Spotify service. The essence of this co-branding strategy is to provide Starbucks employees with a premium Spotify subscription. It gives them access to a playlist that they can curate throughout the working day. Thus customers can enjoy the finest music right in the coffee shop. All this contributes to the increased enjoyment of the visitor's experience and enhances the overall companies' performances. This co-branding strategy allows both Starbucks and Spotify to share each other's audiences without sacrificing their brands.
Starbucks branding concepts go far beyond the common ones. This is a great example of a company that employs several types of branding and combines them well.
Why is branding so important
Branding is a crucial constituent of any company, no matter size or age. All businesses should consider it as one of the important parts of their marketing strategy. Branding is a long-term business thinking approach, not only seeking quick results. It is not an expenditure like many people think, it's an investment in a company's reputation and success. A brand that establishes its individuality and doesn't lose it over time, becomes authoritative in the marketplace and gains trust among its customers. But it is not the only answer to the question of why branding matters. There are some more. So what are the benefits of branding?
Turn the visitors into loyal customers.
One of the branding elements, to be exact, positioning, encompasses the transmission of the brand values and stating its purpose. Stated business views make it easy for individuals to identify your business. Thus branding helps business owners to attract those who share the same position and enhance marketing messaging by fitting the interests of the concerned audience. In this case, individuals are more likely to become your customers.
And if during the interaction your brand comes up to their expectations then you'll get more than a clientele. Fully satisfied customers aren't just more likely to continue buying your products, they're also significantly more loyal in their relationships with your brand. Another point is that a good product generates consumers, but good branding does much more – it generates supporters.
Advance your distinct features.
Branding simplifies the process of decision making, which usually appears to be a real torture for the customers. Branding gives a clear understanding of who you are and what you offer. Effective branding enables customers to easily identify a desirable product or service without mistakes and disappointments. Consumers know what to expect from this or that brand and choose the one that fits their needs.
Grow a competitive edge.
Nowadays the marketplace is highly competitive. Every business tries to identify itself and deliver the best experience. Strong branding is exactly what you need to stand out. Even if there are similar businesses you have a chance to show your advantageous sides and make people remember you. The effective brand building gives you a high competitive advantage and enforces the possibility to win the market.
Command higher prices.
It's reasonable to assume that customers don't buy products, they buy brands. Brand equity is the social value of your brand and how it is perceived by individuals. Strong brands have high equity, as they've grown a trust among customers and built positive perception. Such brands can easily command premium pricing without running the risk of failure. Consumers will definitely pay for a product they know, trust, and perceive as superior. Effective branding is a way to build strong financial performance.
On a final note
Never underestimate branding. It's a great tool to manage your business's performance and to occupy a prominent place in the industry. Branding is about the contribution to the future. When you understand branding concepts and what branding does, its power becomes evident. High recognition, low marketing costs, increased customer loyalty, and successful marketing performance – the list goes on. At last, your brand is the way the world perceives your company. Isn't it a good way to bring your business to the top and furthermore enjoy measurable dividends that come from investing in branding?
Building your brand's individuality from scratch might be extremely challenging. But don't be put off by the difficulties, as the next time we will present you with a guide on how to develop a brand. As soon as Ester publishes it, we'll provide a link!
If you still have any questions about branding and its tedious and painful process points, feel free to contact us and get useful insights and tips that you will be able to implement in your own business strategy. We promise we will give you so much information you'll probably be trying to make us stop.