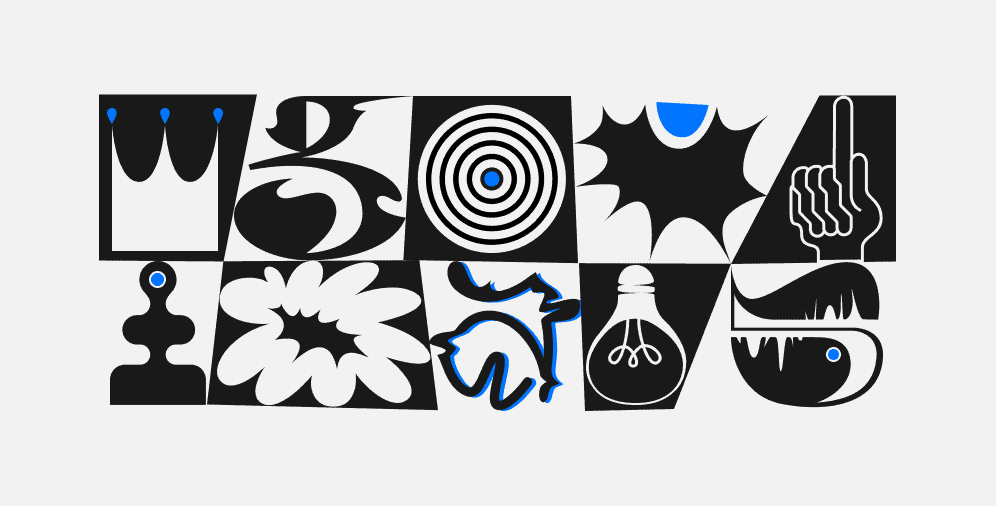 In one of our previous posts, we have already talked about the definition of the brand, its types, and its importance for any business. Being a customer-oriented company that we are, we will save you the trouble of looking it up on our website and writing angry comments – here it is. As a company with vast experience in creating brand identities for multiple companies, we are interested in branding a company and enhancing its unique business personality.
What is branding precisely? It is a marketing process of creating and applying a distinctive set of features to a business that will make it easily identifiable and recognizable. Branding helps to build trust between customers and business owners: if you establish yourself as a separate unit that has its own style that translates its values and objectives in a visual form effectively, it ensures your clients that you're a competent and accomplished company.
Branding is what makes a business stand out among different similar companies and attract clients. Some of the most famous companies that you know have become what they are due to an effectively implemented branding strategy. That's why creating a brand and investing in branding is essential.
Here we share our step-by-step guide on how to brand your business.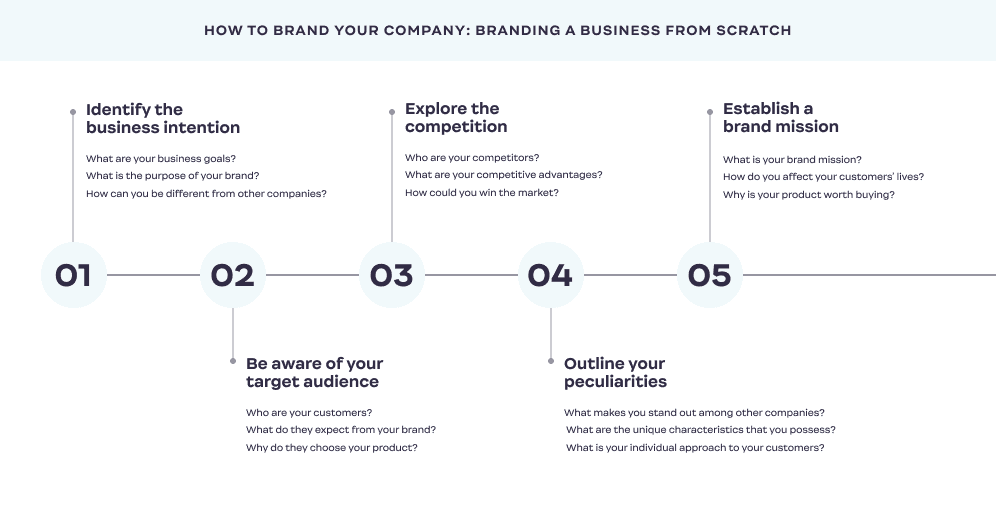 Step #1 Identify the business intention
Before you start working on branding, ask yourself the following questions. What are your business objectives? How do you define the purpose behind your brand? What values would you like to promote as an industry player? What features would you say are unique to your company? Answers to those questions will help to identify you as an individual in the market, a company that can be discerned among similar products or service providers.
Your business purpose has to be defined as clearly as possible because it will greatly facilitate the whole branding process in the future. Once you know what your basic elements are, it will be easier to see the whole picture.
Evidently, defining a personality of a brand is a more complex notion that defining the character of an individual, but if you delve deep enough into the core of what you do, you'll be able to think of associations that your brand evokes and that will lead to understanding the tone of your brand voice and getting the grasp of the imagery that can be used in relation to your company. Also, a clear identification of your purpose is a great boost for any team members who will feel a more personal attachment and responsibility, thus increasing their working performance and employer loyalty.
Step #2 Be aware of your target audience
Once you know your distinctive features inherent only to you, you have to do the research on your target audience. It is crucial if you want to know what your potential clients expect from your product or service.
In order to build your business brand, you have to know to whom you're appealing. It is a common misconception that you can create a product or a service that is equally useful and alluring for everybody. Remember that it's impossible to impress everyone. Believe us, shooting senselessly into the air is not a good working strategy. All the brands that operate successfully for years work for specific target audiences which they know through and through.
Think of it as if you're putting out a journal: if you tailor-make it for a certain group of people with specific behavior and market it as such, you're guaranteed to gain their attention, and, as a consequence, trust, loyalty, and profit. Everybody wins!
Getting a devoted audience is a must if you wish to be a long-standing player, so take your time to study your potential clientele because their needs and their behavior will affect all your branding decisions along the way.
Step #3 Explore the competition
Learning about your customers isn't the only bit of research that you will need to undertake. Studying your competitors' pool is essential for shaping out your original business features. If you know what makes your product special among a line of similar products, you'd know what points of your business need to be highlighted and emphasized.
On top of getting an idea of how you are different from them, you can also learn from your competitors in terms of what strategies work and what do not, what can work for you potentially, and what is to be avoided.
At this point, you are not asked to make an imitation or a parody of your competitors. Sure, stealing what might work for you is perfectly fine, especially if you operate in the same sphere, but imitation won't bring you the same devoted fanbase that those brands have – quite the opposite. Try to think about things that distinguish you from them, rather than focusing on applying the same branding approach.
Step #4 Outline your peculiarities
This point is tied closely together with the previous one – think about your peculiarities and your approach to the visual arrangement of your content. Don't panic if you're stylistically close to some other similar brands, but make sure to develop something exclusive, something that can be associated only with your brand.
That doesn't necessarily mean that your product needs to be 100% unique – you can provide extra service that doesn't exist for other companies or promote values or approaches that are not very widespread. For example, the Ester Digital team worked on improving a branding strategy for Evryman – a mental healthcare platform that provides retreats for men to deal with modern-day challenges.
The way we approached the design of their website is not extremely innovative, but we made sure that through the right use of their visual attributes such as color, logo, and typographic elements, we highlight their brand mission and the sense of community and belonging that the company provides for its clients. What is needed at this stage is understanding how you can be original without being excessive and what are the potential tools that can help you with that.
Step #5 Establish a brand mission
If you're still unsure about what you bring to the table, try to formulate your brand mission. Is it to simply provide people with the product or service? Is it to make their lives easier? Entertain them? Assist them in something? Or maybe you present some luxurious service to improve the quality of their life?
What you choose your company to promote depends solely on your decision and can be carefully planned out. Take Nike, for example. An incredibly famous foot- and sportswear corporation, Nike isn't simply making a high-quality product, but also motivating their customers to keep pursuing their fitness aspirations and inspiring them to seek their inner athlete.
That is a fantastic example of a compelling brand mission that encompasses all brand decisions that the company makes, without being pushy and intense. You know exactly what you get when you buy Nike products: excellent products, inspiration to use them, and a sense of belonging to an exclusive group.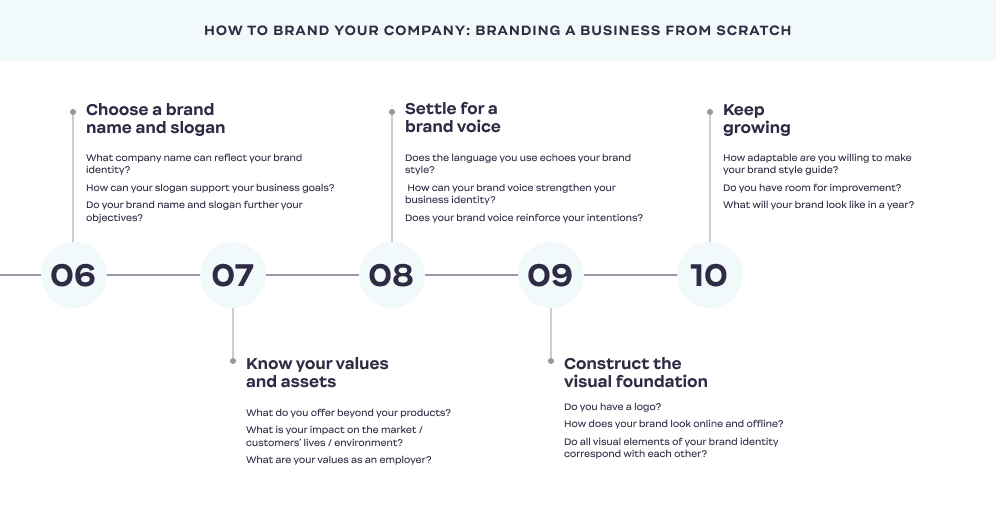 Step # 6 Choose a brand name and slogan
When you are done with the research basics, you can move on to the gist of it. Imagining a company without a captivating name and a slogan is impossible nowadays – sometimes you only have mere seconds to catch a client's attention, so the tools for it should be as efficient as possible.
Picking a name and a slogan for your brand is a big responsibility because it influences every brand decision you make: from the length and form of your logo to the website arrangement and marketing strategy. The problem with picking a name is a variety of choices: you can pick your mother's maiden name, create a neologism, play around with words, reinvent them, and give them new meanings. There is endless room for a creative maneuver, which is both exciting and challenging.
It all depends on the nature of your business and a niche you're aspiring to take – luxurious brands can afford to have longer names rather than brands that appeal to a wider and less condensed audience. A slogan should be consistent with your brand mission and have the same stylistic form. The standard advice here is to create a slogan that will make you interested in your product or service. Make yourself impressed before you try to impress anyone else.
Step #7 Know your values and assets
Ask yourself: would you like to buy a product of a company that has no clear set of values and advantages that make it stand out among other businesses? For example, if you're buying a car, would you like the company of your interest to be conscious of the ecological impact that they make? Or maybe provide extra protection measures to ensure your safety?
Spring Health is a great example of how acutely the company is aware of the importance of their work. With mental healthcare problems being on the dramatic rise right now, Spring Health puts the psychological comfort of their patients at the forefront of their work. Everything they do is about making people feel better. Their values are clear: swift and competent help by highly skilled professionals, personalized recommendations, and scientifically proven solutions, use of technology, and AI-driven tools.
What about the extra something that your company provides for the clients? What kind of competitive advantages does the company have? Spring Health provides mental healthcare programs for employers who can provide their staff with professional help and a personal care navigator right at their working place. This kind of peculiarity emphasizes the individuality of the company, highlighting the benefits that it provides.
Step #8 Settle for a brand voice
Before you can start creating the visual attributes of your brand, make sure that your brand voice is loud and clear and can be heard across everything you're planning to do. It's necessary to distinguish it before you implement your brand identity elements so that you won't have to change much afterward when the project is already launched.
Why is a brand voice so crucial? Is it possible to go on without it? You can try, but having a brand voice will help you to move forward and make decisions on the graphic elements of your identity more quickly and effectively.
If you choose your brand voice to be very stern and strict, the brand attributes choices should reflect that. If you choose elements that seem redundant and excessive, your company won't be taken seriously by your potential clients.
Depending on the nature of your business, your brand voice will reflect your own personality and communication style – the choice is yours. Just remember that if you set up your brand voice, it's going to be hard to change it back once the visual elements are done and in operation.
At this stage, think carefully about the language you're using. The linguistic choices that you make also impact the attitude your customers might have towards your brand. If you provide high-end service, don't opt for conversational phrases and slang that youth uses in the memes all over the internet. On the contrary, appealing to a younger and more "hip" audience isn't ideal with Shakespearean English. Don't forget that you talk to your clients, even if it doesn't feel like that over the screen, so make sure to utilize the same approach to communicative situations as you would in actual real-life settings.
Step #9 Construct the visual foundation
Finally, showtime. This is the step that needs to be done as thoroughly as possible, making it incredibly time-consuming. However, if you commit to it with the utmost dedication, the results will be immensely powerful. Make a list of things you need to work on.
Usually, a visual design package includes a logo, a color palette, typography, and imagery. We've already covered the logo design part in our blog here, so be sure to check it out. As we mentioned there, a logo is one of the most vital components of the brand identity, something that will feature on every marketing item that you put out under your company's name into the world, so take your time with it. Create templates, work on various versions, play around with the form and colors, test it for an audience. Make sure it is in accord with the company's mission: take the logo for μKERA that Ester Digital designed where we turned their innovative approaches into a modern visual decision.
The color palette isn't something that can make or break your brand but still, it's crucial. It will support the consistency of your brand identity elements and, in some cases, will greatly enhance your brand recognizability. Certain colors evoke specific emotions, so be sure to know them before you pick a color scheme. Rely on the background research information that you've accumulated in the previous steps, define the associations you would like your clients to have with your brand, and go for it.
Unlike color palettes, creative and original typography definitely can shape your company's future. Of course, nowadays there are billions of trends including using minimalist fonts along with really eclectic ones. However, make sure that typographic elements that you use support your general brand strategy and are not out of tune with it.
If you choose to apply an austere approach to design, then using really intricate, rococo-inspired fonts might be confusing for the customers (although in some cases, it might work). Consistency is the key if you want a foolproof way to a favorable business outcome. Take our work for Parkbench, for example. We used simple Geometric Sans Serif typefaces to further the minimalist and present-day style applied across the websites and all marketing materials.
In terms of illustrations, the choice is fully yours: this is the area in which you can go for it and make bold decisions. The main thing to remember here, as in all of these elements, is that consistency is vital: you wouldn't be able to form a bond with your customers if they can't figure out that you're a solid and singular player. When we were working on the Docketwise website, we designed static illustrations that served as templates for the animated ones, which ensured that the overall style and feel of the design are uninterrupted.
If you're interested in creating your brand attributes such as the ones mentioned above, contact us, and be sure that your design vision will be turned into reality with maximum efficiency and creativity.
Step #10 Keep growing
When you already have all the visual elements at your disposal, your brand voice is clear, you know your business goals and aspirations, you're ready to go. What's next? The final step is to ensure that every time the customers interact with your brand, they get a consistent and enjoyable experience.
In order to do that, you need to integrate everything you created in the previous steps into various outlets that you operate in. Websites, social media, packaging materials, ads, marketing presentations – all those elements should be in tune with each other and with your overall branding strategy. We've talked about consistency in every single point of this article, but it's still worth noting that providing a homogenous customer experience is vital.
Another crucial issue for a lot of marketers is remaining flexible. When you spend months and months shaping your brand personality, you would like the process to be over at some point. We're sorry to disappoint you, but be ready for a lifelong battle. Sometimes things just happen, things you can't control or predict. For example, your customers losing interest in some of your products for no reason whatsoever, your competitors coming up with innovative approaches and products, whole business spheres failing due to sudden emergencies. It's okay to evolve, change, and rebrand. Times change, your clients change, and so could you.
A brand style guide is a convenient tool for your marketers and designers to rely on its principles during various implementation stages and to easily introduce possible changes in the future. It's a unified brand identity code that greatly simplifies the trouble of maintaining brand coherence and harmony.
On a final note
As you could tell from the length of this article, branding is important and involves a rather complicated and tedious development process. We promise it's all worth it in the end because an effective branding strategy helps to do what every company wants – make you a distinguished and strong company with a loyal customer base and an incredible reputation among your peers. It ties everything together, showcases your strengths and benefits, makes you stand out among myriads of similar companies.
As we come to the finish line of our guide, we would like to give you some tips to wrap things up. Your eyes are probably twitching when you see the word "consistency", so we'll omit that (we're pretty sure it's like an earworm for you now, but seriously, don't forget about it).
When you're branding your business, keep the following in mind:
integrate seamlessly. Every brand element needs to be in sync with the other ones. For example, if your logo features a certain color palette, make sure that the color of your packaging materials is of a complementary hue so that the overall product will be a one-piece rather than a mashup of things mixed together.

know your dos and don'ts. It's not enough to be aware of things you'd like to pursue, it's also helpful to make a list of paths and practices you wouldn't like to follow. Both things will equally influence your branding decisions.

steal wisely. It's completely normal to be inspired by other brands and companies, to subconsciously take some ideas from them (parallel thinking, right?), but stealing from them directly would do the opposite of what you expect.

be alert. The hardest thing is not to create a successful identity, but to maintain one. Think of it as a ship – you build a foundation, you test it, you set out into an abyss not knowing what to expect, but make informed decisions as you go along. This metaphor needed to be more original, but what can you do. See, do you need any more proof of how important consistency is?!
All in all, let us finish with another unoriginal metaphor. Brand development is hard, but hard things usually lead to success and favorable outcomes. Or you'd end up wasting your time and crying over lost opportunities. If you use our guide, we guarantee it won't be the case.
If you have any questions on how to start a brand or if you're curious about the best way to brand your business, contact us, and we will flood you with useful tips and share our experience in brand development. We know exactly how to create your own brand, and we'd be more than happy to help you to achieve the riskiest business goals that you have.