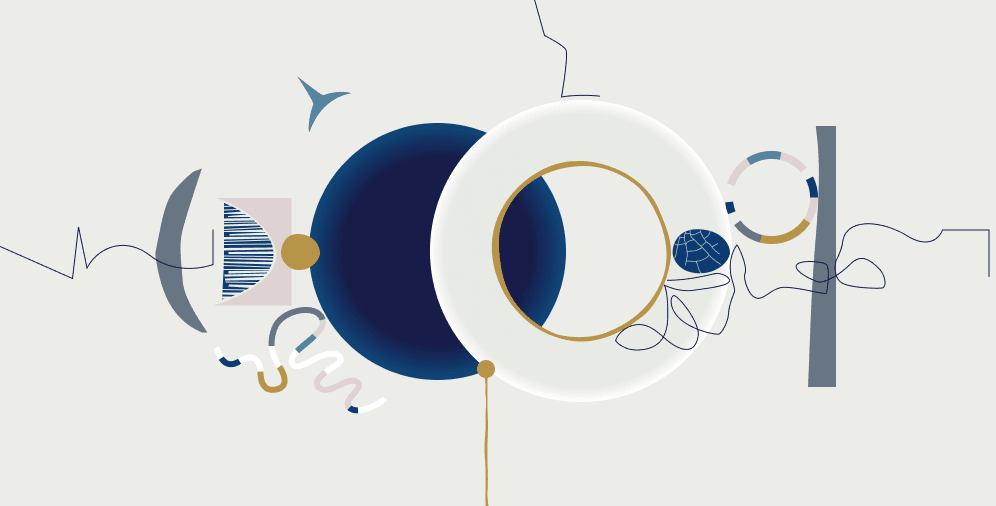 Every company wants to be instantly recognized and have an army of faithful customers. Building a brand strategy design is a venture that can take years to accomplish. Think of all the business giants that pop up in every topic relating to big brands and moguls. They've been around for a long time, went through ups and downs, reshaped themselves, and got back to their roots – everything you can think of.
Don't bury your dream too soon – it is possible to build a company that is easily distinguished from others by various brand attributes and characteristics. What you have to work on is brand awareness – a degree of brand recognition and familiarity and willingness of customers to engage with you.
Brand awareness? What is it? How is that different from brand recognition? Why is it good for your company? Why do you even need it? Another brand-related thing to worry about? What?! 
Before you start calling your marketer in panic, read our new article and you'll learn what brand awareness is and how to use it to your advantage.
What is brand awareness
Brand awareness is a degree of customer recognition of a company and its products or services.
Brand recognition is a part of brand awareness, and it uses a set of practices to make customers easily identify your company from others. Brand awareness works on a bigger picture: not only your logo or website but the overall feel and energy that your work exudes.
Brand awareness serves a rather simple purpose: it encourages customers to pick a product or a service out of a range of similar ones based on how familiar they are with them. A high level of brand awareness expands your customers' pool thus increasing the revenue.
Essentially, brand awareness is the indicator of how well the customers or your target audience know your brand, its values, the range of products, and how willing they are to engage with the company based on that. The brand awareness definition is rather vague, as you might suggest, and it can be quite hard to measure but it is a beneficial and helpful asset to have when building your business.
Brand awareness is what makes people buy your products or services consciously rather than picking them out of a line blindly just because the wrapping is shiny and pink. Isn't it what most companies want? Building a brand that is being chosen over dozens of similar ones?
Do you want your consumers to be brand-aware of you? Let's jump right into it and learn about the levels of brand awareness, its specific benefits, and how to develop a brand that enthralls people.
Levels of brand awareness
If you want to streamline your marketing campaign to increase your brand awareness, you need to know what are its main types or levels, how to measure them, and how to use each one of them according to your business needs.
#1 Brand recall
It is a type of brand awareness where customers can evoke your brand name from a range of similar products. It's still not brand dominance (more on that later) but your brand name already pops up among 3-5 similar products when people are making a purchase. 
#2 Brand recognition
As we've established earlier, brand recognition is about noticing a company when provided a range of similar products. You're not exactly evoking a feel or becoming a synonym of the type of the product, but customers know about you, and what is more important – they know how you're different from other brands, which is what every business owner wants. 
#3 Brand dominance
The most obvious examples of brand dominance are thinking of Coca-Cola when talking about soft drinks or asking for Kleenex while meaning paper towels or tissues. Of course, turning your brand into an eponym is very difficult and, at this point, probably not possible for certain products, but becoming one of 3 to 5 brands that clients can think of when purchasing an item is already a big deal.
#4 Top-of-mind awareness
Top-of-mind awareness is similar to brand recall, but a bit more specific: brand recall can include several products that are recognized when you name a product, but top-of-mind awareness means that your company is the first brand name that comes up in customers' minds. It may not be the most famous brand but the one that established a bond with its clients and has a positive association.
If you want to know where you stand in terms of the brand awareness level, it's sensible to measure it through a survey where you test your customers' knowledge of your brand. These surveys include unaided and aided recall tests that are good for measuring brand recall and top-of-mind awareness. Customers are either presented with a product category and have to name different brands they can (unaided test), or given a list of brand names with a request to name a brand and its characteristics. 
Other tests might include measuring brand affinity, perception, or association, analyzing the efficiency of brand advertising, brand lift increase, brand positioning, brand identity surveys, and many more.
Now you know what brand awareness is and how it can progress with the time and effort put into its development but why do you even need to build it up? What are the advantages of boosting the customers' awareness about your brand?
What are the benefits of brand awareness
Employing a brand awareness strategy without knowing its advantages is counterproductive. Let's break down the main benefits of increasing brand awareness.
#1 It broadens the customer base
If your customers know who you are and have a positive attitude about your company, it's much easier for them to make a decision when given the options. The more customers are aware of your brand, the more likely they are to make a purchase when in doubt. Being visible to your potential clients helps you to reach your target audience much quicker with fewer expenses and makes the chances of your products being purchased over and over again much higher.
#2 It increases customer loyalty
This point echoes the previous one – if the customers know you well and they keep buying your products or services, they're very likely to keep doing that in the future, thus becoming regular customers. It helps to create a long-standing and trusting bond between the brand and the end users which is an important factor for 21st-century buyers. If you manage to have such a relationship with your customers, your products will "sell themselves" before they even come out.
#3 It promotes a certain set of values
As consumers get more and more conscious about their buying choices, brands need to make more informed and sensible choices. If you communicate and spread your business message in a way that resonates with the customers, you can bring attention to the issues you and your clientele are passionate about or even shift the community's perception of certain problems.
#4 It supports a marketing campaign
A high level of brand awareness can lead to an increase in the number of customers and revenue, thus becoming a powerful selling tool. Of course, building brand awareness itself requires a strong business strategy, but once the awareness level is high enough, it can easily replace some more clunky and time-consuming marketing steps.
Still unsure about brand awareness and business reputation? Contact us and we'll make sure none of your questions on this topic are left unanswered.
How to build brand awareness
Brand awareness is not something that can be achieved carelessly or impulsively. There are strategies to be employed and methods to be followed. Let's look through the most crucial development steps.
#1 Be active on social media
Nowadays, creating a strong brand without expanding its reach to social media is impossible. Ignoring a staggering number of 4.2 billion social media users worldwide can be detrimental to your business. How to use social media to your advantage?
In order to avoid the classic mistake of setting up all the possible accounts and never achieving anything, start with the simple research: analyze your target audience, its behavior, habits, and preferences, align them with the platform that suits your business model, and voila!
Facebook is the biggest social media platform in the US and possibly all over the world. You might think that creating a Facebook page is an absolute must but don't rush: if after your research you realize that your target audience isn't massively present there, don't waste your energy and invest your money somewhere else.
Smaller, "visual-heavy" creative companies will do much better on Instagram, Pinterest, or even YouTube. A B2B company should think about having a Twitter account. There are plenty of professional social media platforms like Dribbble, Linkedin, or Meetup that are also great for networking. By the way, check out our Dribbble account where we share our most treasured works and regularly post our insights and design secrets.
Once you've decided on the platform, it's time to hashtag it all out, share the content, and spread the word about your brand! Use visual tools, high-quality images, add social proof and testimonials, and don't forget to experiment and have fun!
#2 Try out a referral program
If the users are happy with the quality of your products or services, they will be more than willing to recommend your company to their family and friends. Referral programs are not only a great tool for attracting new customers but also for spreading the word about your brand overall.
Referral programs usually work this way: your current customers receive a benefit, a discount, or some kind of bonus for referring a friend through a code or a link. The most obvious example: Dropbox provides extra storage space for the users who referred a friend. This scheme helped them to get 4 million users in 15 months.
Even if the target audience won't turn into loyal customers straight away, it will work for the awareness in the long run. Every positive mention will be beneficial and valuable to advance your business forward.
#3 Partner with the influencers
If you feel that social media accounts and referral programs are not doing enough, try to engage with them through the influencers they trust. The studies show that 61% of younger consumers (under 40) tend to follow the advice of digital influences when it comes to decision-making.
How does it work? Influencers, especially micro-influencers, know their audience in and out. They know how to create content that people would like to see and buy. Reach out to the influencers who work within your industry and discuss possible ideas. Original, artistic, and goal-oriented creators can bring a lot to the table and contribute greatly to the overall outcome of the marketing campaign.
#4 Give away for free
Everyone likes free stuff, right? Tale as old as time – you give people free samples of your product and they will love you forever (speaking from personal experience, we're not sure it works like that all the time).
In all seriousness, people will appreciate the fact that you value your customer base and your own company so much that you're willing to give out your products for free just to let them get acquainted with it at their own pace and give their feedback.
If they don't know who you are or they're unsure about the quality of your products, it's natural they don't want to pay for it unless they have no other choice, and with so many alternatives around – they don't have to.
It is entirely your job to make them interested and to showcase your products and their quality. Free samples, a free trial period, various offerings, and gifts are the way to go in that case.
#5 Find strong partnerships
Similar to the influencers, partnerships can massively increase the awareness of your brand. If you're a small local-focused business, there is hardly any better way for becoming a well-known brand within that community.
Of course, this doesn't mean that you should jump onto every opportunity to collaborate with anyone who offers. This should be a well-known and trusted brand because in the association this level of trust and respect will shift towards you as well.
Think about sponsoring local sports teams or festivals, holding joint events and seminars, or even co-create a product that reflects the brand personalities of both companies. That's the trick here: partner with the companies that will be complementary to yours, either by way of providing a product or service that you don't have or by adding a touch of something new and fresh.
#6 Work on your unique brand personality
This step is going to take the most time to achieve because it is a never-ending process. However, spreading brand awareness without having a strong and pronounced brand voice is a hard task. 
The main objective of creating a brand voice is to become memorable and easily recognizable. Surely, you're a company that produces something or offers a service, but how are you different from a myriad of others? What defines your business? 
As we've mentioned earlier, people now are much more interested in the overall character of the company and its story rather than just the products. It's important for them to know that you share their values and outlook on life, that engaging with you is fun and entertaining. 
Think of Old Spice, for example. What comes to mind straight away when you hear about it? How marvelous the products are (even if they are)? How wonderful it is to have them (even if it is)? Nope, it's the guy on the horse and the red packaging that you think about, and it's a great example of how a well-established brand voice can push your company forward: you can make great products AND be fun and charming? I'll take two!
On a final note
Brand awareness is a mighty tool when it comes to spreading the popularity of your brand. Building it is a task that requires a great number of resources. Also, in the current circumstances where businesses need to deal and react to constant whirlwinds of changes and market fluctuations the brand awareness issue is never finished. It's something that needs to be worked on all the time.
Brand awareness can have a huge impact on your business: it affects the marketing campaign, number of customers, their loyalty and trust, your level in comparison to the competitors, revenue, and many more. It draws people in and makes them want to stay.
While the brand presence and brand awareness are the topics that seem rather vague, believe us: when you become a well-established brand with millions of customers you will see how much they helped you with that.
Still hesitant about brand awareness and how to develop it? Feel free to contact us and besiege us with questions about it, our designers love to share their expertise on the topic! Seriously, just write to us (eerie music intensifies).