When launching a new business or web development company, it's essential to resist the temptation to see oneself as an all-knowing deity. Instead, one should focus on creating a corporate identity that accurately reflects the essence of the business and communicates its values and unique selling propositions to the target audience.
In today's crowded and fiercely competitive marketplace, a strong corporate identity can make all the difference in terms of attracting and retaining customers. It's vital to consider the brand attributes that set your business apart from the competition and use them to build a corporate identity that truly stands out.
By developing a comprehensive and compelling brand identity, you can showcase your business's strengths and establish a clear sense of purpose and direction. This, in turn, will help you build a loyal customer base and set your business up for long-term success. So, don't underestimate the importance of a strong corporate identity — it could be the key to unlocking your business's full potential.
Elevating Your Business with a Strong Corporate Identity: Strategies and Best Practices
It refers to the collection of brand attributes that help distinguish your business and products from others. While corporate design elements, such as logos, color schemes, typography, and slogans, are included, corporate identity is broader than these components. It represents how your brand wishes to be seen and how it presents itself on the market.
It reflects what business identity your brand channels and how it perceives itself as a company. Unlike corporate image or corporate design, corporate identity cannot be positive or negative. Rather, it can be compared to a person's identity, representing how we see someone, what impression they make, and how they make us feel. It aims to summarize your brand and company and make people feel involved.
Whether you're starting a small  startup or a large enterprise, corporate identity is key to creating a competitive and successful company. By knowing who you are and what you represent, it's easier to get people on your side and build meaningful business relationships. Corporate identity conveys your values, mission, and character to the public and helps them approach your products or services with an understanding of what you represent. In short, it is the essence and core of your company that you show to the world.
Developing a strong brand identity takes time, effort, and a dedicated team that understands the importance of brand identity and corporate image. It's essential to work on creating comprehensive company branding, rather than focusing solely on individual elements. Before embarking on developing your corporate identity, it's essential to understand its basics.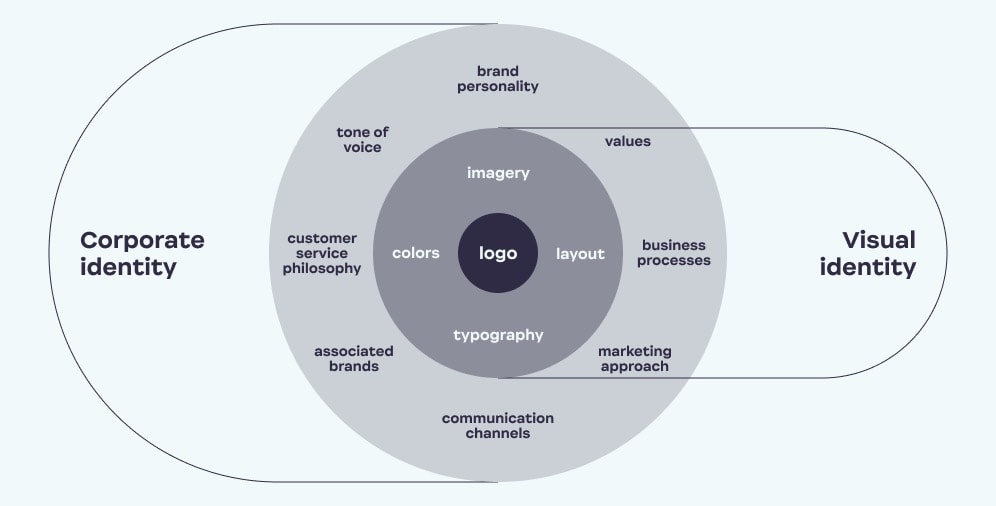 Corporate Design: The Most Noticeable Part of Your Brand Identity
Corporate identity involves more than just a logo and a name. It's a comprehensive system for communicating your brand values to people, which includes various elements. This system should be organic and applicable to everything, from your website design to your marketing materials.
Contrary to popular belief, corporate look and feel should not begin with a logo or a color scheme. The first thing to convey visually is your purpose, vision, and mission, which are the values that your brand carries. People want to engage with companies that share their values and meet their "reputational requirements". Your company's culture is embedded in its company identity and is visible in everything you do and present to the public.
Corporate design is the most noticeable part of your company identity package. It encompasses everything that we see when we look at your product or learn about your company. It includes:
Logo: a

visual symbol of your business that people will associate with your brand immediately and that will be used with everything you create. For instance, an enticing logo design Manchester will also attract more clients. 

Website: an informative and captivating website is essential for potential customers to see what you represent and what you offer.

 

Typography: fonts used in the texts on your website and the typefaces that appear on your products.

Color palette: adds to the overall feel of your brand and helps set it apart from others, even if only subtly.

Illustration

 

and graphics: data visualization elements and illustrations ensure a more engaging experience.

Packaging and presentation design

:

marketing and presentation materials that further your brand and your products and services in a way that aligns with your brand image.
Your company identity extends beyond the digital world. Everything you create in the name of your brand should represent your business in a comprehensive and coordinated way. By building a strong business identity, you can create a lasting impression on potential customers and stand out from the competition.
From Design to Culture: The Essential Elements of Corporate Identity
Brand identity, brand image, and corporate identity are terms that are often used interchangeably, but there are important differences between them.
Brand image is how customers perceive your brand through their own experiences with it. It requires an active interaction between the client and the company and includes not only the visual experience of engaging with your company but also the associations that go with it.
Business identity and brand identity differ mainly in the level of involvement required to create them. Developing a business identity involves decisions made by high-level management, who have the final say on how the business identity is implemented and how it should move forward. Efficient marketing and design teams are essential for both corporate and brand identity.
Brand identity can be "programmed" to strengthen or focus on specific elements that you want your customers to pay attention to. A strong brand identity is essential for a consistently positive brand image. A positive brand image boosts your reputation, and being respected in the market means more trust in your products and services.
Corporate identity is more complex, as it can include several brand identities if your business offers a wide range of products and solutions. Corporate identity is harder to damage, but once it's hurt, the damage can be irreparable because it encompasses every element of your enterprise and "feeds" the brand image. Aligning your brand image with your brand and corporate identity is crucial to ensure that your corporate identity is strong and prompts only positive associations about the quality and status of your company.
Building a Strong Corporate Identity: Key to Making Your Brand More Appealing and Attractive
If you want your business to succeed in the competitive environment, having a clear corporate identity is a must. It's the face of your company, the values and culture you transmit to the public, and it's what sets you apart from other businesses. If you don't have a strong corporate identity, you're missing out on a valuable opportunity to make your brand more appealing and attractive to potential customers.
A successful brand is not just about the quality of the product or a sound marketing strategy. It's about having a clear and well-defined company identity that communicates who you are and what you represent. Whether you have a big enterprise or a small emerging startup, you need to make sure that the values and culture you transmit to the public are powerful and well-meaning.
A strong identity will help you stand out from other businesses and establish a solid foundation for your brand. It sends a clear and right message about who you are and what you represent, so that customers with similar views feel understood and connected to you. It serves as a ground for your marketing strategy, which promotes your brand and attracts new clients and buyers. It provides a sense of community and a specific philosophy for your potential customers and employees.
Having a strong corporate identity ensures that your representation on the market is consistent. This increases the level of trust and credibility from customers, making you more recognizable and respectable in the field. It also enhances communication with customers and investors by making them know what you stand for, paving the way for fruitful interaction.
Building a brand with a clear and memorable representation of its values takes time and effort, but the rewards are well worth it. A strong corporate identity will make your brand more appealing and attractive to potential customers, increase trust and credibility, and help your business succeed in the competitive market. Don't miss out on this valuable opportunity to improve your business — invest in a strong corporate identity today.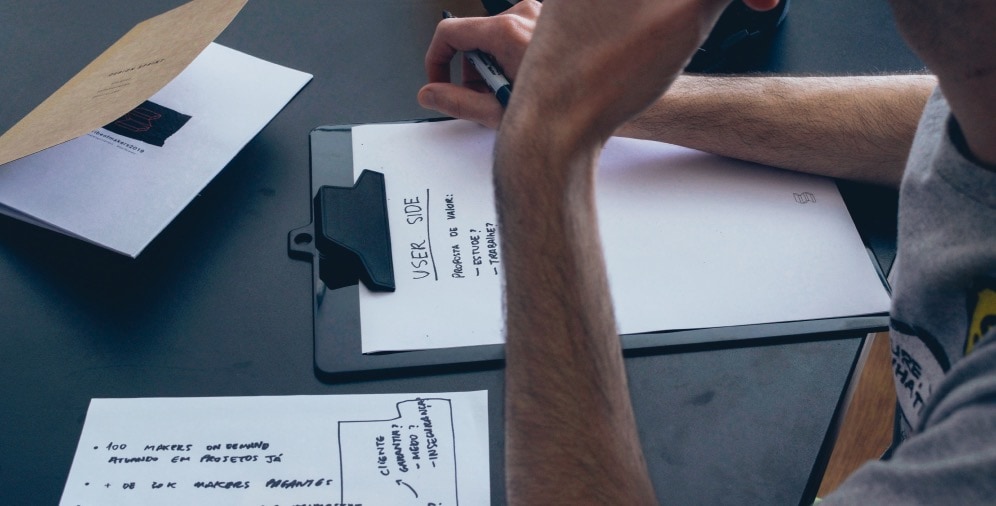 Ester Digital: Your Partner in Building a Strong Corporate Identity
Creating a strong corporate identity is crucial for any business, regardless of its size or industry. It's not just about having a fancy logo or catchy slogan, it's about creating a brand that represents your values and communicates your message to your customers effectively. If you're only planning to start your own business, pay close attention to your corporate identity and its advantages. Investing in a strong corporate identity from the start is much easier than fixing mistakes that can hinder your business's performance.
To build a brand identity that truly resonates with your customers, you need to follow a few steps:
Carry out a thorough market search to understand your target audience's needs and views.

Create the basic visual elements of your brand identity, including a logo, color scheme, and communication templates. Consistency is key to creating a coherent and trustworthy brand.

Develop your visual language to ensure that all visual elements are seamlessly integrated into your content, resulting in high-quality, engaging, and entertaining material that attracts more customers.

Regularly analyze possible changes in your brand and ensure that your brand identity reflects all of those changes.
At Ester Digital, we specialize in providing branding services that help our business clients develop a clear brand vision and implement their brand values. We focus on making your brand distinct and original while ensuring that it is fully adaptable to potential changes and alterations.
We apply a personalized approach, starting with brand positioning to evaluate your advantages and pain points, establish a clear idea of how you want to enter or re-enter the market, and define your brand attributes. We then work on creating tools that describe the intrinsic and extrinsic qualities of your brand. Regardless of the media we work in — website design, general art direction, brand strategy and planning, custom illustrations, and marketing materials — we always ensure that we deliver the best possible visual representation of your values and products.
For example, the brand identity we created for Parkbench includes clear and unforgettable visual language that reflects the company's mission to support local businesses and initiatives, highlighting the importance of community spirit and amiability. Our work on Trans Nordic Tours brand identity covers brand guidelines that serve as a foundation for the overall digital representation of the brand. When creating a corporate identity for Docketwise, we relied on custom-made illustrations and a variety of logo options that contribute to brand recognition and expand the possibilities for fruitful communication across various channels.
Investing in a strong corporate identity is a smart move for any business. At Ester Digital, we help you create a brand identity that speaks to your customers and sets you apart from your competitors. Let us help you build a strong corporate identity that will take your business to the next level.
On a Final Note
At Ester Digital, our design team doesn't just create separate brand elements, we craft a brand identity that tells your unique story in a captivating and memorable way. We understand that every business wants to stand out and make a lasting impression. That's why we use corporate identity to help you navigate the global marketing landscape while highlighting what sets you apart from the competition.
With years of experience in brand development, we've accumulated valuable insights that we're excited to share with you. From market research to visual language and ongoing analysis, we have the tools and expertise to help you build a strong corporate identity that aligns with your values and appeals to your audience.
If you're ready to take your business to the next level, contact us at Ester Digital. We're passionate about helping brands like yours develop a voice that's unique, authentic, and totally unforgettable. Let's work together to craft a brand identity that truly represents you.