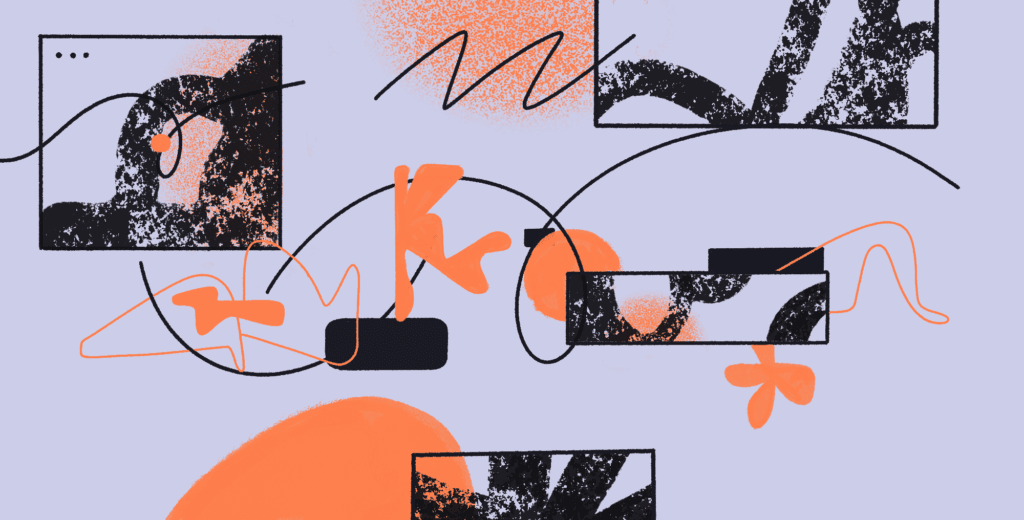 What's the first thing that comes to your mind when you hear the word "dashboard?" Probably, the cockpit area of an aircraft or a car dashboard includes an array of various features needed for the control and communication with the vehicle. The same concept could be applied to the dashboards that are massively used on websites and in web applications.
In this article, we're going to discover what makes web dashboards so desired and talk about their design process in detail. There is a lot to uncover, so our UI design agency suggests starting by specifying what exactly we mean by this term in web design.
Dashboard design overview 
As a rule, a skillfully designed dashboard is something most businesses crave these days. To put it in a nutshell, it is a simple, clear overview that demonstrates the bits of the most valuable information, new trends, or recent updates. It can also serve as a guide for users since it immediately shows the most critical data and navigates them to certain areas of the website. 
The reason why dashboards are so popular is that they normally display the info in a quick format: it's easy for users to glance over it to find what they need. Hence, everything is usually arranged on a single screen. 
Still, designing a terrific dashboard is not a simple task. Prior to starting your project, you should know what features it should include and learn a few tips to make this process unhindered. But before jumping to that, we have one more thing to discuss.
Dashboard and data visualization
It's hardly a big surprise that our sense of sight provides information faster than the other senses. Quickly processing the picture before even properly thinking about it is natural for people, and that's why data visualization is so powerful. Its proper design can efficiently communicate with users and help them absorb a lot of details much smoother than descriptive statistics. 
A data visualization dashboard is an interactive dashboard that allows increasing accessibility, makes it easier to understand the content, and provides users with a simple view of all components in one location. It's also a magnificent tool for any business that wants to be able to control numerous key performance indicators (KPIs) and different metrics. 
Dashboards can feature visualized data via tables, charts, and gauges. It's only up to you to choose the design that fits your project perfectly.
Key features of great dashboard design
Nowadays, businesses are overwhelmed by massive figures and numbers needed to be organized. Skillfully created dashboards can be a great help to structure, analyze, and present key insights to users.
In essence, an impressive dashboard could be described as one that displays relevant and essential points on-the-spot. Apart from that, there are other characteristics that should be considered:
— Dashboards are highly customizable.
— They provide a simple, clear user interface.
— They are intuitive and easy to understand for everyone.
— They contain a number of the most crucial items and widgets. 
— They follow trends and quickly update data on demand.
As you can see, great dashboards can be a powerful tool for improving usability. However, you should remember more requirements to be truly successful.
— Proper dashboards make all critical information promptly accessible. You should be able to click just once to get it.
— The data here is always prioritized and presented in a visual hierarchy that can be seen at a glance. 
— The design should offer users an overview with distinct initial details and the possibility to learn more when needed.
— All the elements should be shown in a minimized view. However, users must have the ability to inspect everything.
— To make the experience better for users, it's important to provide them with a chance to choose the way everything is presented.
Even though these features are suitable for every dashboard, a business one is still more specialized: it usually displays the main metrics and KPIs. Smart dashboard designs can help run a business more efficiently and make better decisions. Their interfaces normally include a few components:
Metrics and KPIs;

Data sources;

Visualizations;

Filters. 
Generally, there are numerous sources of information, and it's up to clients or stakeholders to pick the one they want to employ. As for visuals, the situation depends on the users' needs. The dashboard can contain maps, graphs, charts, etc., providing them with the fastest access to the desired data.
Filters are required to improve design UX. They offer users more control over what they see and let them choose different locations, departments, and so on. Clear navigation and labels are another thing that should be considered, as it also helps users to find what they need much quicker.
Dashboard design principles & tips
Now that you know the specifics of the dashboard components, it's the right time to know more about the design principles and learn some tips to get the result of your dreams:
01 Put users' needs first
It's only natural to take care of your users' needs and find out what information they are looking for before starting the work on your design. Ask your clients' opinions to pick up the right KPIs. That will help you to choose the perfect type of dashboard and appropriate visualization tools.
Since KPIs derive from various data sources, you might need to use APIs in order to connect with them. Consequently, it can influence the timeframe of the project, which is always important to keep in mind.
02 Pick the type of dashboard carefully
There are different types of dashboards in terms of their purposes. It's also essential to know for whom they are being designed. 
A KPI dashboard is a great choice for senior officials and executives.
It should present KPIs insights and help to detect ways to grow and reform business strategies. Normally, a KPI dashboard provides a brief overview of current metrics, which makes it simpler for executives to assess the effectiveness of the company's strategies.
Such dashboards can be updated as often as required — from daily to monthly and quarterly. They are a good tool for monitoring the business process and improving imperfections.
An operational dashboard can be a perfect fit for supervisors and monitoring staff. 
This one is known as a provider of a real-time view of various business processes. It can be a huge advantage for supervisors since it allows them to immediately react to failures and delays and fix them before any damage is done. These dashboards are also suitable for summing up vast amounts of data that show supervisors their employees' work rates.
03 Select suitable visualization methods
This tip may look obvious to the casual eye but is often disregarded in reality. Web designers have such a wide range of visualization tools that sometimes they overload the screen.
To keep your dashboard clean and intuitive, one should use a minimal amount of tool types. It's imperative to choose the ones that fit your project better and stick to them for a consistent look of the interface. 
For instance, it might be a good idea to turn to tables when there are a lot of items to show. However, even in this case, the tables shouldn't contain too much information. Otherwise, users will simply not be able to scan it all.
For displaying data patterns, line charts can be used — they can be quickly analyzed, while bar charts are highly useful for comparing statistics. Pie charts are not that popular since users sometimes have difficulties trying to examine each slice. 
It's also worth noting that a dashboard doesn't necessarily have to add any visualization tools for its KPIs at all. Putting them at the top of the screen in the text without highlighting it will make them highly distinctive per se.
04 Make relevant information instantly accessible
There is a five-second rule, well-known among web designers. According to it, the relevant data should be available within five seconds after the dashboard's appearance. In other words, this principle claims that it's important to provide users with instantaneous access to the most crucial pieces of information.
So, to make this work, you'll need to decide what exactly should be displayed and put it in an eye-catching place. You shouldn't forget about the logical order of the rest of the info: the vital pieces are normally placed at the top of the screen while the middle part is used for trends, and the bottom section has less significant details. 
This way, users will be able to instantly see the major insights on the top and scroll down to get more fine points on them. 
05 Keep it simple
This may be the main design principle — do not overcomplicate. Keep your dashboard interface simple to make the information analysis easier for viewers. 
Don't mix lots of different colors or fonts — divide your data into sections and categories, and use clear labels for them. Make sure all your headers and subtitles have the same font as well. 
Don't know from what to start your design process?
Our professional team will assist you from first to last
Explore
Best examples
Since it's clear now that the design of the dashboard can significantly influence the overall UX of a website or web application, it's only wise to explore some astounding examples. It's a great way to discover what the best ones contain, after all.
Apart from the operational and strategic dashboards mentioned above, we're going to review the examples of analytical and tactical ones as well. These are the four most common types, and each of them has its own exclusive interface, layout, and KPIs. Let's get started.
First, we have Dundas' operational dashboard for IT operations. Such dashboards are known for tracking data in real time and displaying general key metrics for users. As you can see, the layout of Dundas' dashboard is quite simple but still efficient. It has all the necessary information for IT monitoring and allows users to watch the outstanding requests as well as the overall number of requests and top requesting groups.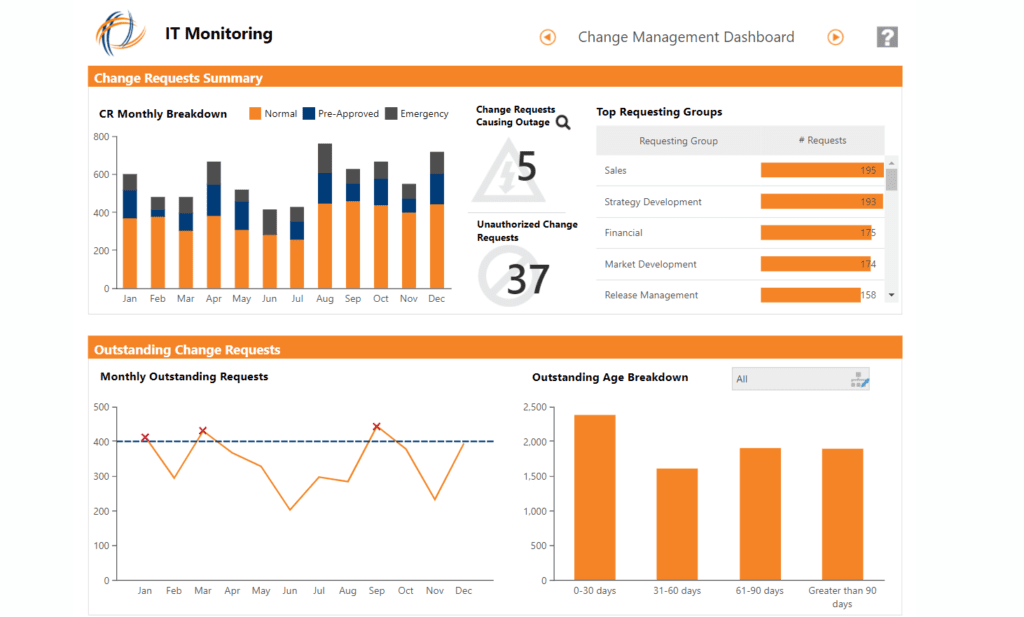 Strategic dashboards keep track of the company's progress towards its long-term goals. Here you can find general objectives and monitor the results. Dashboards like this make it simple to observe business growth and assess the effectiveness of your current strategies. 
You can see daily insights here. However, it can be switched between weekly and monthly results as well.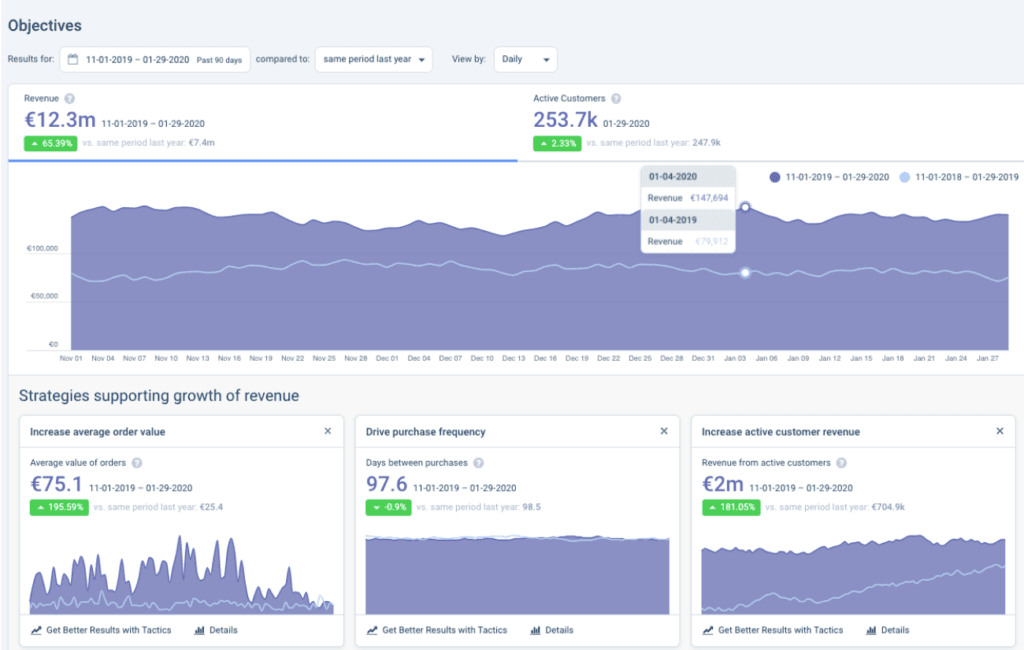 When it comes to analytical dashboards, the situation is slightly different. They usually focus more on specific areas within a department, unlike the strategic ones that provide a whole overview of business processes. 
Without any doubt, Google Analytics is the most famous analytics dashboard. It looks clear and creative at the same time, offering you a quick look at your website's performance. You can use numerous widgets here to make the data more structured and uncomplicated. In case you'd like to get more insights, there is a possibility to drill down a little deeper.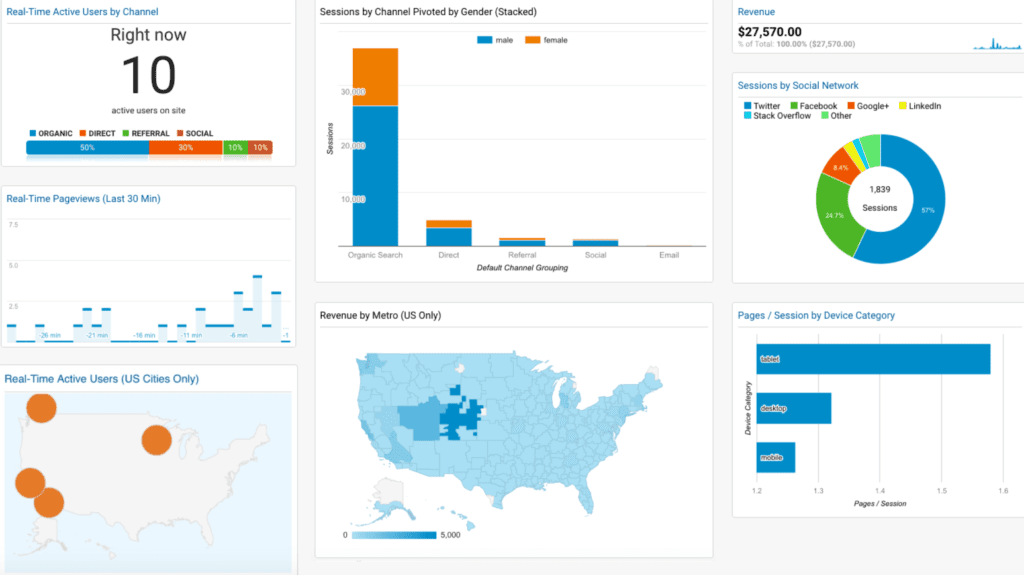 Last but not least is a tactical dashboard, which may include elements of both strategic and operational dashboards. Its main distinction is a focus on a sole project or area of organization. They are amazing for IT projects and often contain different metrics that help supervisors keep up with the dynamic work process.
As shown in the example below, a tactical dashboard can be presented as a project overview with particular timelines. You can monitor the efficiency of numerous parties, see your progress, and determine the risks. Once the project's done, you'll be able to assess the results and make up an IT report.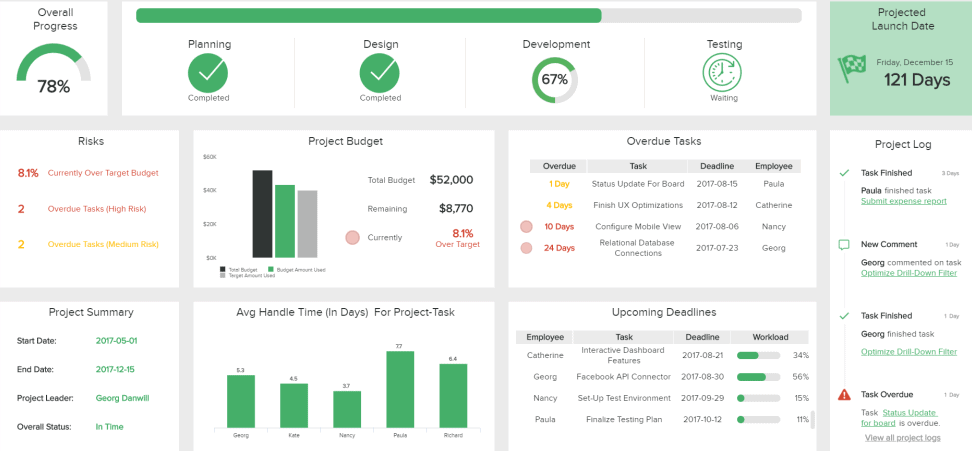 On a final note
These days dashboards are a significant part of most websites and web apps. With their help, companies are able to display lots of complex data to regular users the easy way, successfully escaping confusion. Thanks to that, people feel more confident while their trust keeps growing, which is exactly what every customer-centric business wants. 
There are different types of dashboards with their own key features, and they all demand specific design approaches. To create a magnificent dashboard, one needs to consider all their principles, peculiarities, and tips that were mentioned in the article. Keep in mind that dashboards' popularity is only growing, and that's why it's vital to know the intricacies of their design process. In case you have any more questions, contact us without any hesitation. We'll answer you in no time!