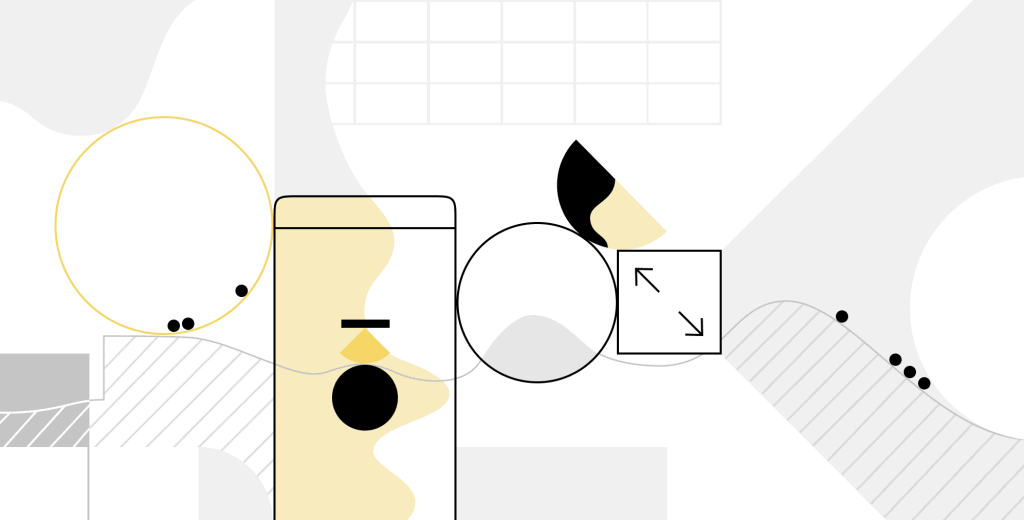 For the past few years, mobile has become universally prevalent and acknowledged as the dominating form of digital media. The number of mobile users is increasing exponentially, as well as the demand for websites that are tailor-made specifically for mobile devices. In 2020, it was estimated that half of the web traffic worldwide is spent on smartphones, which only supports the idea that mobile usage is going to be a trend. And this is the point our responsive web design company would like to pay your attention to.
The world of design couldn't overlook the obvious redirection of popularity and shifted its attention from desktop to mobile. Quite often, the clients go straight for a mobile solution, without contemplating too much about the desktop version of their portal. In order to respond to that challenge designers utilize a so-called "mobile-first approach."
Nonetheless, a lot of creators still adhere to responsive design which is a classic approach for creating desktop platforms. How does it fit into this new reality where mobile-first design seems more suitable? And what exactly does the term "mobile-first design" mean? These and many other questions will be answered in the guideline our UI UX design company has prepared for you.
What is mobile-first design?
Mobile-first web design means creating web pages customized primarily for mobile devices, rather than for desktop. It entails applying a range of techniques that can ensure a smooth and long-running operation.
There are certain elements that define mobile-first design:
Scrolling


Browsing a website on a phone can be exhausting if there are never-ending new pages – it's much easier to scroll down and read the information in blocks rather than open countless new tabs and lose them when there are way too many of them.

Interactivity and navigation
Since mobile phone users use their fingers, buttons and icons should be easy to access and made conveniently clickable. CTAs are usually placed in the center of the page to make it instantly visible, usually made in contrasting colors to make them stand out even more. Site navigation and search tools are visible and easy to find.
Concise content
Even the largest smartphone screens aren't that wide compared to PC or laptops, which means there's a need to boil down the information and present it in a digestible and coherent manner. It's true for any kind of design, but specifically for mobile devices since reading long paragraphs on a mobile screen makes it hard for the users to appreciate the visual aspect of the platform, let alone perceive the content.
Personalization
Mobile phone users value their time and regard convenience as one of the most important things of the whole user experience. Personalization is the key element of ensuring that viewers are moving towards the content they need and don't waste their precious time. Making search results relevant, using various filters, removing distractions and unnecessary pop-ups so that the viewers will get what they expect.
The mobile-first approach is not the only design approach. Long before it became popular, a method known as the responsive design was deemed the golden standard. What is the difference between the two?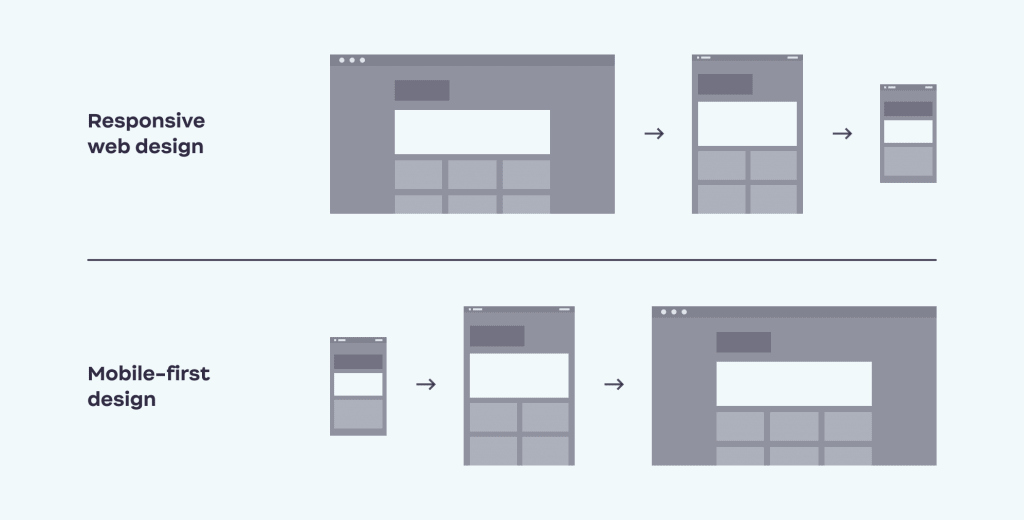 What is responsive web design?
Essentially, responsive web design reacts to the change in display sizes, which means that the website arrangement fits into the format and dimensions set by the media in which it works – be it a tablet, a phone, or a laptop.
Why is it important? A lot of companies would like their websites to be present across all kinds of media, expanding their reach and making it more comfortable for any user to access.
Responsive design makes it possible for the users to switch between devices without losing anything important in the process and obtain the same kind of content regardless of the device they're using. Created design, user interface, visual components and other website elements will look the same regardless of the media you operate in.
Mobile-first design is always responsive, but responsive design isn't always made for mobile phones primarily – mainly it starts with designing interfaces for desktop. The main principle of responsive design is creating in such a way that makes the content equally coherent and clear across different devices with due regard to the differences in their layouts and sizes. The idea behind responsive design is that the users will have a similar experience viewing the website on any device due to the flexibility of the arrangement.
However, sometimes certain alterations have to be made when you customize your desktop website version to a mobile one – some things get "lost in translation" and the user experience gets "smaller", which means that starting with the larger form will eventually lead to losing crucial information in the process.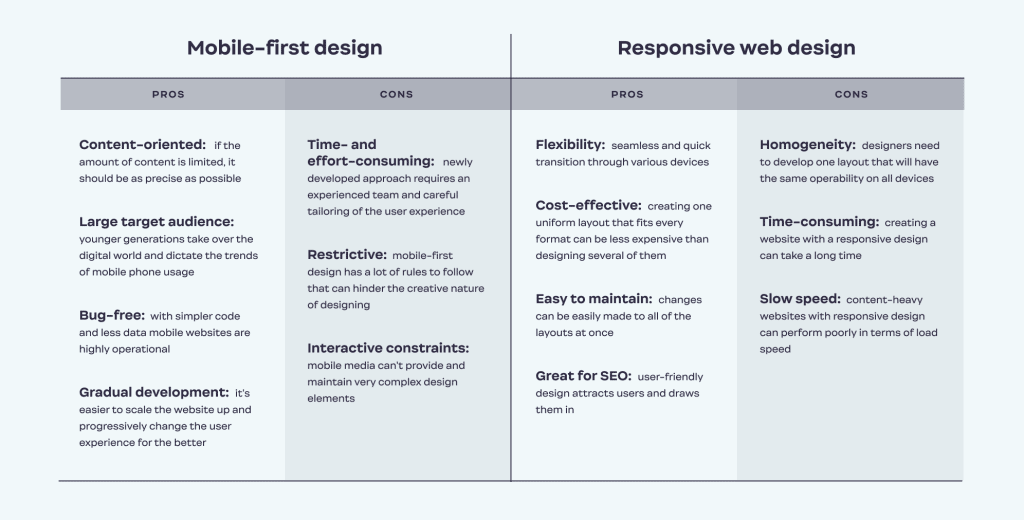 Mobile-first vs responsive web design
When launching a website and choosing between mobile-first design and standard responsive design, it is obvious that you have to carefully study all the pros and cons of both of them. We compiled a list of the advantages and disadvantages of each – take a look.
Mobile-first design
Pros:
With so much information spread around, users crave platforms with understandable content and sharp design. The mobile-first approach requires the content to be as condensed as possible which makes it the touchstone of the website, meeting people's need for digestible and concise format.

Since younger generations are tapping into the digital market, they start to dictate the trends. Millennials and Generation Z are two of the generations that use smartphones the most, and ignoring the needs of such a large audience is a crime. A business that charms an audience that gradually becomes the main consumer of all goods across the globe has chances to grow much faster.

Mobile websites have simpler code and generally are faster to download and work with due to the smaller screen size and less content, which means there are fewer bugs and errors that can arise in the process.

User experience can be customized for mobile devices specifically, and then, if needed, loaded with additional content and scaled up for their desktop or tablet versions. Mobile-first design allows you to gradually develop the user experience in a way that corresponds to the given screen size.
Cons:
Since it's a relatively new approach, mobile-first design entails a lot of time and effort, requires a great deal of experimentation and dedication, and an expert team with a deep understanding of the scope of work that needs to be done.

Designers are tasked with creating a "reduced" version of the website with scaled-down content right from scratch. Such a process can be quite tiresome for designers and, as a result, impeding creative endeavors.

Mobile format does not allow for some animations, plugins, and other similar features or hinders their usage. Designers are facing the challenge of finding other ways to provide an entertaining and engaging experience for the viewers.
Responsive web design
Pros:
Responsive design is fluid and flexible – it moves through devices seamlessly, building up the content gradually and with regard to the media it appears in. It allows for the highest level of versatility and adaptability which is greatly valued by the users.

Applying responsive design from the start reduces the costs that can arise if you create separate designs for the platforms and devices you plan to work on. It means that you don't have to spend time and money to maintain or alternate every version of your website, all changes can be made via one platform.

It also should be noted that responsive design is great for SEO optimization since it's user-friendly and convenient, ensuring users stay longer on the webpages and increasing the number of repeat visitors and conversions.
Cons:
Designers need to create one design that will be equally effective and remarkable in several formats and ways. This task can be quite challenging, considering that users tend to choose one format over another, so they have to be comparable in quality and character.

Creating a responsive design or even redesigning an already working website can be time-consuming. If you need a new, modern, and responsive platform and plan to launch it as soon as possible, you have to take time into consideration.

If a website created with a responsive design principle is image- or content-heavy, it can load slower on smartphones than on PC which leads to a discrepancy between user experience on two devices and to losing viewers and, subsequently, customers.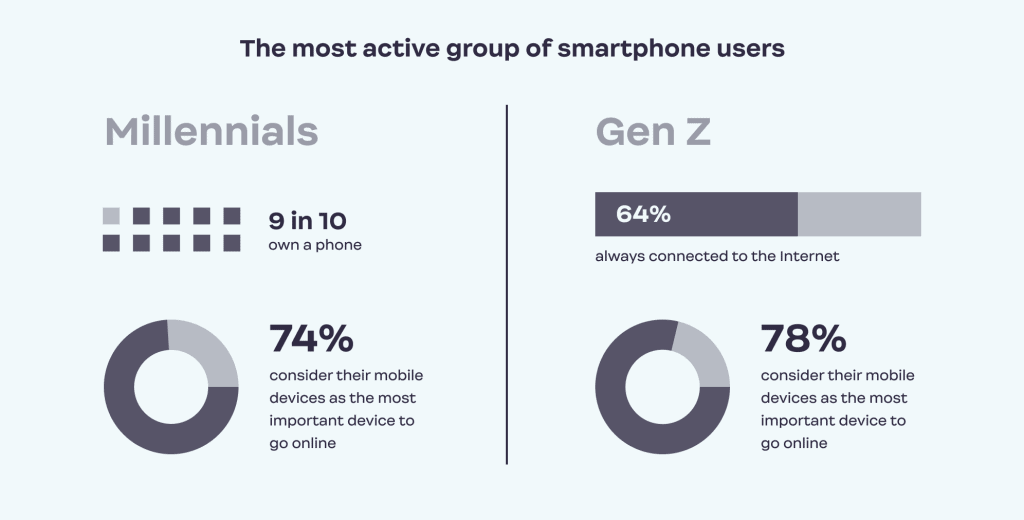 Another way to create websites is to apply the so-called adaptive design. How is it different from responsive design? Adaptive and responsive design can be used interchangeably, but quite often websites are created using both of those methods.
The idea behind the adaptive design is that there isn't one layout that fits every screen size, but several of them, made specifically for multiple screen sizes. Designers create different layouts for specific devices – usually a mobile phone, a tablet, and a computer – and those layouts are applied accordingly when the website is activated via a certain type of device.
Responsive design is harder to make because it involves creating an extremely flexible platform that can work with the same effect on any device. It's much less time- and effort-consuming to create several separate layouts for different formats with less flexibility rather than work on one uniform solution, endlessly testing it and making sure it fits perfectly.
However, the websites with adaptive design work well only with the layouts they have been developed with. Unlike adaptive design that can only work within the range of specific formats, the responsive one can operate on as many screens as you want.
What type of design should I use for my website?
We know it's annoying when someone says that you have to decide for yourself, but like with most fundamental truths, it's undeniable. The type of design that you should choose depends on your goals and results you set up for yourself. The mobile-first strategy is incredibly sought-after and popular, however, the responsive design approach has been deemed as a standard for a decade now.
If you are asking yourself what kind of approach you should adhere to, defining your target audience and your end goals is a must. A lot of companies still automatically apply responsive design out of habit without considering their potential gains business-wise, when in reality they would benefit much more from a mobile-first approach.
With that in mind, we should note that the first thing to do is not to go for the approach that is the most widespread on the market, but the one that fits your audience. Do your potential clients prefer using computers over their phones? Do they even use mobile devices when searching for your portal? If you specify your clientele behavior, you would be able to tailor your online presence to fit their habits, thus avoiding making typical business mistakes and losing profit.
Surely users won't be able to tell if they're using a responsive or mobile-first website. But they will tell the difference if they can't access the information they need or they don't take pleasure in their user experience. That's why it's extremely important to be very clear about your audience's needs, be consumer-centric, and willing to experiment.
If you're still not sure about what type of design to apply for your website, feel free to contact us! We thoroughly study the business qualities of our clients and take into account all of their peculiarities, offering the most suitable solutions to make their business bloom.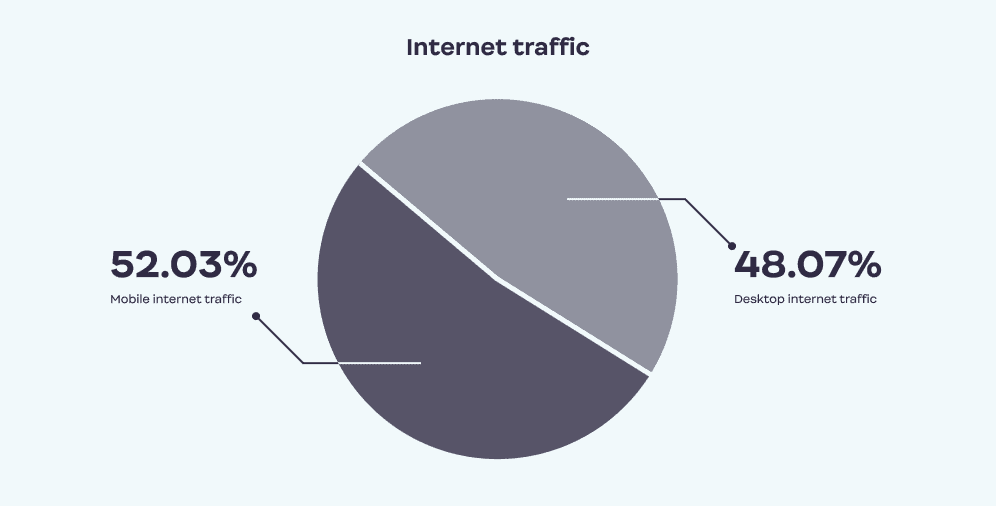 How to create a mobile web design
So how does one exactly apply this approach in business? Here are a few simple steps towards creating a mobile-first web design.
Carefully choose the right content


The information on your website should be both captivating and not overloaded with details. When customers look through the website on their phone, generally they want to get sufficient information quickly and easily. The challenge here is to make the content both concise and as in-depth as possible.

Adhere to your brand identity
Making your platform visually appealing is not enough – it should be distinct and memorable. Carefully introduced brand attributes help you appear more trustworthy and competent.  Whether you stick to a minimalistic design or try out something more colorful and vivid, you should be consistent and bold and make use of all the space on the mobile screen. Move the elements and blocks that are the most important to the top and make them coordinated with your brand mood.
Think about convenience
No matter how beautiful and informative your mobile-first website is – if you don't make the user experience effortless and accessible, it won't be enough. Accommodating buttons and touchpoints for swiping and pushing, making CTAs fit for mobile devices, incorporating newly developed features like on-click vibration, chatbots, help-desk solutions, easy scrolling, and making sure your load speed is fast enough to not bore the viewers instantly – all those things must be taken into consideration.
Testing vigorously
This step applies to any kind of website, even if you are 100% sure everything is working perfectly. Despite the fact that Android seems to be the prevalent operating system used by most mobile users, iOS, Samsung and others are also quite widespread, so regular cross-platform and cross-browser testing is not a whim, but a necessity. On top of that, the mobile phone world is growing fast, new models are emerging every day – get ready to be constantly keeping up with the latest trends.
These steps are fundamental to any mobile web design and can have additional substeps, but following those four rules will be more than enough to help you launch a full-fledged and functional website.
The best 5 mobile website design
As a design agency that is acquainted with the design process inside and out, we have our own favorite mobile web design examples that we will happily share with you.
Virtuance
A little bit of self-promotion never hurts – yes, we designed this website, but it is added to this list not to boost our ego. Real estate marketers' websites can seem either extremely plain or posh since web designers can go too far or too little in terms of creativity. We managed to create a mobile website with modern design and enjoyable user experience and secured several features that are extremely useful for mobile devices, such as clear navigation and smooth checkout flow.
Typeform
A platform that helps to create online and interactive forms, quizzes, and surveys, Typeform is an example of an exceptionally creative and stunning desktop web design with lots of "heavyweight" design elements. The complex design was seamlessly transformed into a simpler mobile version without sacrificing its unique quirkiness and ensuring its fast load performance and sophisticated visual composition.
Adobe


Like most platforms that provide services and products, Adobe's mobile website shows a variety of their solutions and tools and makes sure not to go overboard with the details. Every informational block has its own color and gives basic information that you can expand with a simple click or keep scrolling if you're not interested. Navigation is simplified with the help of a mechanism that involves having a mobile menu that isn't closed or lost when you scroll down, which helps users to maneuver through the website promptly without getting stuck.

Apple


Apple put all the stakes on highlighting the visual character of their solutions rather than providing countless details right away. You can find everything you need about Apple products via handy scroll navigation and distinct icons and enjoy the simplicity and coherence of the layout arrangement.

Evernote


Evernote is an app for taking, collecting, and organizing notes, task management, and archiving. It's obvious that a platform that is primarily used to jot down passing thoughts, assignments, and chores needs to be accessed as swiftly as possible – mainly through a phone. Evernote mobile version has a very sharp design with the same color scheme and brand attributes used for the desktop website. CTAs and buttons are of a contrasting hue which makes them hard to miss, the text is easy to type, and it doesn't get "lost" somewhere in the process if you accidentally miss a button or block the screen, all of which contributes to the overall gratifying user experience.
On a final note
At this day and age, responsive web design is not a strategy, but more of a technical norm. More often than not, you don't even have to choose between a mobile-first or responsive approach because mobile-first web design is always responsive, but responsive websites aren't necessarily mobile-first.
You have to evaluate the advantages of having an effective mobile web design because while responsive design is a standard and is most likely to be applied by most designers, the mobile-first approach requires a conscious effort and quite a lot of resources.
Mobile-first design is more of a strategy than responsive design and should be regarded as such: you have to prioritize the mobile experience and place the utmost importance on mobile users. It can be challenging to modify the desktop mechanisms and make them adaptable for mobile devices, but careful analysis and meticulous categorization of the content will make wonders.
What do you think about responsive and mobile-first design? Which approach do you like more? Share your thoughts in comments! And don't hesitate to contact us to improve the mobile version of your website.