For many years tourism has been one of the most prominent economic realms with a massive contribution to GDP in a lot of countries. With the COVID-19 pandemic striking at the beginning of 2020, the traveling business faced an unprecedented challenge. With most countries being in a lockdown or some form of travel restrictions, tourism is currently under a lot of pressure.
For many people, websites are the first place where they're looking for information. Travel websites can contain thorough details about the services and tours that they provide and present loads of beautiful pictures and photos to seduce you. It's natural that tourism companies really invest in their online platforms and try to develop them as carefully as possible.
We've worked with a fair share of travel agencies and created a number of tourism websites, so we can say that we have a great eye for travel industry web design. We've made a list of the best travel agency websites out there so that you can reminisce about good old times when you booked a flight to Vanuatu on a whim.
Visit Humboldt
Travel website design is not always highly innovative or interactive. Most of the time, you look at the beautiful pictures of some far-away resorts and read minimal information about provided services and tours. Visit Humboldt is an entirely different thing.
Humboldt County is an area in California famous for its redwood forests and well-developed hiking trails. This travel agency website design has a one-page game-inspired interface: you can choose between picking things to do, places to stay and put all the interesting spots into your own traveling suitcase where everything you choose will be scheduled and planned out so you won't have to bother about connecting the dots of your adventure yourself.
You can watch beautiful scenery and read about all the areas of the county, pick the places you would like to visit based on the activities you want to pursue, and get acquainted with the whimsical and magical character of the California countryside.
All the clickable elements and interlinked pages will make the visitors stay on the website longer, increase the company's SEO parameters, and make their brand voice more memorable and distinctive. It's hard to leave a website that offers such an engaging and interactive user experience.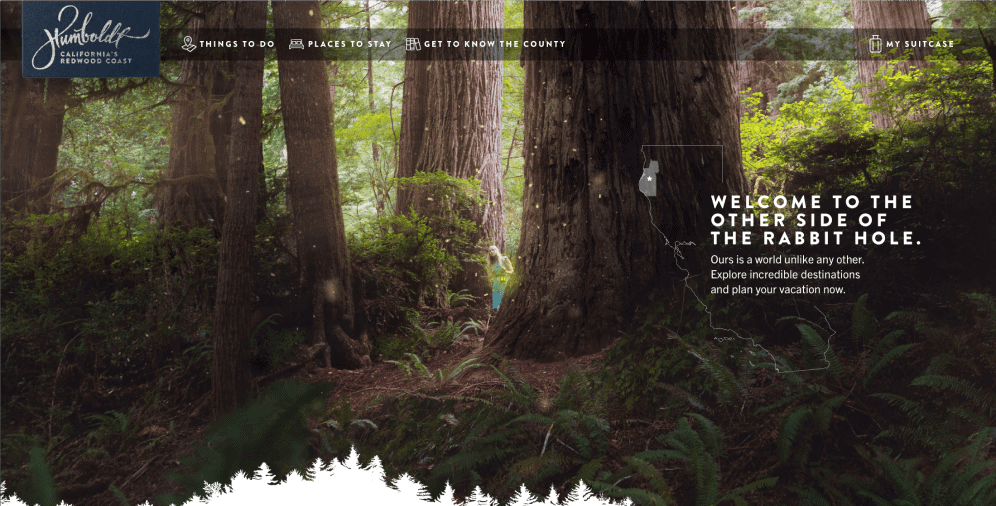 Tour Partner Group
Tour Partner Group is a group of destination management companies comprising several European travel agencies that are brought together to provide tailor-made tours across the United Kingdom, Ireland, the Nordics, and the Baltic states.
The first thing that comes to mind when you access the Tour Partner Group website is how user-friendly it is: there are tons of photos, bright contrasting colors, the text is readable, and the website is incredibly easy to navigate. You can read up on their main destinations, look up their brochures, learn more about the company's history, and filter through the types of traveling they provide.
Ester Digital worked on the Tour Partner Group website development and design and made sure that it's bold, colorful, and functional, with a clear corporate look and sleek visual architecture, so that the users will be captivated and stay on the website longer.
However, our designers made sure that the website's look is also welcoming and inviting, so the bright corporate colors were subdued and tamed to support the usability of the website. We also added several micro-interactions, animations, and icons that make the user experience more enjoyable and satisfying.
On top of web development, we also worked on the mobile version of the website to expand their reach and make sure that visitors across all platforms and devices will get the best user experience possible.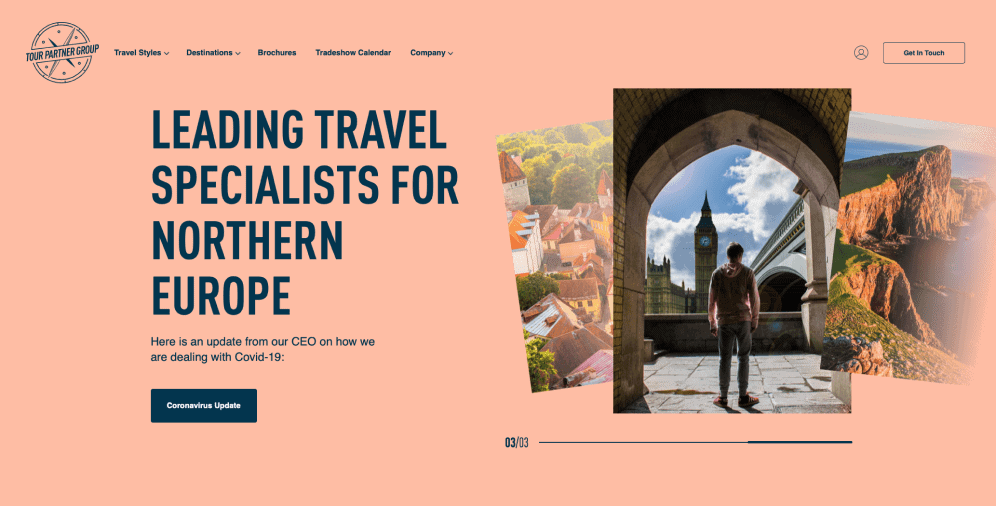 Context Travel
Ordering a traveling tour can be a sensitive matter: you sign up for one thing and then realize that you're not getting what you want. Context Travel solves the issue of matching a hypothetical journey of your dream with the real travel experience.
Context Travel provides tours with specific themes and objectives: art tours, Jewish heritage tours, cuisine tours, and many more. All tour guides are highly trained and specialize in their respective areas and provide thorough and expert knowledge about topics and locations you're interested in.
The tone of the website never advertises its expertise openly, but it's clear from the design of the platform and clearly arranged information blocks. Smooth and transparent design is not filled with colorful images and flashy photos – Context Travel knows its audience, its needs, and appeals directly to them. 
Context Travel is an excellent example of a travel company that has taken an opportunity to both further the advancement of traveling business by showing that you can tailor your own position on the market and make your customers feel special and heard.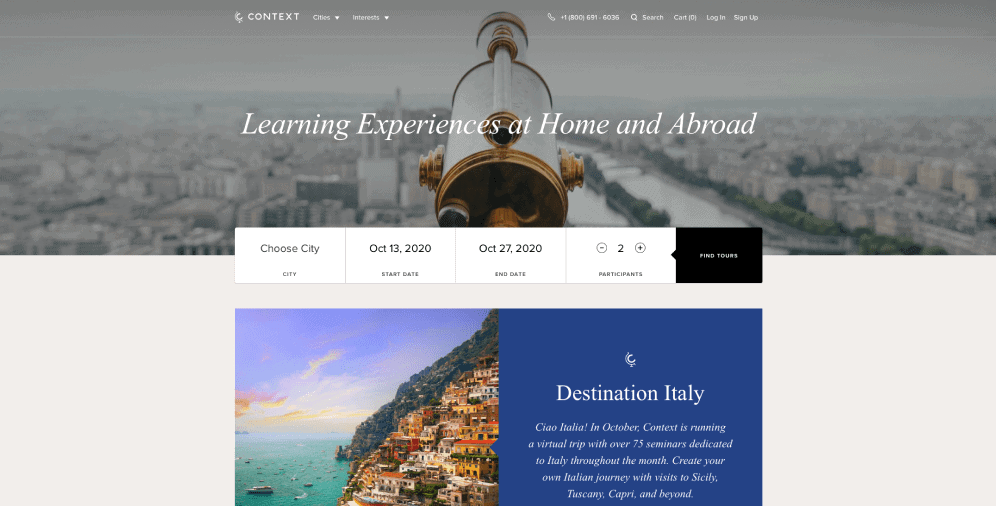 Outlines
Outlines poses itself as a "travel agency for non-tourists." Their approach is rather unconventional: they promote a low ecological footprint, supporting local communities in the places they organize tours to, and aim to expand the horizons of the travelers not only physically and geographically, but also emotionally. They want their clients to be changed and moved by their trips.
Their website fully reflects that. The photos of Mars-like landscapes lend themselves to the "get out of your comfort zone" theme. Neatly packed blocks of information will focus the viewers on the core of the Outlines message. The orange color is used across the website, including small details such as transport icons and as a highlighting color to ensure cohesiveness and brand recognition.
As an agency that provides rather unconventional trips, they list their routes according to the difficulty mode. Each trip is described thoroughly and in detail, down to the number of participants and main points of the destination, all of which are made using contrasting colors and additional icons that serve illustrative purposes and support the company's creative approach to traveling.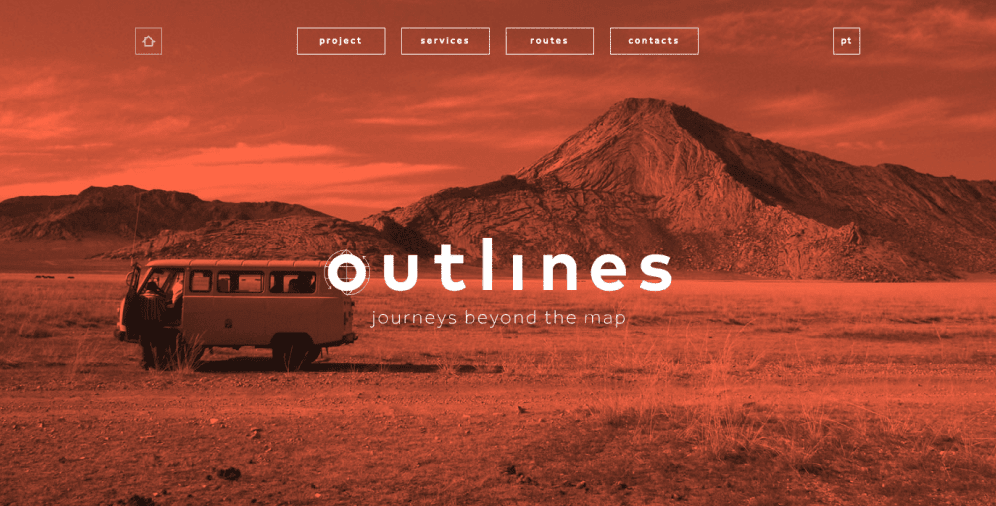 Rome2Rio
While the Rome2Rio website doesn't have a very distinct or eye-catching design, its functionality compensates for it. Its innovative and highly practical tools facilitate the process of finding transport around the world, providing several alternatives and transportation types at a time.
Rome2Rio is incredibly useful if you plan a long-distance journey or if you're on a budget and need to see all possible financial options. It will carefully think out the trip for you and show the cheapest ways to travel along the whole way.
On top of the transportation schedule, this travel agency website can track the booking for hotels, airports, and even car rides. You can create your own account and manage all the booking details yourself.
As we mentioned earlier, the website design is not the most captivating but it doesn't have to be – its power is in functional values and a wide range of features that will make the lives of keen and adventure-crazed tourists much easier.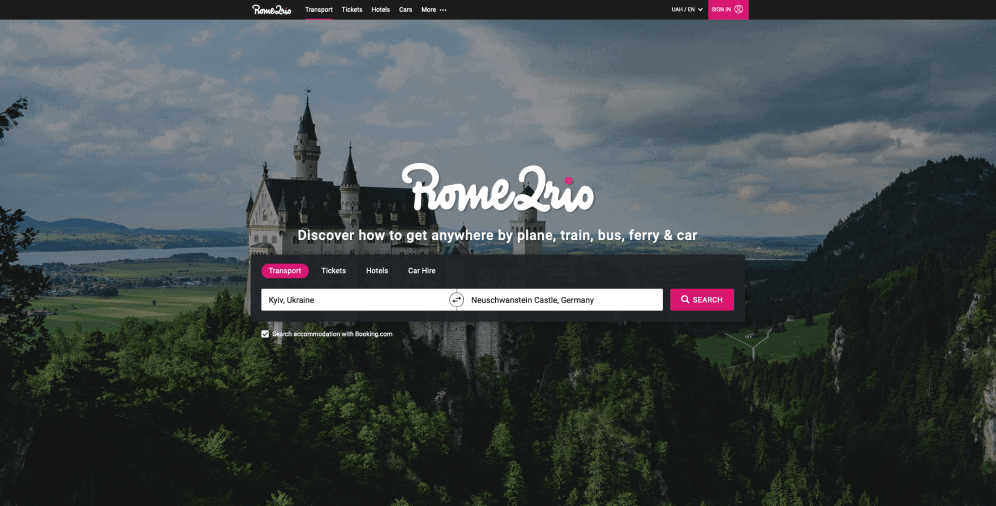 Arctic Wild
Arctic Wild is a tourism website dedicated to the areas near Fairbanks in Alaska. Routes include classic hiking, rafting, camping, and photography trips. You can also order a custom-made trip tailored specifically for your needs.
The information on the website is given in a thorough, but not the exhaustive way. You can view all the scheduled trips and make a reservation request for the vacation of your choice. Navigation is clear, all CTAs and clickable elements are easy to find as they are made visible and conveniently located.
The homepage features breathtaking photos of nature and an incredible presentation video. The color scheme of the website is harmonious and serene, evoking a sense of tranquility and peacefulness that Alaska usually associates with.
Overall, the website is well-balanced, informative, and provides an enjoyable experience from a user perspective. You can check out the places you are going to visit and see the profiles of the guides that are going to navigate you through the wilderness, contributing to the personable feel of the website.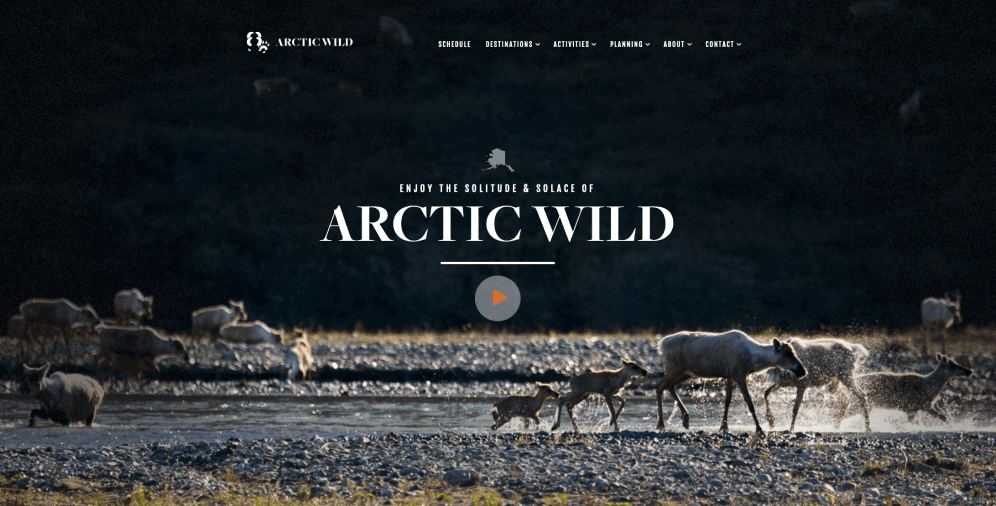 The Yacht Week
The Yacht Week is a travel company website dedicated to providing an exclusive one-week yachting experience. They offer two options: your own customized traveling plan or a scheduled-out package. You can choose your own crew, hire skippers and hosts or find new members to add if your team is less than 12 members via a special search tool.
The website fully explores the sea theme with the white and blue color palette and large negative space areas. There are loads of very light and inviting photos that feature people enjoying the sun and having fun on yachts. You can feel the light sea breeze and can't help but be tempted to try out the Yacht Week services.
Being an industry leader in the given niche sphere, Yacht Week navigation tools are impeccable and the information provided on the website is full and detailed. The website also features a nicely structured blog with loads of insights and promotional materials.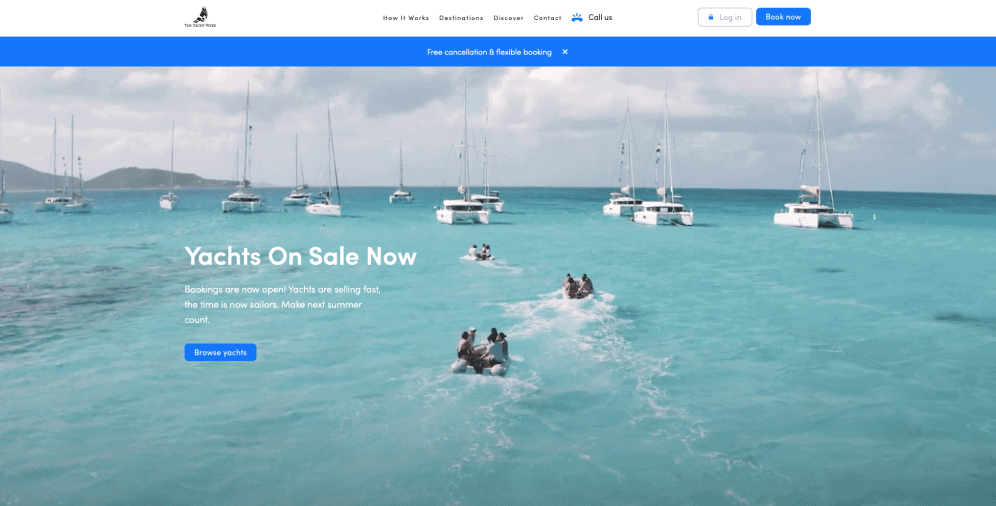 Experience England
Experience England is a travel agency that provides and designs luxurious and unique events and tours across Wales and England, including London. Their high-end approach calls for an elegant and premium design that can convince even the most demanding clients.
The power of that website is that it's concise: there isn't an overwhelming amount of CTAs, photos, or data blocks, mainly because Experience England knows its target audience and appeals directly to it. You can look through the website within 15 minutes and form a wholesome and positive impression.
Ester Digital team worked on the travel agency logo and branding. The logo appears across all website pages as a representation of Experience England uniqueness and expertise, and the color palette of royal blue and gold oozes poise and excellence.
The Experience England website also features photos of the locations where they hold meetings and destinations of some of the tours the company provides. Overall, the simplicity and subtleness of the website design lend itself to the brand's mission to be creative but laconic, relying on the niche they take up and the audience they're appealing to.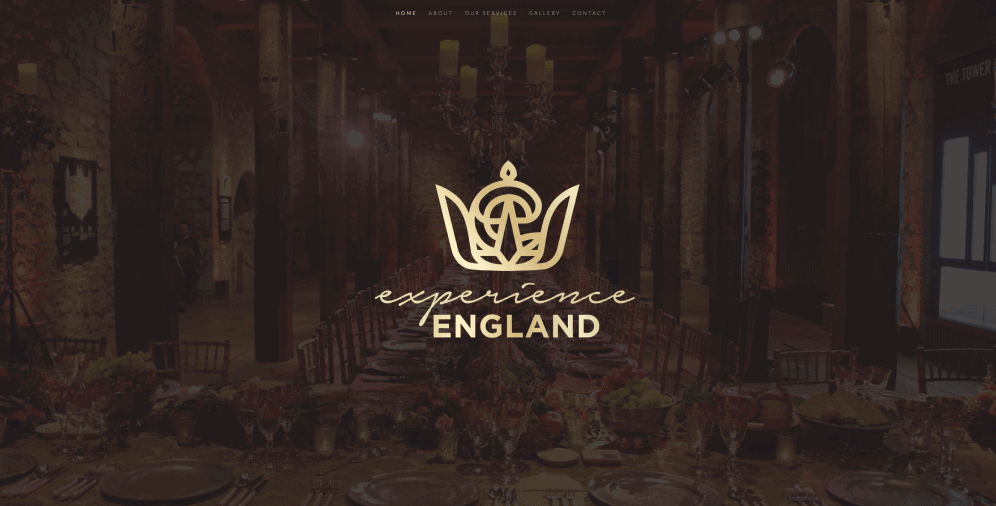 Thrillophilia
Not all people's idea of a perfect holiday involves laying on a beach or enjoying the walks around the most famous European capitals. Some experienced travelers seek that adrenaline rush and crave extreme activities. That's what Thrillophilia provides.
This travel agency website offers a variety of services: helicopter rides, paragliding, hot air balloon rides, bungee jumping, rafting, and many more. The first thing that you see on the website is the booking landing page, where you can filter all the available destinations, activities, and locations and book the tour of your choice.
Thrillophilia makes the most of CTAs – everything you see on the landing page is CTA or its clickable simulation, which, all in all, hooks you and draws you in. They also provide a rather impressive set of statistics on how well the company's doing, listing the number of users, travel experiences, and countries. All this ensures that the users will be impressed with their competence and business record.
This travel agency website design is quite simple and straightforward: there are no flashy details or colors, which is more of a plus for the website with so many pages, CTAs, and blocks of information as nothing detracts the attention of the visitors.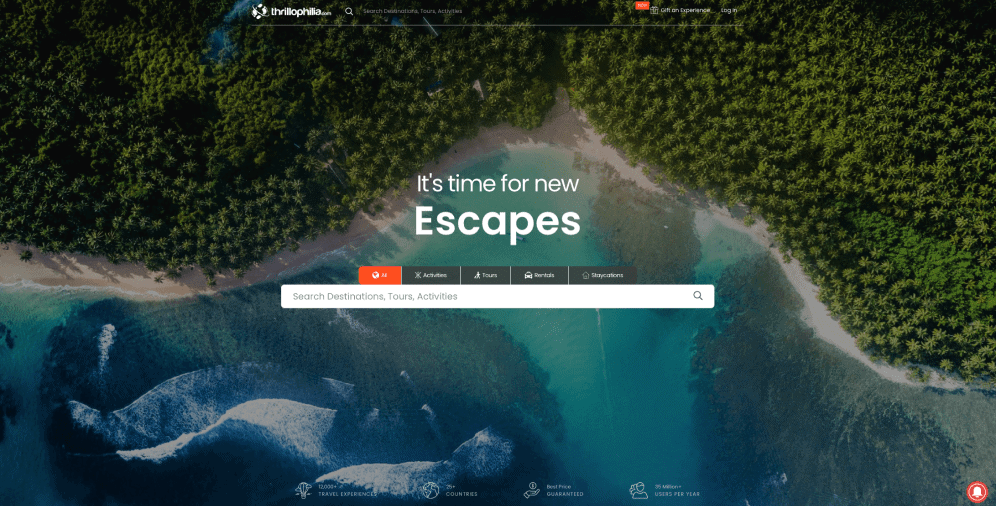 Getaway
Sometimes our hectic big-city, 21st-century life can seem a bit overwhelming. You try to escape work and exhaustion by traveling, but you end up running around far-away countries in the same hurry, not having enough time to recharge. Getaway offers a perfect solution for people who want to decompress in nature – an escape to unplug from the everyday routine in a tiny cabin outside the city.
What Getaway provides isn't a trip per se, but, well, a getaway from the big city to a serene and worry-free break somewhere in the woods, far away from civilization. It's not a complete caveman experience – you can still enjoy having some of the conveniences, but the whole point of the Getaway tour is to reconnect with what matters most to you.
The Getaway website features loads of stunning photos, easy navigation tools, visible CTAs, and a calming color palette. The Getaway team also works on the Getaway Podcast, where they talk about the importance of leisure time and enjoying nature, promote their Getaway Book, which offers practices of how to gain emotional balance, Getaway Shop with souvenirs, and The Journal. The Journal is essentially a Getaway blog where they offer their insights, guides, and tips on how to stay sane, what to pack for adventures, and how to deal with modern life challenges.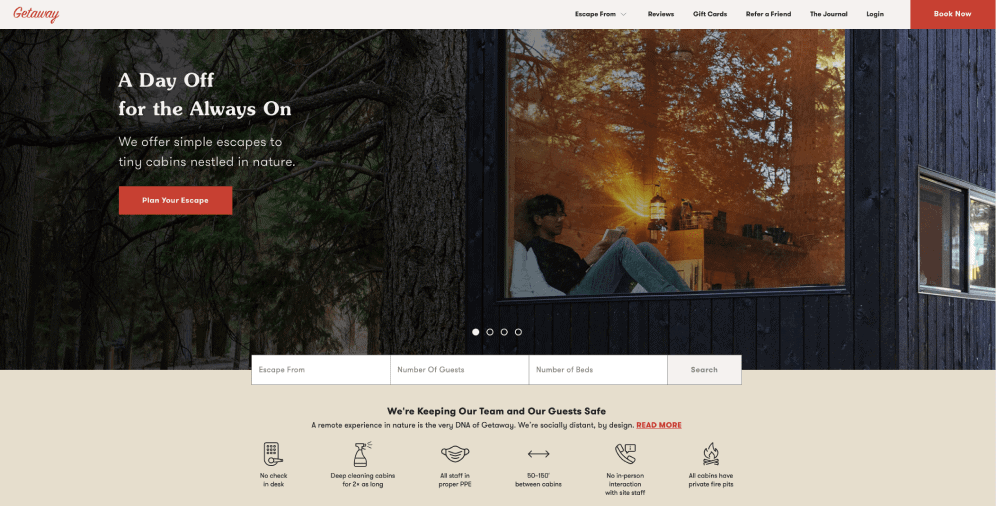 On a final note
Travel websites are associated with catchy slogans, endless pop-ups, and massive photos that take hours to load. However, they don't have to be that way. Ester Digital compiled a list of the 10 best travel websites to prove that. This article shows that they can appeal to the audiences from the same country or continent or operate across the globe, or they can provide a niche and exclusive experience or offer tours that can interest anyone.
Whether it's a small company or an industry leader, their design should reflect the approach the travel agency has. People are risking to travel 6,000 miles to realize they're not getting what they were signing up for, so the message of your company should be stated clearly and certainly.
The ways in which you can liven up your website are endless, it's all up to you – be it a bold color palette, loads of CTAs and information on each tour, or creative visual arrangements. Having beautiful photos that don't take forever to load is nice, though. We really recommend it.
If you're still unsure about how to create your own travel website, or if you have some doubts and uncertainties about your travel agency website – contact us, and our Ester Digital team will come to the rescue.