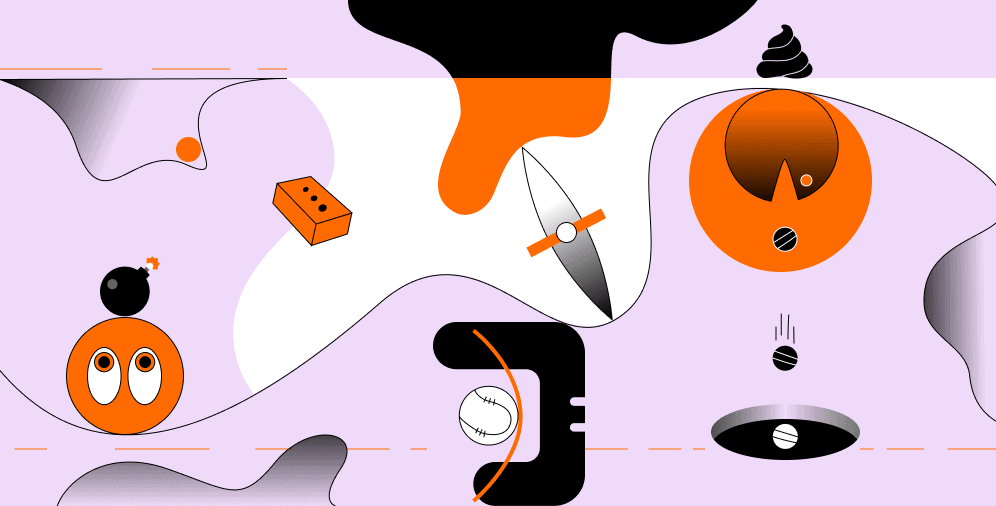 The web design industry evolves heavily as the world advances. The technology flourishes, bringing brand-new and fresh design decisions and requiring new formats. What used to be a monologue now has turned into an engaging communication. That means that efficient contemporary design should be meaningful and powerful enough to provide users with great experiences.
Given how hastily the environment develops and new trends emerge, we sometimes forget about the pillars of excellent user experience design. As a result, bad UX fails to carry out its ultimate aim, deteriorating the whole performance. What are the most frequent UX mistakes? How to avoid them and reduce the risks of failure? Here we will cover that intricate subject.
What is UX
Before plunging into a sea of UX design problems, let's point out what UX actually implies. Essentially, user experience is how the user perceives the digital platform and what feelings it evokes. Is it easy to manage and pleasant to use? How does it assist the user during the process? These are the questions to keep in mind while building a website or web application – excellent web UX design is about saying yes to all of them and even more.
User experience comprises a series of interactions between a person and a system that form the basis for communication. At every stage in the communication process, the platform should bring valuable insights and senses. Given how it succeeds, the user decides whether to become a regular customer or skip the idea. That's why UX is crucial for each business that intends to thrive within the digital field.
What is the difference between UX and UI
The first and most frequent mistake is confusing UX and UI. Basically, UI is the set of visual touchpoints that enable users to get across the platform and perceive it. User Interface is more of an instrument of interaction rather than the UX interaction itself. However, these two usually get mixed up, despite their obvious differences. UI entails elements that urge users to start their journey and support them when exploring the platform. UX, in its turn, is an outcome of that discovery. UI involves typography, color palettes, buttons, and icons, imagery, blending them together to engage the users. UX focuses mostly on design solutions dedicated to fixing every pain point and making the journey seamless and consistent. To put it simpler, the UI is one of the leverages to UX – the experience partially depends on how consistently the interface is set.
Nowadays, with so much emphasis on user-centered design, not caring much about UX means lagging behind. As a business, if you crave a prominent position and consider competing, you shouldn't ignore the user experience. Its importance is not limited to product design alone. Incorporate it in everything that your company does – from the development to the website design, ensuring the users get an impeccable experience at every touchpoint. When planning to build a UX, you have to remember some significant points that can prevent you from going wrong:
UX design is not uniform. UX design won't work the same way in every case. What impacts positively one platform might have the opposite effect on another one. That's why it's crucial to remain specific. Tailor the UX to your particular goals. That way, there are more chances to not get off the track.

UX is for the users.

You can't be a hundred percent sure whether the users' experience will be positive or negative. It's mostly about how the users perceive you and how they feel about you, and they are all different. The key to managing the issue is to plan before crafting the desired outcome. Narrow down the users to the target audience. Define its needs and land UX accordingly. You can't influence the UX directly. Still, every decision you make, and every specific operation you perform have an impact.
UX mistakes to avoid
To make the UX work in your favor, you need to focus on multiple things simultaneously – the audience's needs, functionality, and the visual side. If you fail – get ready for the unfortunate results: high abandonment rates, poor performance, effort, time, and money expenditure in vain. Let's delve deeper:
#1 Self-centered designing
When you design for yourself without considering the market trends, target audience needs, or the branding policy, you should know – you are very likely to fail. What is more, it's quite challenging to make the users see your product as you see it. Your vision is not the same as that of the audience. Thus, neglecting its needs may bring discrepancy in UX that will put off potential customers. How to solve the problem? Examine your audience's core features and behavior and mold UX according to the data collected.
#2 Neglected responsiveness
When on the website, users expect it to function well, allowing them to find everything they need quickly without restraints – that is a part of a seamless user experience. However, the users may access the site from various devices, and it can fail to run on every gadget used. Thus, a vast amount of users are likely to stay ignored. Do not set apart millions of your potential customers with that simple mistake. Make the website responsive, ensuring it will provide an excellent experience to every user regardless of the device employed.
#3 Overcomplicated formats
Some think it makes sense to apply tons of eye-catching data. Some are obsessed with applying innovative, brand-new layouts. Others prefer designs that are almost unreadable but easily noticeable. Usually, in that race for something exceptional and alluring, the user experience stays behind.
Overwhelming websites can neither appeal to the users nor transmit the message clearly and directly. Too much information – fewer chances the audience will grasp what you want them to grasp. Most users visiting websites don't want to extract the essentials from infinite details, which they think are interruptions. To escape that, follow the "less is more" principle. Focus only on what matters, state the purpose clearly, and bring it to the visitors directly.
#4 Erased hierarchy 
The content is the most valuable touchpoint of user-platform communication. A cluttered amalgamation of irrelevant and inconsistent content blocks is a sign of bad UX design. Think of hierarchy, add some layers to your content, and make it navigational for better engagement.
#5 Hard-to-read fonts
Low readability impacts UX significantly. Stylish and sophisticated fonts can be alluring, but are they readable enough? When it comes to the typography, it's crucial to hit on the following points:
use readable, comprehensive fonts;

include line spacing to create rhythm and balance;

if you use small fonts, remember they need more spacing;

employ minimum 16pt font size or that of multiple of 4.
#6 Lack of contrast
To make the textual material more readable, don't forget to add some contrast. Even if your fonts align well, poor contrast will make it incomprehensible. Combine a more dark background and light font colors, and vice versa. Another issue is that of the size. Using contrasting larger headings and smaller body copy fonts contributes to better accessibility, thus better experiences.
#7 Temporary trends over stability
Many website owners reformulate their strategies every time the new brand comes up and eventually end up in a sea of inconsistencies. Trends come and go, but there are exceptions. Think of a consumer-centered approach that has established its solid roots and is proved by real data and metrics. However, a large amount of the trends is more of a buzz rather than usefulness. It doesn't mean you should hold off the novelties. Treat each UX innovation carefully and review it until you get whether it's the right thing for you. Weight risk and reward, think about how it can enhance your performance. If you can't find any importance, it's better to abandon the idea. The best user experience websites don't follow temporary movements – they establish their own long-lasting trends that become brand marks.
#8 Either too visual or too functional composition
Visually appealing websites with poor functionality lose the game – functionally packed sites without any aesthetics do the same. To unpack that paradox, it's crucial to realize that the visuals and functionality go hand-in-hand.
A highly functional website is not always an excellent one. One of the examples of bad UX is the countless forms to fill before purchasing something online. With all the supplementary information, numerous fields to manage, it is complicated enough to make the users forget about the desire to buy from you. If you can't reduce the number of form fields, at least make the process interactive. Play around with animations, visuals, and dilute the constant flow of queries.
What about an infinite dropdown? It's another bad user experience issue. We've all had to mark our nationality and pick it from a seemingly immeasurable list without a search bar to help us. At some point, we were irritated scrolling through all the lines given. In this case, small visual flags would be appropriate and useful enough to lighten up the process. Some still think that big, high-quality visuals damage the website's performance. That's true until they're optimized. Optimization of all on-site images increases the load speed and contributes to better user experiences.
#9 Bad user interface
Great UX doesn't necessarily mean fancy, eye-catching, or intricate elements. Sophisticated UI design can look beautiful, but does it have any meaning? Websites with poor usability alienate users. Take an icon, for example. If you employ a brand new complex icon, users won't get what it implies until you add a text. It's better not to include elements that look fantastic but don't have a purpose. Cherish simplicity more than bad usability. Even the oldest, universal icons can be more valuable than modern ones that no one knows. Good design can be elegant without all the intricacies.
#10 Loads of ads
We all have seen platforms that started bombarding us with ads right away when we launch them. The content went in the background, and all we experienced were irritating ads. In that case, we couldn't but leave the website. And we don't want our users to do that, do we? That is why try not to apply too many ads and don't gather them altogether on the landing page. That way, you deprive the users of seeing the content they went for and make them perform actions they don't want to perform.
#11 Dark patterns tricks
Some websites intentionally confuse, deceive, and try to trick users for more engagements. Take, for instance, a large green download button that turns out to be an ad. Such tricks urge users to think they found a download link for a product they need. In reality, these buttons conceal information and get users to do what they didn't intend. Not a pleasant experience indeed. Avoid incorporating deceptive UX techniques – don't drive your potential customers angry as you won't get any of them.
#12 Low performance
Teams spend much time polishing the aesthetic experience and development but ultimately forget about the performance. The performance isn't the responsibility of UX, yet, it is a factor that impacts the user experience heavily. It concerns the speed and a number of possible errors. To measure the performance and eliminate mistakes, employ analytics tools. Analytics can help you to identify pain points, errors, and pages with slow load times. That ensures you keep it under control and gives you the possibility to reduce inconsistencies and fix some significant drawbacks, improving the experience.
Even though some of these common UX mistakes may seem quite obvious, they can be hard to detect and handle. There is a way. A UX audit can show you what your users are struggling with and find a solution to that. It is not a mere functionality test. UX audit provides firm objectives and goals that are research-proven to enhance the user experience.
If you doubt your UX pain points, contact us, and our experienced team will perform an impeccable UX audit to make you shine.
On a final note
Exercising various techniques and approaches is great. But when blindly following the trends, something very significant stays behind. While planning the UX design, it's crucial to think about the users first. The design should make them engaged, not disturb them. Ignoring that, you skip on the chance to build a powerful platform capable of converting visitors into your customers.
What is more, the UX problems also relate to other aspects that make up the overall performance. Low conversion rates and high bound rates impact your SEO. Negative feedback or unfavorable reviews can damage your reputation. The thing to realize is that good UX design can save your time and money if generated well from the very beginning.
If you still feel unsure about your UX performance or want to get more information about the UX mistakes, contact us. Ester Digital is ready to provide you with the best solutions to your profile and give sufficient information to eliminate all of your doubts.