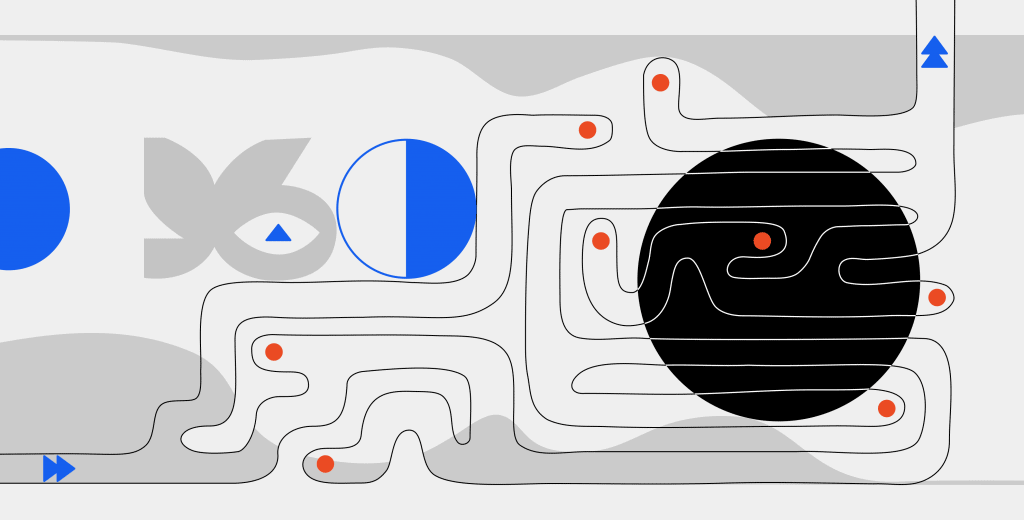 Every design team tries to do its best to create an artistic and original product. However, when you work on something for too long or when you're too invested in the product, you stop seeing the big picture and small, but crucial details escape your attention.
Designing a product without defining its mission can potentially lead to a lack of awareness of the outward appearance of that product and its internal processes. When that happens, any business owner needs to take a fresh look at their UI/UX weaknesses, level of usability, and how well the website attracts new customers. That is much easier to do with someone who doesn't represent your design team and can have an outward view and give you objective recommendations on how to improve your product and make your business thrive. That's what a UX audit does.
What is UX audit
A UX audit is the process of identifying the pain points in the design system and user experience based on specific approaches and user research. The results of an efficiently done audit will make the users flow through the web pages and contribute to the client engagement and subsequently lead to more conversion.
Statistics show that 77% of businesses regard bad UX as one of the major weaknesses for their clients. Loads of websites go "dead" because their websites don't offer an easy and transparent user experience, thus failing in attracting new visitors and increasing their conversions. One of the main reasons for that is applying a team- or organization-centric approach that overshadows the needs of a specific target audience and lets some crucial usability issues to seep through.
UX audit, as the name suggests, is not simply usability testing: it uses specific methods, tools, and metrics to analyze why your product isn't giving you the results you're hoping for. A thorough audit provides you with a list of recommendations that can lead to feasible sets of actions and a complete design strategy. You can finally stop relying on hypothetical data and start seeing the real issues that impede your success and ways of how to avoid making the same mistakes in the future.
For the most part, UX audit concerns and analyzes such areas as usability, conversion, user flow, information arrangement, and communication and feedback tools. Those areas may vary from client to client and depend on your business objectives or goals. The methods that are going to be applied include a review of the business, KLM-GOMS analysis, research on traffic, engagement, conversion metrics, usability heuristics, and compliance with standard UX practices. It may also include competitor analysis that can provide your team with a set of examples to follow or to avoid, and user testing that shows business owners how their visitors interact with the elements of their website in real-time.
Talking about websites' accessibility and fixing its problems, it's important to distinguish between design audit and UX audit. The design audit is more focused on the branding issues and consistency of the company's style and visual expression, having little to do with the way users interact with the digital product, unlike the UX audit. Both design and UX audit utilize data- and research-supported methods, which means that the UX audit decision is backed up by facts and evidence, not someone's opinion or judgment.
You may ask yourself: why do I need a UX audit? After all, you can shrug it off and add a few cool design elements or catchy CTAs. Undermining the power of UX can be costly – if your visitors don't enjoy interacting with your website, your conversion rate remains at the same level as before, and you end up spending more money without gaining anything in return. Let's look at the UX audit benefits more closely to learn more and avoid such mistakes in the future.
UX audit benefits
Why is UX audit crucial if you want to enhance your digital product performance? One of the main reasons is that it can help you to create a short-term guideline. You will discover the exact problems in your UX that impede your success: from the reason why conversions are low to specific issues your viewer might be experiencing.
A properly done usability audit can fix a range of different issues: highlight the main pain points, help to direct your resources to the difficulties that affect the performance, prioritize certain aspects that were ignored before, or prepare you for long-term solutions, such as redesign or change of a business strategy.
You may think that a complete redesign is the best option to cure all your digital maladies. However, a full or even partial redesign may take up to several months, with all that time being lost due to the ineffective UX that doesn't attract visitors and decreases your chances to be recognized as a viable member of your industry. Also, the redesign is not a solid guarantee that your conversions will grow or that your business will start to flourish. If the user experience issues are still there, they will inevitably impact your work.
UX audit is helpful not only from the perspective of fixing some technical problems, but also to better your understanding of your users, how they behave, and how they interact with your product. It will undeniably prove to be a useful asset when planning out your business strategy and focusing on the learnings you found out during the UX audit.
Finally, a user experience audit will provide you with objective and factual learnings on your problems and their possible solutions. The way you make decisions will be supported by data and not just personal feelings or impressions. All this will contribute to your professional development, enhance your management skills, and improve your team's abilities to apply big-picture thinking and focus on the system as a whole, rather than its separate elements.
Who is responsible for UX audit
The next question that arises when dealing with UX audit is who is going to carry it out? The company itself or a third party? Is your own team going to be involved in the process, or are you simply going to redelegate all responsibilities to a UX auditing company?
UX audit can be carried out in different ways. Usually, you hire an auditing team that checks all your pain points, makes a UX audit checklist of things to work on, and transfers the tasks to the respective teams. Sometimes companies involve their own specialists. However, it can be tricky: if those teams participated in the creation of the product from the start, it is going to be hard for them to evaluate it objectively. At the same time, if the teams were not involved in the initial stages, they won't be familiar with some pitfalls and hidden rocks of the process.
If your resources allow, you can hire an external consultant who will handle most of the hard work. UX audits can be extremely time-consuming, so involving a third party is better if you don't want to interrupt your working process by engaging your own staff. Third parties are also going to be as objective as possible, having a distance between them and the product.
In case if you already had your product checked by the UX audit team previously or if you're on a budget, you can engage your specialists to follow their course or learn how to do UX audit on the job, but bear in mind that this process may stretch out for longer periods of time and may not bring you the results you're hoping for. If you're still unclear who to work with, contact us and get the audit that will solve all the UX issues and make your website run like clockwork.
A step-by-step guide to UX audit
Knowing the UX definition and its benefits is not the only thing that's needed if you want to fix your UX issues. You need to follow specific steps that will ensure that your user experience will be greatly improved and enhanced and that your business will benefit from it to the fullest.
We offer a 4-step full guide on how to conduct an effective UX audit. Before those steps, we recommend going through your business objectives once again and specify them as clearly as possible. During a UX audit, the specialists will be checking them up to make sure that the audit steps that they make coincide with your business goals and that there's no discrepancy between your expectations and the end results.
Then, try to deepen the understanding of your audience and their expectations regarding your product or services. Building a clearer image of your potential user will be immensely helpful when following the main steps of the audit process. Make sure to analyze whether your current users coincide with your target group, otherwise UX auditors will have to identify the reasons why your targeted users aren't drawn to your website as much as you expect them to.
Finally, set up your budget, planned output, and a deadline. Regardless of the source of your audit – your own team or a third party – every member should be on the same page in terms of expectations and planning.
Once it's all done, we can move on to the actual steps of the UX audit.
Step #1 Metrics and data accumulation
In order to get a better understanding of the current UX issues, one should operate with a certain amount of quantitative information to measure the most crucial aspects of user behavior such as user flow, conversion rate, and various sales figures. If you were well-prepared at the beginning, you will know exactly what parameters and numbers you should focus on. The standard operations at this point include:
heuristic evaluation, which is a method of assessing usability with the help of several crucial factors, such as flexibility, user control, transparency of language and technical aspects, simplicity and predictability. It provides you with an opportunity to go through the user experience yourself and see what kind of obstacles they face in the process;

analytical data, for example, derived with the use of such tools as Google Analytics, Hotjar, Crazy Egg, or Kissmetrics, which present you with data points on traffic flow, trends in user journey as they access your website or before/after leaving it, conversion hotspots, and many more, which you can turn into a more or less full picture of how your product works and where it's lagging behind;

stakeholder and user interviews and surveys, which can help to gain some insights and challenges they face when working with the given product, as well as their expectations and interests;

user story testing, when you set up tasks for your users to see the points in which they struggle or encounter difficulties, which helps to define existing problems more clearly.
Step #2 Analysis of the collected data
Once you've gathered the foundation of your UX audit report, you can start evaluating the given information to pick up the trends regarding some weak points of your website and identify the reasons behind the users' dissatisfaction. The analysis will be full if you check the given data with the objectives you set out at the preparation stage and see if there are any discrepancies, especially relating to such issues as accessibility, relevance, and use of CTAs. Sometimes this stage can include usability testing to double-check some technicalities, but it's not always obligatory. This step allows auditors to see the big picture: what is working and what isn't, and identify the measures that can fix those issues.
Step #3 Preparation of data-supported recommendations
After carefully analyzing all the data gathered at the previous stages, now is the time to generate a list of recommendations that will become your guideline for the future improvement of your digital product.
These recommendations may include a wide range of aspects: from visual design and the information arrangement to the issues of inclusivity and accessibility. They can list both short- and long-term solutions, worst and best-case scenarios if things do not go as planned, as well as general tips on how to reform some features. The recommendations should be classified according to their severity or impact so that it's easier for the designers or developers to navigate the issues and address them much more swiftly. They can also be complemented with examples rather than general comments, which can also contribute to the speed with which the improvements are going to be introduced.
Step #4 Presentation of the final audit
Now, it is time to finish the audit report and compile all learnings into a roadmap that must be reported to the respective teams that are going to be responsible for the implementation of those findings. They distribute the tasks according to the provided classification and decide on the sequence of those improvements.
For the most patient and curious readers who have managed to read down this far, the Ester Digital design team created a special bonus. Save the UX audit checklist to keep every step under review.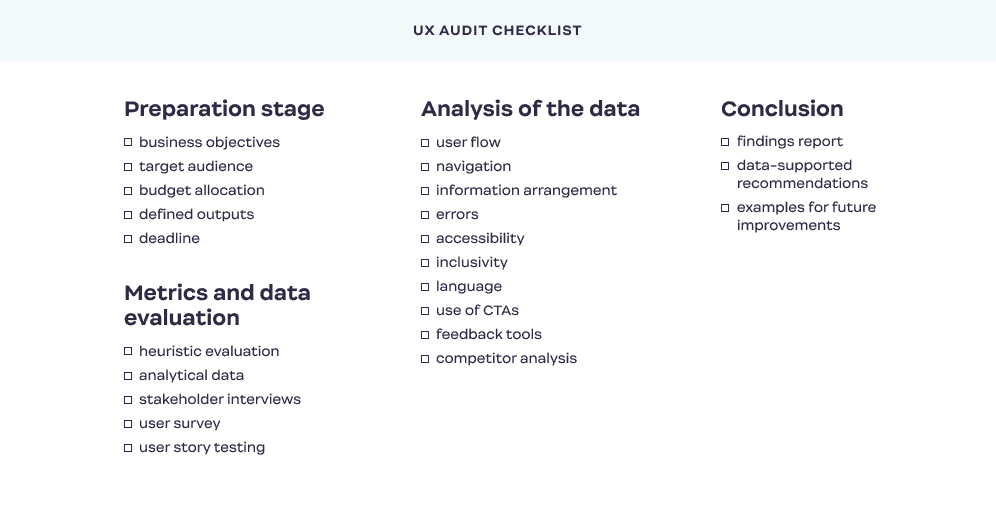 On a final note
Even though UX audit can seem like a luxury and something that is going to be very effort- and time-consuming, it can make a big difference for a product that doesn't bring the expected results and never runs at full capacity.
A properly done audit will provide you with a wholesome picture of how your website works, highlighting both positive and negative aspects of it. It will help you to focus on long-term improvements and set up for continuous development and growth. UX audit can save a lot of time for your team, as well as bring about changes that will potentially lead to more conversions and, as a result, more profit.
UX audit is not a magical elixir that will miraculously fix all your issues and make your conversion rate skyrocket immediately. The recommendations that the UX audit team provides need to be followed up and implemented.
User experience audit is carried out not only for getting a better grasp on the peculiarities of your audience, but for the actual application of all those findings and regrouping of your website, so it requires a tremendous amount of precision and dedication to the details. That's what we specialize in. Contact us, and we will make sure that your website's user audit is as thorough and detailed so that the adopted recommendations will contribute to the effectiveness of your digital product.