Every design team strives to create a unique and visually appealing product. However, the longer you work on a project and the more invested you become, the easier it is to lose sight of the big picture and miss crucial details.
Designing a product without a clearly defined mission can result in a lack of awareness of its external appearance and internal processes. In such a scenario, it becomes essential for business owners to examine their UI/UX shortcomings, assess usability levels, and evaluate the website's ability to attract new customers. This task is much simpler with the help of an objective UX auditor who can provide an external perspective and suggest ways to enhance the product's quality and help the business flourish.
A UX audit is a valuable tool that allows you to identify design flaws and usability issues by analyzing user behavior and feedback. This process can help you understand how customers interact with your product, what their pain points are, and how you can address them. By examining the website's architecture, design elements, and functionality, a UX auditor can provide actionable insights to improve the user experience and make your product more user-friendly.
Understanding the Importance of UX Audit
A UX audit is a crucial process that involves identifying the pain points in the design system and user experience through specific approaches and user research. Its results help improve user flow through the website, leading to better client engagement and increased conversion rates.
Research shows that 77% of businesses consider bad UX as one of their major weaknesses. Many websites fail to provide an easy and transparent user experience, resulting in low visitor traffic and decreased conversions. This is often due to applying team or organization-centric approaches that overlook the needs of the target audience and can't address crucial usability issues.
A UX audit is more than just usability testing. It involves using specific methods, tools, and metrics to analyze why a product is not producing the desired results. A thorough audit provides recommendations that lead to feasible sets of actions and a complete design strategy, allowing businesses to address the real issues that impede their success and avoid making the same mistakes in the future.
A UX audit primarily concerns areas such as usability, conversion, user flow, information arrangement, and communication and feedback tools. The methods used may include a review of the business, KLM-GOMS analysis, research on traffic, engagement, conversion metrics, usability heuristics, and compliance with standard UX practices. It may also involve competitor analysis and user testing.
It is important to distinguish between design audit and UX audit. A design audit focuses on branding issues and consistency of the company's style and visual expression, whereas a UX audit is concerned with the way users interact with the digital product. Both design and UX audits use data- and research-supported methods, but a UX audit's decisions are backed up by facts and evidence, not opinions.
Underestimating the power of UX can be costly. If visitors do not enjoy interacting with a website, the conversion rate remains stagnant, and businesses end up spending more money without gaining anything in return.
Why Conducting a UX Audit is Crucial for Your Digital Product's Success
Creating a Short-Term Guideline for Improvements
A UX design audit is crucial if you want to enhance your digital product's performance. It helps you create a short-term guideline by identifying exact problems in your UX that impede your success, such as low conversion rates or specific issues that your viewers might be experiencing. A properly done usability audit can fix a range of different issues, such as highlighting pain points, directing resources to difficulties that affect performance, prioritizing previously ignored aspects, and preparing for long-term solutions, such as redesign or a change of business strategy.
Avoiding Unnecessary Full Redesigns
While you may think that a complete redesign is the best option to cure all your digital maladies, it may take several months, with all that time being lost due to ineffective UX that fails to attract visitors and decreases your chances of being recognized as a viable member of your industry. Additionally, redesigning is not a solid guarantee that conversions will grow or that your business will start to flourish. If the user experience issues persist, they will inevitably impact your work.
Better Understanding Your Users
A UX audit is helpful not only from the perspective of fixing technical problems, but also in better understanding your users, their behavior, and how they interact with your product. This will prove to be a valuable asset when planning out your business strategy and focusing on the learnings you found during the UX design audit.
Making Data-Driven Decisions
A user experience design audit provides objective and factual learnings on your problems and their possible solutions. This allows you to make data-driven decisions, rather than relying on personal feelings or impressions. It contributes to your professional development, enhances your management skills, and improves your team's abilities to apply big-picture thinking and focus on the system as a whole, rather than its separate elements.
In conclusion, conducting a UX audit is essential for your digital product's success. It provides numerous benefits, such as identifying specific problems in the user experience, avoiding unnecessary full redesigns, better understanding your users, and making data-driven decisions.
Who Should Carry Out Your UX Audit: In-House or Third-Party
When it comes to conducting a UX audit, one question that arises is who should carry it out? Should the company itself handle it, or should a third party be involved? Should your own team participate in the process, or should all responsibilities be delegated to a UX auditing company?
Involving In-House Teams:

Companies can carry out UX audits in different ways. They can hire an auditing team to check all pain points, create a UX audit checklist, and transfer the tasks to the respective teams. Sometimes companies involve their own specialists. However, this approach can be tricky. If the teams took part in creating the product from the start, it may be hard for them to evaluate it objectively. On the other hand, if the teams were not involved in the initial stages, they may not be familiar with some pitfalls and hidden rocks of the process.

Hiring External Consultants:

If resources allow, companies can hire an external consultant who will handle most of the hard work. UX audits can be extremely time-consuming, so involving a third party is better if you don't want to interrupt your working process by engaging your own staff. Third parties are also going to be as objective as possible, having a distance between them and the product.

Engaging Your Own Specialists

: If you have already had your product checked by a UX audit team previously or are on a budget, you can engage your own specialists to follow their course or learn how to conduct a UX audit on the job. However, bear in mind that this process may stretch out for longer periods of time and may not bring you the desired results.
Ultimately, the decision of who should carry out your UX audit depends on various factors, such as the size of your company, the complexity of the product, and your budget. Choose the approach that suits your needs, budget, and timeframe, and make sure that the team or consultant you are going to approach can provide you with valuable insights to improve your product.
A Step-by-Step Guide to Conducting a UX Audit
To conduct an effective UX audit, it is important to follow specific steps that will ensure that the user experience is greatly improved, and the business benefits fully. Here is a four-step guide to conducting an effective UX audit:
Preparing for the UX Audit
Before starting the UX audit, it is important to go through the business objectives once again and specify them as clearly as possible. It is also crucial to deepen the understanding of the audience and their expectations regarding the product or services. Finally, set up a budget, planned output, and a deadline.
Step #1: Metrics and Data Accumulation
The first step is to accumulate quantitative information to measure the most crucial aspects of user behavior, such as user flow, conversion rate, and various sales figures. The standard operations at this point include heuristic evaluation, analytical data, stakeholder and user interviews and surveys, and user story testing.
Step #2: Analysis of the Collected Data
Once the foundation of the UX design audit report is gathered, it is time to evaluate the given information to pick up the trends regarding some weak points of the website and identify the reasons behind the users' dissatisfaction. This step allows auditors to see the big picture and identify the measures that can fix the issues.
Step #3: Preparation of Data-Supported Recommendations
After carefully analyzing all the data gathered at the previous stages, it is time to generate a list of recommendations that will become the guideline for the future improvement of the digital product. These recommendations may include short- and long-term solutions, worst and best-case scenarios, and general tips on how to reform some features.
Step #4: Presentation of the Final Audit
The final step is to finish the audit report and compile all learnings into a roadmap that must be reported to the respective teams that are going to be responsible for the implementation of those findings. They distribute the tasks according to the provided classification and decide on the sequence of those improvements.
UX Audit Checklist 
As a bonus, the Ester Digital design team created a UX audit checklist to keep every step under review. This Audit Checklist is a comprehensive tool that can be used by UX professionals, designers, and product managers to evaluate the usability, functionality, and overall user experience of a product or service. Furthermore, you can keep it as a guide to ensure that every aspect of the audit process is covered.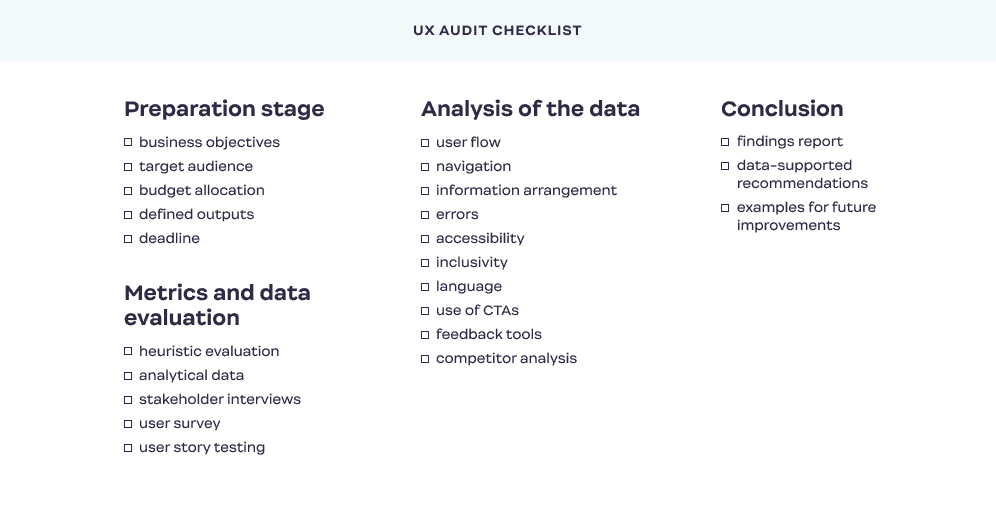 On a Final Note
While a UX audit may seem like a luxury and a time-consuming process, it can make a significant difference for a product that is not performing to its full potential. An effective audit will provide a comprehensive view of how your website is working, highlighting both the positive and negative aspects of it. It will help you focus on long-term improvements and set up your website for continuous development and growth, potentially leading to more conversions and profits.
However, it's important to remember that a UX audit is not a magical solution that will instantly fix all your problems. The recommendations provided by the UX audit team need to be followed up and implemented by your team.
A user experience design audit is not only conducted to understand your audience but also for the application of the findings to improve your website. It requires a great deal of precision and attention to detail, which is why it's best to work with professionals who specialize in this area. Contact us, and we will ensure that your website's user audit is thorough and detailed so that the recommendations adopted will contribute to the effectiveness of your digital product.