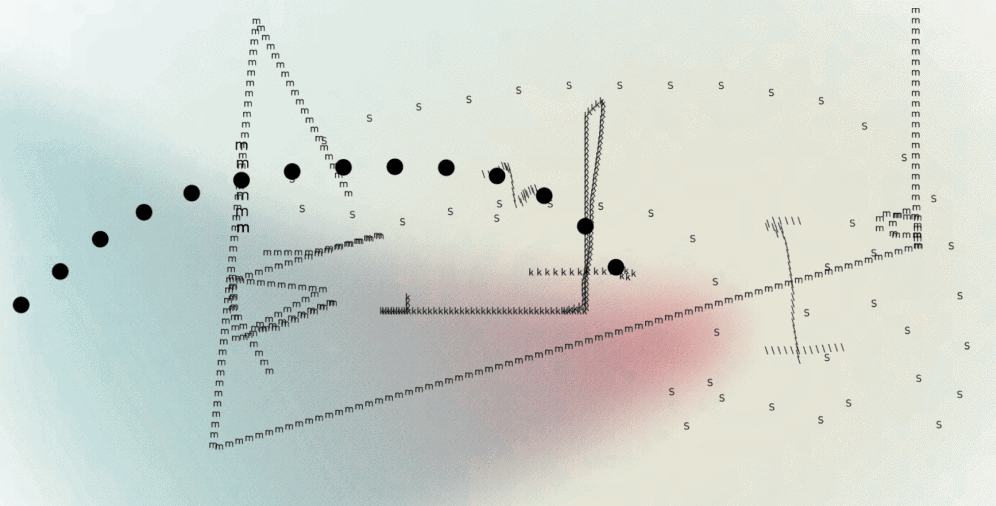 Back in 2020, brands were taught a hard lesson: almost any business that wants to grow and make a profit regardless of changing external conditions essentially needs a proper website.
Since technologies are rapidly improving, web developers have to keep abreast of current events and innovations. And to create a modern, stylish and convenient website that can solve diverse scope of tasks, you need to follow the latest tendencies.
To help you prepare for all sorts of changes in web development, our web development company has compiled the 2022 top 10 trends. Hopefully, below you will find something truly useful and beneficial for your resource.
01 Cybersecurity
The more data your site or application processes – the more attention of cyber criminals it gets. These people seek to disrupt your services and steal the user data or internal company information. And it can cost you and your brand reputation dearly.
The security of the web service should be your main priority. That is why to save user data in 2022 – it is recommended to follow these tips:
Do NOT neglect security testing
To prevent any data leakage and ensure your visitors' personal information is in safe hands, security testing should be carried out at every stage of development. Moreover, each modification introduced should be thoroughly tested.
Use site monitoring tools
Behavioral analysis algorithms will help you constantly monitor and identify suspicious activities on the website. Timely detection of a threat will enable your team to promptly react and protect the resource from attacks.
Carefully pick third-party providers
If, for example, you decide to employ SaaS (software as a service) that makes the development process easier and faster, you should ensure that the chosen service provider is trustworthy and reliable.
Do NOT forget to encrypt sensitive data
When you encrypt the data, you can be sure that even if criminals gain access to your database, they will not be able to get any information since it is stored in the encrypted form.
The security of your and your user's data is a guarantee of trust and loyalty, which is so vital to win and preserve.
02 Progressive web applications
PWA, or progressive web applications, is a technology that allows you to convert websites into mobile applications that will quickly load on smartphones, computers, and tablets. In terms of the interface, progressive web applications do not differ from ordinary apps, but they are simpler to develop and maintain than the latter ones.
Lots of huge companies, such as Uber and Instagram, already employ this technique, and it gives them a chance to attract more visitors and expand their customer base.
Let's take a look at some other advantages of PWA.
Thanks to pre-caching, such applications load quickly, even with a poor internet connection. We know that users don't like to wait, and consequently, they leave the website that takes more than several seconds to load. Given this fact, the matter of speed is critical to the business and should not be ignored. Moreover, faster loading leads to better indexing by search engines, which means that PWAs are SEO-friendly.
Opposed to creating ordinary applications that require substantial investment both in the process itself and the devoted specialists, while building PWA, developers employ just the standard web technologies like CSS and HTML. Furthermore, an update of an existing website with PWA features is much cheaper than the application building from scratch and takes significantly less time (they are carried out instantly).
Such factors as caching and the independence of progressive web applications in terms of the connection enable users to browse the website at any time and place, which is truly essential. In addition, such a function as push notifications allows companies to deliver relevant content and news on special offers or discounts to website visitors. These aspects make PWAs super convenient for providing an enhanced digital experience to users.
Progressive web applications are a promising technology that is gaining momentum. Its implementation is certainly easier than the development of other applications. Therefore, it makes sense to pay attention to it. Just like Instagram did it.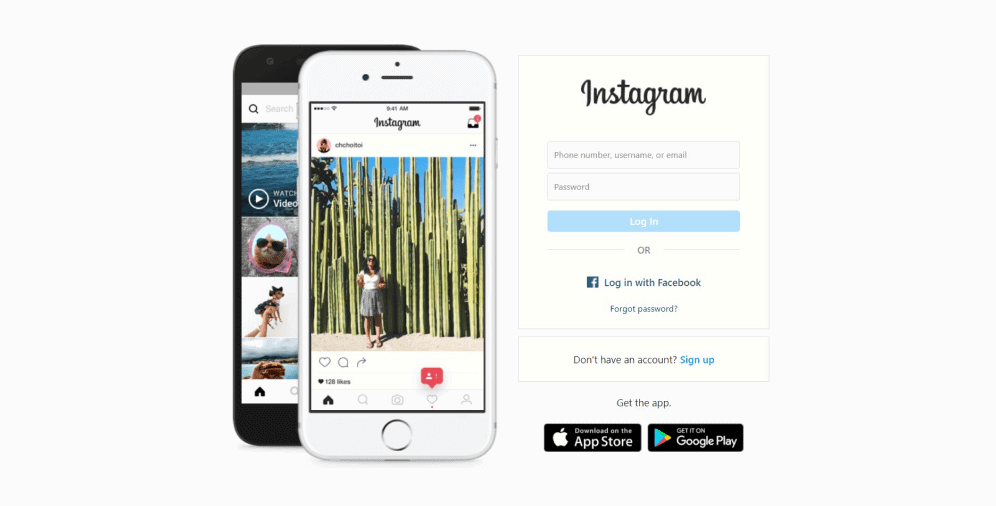 03 Motion UI
Despite the shift from aesthetics to the user experience in web development, an amazing and catchy site is still more likely to be noticed by customers. That is why it is worth recalling such a thing as motion design. Hardly anyone can argue that introduction of animations is a great way for grabbing users' attention. And that makes it worth using it in online projects of different scales and levels. Here, Motion UI enters the stage.
Motion UI is a library that allows you, with the help of ready-made effects and elements, to make the websites' interface more intuitive and flexible. The approach implies custom animation integration and CSS transitions based on libraries that obtain numerous classes of animated elements. Moreover, the employment of this library presupposes that developers spend less time working on digital projects, thus saving costs for the companies. Sounds fascinating, right?
The features of Motion UI that make it one of the key trends in web development are its simplicity, adaptability, and pretty universal nature. And we believe that thanks to all the benefits it may bring to the companies, this technology deserves to be considered.
04 Artificial intelligence and bots
All internet companies owners know that more than one person stands behind ensuring flawless and smooth operation. It is about a whole team of specialists: developers, designers, managers, support, and other professionals. The introduction of chatbots, for example, may help you make your business processes automated and efficient. Thus, they may guide users across the website, answer frequently asked questions, redirect customers to the pages or products they need, and much more. Accordingly, you can delegate routine tasks to bots and enable employees to work on other issues that require their presence.
Furthermore, right now, the AI can predict the users' behavior, analyze the customer data, and consumer psychology. And this is truly valuable. However, these cases mostly refer to the website functionality and the users' interaction with the resource. As for the development itself, artificial intelligence may be used for code analysis, testing, data collection, etc., which is so advantageous for companies as it minimizes risks of possible mistakes.
AI is actively improving, and if in the short term, it will not replace specialists, it will rather become a reliable companion that clarifies and speeds up the development process.
05 Voice search
We can find a digital voice assistant not only in every smartphone but also in other gadgets, such as watches and speakers, for instance. This feature considerably simplifies the work with sites and applications since entering a request by voice is much easier and faster than doing it manually. Additionally, the quality of the voice search has greatly improved, and now, it provides an opportunity for more users to enjoy their web journeys. Thus, children, the elderly, or people with special needs will no longer face challenges when looking for information online.
Voice assistants are already available in many applications. Obviously, this technology is aimed at improving the user experience, and shortly, it is promised that it will be replenished with such options as voice recognition and the provision of a personalized experience based on AI. Siri, developed by Apple, is one of the most popular voice assistants.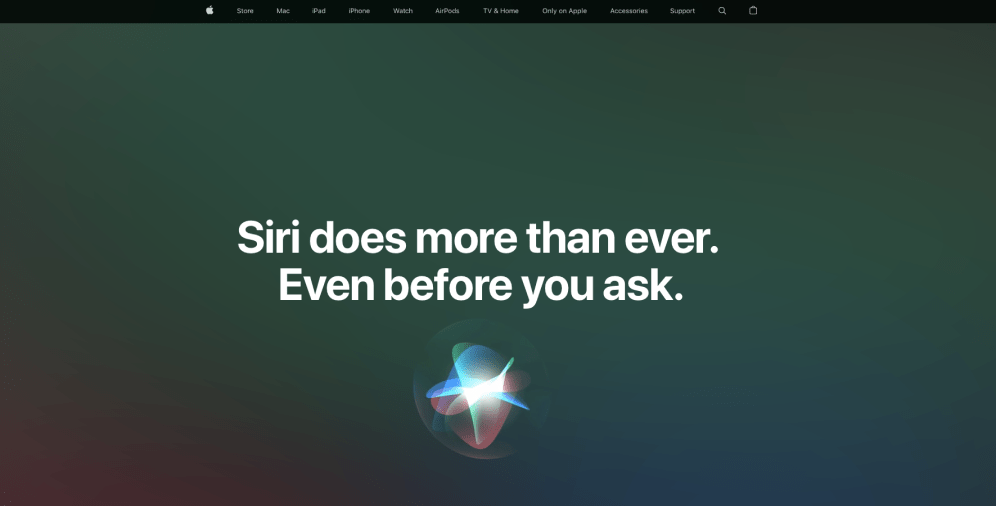 06 Responsiveness
Mobile traffic is steadily increasing, and it can not be ignored when developing sites that today must look harmoniously on screens of all sizes without losing functionality. Otherwise, not only the user experience will worsen, but the indexing ranking in search engines will also decrease. To avoid such issues, websites should be responsive. Here, you can find some other benefits of creating a responsive website:
No need to create a new website design
Unlike an adaptive one, the responsive design does not require the building of a separate layout for mobile devices. In other words, a responsive site is based on one layout, which can adapt to diverse gadgets. Thus, the company owners will save a lot of time, money, and effort.
A responsive website is simple to manage and develop. All updates you make will be promptly displayed on devices. The same goes for the content — after publication, it will appear on all gadgets simultaneously.
Responsive design presupposes that the site uses the same URL and HTML regardless of the device from which it is accessed. That makes it much simpler for search engines to index, analyze, and manage the website content. Consequently, the site's SEO will be more effective, which is not a piece of cake to achieve, you know.
Just look at Slack. Its flexible grid adapts to screens of all sizes and shapes. That is one of the pros, which attracts users all over the world to this application.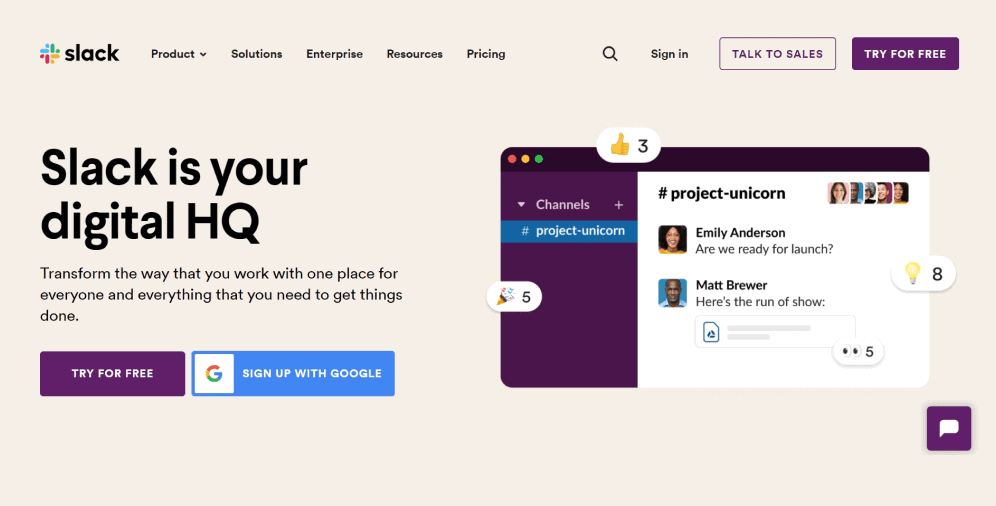 07 Internet of things
IoT, or the Internet of things, is a briskly growing technology that aims to connect each device to the internet infrastructure. Simply put, IoT denotes all electronic items (e.g., coffee makers, air conditioners, cars, laptops, etc.) connected to the network that interact with each other to provide people with better and timely services.
For businesses, the IoT is a powerful, innovative tool that enables companies to move forward, expand existing and discover new opportunities, preserve a competitive edge on the market, and improve operational effectiveness.
Key pros of the Internet of Things for brands:
Automatic closing of simple tasks and redistribution of duties so that specialists could perform more complex ones.

High efficiency of using resources.

Improvement of customer service and retention.

Reliable company's reputation in the eyes of customers and new employees.

Reduced costs, thanks to the absence of downtime.

Increase of the company's competitiveness.
The list of benefits the IoT brings to companies is not exhaustive, and within time, it will only lengthen. To keep up with the latest technologies, we recommend you to study the matter of incorporating this technology into your business operations.
08 Push notifications
Push notifications are pop-up windows on a site or application that serve as a tool for grabbing the users' attention and informing them about different promotions, special offers, updates, or news. These notifications increase traffic as long as they are utilized to redirect website visitors to the pages that are vital for conversion rates.
There are more advantages of push notifications. Let's explore some of them.
Increase in the conversion
Such notifications keep users' attention, and some of their settings allow companies to return visitors who didn't take the desired action. For example, you can send a notification to a person who added a product to the cart but did not make an order. When a person has not yet placed an order and the product offered is still relevant, this notification has all the chances to convert this visitor into a customer.
Maintenance of contact with clients
Communication with clients is truly important, and companies should never forget about it. Fortunately, push notifications do not consist of long boring messages. And with their help, the companies can contact clients delivering essential, catchy, or fascinating information that may be of users' interest.
Creation of a sense of security among users
When users appear on the resource, they get a request to receive pop-up windows accompanied by two buttons: "to allow" and "to block." When they click on the button "to allow," they automatically subscribe to all notifications. Therefore, to establish contact with the company, website visitors do not have to give it any personal information like a phone number or email address, thus, experiencing no stress or inconvenience.
As you can see, push notifications offer many benefits for both companies and clients. And even though this tool is not new, it is not going to give up its position in 2022.
09 Single-page applications
The meaning of the SPA phenomenon lies within the term itself. SPA is a single-page application that consists of an HTML page, which dynamically updates in response to user actions. The architecture of these applications is designed in such a way that upon the first loading, the visitors see the main content of the resource, and other data is loaded when users, for example, scroll the page or click on the button.
Advantages of SPA:
Loading time is the biggest pro of the SPA. And since these apps do not update the entire page (but only the part required), it significantly increases the speed of content loading. The application only needs to establish an initial connection to the server, and then it loads the individual components desired.
Already created numerous libraries and frameworks offer powerful tools for developing single-page applications. In addition, thanks to a clear structure, the front-end as well as back-end operations can be carried out simultaneously, not interfering with each other. Moreover, based on the final code, companies may build mobile applications. And this also substantially saves time for development.
Ability to operate without the Internet connection
As long as the application sends only one request to the server and immediately loads all the data, the users can stay on single-page applications even offline. That is, once opened the site, the visitors may use it for as long as they wish. However, the main thing is to be connected to the Internet at the very beginning of the session.
Airbnb is an excellent example of a SPA. Here, upon traveling across the resource, users can notice that such elements as its header, search bar, profile information, and other information remain unchanged, which is rather convenient, isn't it?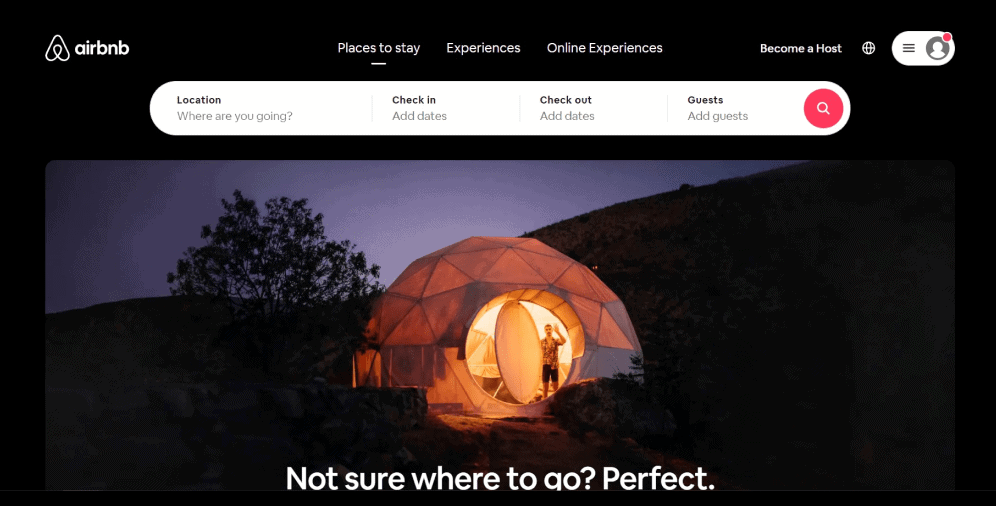 10 Accelerated mobile pages
Developed by Google, AMP, or accelerated mobile pages, are an open-source project designed to speed up page loading. And that is achieved by optimizing HTML code tags and eliminating additional components (widgets, images, banners, etc.). Thus, the AMP page contains the basic information only. This technology is especially relevant for media portals and blogs, in which text is the central element.
Advantages of AMP:
High loading speed.

 This benefit is considered to be a key one. Here, users can quickly get the information desired, which makes them more likely to stay on the website itself.

SEO-friendliness.

 The second pro arises from the first one as the loading speed is one of the ranking factors of search engines. So, by implementing AMP, the companies directly improve the SEO of their websites.

Improved conversion.

 Fast page loading also enhances UX. In other words, brands are more likely to get loyal users who will be more motivated to take some target actions on the site.
Fast loading, simplicity, and effectiveness are some of the great aspects that make accelerated mobile pages so popular and worth being noticed in 2022.
Most of the web development trends of 2022 got their rise in the past and are only improving their features. The thing that remains is the focus on the user experience. It is not necessary to introduce all the innovations at once. We advise you to thoroughly analyze them and then decide which of them will be truly valuable for your business.
On a final note
Applying the latest trends, you offer the visitors a top-notch experience and increase your chances of becoming their favorite platform. And that is what we are striving for, aren't we?
In this article, we shared with you the web development trends that 2022 will bring. We hope among them you have found those that will help your resource grow and stand out from the rest. Nevertheless, if you still have some questions, you are welcome to contact Ester Digital specialists. We will gladly help you!