When it comes to starting an e-commerce business, one of the most critical decisions you'll need to make is choosing the right platform to build your online store. Open source CMS (Content Management System) platforms have become increasingly popular in recent years, and for good reason. They offer a customizable and flexible solution that allows businesses to tailor their e-commerce sites to their specific needs.
According to the statistics, today more than 19% of total global retail sales account for e-commerce. Such a high demand makes owners of physical stores, as well as various businesses, enter this arena too. But how to run an online company? How much does it cost? How to make the first step in ecommerce web development?
There are many questions and one of the most crucial among them is: "How to choose the right platform to conduct your business online?" There are different options and you need to consider all the factors (advantages and disadvantages, your resources, competitors, market, etc.) to make a wise decision.
Platforms that are also called CMS (Content Management System) may be of two types: open source and cloud-based. In this article, we are particularly interested in open source ecommerce platforms since they continue conquering the online market. Let's start by clearing up the definition of this phenomenon.
Understanding Open Source Platforms: What You Need to Know
An open source platform is a platform where the code is publicly available, meaning that everyone can use it and make changes without breaching the rights of the platform owners or developers. Having reviewed its main concept, we face another crucial question: "Why should you choose open source e-commerce platforms?" Let's look at its pros and cons to make a final conclusive decision.
Open Source E-commerce: The Cost-Effective and Customizable Solution:
Reliability and quality – A great number of developers throughout the world, with their own experience in different areas, work on open source projects, thus enhancing and promoting the software. Moreover, that means that all the bugs are promptly detected and fixed.
Community support – In most cases, open source platforms, especially the good ones, have their own communities, teams of developers that work on system functionality and usability, that may help in both bringing up new ideas and solving technical problems.
Time and money-saving development – Open source platforms are provided either for free or at a lower price, especially compared to proprietary ones. They also save time as users don't start working from scratch, but are offered dozens of ready-made templates and functions.
Simple customization process – Open source programs are usually easily adjusted according to the needs of users. Since the code is open, any developer may implement the required changes to customize the website.
High level of security – Some security problems may be found only by observing the code directly, and with the code opened, it becomes possible. Moreover, we shouldn't forget about the community involved in their development that keeps an eye on this issue.
Transparency – As long as the code is open, all the changes or modifications applied are clear and transparent.
Now that we are aware of its advantages, let's move to the possible disadvantages of open source software.
Beware of Bugs and Viruses: Risks of Open Source Software:
Easy target for malicious users – The essence of such software is that the code is publicly available, which means that a lot of people have access to it. In most cases, we observe the work of great enthusiasts whose main goal is to advance the system and software. However, unfortunately, this world is full of people with not-so-good intentions. It happens rarely, but such people may intentionally create bugs, infect programs with viruses, or even steal identities just because they can do it.
Lack of comprehensive technical support – In most cases, open source platforms don't have any technical support, except for that provided within the community. However, there's no guarantee that the question or problem you reported on will be solved right away, and that is not suitable for everyone. Here, you can avoid this risk by hiring a skilled professional who will address all the issues that may arise.
Top 10 Best Open-Source E-commerce Platforms to Boost Your Online Business
Open-source e-commerce platforms have lots of advantages that outweigh their disadvantages, making them really useful for any online store business. There are many open-source e-commerce platforms that differ from each other, so the right CMS can't be picked without a thorough analysis. To help you make a wise and careful decision, let's have a look at our top 10 open-source ecommerce platforms along with their advantages and disadvantages. Here is a list of best open source cms for ecommerce:
01 Magento
This e-commerce platform is probably one of the most popular when it comes to the platforms for running an online store. Nevertheless, it has not only advantages but disadvantages. Let's learn about them in detail.
Thanks to a wide range of functions and multiple extensions, Magento is mainly suitable for running big stores. However, to fully benefit from all the features provided, you need to be tech-savvy, as the process of installation is quite difficult for beginners. Of course, you can hire professionals, but their work is quite costly.
For the purposes of this article, we may divide Magento into two versions: free and paid. There is a need for a paid version only when you want to scale your business up. Otherwise, the free one will be quite sufficient for ensuring proper work.
One more advantage is that the platform has an option of customization. That means that you can tailor not only your store but also the customer interface. And that may also help you in standing out.
When it comes to the payment process, we should say that it's secure, which is another benefit as long as no one among customers or store owners wants to face risks like that.
Among other pros, there is the availability of many marketing tools to increase sales, multilingualism and multi-currency support, a wide range of opportunities for both customers (to rate the products, make a wish list, etc) and website admins (to create various types of reports – customer carts, purchases, feedback, and so on).
Even though the Magento platform may be used for free, in the long run, you'll need some updates and upgrades that are rather expensive.
To sum up
Magento CMS is a great platform for creating online stores that offer a wide range of amazing tools. However, if your goal is to create a small store, this CMS may seem quite expensive. Moreover, in some cases, it may be too complicated for inexperienced users, as only professionals can set and customize this platform correctly.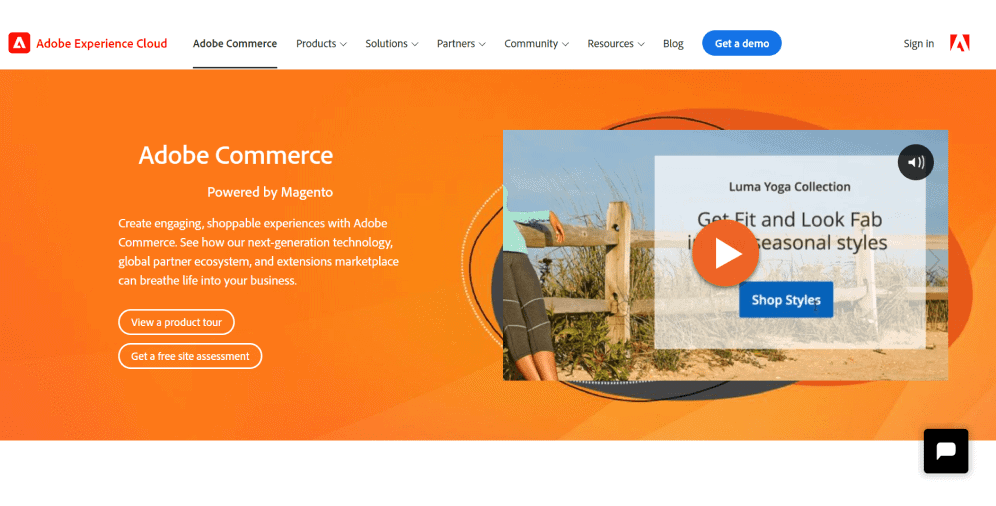 02 PrestaShop
Another popular ecommerce platform is PrestaShop. Compared to Magento, it is a user-friendly platform. That means that work there doesn't require being technically savvy.
Being primarily focused on creating e-commerce stores, this CMS also has tools for managing blogs and static web pages. Blogs may be used as an extra store promotion, while static pages are good for landing processes.
Thanks to localization tools and multi-currency support, this platform is also suitable for international sales. Moreover, PrestaShop has inbuilt marketing tools (mailing lists, bonuses, discounts, and so on). Another benefit is a well-structured and easily modified goods catalog that allows customers to smoothly navigate through the store, while the store operators face no difficulties in adjusting it.
The CMS is integrated with popular payment systems (as well as electronic wallets). To ensure transaction security, a reliable password code is applied.
Among its disadvantages, we should mention that the basic free version is pretty limited. There you have main sales management tools and free templates to design your store, and that's it. But if you want to get more features and functions, as well as themes to design your store (there are no free themes available), then you should purchase the required modules and tools. 
To sum up
PrestaShop is a quite popular and convenient platform. However, it offers pretty expensive templates and modules, and that affects its growth in popularity among users. To get all the features and make your store unforgettable, you should be ready to pay a lot. The CMS is easily scalable and therefore, is suitable for creating big international stores with a wide range of products that will be presented in a convenient goods catalog.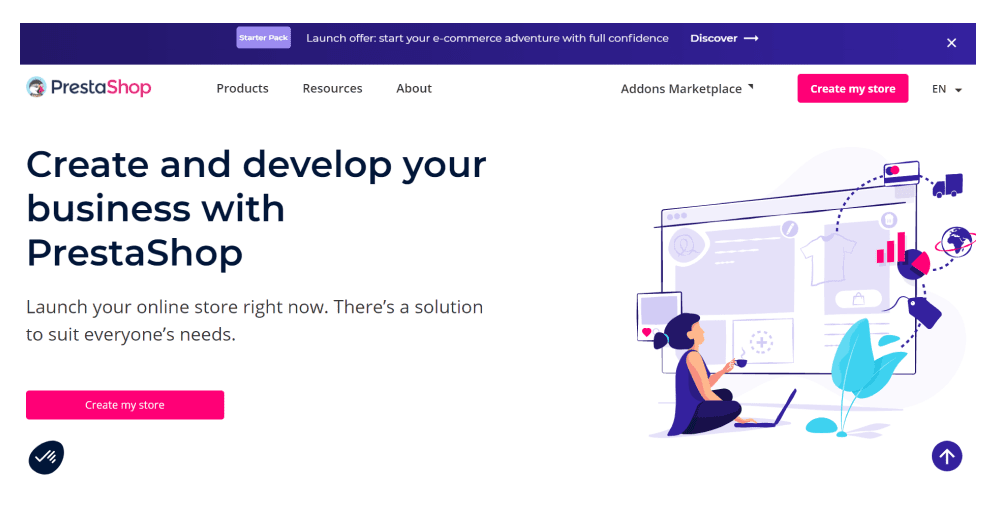 03 WooCommerce
If you're a fan of WordPress, then the WooCommerce platform is the right CMS for you. This platform is quite popular among business owners because of its free distribution. That means that the online store may be created and scaled without substantial investment.
Another important moment is its easy and user-friendly interface – no special skills are required to run and manage the store. After the activation, your website is immediately equipped with all the basic pages ("Store", "Cart", "My profile", etc.) The only things left to do are to set the store parameters, create an amazing look, and fill the catalog with the products.
However, for profound customization, you may be required to have some knowledge in web design, as sometimes tools are incompatible with the platform itself.
Also, while using WooCommerce, you are provided with loads of themes, extensions, and design choices, which is probably one of its major advantages. Nevertheless, when it comes to working with more complex functions and features, users may face the need to pay for utilizing them. What is more, the help of the support team is not free.
The payment procedures are quite secured and simple. WooCommerce provides users with well-known payment gateways, such as Stripe, PayPal, PayFast, Amazon Pay, and others.
This CMS offers the standard marketing set of tools for increasing sales of the store. It also has its own system for managing mailing lists (it gathers customers' data with the help of which you may send users emails about discounts, hot offers, new arrivals, etc.).
The incorporated analytical system is another pro of WooCommerce. Thanks to the information about website visitors, products, and orders, you will be able to see bestsellers among products and you may get an image of your most frequent customers.
To sum up
WooCommerce is a powerful tool for creating online stores since it provides users with almost ready-made websites. Here you will not have any difficulties when it comes to managing products, payment and delivery services, etc. Nevertheless, to use all the features provided by the platform, you should be ready for further investments (since from the very beginning they may be minimal but with the store growing your expenses will rise too) and lack of free support.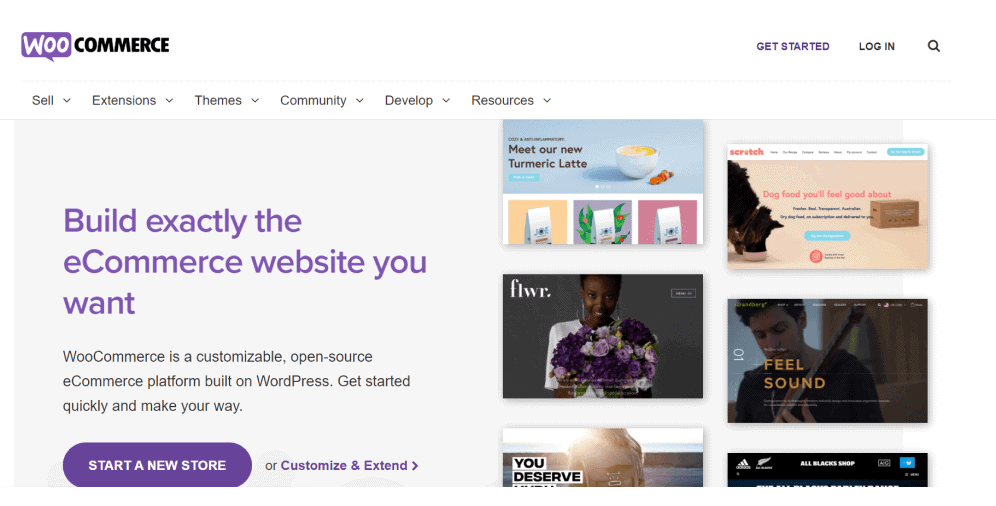 04 OpenCart
This CMS is strictly oriented towards developing online shops. Here users have no opportunity to create blogs, chats, and some other things. It may be perceived as an advantage since the system is not overloaded with extra functionality.
OpenCart provides its users with a lot of tools for managing the store. For instance, administrators have an opportunity to track orders (with their statuses, deliveries, and payment details), to get easy access to the purchase history of customers, to make unlimited quantities of product cards (with a chance of sorting them according to categories), etc.
Besides managing tools, the platform also offers a huge amount of themes available to make your store outstanding. Moreover, multilingualism and multi-currency support should not be forgotten.
Payment here is secured and may be conducted through various gateways (more than twenty, including FedEx and PayPal).
The flexibility and scalability of this CMS system are among other advantages. OpenCart also has a simple interface that makes the usage and work here an easy one. However, the customization may cause some problems, as there are not so many options available.
To sum up
OpenCart is an e-commerce platform the main and only goal of which is to create online stores. The feature set provided is enough to create projects of any level of complexity in a relevantly short time. However, if you want to develop another website (rather than the store), this platform will not be suitable for you.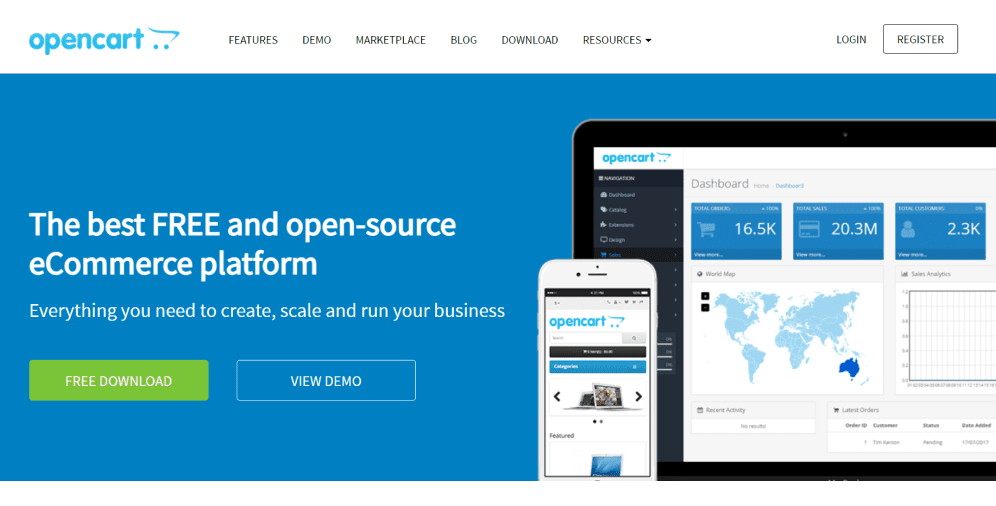 05 Drupal
Drupal is one of the most powerful and functional ecommerce platforms. Compared to other platforms that are essentially content management systems, this platform is more likely to be CMF (Content Management Framework). That means that it provides users with ready-made frameworks to develop complex applications, websites, etc. with the given admin panel. Consequently, based on this platform, you may create any kind of website you want: from a blog to an online store.
One of the main features of Drupal is that it was initially developed for professional usage. That's why the system works smoothly and ensures steady work with a big database. There's also an inbuilt caching system and the platform is compatible with all the server technologies. However, such a feature (area of professionals only) may be regarded as a con, as that means that you also need to have technical expertise to work there.
Security is another huge benefit of Drupal. It has its own security system that is updated and increased all the time along with any changes applied. So, users may be sure that no viruses, hacker attacks, or spam will affect their work.
Continuing our talk about its advantages, we'd like to say that among other things, the platform provides efficient tools for SEO promotion, a lot of themes that are divided into categories, and many more useful things. What is more important, that everything offered here is given for free.
To sum up
With the help of this highly secured ecommerce platform, it's possible to create any resource you want for free. The platform has a great library of templates and modules as well as ready-made frameworks, and the only thing you need is a professional who'd use it to the greatest possible extent (and that is not cheap).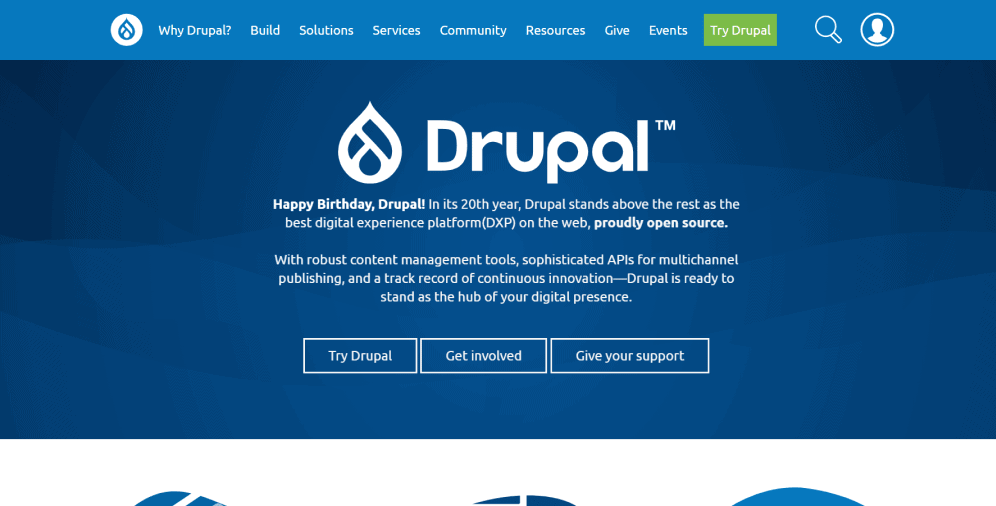 06 Joomla
Joomla is another popular and frequently used CMS. Thanks to the system's simplicity and absolutely free usage, everyone from the beginner to an advanced professional can work here without any difficulties. Due to its multifunctionality, users choose this platform to make the company website, blog, or online store with a wide range of products.
The process of installing as well as developing an attractive and catchy website is pretty easy. A lot of different templates that are applicable and compatible with this system are available for downloading from the Internet (both free and paid). So, you have an option to use the already existing design or to create your own. Moreover, the admin panel here is logical and simple too.
Another point is the incompatibility of Joomla versions. Almost every system update may result in the malfunctioning of some extensions or templates. And that is its main disadvantage.
Like any other program product, this CMS is constantly developing. Part of the updates is focused on functionality improvement, while the other one works on security development. As of today, the platform is equipped with two-factor authentication and regular security releases updates.
Another con is the absence of technical support on the Joomla side. Due to the fact that it's free, the users do not have an opportunity to receive any help from this CMS. Nevertheless, the Internet is full of various communities and professionals that may advise on some issues.
To sum up
Even though this platform has some disadvantages (such as version incompatibility and lack of comprehensive technical support), its advantages outweigh them, especially when it comes to website content management, which is just amazing here. This system is user-friendly and offers many useful functions that make the process of website creation smooth and easy.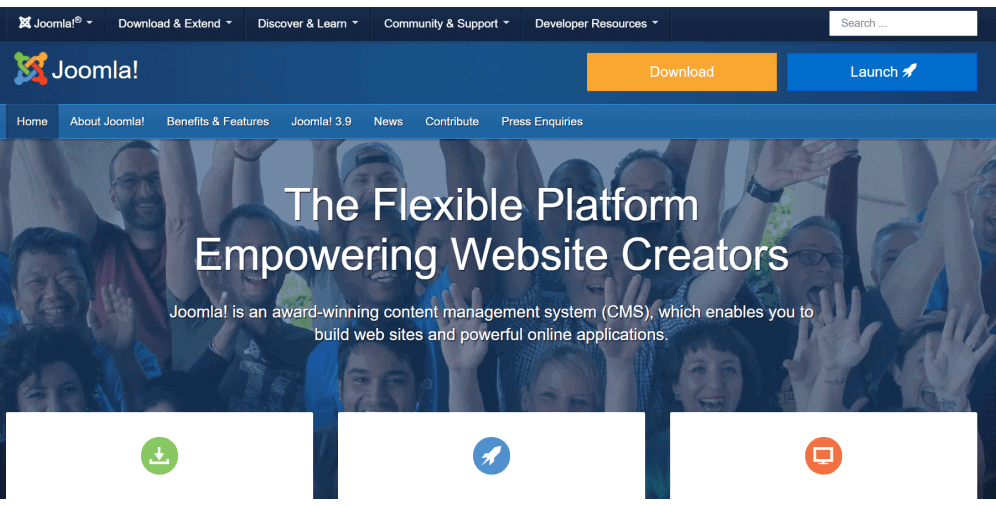 07 osCommerce
This free CMS is quite popular among users and developers. It is suitable for creating websites and online stores, and many already existing projects serve as its solid proof. osCommerce gathers the wide experience of many developers and a great number of plugins and modules, which make the system functionality boundaryless.
In addition, amazing inbuilt templates and a wide range of extensions allow users of osCommerce to easily customize and extend the online stores. 
Being one of the first platforms with an open code, this CMS can be proud of having a great community of developers. That means that the users have no problems in getting help when it comes to solving any technical issues.
The installation process, as well as its interface, are quite simple. However, it is not the easiest platform for beginners, as the design editing, along with the administrating process, may cause obstacles.
Among the advantages of this platform, we can name multilingualism, multi-currency support, integration with various payment gateways (PayPal, Webmoney, etc.), an opportunity to calculate taxes, etc.
Moreover, osCommerce online stores offer comfortable work not only for its developers but the customers as well. They can make an order without the registration step; they can view their purchase history and add several delivery addresses, among other things.
One of the great cons of this CMS is that today there are a lot of competitors, other open source platforms, that are more advanced in terms of updates and software design. And this platform, reportedly, faces many errors and challenges.
To sum up
Even though it's an outstanding CMS that gave a rise to lots of online stores, osCommerce today is not as popular among users. It's a good platform for professionals, but not for ordinary users. So, to start your online business here you should make sure to get a skilled developer who will deal with the technical aspects.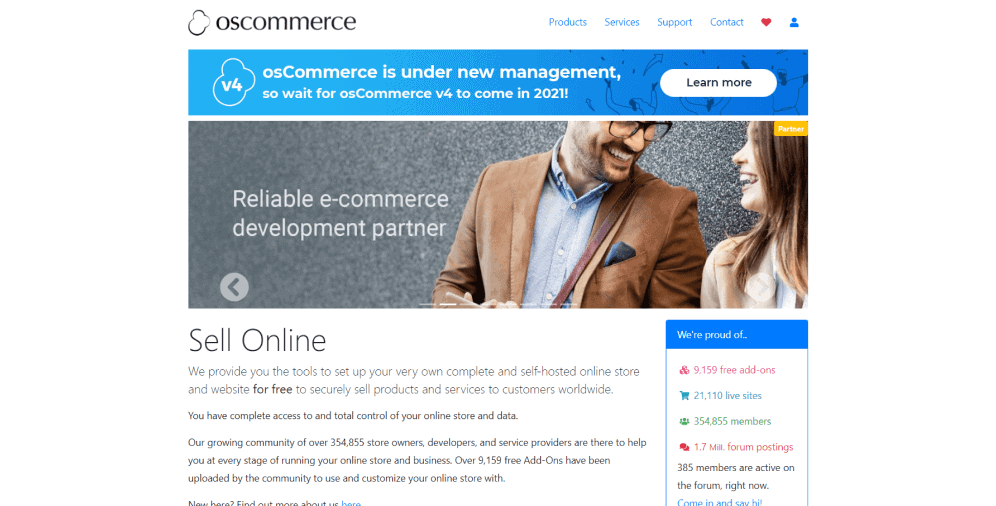 08 BigCommerce
One of the most well-known open source ecommerce platforms is BigCommerce. It allows its users to easily create and design their own online stores without any special skills in developing, designing, or programming.
When it comes to designing, inexperienced users are provided with inbuilt templates and ready-made elements (however, there are not many of them). Professional web designers, in their turn, have all the tools at their disposal to make something unique and unforgettable.
In addition, BigCommerce offers various payment methods (more than fifty-five gateways), such as Stripe, PayPal, and Square.
Among its marketing and sales features, we'd like to point out automated email marketing. With its help, users can motivate their customers to buy more (with a discount or special offer for the second purchase, for instance). Users may tune up the settings of this tool at the beginning, and after that, the system will work automatically.
When it comes to questions or queries, this CMS is 24/7 ready to provide its help. You may contact the support team via phone, e-mail, or live chat. Moreover, the system has a great knowledge base, which contains different tips and FAQs.
One of the disadvantages of BigCommerce is the limited control over the online store. Users may apply only the tools available within the system. Moreover, this CMS is free only for fifteen days, and then you need to choose one of three pricing plans. 
To sum up
BigCommerce is a powerful user-friendly platform that provides users with everything they need to run the online store (however, the control over the website is limited). With a great set of tools offered, any e-commerce business running here may become successful. Nevertheless, the CMS is not free, and to continue working there after the trial period, there's a need to purchase one of the plans offered.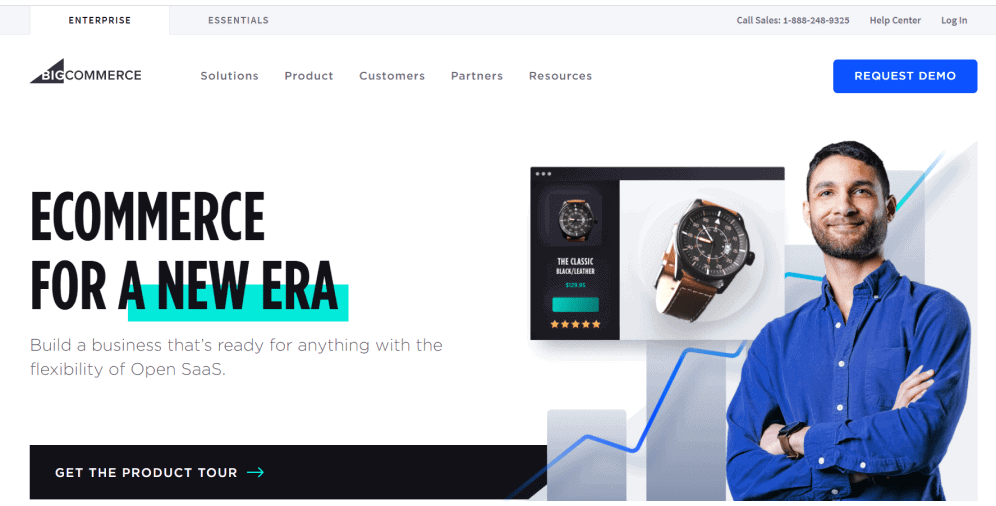 09 Zen Cart
Declaring itself as "an art of e-commerce", Zen Cart is a truly great platform for creating online stores in terms of its functionality and product management system. Users can control almost everything here – from conducting basic product procedures (classification, inventorying) to using marketing tools (discount, sales).
Zen Cart developers claim that users and their smooth operation here are their main goals. That's why the users are provided with a set of tools that let them analyze and track the efficiency of their online stores with all the details.
The CMS is absolutely free and offers free basic templates that users can easily apply. However, there are also paid templates available, in case of need for a higher level of personalization.
Unfortunately, this platform lacks any support team that may be of help. Nevertheless, it has a strong community of professionals and a forum that supports this CMS.
Another disadvantage of Zen Cart is that if there are too many products, the system work will slow down. That's why it's probably not the best option for running huge stores (or if you're planning to scale up).
This platform also has a pretty user-friendly interface and system that enables anyone to start and run the online store here. However, Zen Cart is rather old-fashioned, so users will probably need the help of a third-party designer to catch the eye of customers.
Among other advantages of this platform, we should mention that online stores created with this CMS get an opportunity to conduct international sales thanks to multilingualism, multi-currency support, as well as a wide range of payment gateways.
Additionally, this CMS is famous for being a quite secured system, therefore, users can be sure that the website and the whole scope of information are strongly protected. 
To sum up
Users have all chances to create a great secured customized online store with the help of this CMS. However, to make the store noticeable, users will require some external templates (and third-party assistance as well), as Zen Cart itself can't provide users with a spectacular design solution.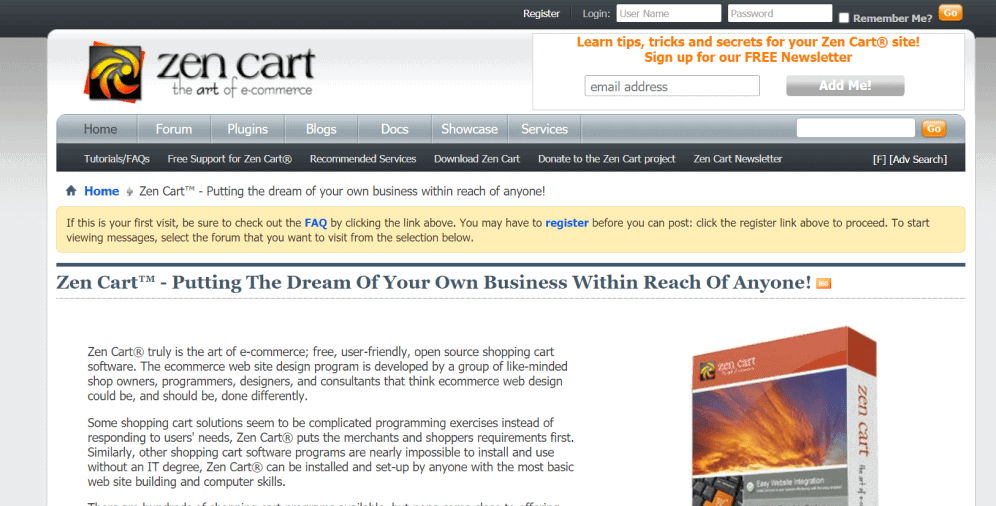 10 Wix Ecommerce
Wix is another well-known platform made specifically for e-commerce. This CMS is used to create websites of any complexity for different purposes (from blogs to online stores).
Thanks to its huge library of fascinating templates and themes, as well as a great number of modules, this platform is great for making catchy websites and customizing them. Users can find designs (that are incredibly flexible) suitable for various categories.
Wix's interface and system simplicity make beginners get a pleasant experience since users don't have to have any special knowledge in design or development. 
Moreover, this CMS supports team collaboration. That means that several stakeholders may take part in the website creation process, which is rather convenient and efficient.
Another benefit is that the platform has its own market (Wix App Market). Here you can find diverse applications that may be integrated into your website, thus, helping in adding extra functionality.
Comprehensive support is one more Wix advantage worth being mentioned. And it's not only about the support team. Starting from the registration step, the system helps users, providing some tips and advice. In addition, users may utilize the help center, forum, blog, or ask for help in the users' community.
When it comes down to cons, we'd like to start with the free usage of this CMS. The free version is very limited in its functions. For instance, if users want to create an online store, then they have to buy at least a standard plan (without it, the transactions are not available). Another example is that all free Wix's websites should bear the platform's favicon, as well as its pop-up ads frequently appear there (by the way, even if you purchase the cheapest plan, the ads are still there). And that may be quite inconvenient, especially when the desired website is just a blog.
Furthermore, the website created on Wix cannot be transferred to another hosting. If (due to some reasons) users decide to change the platform, they will not have such an opportunity, as they will immediately face the risk of losing their websites.
When it comes to payment procedures, then this CMS is integrated with a lot of gateways. Stripe, PayPal, and Square are among them.
Also, we'd like to point out that Wix provides its users with multi-layered security, and that ensures the absence of any risks while working there.
Despite being provided with such a great scope of templates, the process of changing them is pretty challenging. That's why users have to be extremely careful while initially choosing them.
To sum up
Wix is a great platform for creating marvelous websites suitable for both beginners and advanced users. It also offers a wide range of functionalities and opportunities to make the websites unforgettable. However, to get the full scope of the tools provided, there is a need for purchasing plans that are not particularly cheap and users are deprived of a chance to switch the platform.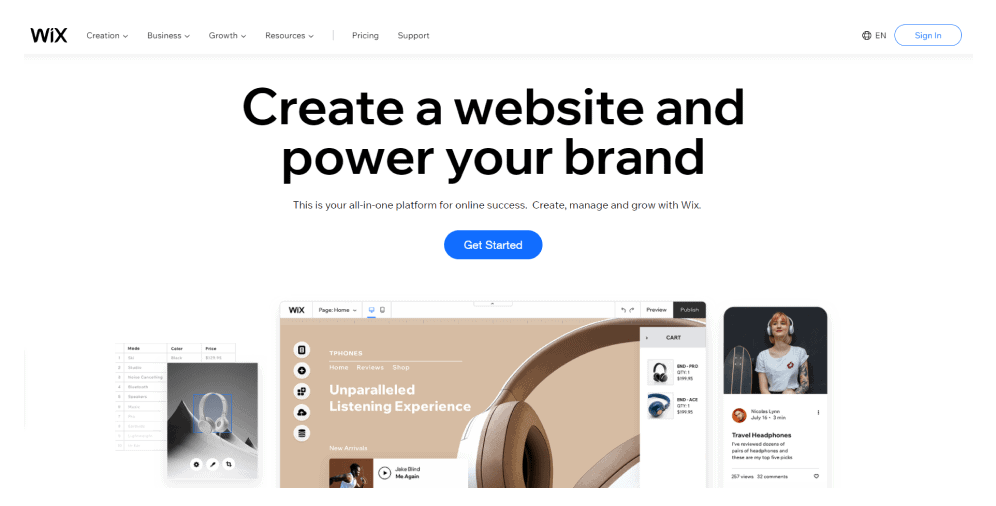 Hopefully, having studied our top 10 open source e-commerce platforms along with their pros and cons, you'll be able to choose the only one that fits your needs and goals.
On a Final Note
We are aware that when it comes to e-commerce, the amount of data is enormous and sometimes ambiguous. That's why we decided to share our knowledge with you, in order to put everything in perspective.

In this article, we tried to provide you with comprehensive information about open-source e-commerce, along with the brightest examples of the platforms (accompanied by their review). Now, it's your call to consider all the pros and cons given and decide which CMS to choose in creating and running your online store.

Captivated and inspired by this topic, but still unsure about some issues. Contact us to work them out.