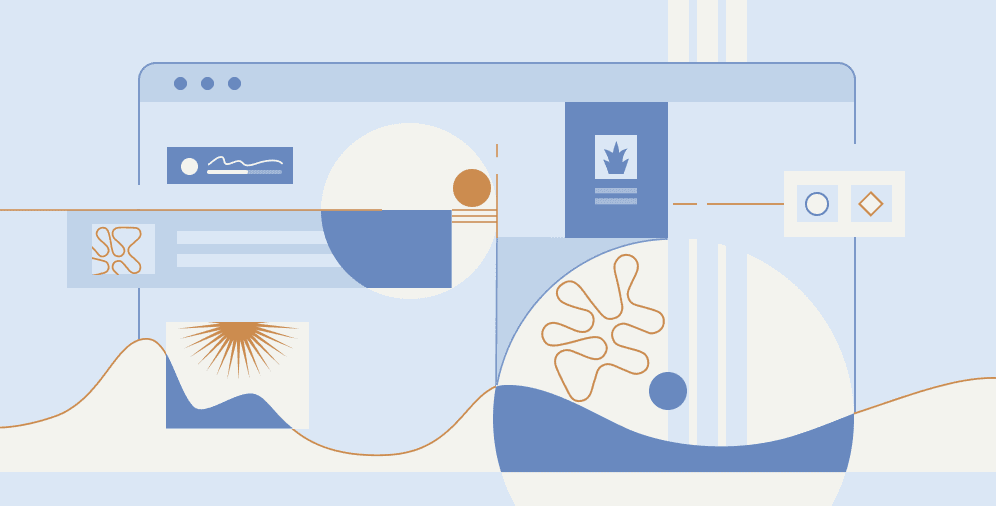 Every now and then, it seems that the world of the Internet is an online version of a fairytale: sometimes it's fascinating and miraculous, other times – eerie and even frightening. If you plan to create your own site, it can be even more overwhelming. Therefore, to stand out and catch the eye of potential clients, businesses should pay great attention to corporate website development.
How do you navigate through all of them and how do you carve out your presence in this array of similar platforms? How many types of sites are out there? What are the types of web design? Do you need responsive website design services? How to even make a business resource?
The web world is incredibly vast – currently, there are over 1.8 billion sites on the Internet. However, most of them fall into a handful of categories. We've picked 15 types of websites to give you a general overview and help you to choose which one caters to your needs the most.
#1 Blog
Traditionally a blog is a platform that features information on specific topics. Some have a more personal feel to them, others can seem impersonal and detached. Nowadays, a blog is a necessity for any business because it is a great and quick way for users to see your competence and battle-proven expertise. Blogs also provide material for social media posts and email campaigns.
Having a blog is a great way to showcase your expertise and establish a connection with potential clients and customers. Maintaining a blog can entail spending quite a lot of resources: both in terms of time and finances and as an additional duty for the team. The thing about blogs is that they only work if they're constantly updated – old-fashioned blogs bring more damage than benefit.
Design blogs are particularly important and useful as they can illustrate the kind of aesthetic you are going for and put your work content on display. The beauty of a blog is that it doesn't have strict requirements about its form or presentation. Also, it can be a great starting point to get acquainted with your brand.
#2 Forum
Forums are the websites where users can interact with each other, publish their content, and participate in discussions about this content. Quite frequently, forums include various categories, tags (like in Stack Overflow forum) and respective threads within them. Users can vote, like, mention, ask and answer questions, communicate with each other, and make posts.
What forums provide is a possibility for unfiltered and open discussion. Quite often, enterprises create forums to avoid additional pressure on their customer support teams because forums offer the chance to address other users and ask them about the issues they're struggling with.
Forums can be helpful if your work or a project requires a public discussion or if you want to know the opinions of users on your work or certain aspects of it. If you plan to launch a design-related forum, you can provide an opportunity to upload images of various formats and sizes or to share links to design websites or blogs.
#3 E-commerce website
An e-commerce website is an online shopping platform where users can buy different products or services. Any website that allows customers to place an order and pay online can be regarded as an e-commerce portal.
E-commerce websites usually have categories of products or services to choose from, various filters (for example, men and women for clothes and shoes), and browsing options. Usually, product or service pages lead to the shopping cart where you can manage your purchases or to the checkout page where you can directly pay for the chosen item.
In order to launch a fully functional e-commerce website, you will need to utilize e-commerce software and have an SSL certificate to authenticate the contents of your website and confidential information about your customers.
The peculiarity of e-commerce websites is that they have only one goal: to make sales. Every aspect of the platform serves this purpose: from CTAs to UI/UX design. The team members need to have certain working experience with such websites before launching them, and they need to be tested extremely carefully.
#4 Portfolio website
Portfolio websites present examples and specimens of your past work and performance. Creative businesses and spheres have to showcase the quality of their work to potential clients, so portfolio websites are a must for such companies.
Portfolio platforms can feature work samples from writing to graphic art and illustrations, depending on the kind of content you're generating. In other words, a portfolio collects your best work to show your creative capabilities and to help you network and gain more clientele.
Portfolios don't include all your work necessarily – they are an online version of the "greatest hits," something you're proud of or something that you feel can be interesting for a particular target audience.
You are completely free in choosing how to design your own portfolio website and how you would like to arrange your work samples. However, a contact page and a clear and visible link to it are obligatory – otherwise, you risk not getting hired or losing clients that might be interested in your brand.
#5 Personal website
Personal websites sometimes can be mistaken for a blog, but unlike with blogs, there are no strict requirements as to constant updates and content generation. A blog is a bit more dynamic and usually only involves reading and commenting, while websites can be much more versatile.
Personal websites are often centered around a public figure – an artist, a movie star, or a band – to provide all the essential information about them and to share some updates on their activities. Sometimes such websites can be monetized, but usually, they are not created for marketing purposes. They also feature links to various social media pages of the said figure.
One of the main traits of this type of website is that it corresponds to the tone, style, and energy of the person this website is built around, which means that the design team should consult or collaborate with this public figure or their representatives.
#6 Business or corporate website
If you need to launch a website to focus on a specific enterprise, then a business website is a platform you should invest in. Having a corporate website is a given for most companies since the internet has become a widespread source of information for most people, making the website of the company an incredible opportunity to make the best first impression on potential clients.
Business websites feature the same brand attributes as other marketing materials of your company to ensure coherency and brand recognition. This point should be taken into account when designing such websites (for example, the website we created for Parkbench has the same color palette and graphic arrangement across all subportals within the website).
Corporate platforms may seem similar to e-commerce websites, however, business websites don't necessarily sell anything to their clients. Mostly they serve as a starting point for further communication and for establishing contact, as well as providing essential information about your company and its goals, values, and offers.
#7 Wiki website
The internet is a limitless source of information, and occasionally it can be very overwhelming. Wiki websites help to gather all the data in one place and organize it in a digestible way.
The most famous wiki website examples are Wikipedia and Wikihow. Users can search for specific articles or browse through more general categories. Wiki platforms can cover a wide range of topics or be dedicated to one subject. 
Usually, such websites work like this: users collaborate on creating content and add and upload to the websites for all users to view. Essentially a wiki website is a digital encyclopedia devoted to a given topic.
Its main allure is that it allows users to arrange all the information themselves and give access to it to everyone. The design of such websites is transparent and straightforward, but it should be noted that navigation on the wiki platform is of utmost importance.
#8 Review website
With an e-commerce sector continuing to grow, coinciding with our insatiable need for consuming, people are buying things online more and more frequently. Naturally, buying things blindly is a risk, so review websites might prove to be very helpful in that regard.
Review platforms include user reviews on specific products or services. In order to upload a review, generally, users should be logged in and have their own user accounts, or be logged in through their social media accounts (for example, like in TrustPilot). They can share their thoughts on the item, give out their ratings, and even post photos and videos concerning the quality of the product. People who access such websites can search for the products and services via website catalog or through navigation.
Along with reviews on products, there are a number of websites that provide reviews on different companies and service providers. Being present on such platforms in a good light can be extremely important for growing businesses and can serve as a great help for finding new clients and customers.
#9 Nonprofit website
With so many global causes and organizations addressing those causes, the emerging number of nonprofit websites is astounding. Nonprofit websites offer an opportunity to make donations and learn more about the activities of a given organization.
Launching a nonprofit website is a great way to reach out to the highest number of people as possible and potentially support as many causes as you can. A reliable and well-established nonprofit website can promote your projects, urge your supporters to step in, and accept donations in a more far-reaching manner (making sure you provide the highest security to your users' data).
Design of such websites is rarely overwhelmingly creative or innovative because they serve a specific and substantial purpose, however, they need to be informative (for example, Charity Water provides videos and long reads about their activities), captivating, and detailed so users can easily find out about your values and goals and be encouraged to follow in your steps.
#10 Social media website
Social media platforms have become a necessity for most people and businesses, both small and giant, as they serve as a primary source of information and content, especially for younger generations. Practically any target audience that you might have is using social media accounts.
Such websites differ in terms of geographic targeting and audience engagement, but they all have one purpose: to bring people together and ensure swift communication of the highest quality.
Social media websites can be well-known and all-encompassing like Facebook, or they can work for a specific audience or sphere like LinkedIn or Bark. Such social media websites not only provide an opportunity to engage with a professional community but also serve as mediators between employers and potential employees.
Due to their communicative purposes, social media websites need to be easily accessible and inclusive. Regardless of the overall tone of such platforms, they need to have a clear and visible navigation system, be user-friendly, and have responsive design since social media websites are largely accessed via mobile devices.
#11 Media website
As the name suggests, media websites mainly report news and post up-to-date articles. Some websites are strictly neutral and offer objective reports (for example, The New York Times), others are created purely for entertainment or are industry-specific.
Such websites can be monetized via pop-up advertisements or special subscription services, meaning they mostly serve as an information channel. A lot of them are the online version of an already existing media outlet such as a newspaper or TV channel.
The most notable feature of this kind of website is that it is loaded with information arranged in different thematic blocks: from politics to weather. It is regularly updated, and new content is published routinely. That means that in order to create this kind of website, you have to be ready to work with countless amounts of data and files of different sizes and formats and ensure a clear-cut and minimalist design.
Since web development and maintenance of such platforms tend to be quite challenging, you can contact us and we will make sure that your media website will run like clockwork.
#12 Educational website
As eLearning web design popularity grows with each day, the number of educational websites is also increasing. Some institutions create portals in extension to their standard informational websites, while some online platforms are independent (like Coursera and EdX). Most online courses charge users a fee per course or subscription.
The term "educational website" is used broadly: it includes platforms providing formal education or information about institutions or more casual and laid-back online courses covering various topics.
All in all, such websites are created for providing students with study materials or a structured study plan. The lessons can include a variety of learning tools: videos, lectures, games, quizzes, tests, and peer-reviewed articles.
There is no strict target audience with this kind of website, so its design and tone depend on the specific group you're trying to attract. The main thing about the interface of an educational website is that it has to be interactive and engaging since the main challenge in online education is to hold students' attention.
#13 Healthcare website
As health becomes a growing concern for most countries now, healthcare websites become more widespread and prevalent among other types of websites. They not only serve as a source for information but also a useful tool for scheduling visits and following various treatments.
Building a responsive and coherent healthcare website may prove to be challenging: stripping down complex information so that all users will be able to comprehend it while ensuring that the user interface is appealing and easy to navigate through.
Another challenge is the data security (if your website has the opportunity to schedule visits and make payments) and loading speed and adaptability (if you provide online doctor visits like Spring Health or upload big files of demanding formats).
The graphic arrangement of such websites usually establishes an inviting but sharp and strictly professional feel and look. Your website has to make your users sure that they're in good hands.
We already shared our top 10 healthcare websites in our article, you can check it out if you would like to learn more, get acquainted with the best practices, and use our insights for your own healthcare website.
#14 Web portals
Web portals serve as platforms that collect various information from different resources in one interface within one thematic block. Generally, they're geared towards one specific group, provide personalized content, and an opportunity to share news and various insights on a single topic.
Usually, web portals are intended for specific organizations and professionals from the same or somehow related sphere. They provide personalized information and gather it in one place, making the user experience more interactive and dynamic. 
Web portals involve various mechanisms such as databases, dashboards, application and sign-in windows, but its most distinguishing feature is personalized access, meaning that the content you see is based on your assumed role on that portal. For example, if you're accessing a banking portal such as Santander, you might be looking for personal, business, or commercial assistance, and be logged in to view respective content.
Such portals can be challenging in terms of programming and maintaining, their design might not be the most creative, but they ought to provide a consistent look for each of their blocks so that they would be distinct and discernible.
#15 Landing pages
A landing page is a page that appears when a user clicks on a specific search engine optimized result or an advertising email. It displays the content that aims to drive the user to buy a product or a service or get interested in doing that in the future.
Landing pages usually contain CTAs and a limited amount of information, mainly of marketing and advertising nature, since the goal of such type of website is to generate leads and increase conversion rates.
Highlighting the CTA and making it a star of your landing page is a way to go. Try not to dwell on elements that will detract the attention from CTA and make sure to make it instantly noticeable (be it through color, like Google Cloud, or through contrast like Netflix) so that the users won't get lost on the page, making you lose potential customers and decreasing your conversion rate.
#16 Travel website
When it comes to promoting your travel and tourism agency, then nothing could be better than an effective website that will not only act as an eye-catching tool but also as a virtual assistant for your potential clients. That is if customers have a chance to get acquainted with all the destinations you offer and make a deliberate decision to reach out to you in order to book the tour that suits them best, what else can you dream of?
Moreover, in this case, your employees do not have to spend their time providing the information the users can get by themselves. Accordingly, your staff can stick to more important and serious tasks assigned to them. However, to make the resource work in your favor, you should pay attention to each detail to be included in it. And if you do not obtain the required knowledge, you can delegate this issue to a devoted travel website development company, such as ours.
#17 Car dealership website
To make your company stand out from the rest and declare yourself loudly, you need to consider the creation of a robust car dealer site carefully. Moreover, since the matter of picking a reliable and suitable car is rather vital and challenging, a proper resource will demonstrate your expertise as a car advisor as nothing else.
Furthermore, as there are quite a number of other brands operating in this industry, you should not neglect such an aspect as car dealership website design. If you entrust this issue to real professionals, then the chance to win the hearts and minds of your potential clients increases. All in all, this is the aim any business is striving for, isn't it?
On a final note
Having shown you the main website categories and types, we hope you will be able to decide on what kind of website suits your needs most. As you might have guessed from the article, every type of website can be challenging to make, but absolutely all of them are achievable, especially if you have the right team for it.
Speaking about a team – if you are still unsure as to which type of website is more fitting for you, or if you have any questions about peculiarities of a certain type, feel free to contact us and get more details and insights.