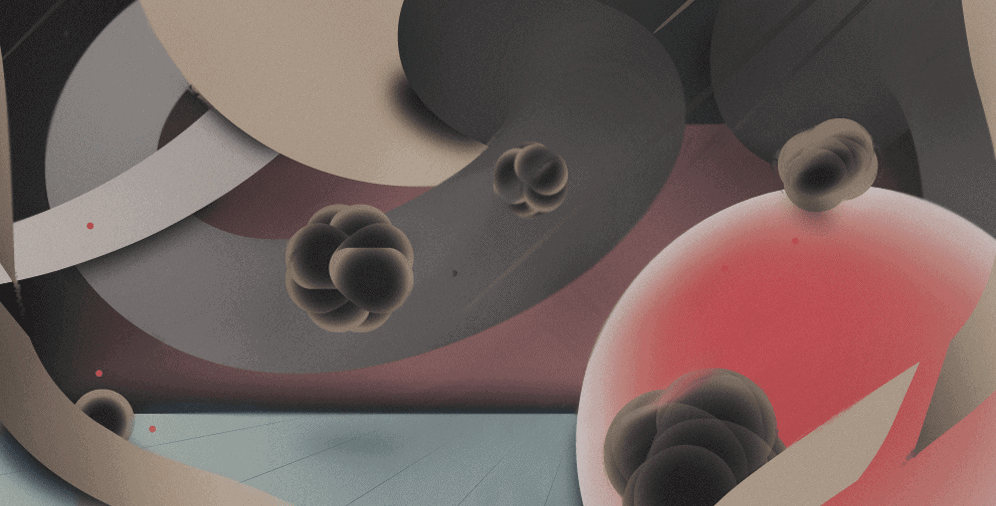 There are very few websites that do not have a FAQ (or Frequently Asked Questions) page, and it's hardly surprising. Whether your business is about products or services, people always want to know more about it, and the FAQ section can quickly give them much-needed answers.
FAQ pages are essential for earning user trust by providing immediate, high-quality support. If you're interested in creating a proper FAQ page, which is a part of UX services, you're in the right place. The tips below should be a great help for you and your business.
What is a FAQ page
One could say that a FAQ page is one the most underrated pages of any website. Not everyone realizes it serves not only to answer some common questions but to boost conversion rate and increase customer loyalty. 
It's a significant part of a website that offers a solution to user inquiries. For example, people need to know general answers about how to create an account or get a refund. If they can't get them fast enough, they'll less likely trust you, and will probably leave your website. 
A well-organized and well-structured FAQ page is a must-have for most websites. Although in some cases there might be doubts about its necessity. 
When is a FAQ page appropriate
Wondering if it's the right time to create a FAQ page, but not sure if it's indeed needed? We'll help you with that.
Your FAQ page is definitely appropriate if:
– You get a lot of similar questions every day and want to openly approach them
– You have a blog or landing page that can be linked there to increase conversion
– Something constantly bothers your customers, and you want to take care of it swiftly
Don't be afraid to provide support to the users and speak to them through the FAQ page. Your brand will get its beneficial effects in no time.
The difference between the FAQ's and knowledge base
The most notable difference between the FAQs and the knowledge base is their structure. FAQs are usually presented in a question-and-answer format. They are brief, precise, and direct. The answers mostly take a couple of sentences or a paragraph at max. 
The knowledge base article is more like instruction: it's longer and more detailed. Unlike FAQs, it gives users thorough information about the company's work. If you need an example, just look at the Intercom's help center page.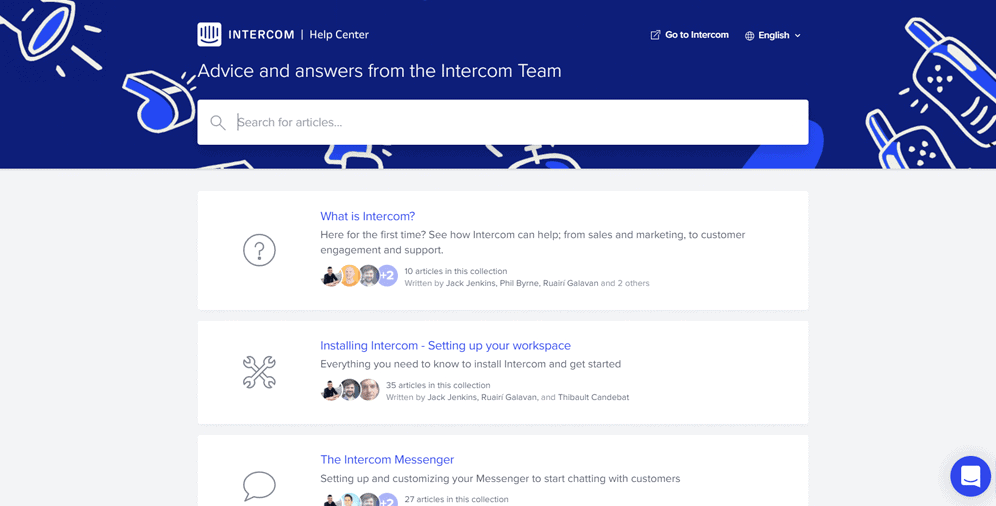 Why create a FAQ page
While the FAQ page is not probably going to blow up your website traffic, it still has enough perks.
01 It saves both users and employees time
Responding to customers takes a lot of time. Especially if they constantly ask the same questions. When the question doesn't call for further explanations or lead to a potential purchase, it's a loss of time.
With a proper FAQ page, there is no such thing. If all simple, repetitive questions are already answered, the customer support can focus on the queries that really need their attention. 
02 It helps to avoid user complaints and negative reviews
Most negative reviews can be prevented if acknowledged quickly. People are only unhappy when they can't find the answers or don't hear back from you fast enough. 
If your customer support doesn't cope with the number of requests or if you're operating an e-commerce website and it's some sort of Big Sale Day, you can face criticism. When you have a FAQ page with the needed answers, you can simply direct your customers to it. They'll be satisfied to get the answer, and you'll avoid a negative review.
03 It emphasizes your expertise
A good FAQ page screams authority and professionalism. It shows users that you take your products or services seriously and not just messing around.
04 It helps to gain users' trust
Having a FAQ page means you care about your customers. When people can easily find everything they want to know right there on your website, they tend to trust you more. It can also increase your conversion rate.
How to create FAQ: where to find frequently asked questions
Thinking about creating a really helpful FAQ page? Don't forget to do thorough research beforehand to make sure you'll give people precisely what they're looking for.
Here's the list of what you might want to check foremost.
E-mails & customer support tickets
If you don't know where to start, start here. Checking your inbox is crucial since it can give you lots of useful information. Analyze customer messages and questions, see what bothers them the most, and make your own list of repeatedly asking questions. 
This should work really well with your competitors. Whether you suggest services or products, you probably have competition. In this particular case, it might even do you a favor. 
Find your competitors, go to their websites, and look at the FAQ pages. Pay attention to their questions but don't copy them. Mark a note of the relevant ones and consider them while creating your own FAQ page.
It's not a bad idea to check what people say about your work on the Internet. Find some reviews or forums with the needed discussion and read them all. 
Customers like sharing experiences, and they will most likely complain if something's wrong. Use their feedback as a direction that should be carefully researched and use it for your own good.
Simple, yet effective. When people don't know something, they google it.
If you start typing a question about your product or services, it'll give you a list of other auto-suggested questions. Those are the most common questions people already searched for.
Same thing with Quora. This is a site made exactly for answering user questions. All you should do there is to type in your topic to see a whole list of the recent questions related to it. 
Feedback from a focus group
It's not always that easy to understand what your audience is interested in. Since guessing isn't an option, we suggest you create a focus group and ask them to test everything out. Once they're done, they'll give you an honest and reliable assessment.
After using all the tips above, you should have a decent list of the questions needed for your FAQ page. The only thing that is left to check is the way you directly form them. Or, to be precise, to check if your way matches your customers' way. 
When people search for topics related to your business, they unintentionally use keywords. The right keywords can drag them directly to your website if everything's done correctly, and the best way to phrase your FAQ page accordingly to the user searches is to research the most common keywords in your topic.
There are a few services you can use, both free and paid. If you're curious to see what a good free service looks like, type in "Keywords Surfer". It's a Google Chrome extension that will help you to get your search volumes. You can try to find similar plugins for different browsers.
Having a proper FAQ page is important as it shows you care about your customer and understand their concerns. Do your research, and people will surely appreciate it. 
Can a FAQ section help with SEO
Wondering if it's possible to improve your SEO with the help of a FAQ page? The answer is yes: FAQ pages are generally great for SEO.
If it's something you want to boost, you can use this tip. Instead of placing all the information in "question and answer" format, create some additional pages, dedicated specifically for each FAQ question.
Try to link different questions to the same main page and see the results. It should be great for the search engines and will get more traffic to your FAQ page since the users might get directed to it after googling your brand. It also increases the possibility of seeing your website right on the top while googling for something thematically similar. 
What are the most frequently asked questions
If you're still not sure what questions to choose for your FAQ page, we got you. Even though every FAQ page's content depends on the website's specificity, some questions are commonly asked.
Here is the list of the things people are usually curious about:
– Any product/service information that your customer needs to know about. It can be size ranges for clothes or something that will help people to choose the right service
– Your return policy
– Your shipping options and their cost
– How fast you ship orders or perform the service, and how long it takes to deliver your order
– What happens if a customer never receives the order or desired service isn't performed well
– How to change the password to the account or to create a new one
– Your location
– Any concerns/myths about your business that should be addressed
– Distinct characterizations of your services/products in case customers have difficulties with picking the one they need
Don't forget that this whole list is still an example and should be corrected in correlation with your customers' inquiries. So, take the information above into consideration as well as your business peculiarities.
How to make a FAQ page: top tips
Now we can finally move on to one of the most fundamental questions: how to make a FAQ page? To answer that, we combined our best tips and that's what we got.
01 Do not overcomplicate things
This could be said about different stuff. For example, do not create alternative names for your FAQ page (such as "More info", etc.) to get more attention. People are used to seeing the Frequently Asked Question section and already know what it is. 
Also, do not compose your own questions. You put them on the FAQ page for your customers, not for yourself. So speak the way they speak. 
02 Know your audience
When you know your audience, you know what they want to see. Choose the right questions and use appropriate language.
If your website is for professionals, it's usually better to make it look formal, and if it's for younger and non-professional audiences — the other way around. If you want your FAQ page to be unique and spirited, add some jokes or use jargon. It will show a little bit of your personality and help to gain customers' trust if used correctly.
03 Put your questions into separate sections
It's no fun to scroll down in vain attempts to find one needed answer. Especially if there are dozens of questions on your FAQ page. 
Create the categories and sort your questions out. It'll most definitely cause a positive response from your customers and will make their experience much better. 
04 Don't forget about the structure
A well-organized FAQ section is vital. Always start with the popular questions and categories that are most relevant to people. The peculiarities of your goods or services, shipping, and delivery, security and guarantees — that's what people need to know about above all, while other questions can be listed below. A good structure also means easier navigation and higher conversion.
05 Make your FAQ page noticeable
No one is going to look for it too hard. If it's not easy to find, you lose. The customers will simply go to some other website with easier navigation.
06 Add a search bar to your FAQ page
Once again, don't expect people to scroll down over and over again while looking for the answers. They often come to the FAQ section with a specific question, and adding a search bar will help them to find the needed information within seconds. 
07 Always keep on working on your FAQ page
The business can grow and change, and new questions can pop up. Eliminate everything that's out of date and modernize your FAQ design. 
See what's working best for you, add new categories, and improve your customer support. It'll help you avoid negative reactions and provide a better experience for your customers. 
08 Track your traffic
To have a better understanding of your FAQ's effectiveness, you need to know what exactly is going on there. Track the traffic and page clicks, analyze the results, and improve your strategy.
09 Show your customers you care
Even if your FAQ didn't answer their question, they should know you're here for them. Leave a contact form at the bottom of your page and encourage them to use it when needed.
High-quality support will enhance their loyalty to you and make your business more profitable.
FAQ page design
When it comes to the FAQ page design, you should remember one thing. Different FAQs demand different approaches.
All the layouts and features should be designed while keeping in mind the page's extent of the content. If your business is new and customers don't ask a lot of questions, there is no need to make a huge FAQ page. Creating a list of the most popular questions will probably be sufficient for the time being. 
If your business is big and you get a lot of answers to give, try to avoid overloading your FAQ page. As we suggested above, group similar questions together and categorize them. Create an easy navigation system to make your customers a little bit happier. Also, don't forget about the search bar. It's proven to be a very useful tool for bigger FAQ pages.
Overall, the rules for designing FAQ pages are pretty simple:
– Simplicity is the key
– Clear labels and navigation are a must-have
– Popular questions should always be at the top of the page
– Adding a contact form at the end is crucial
– Updating your FAQ page is important and can help to boost your business
FAQ design examples
By now, you probably have a better understanding of how a proper FAQ page should look like. Nevertheless, it wouldn't hurt to see some best FAQ design examples we love.
01 Netflix
Netflix is a well-known online service with a big "Help Center". Their structure is pretty straightforward and consists of different categories of questions.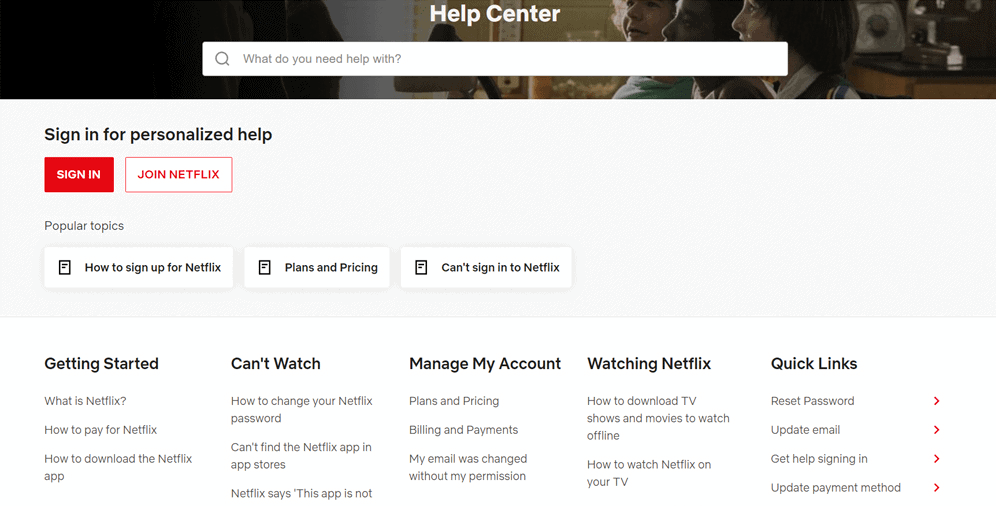 02 Twitter
Apart from other things, Twitter is known for its user-friendly navigation and well-structured FAQ page. Here you can get detailed answers to all your questions and enjoy your experience due to firm categorization.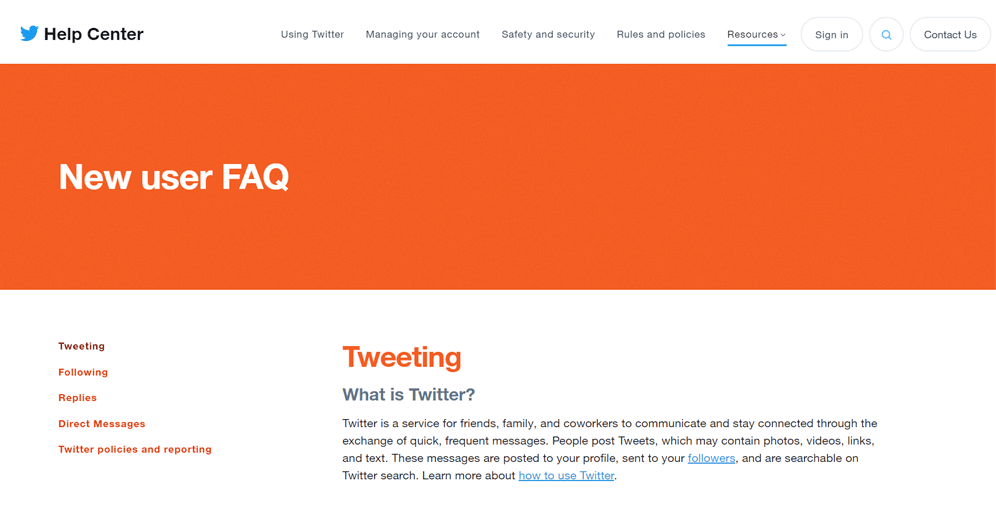 03 TGI Fridays
The best description for this company's FAQ page is brief, plain, and informative. It has a shortlist of the most popular questions, and the "contact us" form right underneath it.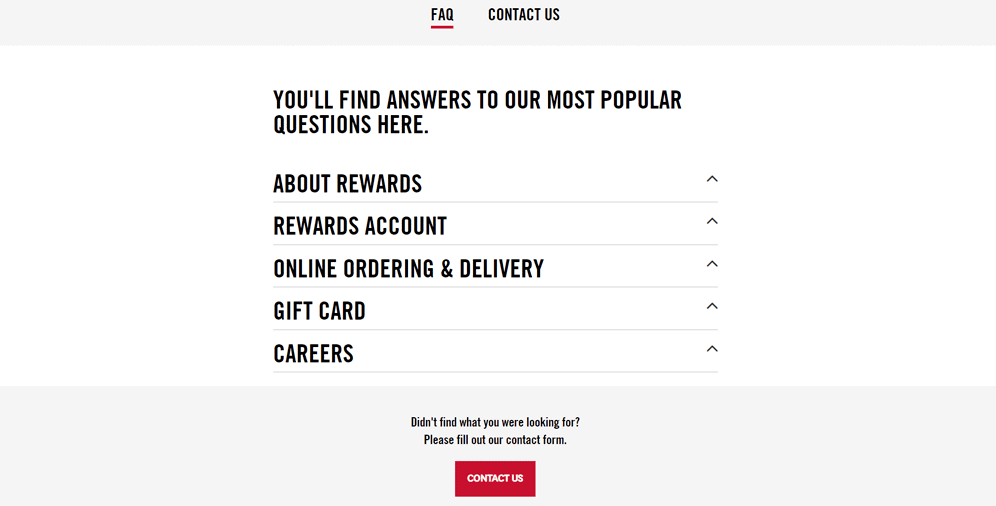 04 Pinterest
Another example of a well-organized FAQ can be found on Pinterest. It's simple, minimalist, and allows users to easily navigate through the page's content. Each question leads to a separate page with a detailed answer.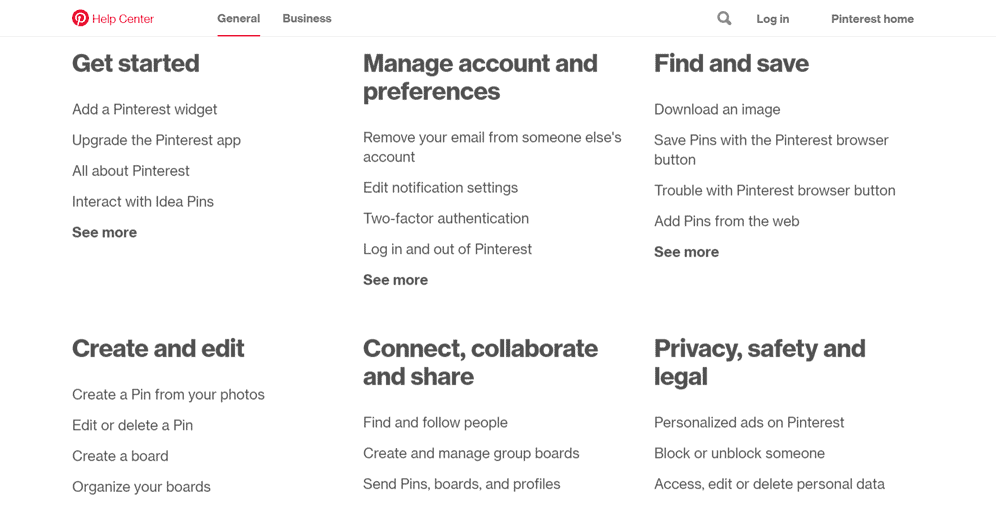 05 Spotify
This smart design is known to all music lovers. The first thing you see in Spotify's Help Center is the search bar with the big "How can we help you?" caption. 
After choosing the topic, users are being directed to the page with some more questions. Only then they decide what exactly they want to know and get enough comprehensive information to solve the problem. Although such a structure is different from the FAQs with the listed questions, it's highly organized and more than helpful for bigger brands. 
06 Airbnb
The Airbnb FAQ page could be called a golden standard. It offers personalization for those who log in, but even for guests – everything is clear. There are a few groups to answer the general questions and a search bar.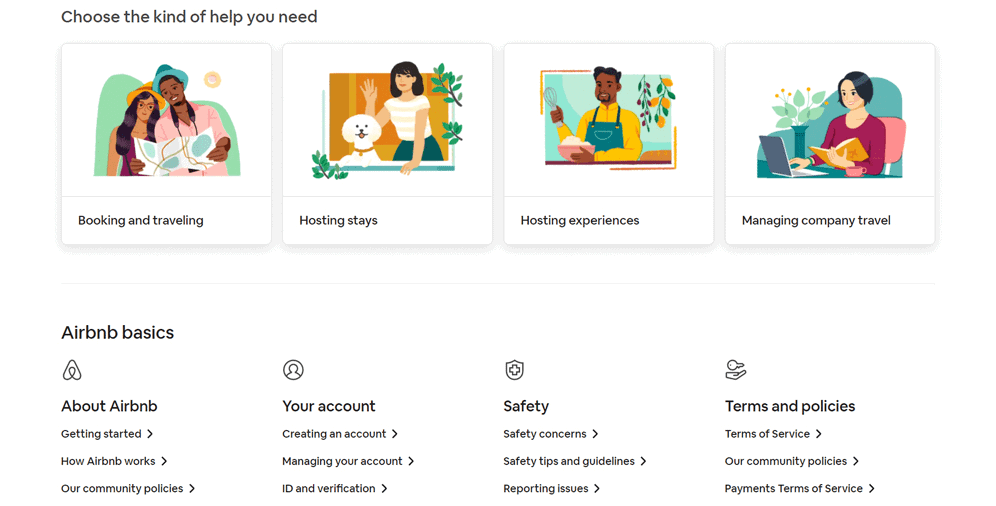 07 Wikipedia
Most of us use Wikipedia from time to time, but have you ever really paid attention to its FAQ page? If the answer is "no", keep your eyes open. This is exactly how it looks right now.
In comparison to the websites above, Wikipedia's FAQ looks a little old-fashioned. Although the design is not over-the-top or extremely unique, it still has lots of sections and a search bar, and everything is fairly organized. By clicking on each section you can also open even more questions with thorough answers.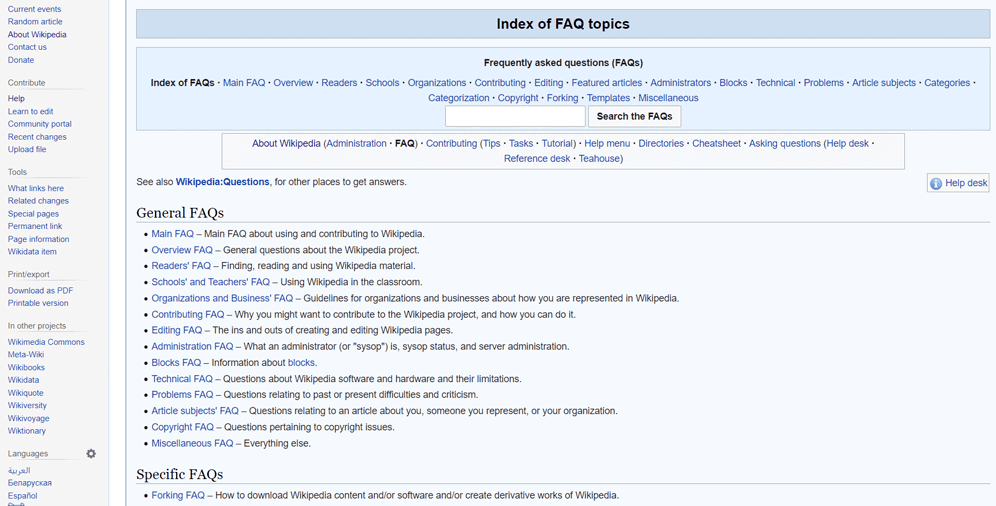 08 SoundCloud
Here we have one more minimalistic, yet powerful FAQ page. SoundCloud also chose to put the questions into different sections. Once you click on your question, you get to the separate page with the answer. Below the answer, there are related articles, which can also be pretty convenient.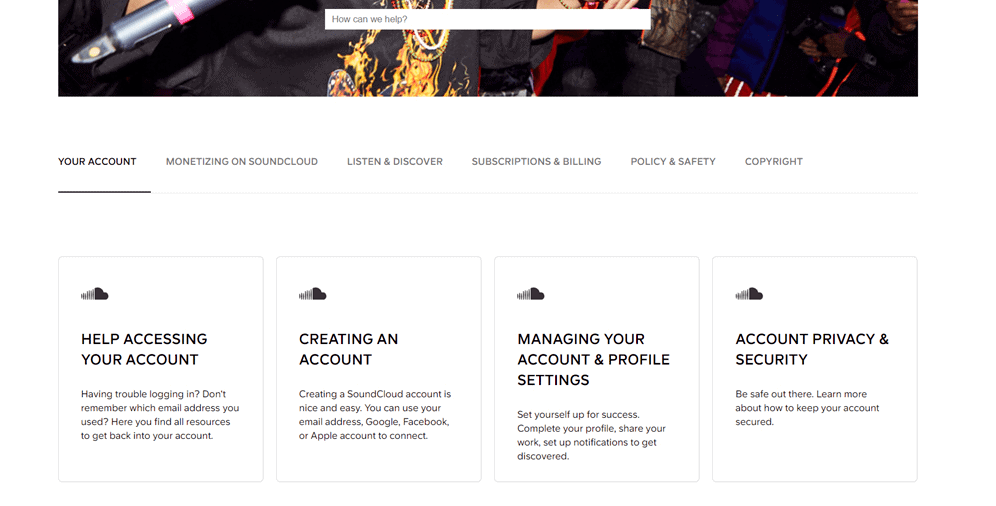 09 Walmart
Walmart's Help Center is cleverly structured and is divided into listed FAQs and a separate column of  "Help Topics". The most popular questions regarding order details are usefully highlighted above along with the search bar.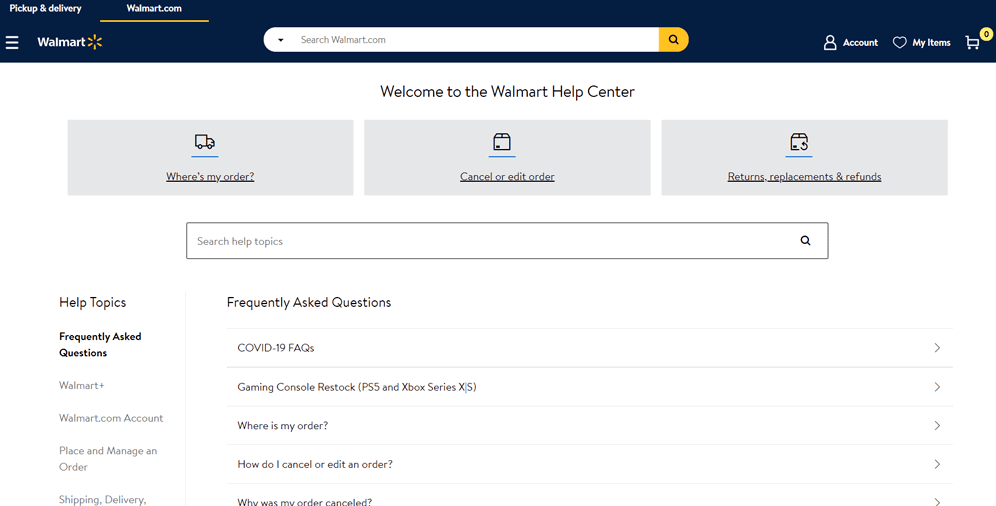 10 WhatsApp
This Help Center is nicely colored and pleasant to the eyes. Users can choose the category that fits them: general or business, for android, iPhone, or desktop. 
After clicking the needed topic, they get directed to a separate page with the detailed descriptions.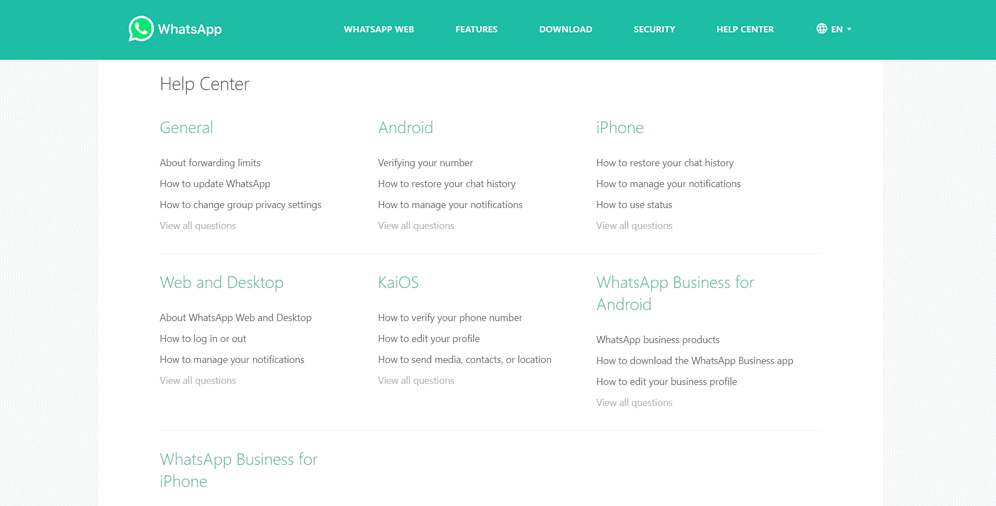 On a final note
A proper FAQ page is an essential part of a successful website. It makes your customers feel welcomed and comfortable, shows them you care, and increases their trust. 
The FAQ pages are created to deal with the repeatedly asked questions. These questions can be simply answered one by one or separated into different groups and categories. The design execution depends on your business scope. It's considered well done if the customers can easily navigate through the FAQ page and find their answers without being overwhelmed. 
If you have any questions about creating effective FAQ pages, feel free to contact us. The answer will not keep you waiting.