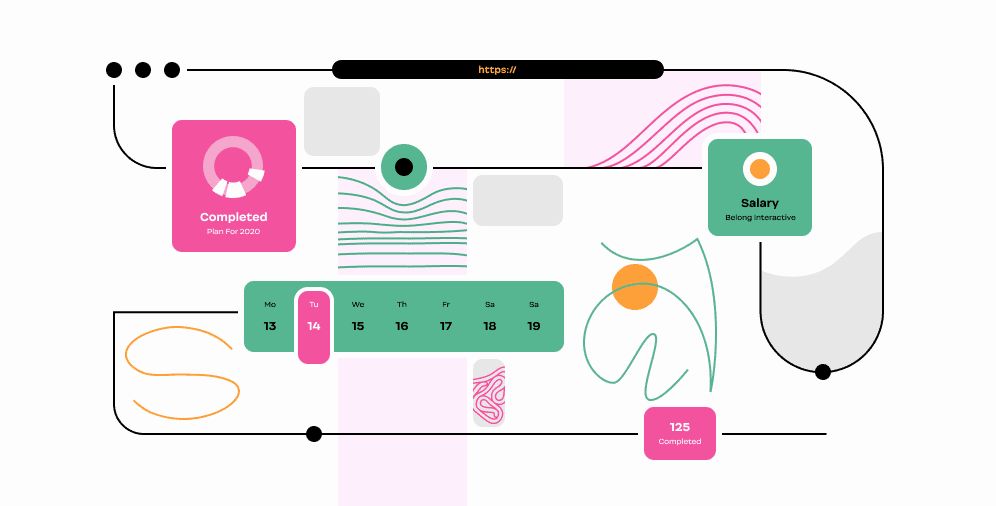 Modern web design is a ferocious beast. Hard to tame, even harder to master, extremely hard to domesticate… Okay, that was way too dramatic.
Great UI/UX design is not that difficult as some design coaches are trying to make you believe (to pump you for money, oops, no, we didn't say that). It can be a very long and exhausting process for sure but you're creating something that's going to be identified with your brand and provide users all over the world with information about you, so it needs to be taken seriously.
However, it doesn't have to be painful, monotonous, and irritating. Yes, you will hate the internet users at the end of it. Yes, you will cry over hundreds of variations of main pages and contact info blocks. Yes, you will beg for mercy and ask for a bullet. But! If you apply all the advice that we provide in this article, we assure you that the final creation will exceed all your expectations and make you feel proud for having endured all that suffering.
We're joking, of course, no one has to suffer. Except for the designers, they always suffer. Let's begin, shall we?
What is website design?
Before we jump into the web design definition, let's make a strict distinction between web and graphic design. We've already explained it in our article here, but it's worth mentioning once more.
Unlike graphic design, web design encompasses all elements of the website operation. It doesn't only involve the visual and outer parts of the web product. Web designers develop platforms and make sure that they function equally efficiently both in and out. This poses more constraints on the developers and designers in terms of ensuring usability and compromising some stylistic choices. Graphic design mainly concentrates on the visual form without contemplating too much on how that can be implemented in a technical solution.
Drawing from that, the definition of website design can be formulated as follows: it is a process of developing, arranging, and organizing the content and graphic elements together in a way that ensures the integrity and functionality of the digital product. Web design includes not only graphic design but also UX/UI design, web development, search engine optimization, and other areas. Specialists in all those fields work together with one goal – to create a solution that will be highly operational, easy to use, and visually appealing.
You might ask yourself: why is web design important? Why can't I just create a website with all the information about my company and my business activity, put a few photos in there, and hope for the best?
The answer is simple: most information that we acquire today is gathered from the internet. If your potential customers want to know who you are and what you represent they go online and look for your corporate website where they can get a nicely packed digest of what you might provide for them. We keep saying that first impressions are everything, but it's true: if the users don't like the outer form of your web product or how it works, they won't have much faith in your brand and won't come back to give it another chance.
An effective web design makes users want to explore the content, get familiar with your work, and build trust between you and your customers. It promotes your brand as an industry player, a valuable addition to the market, and a group of committed professionals.
What services are included when you order web design if it's not only about the visual part of the solution? Except for your standard services such as custom website design, logo design, animation and video development, there are also such services as search engine and conversion rate optimization, website hosting, and web maintenance that can also be included in the web design package.
As we learned the definition of website design, we can move on to what it constitutes – web design elements.
Web design elements
As a complex thing, web design includes a variety of elements. Some of them concern the visual part of the design – what users see when they access a web product and how it is perceived by them. Others involve the technical side of things: how fast the website's speed is going to be and how they can increase a product's functionality.
All those elements will enhance the website's performance and make sure that it's consistent and compatible with a lot of devices and platforms. Let's break them down into two groups: visual and functional elements.
Visual elements ensure that the website's look is captivating and exciting which potentially could lead to more conversions and better user retention. Here are those elements:
#1 Overall layout
The general look of the website is the first thing that grabs users' attention. Of course, any layout is a composite of the details, but how you arrange your content on a webpage is crucial.
This point can be affecting both the website's functionality and visual appearance, so better approach it carefully and wisely. Users decide whether they want to stay on the website or not in a matter of seconds, so you should make sure that your product makes the best first impression possible.
#2 Fonts
There is hardly a website without any text on it, so paying attention to the way that text is seen is important. The font you use to communicate your message can be a "break it or make it" matter for your product. The choice of font solely depends on your company's style and brand voice. The optimal option for designers is to choose a typeface that reflects a brand's unique attributes without being too intricate or accentuated. Eccentric types can detract the user's attention, while simple Times New Roman might not be as exciting to look at after seeing a thousand similar websites.
The main thing here is that text should be readable: both in terms of technicality (appropriate size, color, shading, contrast) and digestibility (going on about how amazing you are in long and monotonous paragraphs is not ideal, we must say).
#3 Colors
The color scheme is one of the basic website design elements. As we know, different colors evoke different associations, and that's something that should be used to your advantage. There are lots of "color using rules" – some of them are true, some are not – but you don't have to be a rocket scientist to figure out what colors you would like to see on your website.
Focus on tying your color scheme with your brand message and overall brand design, if you already have it established, and make sure you're aware of your target audience's behavior and expectations. Not to oversimplify entire social groups, but if your website is aimed for white-collar professionals, the color scheme should reflect that – it's highly unlikely lawyers would enjoy browsing through a website in garish neon colors. The same goes for websites targeted at teenagers or younger generations: a platform without bold colors or contrasting schemes may go unnoticed.
All those recommendations are reductive, but the general idea is this: mixing colors that don't complement each other can be detrimental to your business growth, as well as a plain color scheme that's been a hundred times over in the past. Balancing novelty with classics while relying on your clientele's expectations is the key here.
#4 Spacing
Every website structure provides for spacing between different elements: from webpage parts to images, icons, paragraphs, words, and letters. Spacing allows for a better comprehension of the information, especially when dealing with text. Another useful function of spacing is a creation of a specific flow you'd like users to go through when they access your website. It makes it possible for designers to put a focus on blocks that need to be showcased in a particular way for the users.
When you're using blank space, don't forget about being consistent. If you define a certain amount of spacing between specific elements, then you should stick to it throughout the platform (unless it's a creative experiment, of course).
Spacing doesn't have to be either black or white – it all depends on the color scheme you chose for your brand.
#5 Shapes
Shapes can be seen as a way of aligning elements in a particular way. The blocks of text paragraphs you put on your website may be developed in a certain shape, the images along those paragraphs can have a peculiar form, or even the webpage itself. Shapes serve as a wonderful graphic design tool since it doesn't require many resources and can liven up the content in unexpected ways. If approached creatively, shapes can be a defining web design element.
#6 Imagery
The obvious elements of any website, images, and icons don't always involve photos of people smiling over a computer screen. Imagery can change the tone of your brand voice, bring users' attention to things you would them to take notice of, or simply attract new visitors and increase conversion rates.
If you're trying to provide a unique visual experience, then think about working on an exclusive set of illustrations or images created by a design team with your brand attributes in mind. Other web design elements such as color schemes, fonts, and shapes, can be easily intertwined with the visual system of images that showcase the range of products that you're advertising through your website.
#7 Animations/videos
Not a mandatory element of a website, but the one with the most increasing popularity. Obviously, the nature of all websites and products and services that they promote doesn't always call for an animated background or a beautiful video on a landing page. Also, some of them may impede the loading speed of the platform which will lead to a decrease in users number.
However, if you manage all the technical issues this kind of element might pose, you will have a wonderful tool at your disposal – unlike photos and sound, videos can be far more descriptive and include both image and words. Even simple animation can refresh the page and add a bit of personality to it. Don't forget that videos can detract the user's attention from the overall layout and user experience, so make sure you make them as informative as possible.
Functional elements don't directly deal with the visual part of the website, but focus on its performance and make sure that everything works perfectly, which is as important as having a stunning design.
#1 Navigation
Some websites are minimalistic and don't have an intricate internal system, but content-based websites are dependent on good navigation – simply because otherwise the users will get lost and leave the website immediately. Like most web design tools, an effective navigation structure helps to increase conversions and grow the user retention number.
A site map is needed if your website is large, has a lot of pages, and is content-heavy. Try not to go overboard with being creative in this one: usually, people use site map when they're already on the edge (not being able to find a "price range" page can be nerve-wracking), so all your fancy animated cursors, shadowy effects, and overly complicated navigation tools will make users want to throw their computer out of the window. And we don't really want that, do we?
#2 Content
A rare website doesn't have any content on it. No matter how beautiful your website is, the content is the cornerstone of everything you do. It is the primary reason users access your web product in the first place, so you better make it worth their while.
It's up to you how you wish the content of your website to be, but the standard requirements for it are being informative, engaging, and easy to read. Another important thing to remember is that if you adapt the content to the already established visual style, remember about coherency and consistency – it's better to omit some additional information if you feel that your web product will be overloaded because of it.
Since the capacities of a website are limited, the text and visuals you put there should be concise. Extra words will detract users from the primary goal – promoting your product or services, so focus on highlighting your advantages and unique selling points. Make sure that the content is categorized into strict sections. Otherwise, users' understanding will be compromised.
#3 Compatibility
Creating a website that only works on PC and in one specific browser is not enough – depending on the sphere you're operating in, users can be more oriented towards mobile devices and accessing websites through them. Make sure to research your target audience and learn its digital behavior well beforehand. This will help you to optimize your product and expand your online presence in the future. Also, not making your potential customers go insane while trying to work through your website on a tablet or a smartphone will give you some extra points.
#4 CTAs
The whole point of creating a website most of the time is to elicit an action from the users, be it contact information, a direct payment, or anything else. If your web design is so perfect that it makes customers want to continue their interaction with you, then your call to action buttons need to be visible and preferably of a contrasting color, so that they are instantly noticeable.
Is your CTA made for getting contact information from your user, or is it a signup form? Then make sure that the text on a button or near it says so because users don't really like to click the buttons with mysterious functions (cybersecurity these days, ugh).
While this is not an all-encompassing list of web design elements, they are the most basic ones that ensure that your website is an effective tool for furthering your business mission and attracting new customers.
Web design principles
Once you know the elements of web design, you can start creating your own website. However, having building blocks is not enough – you need to know how to use them. A well-designed website increases your chances of gaining a loyal customer base. Below are the main principles of web design that we apply in our work.
Before we jump to the principles themselves, let's start with identifying the standard user behavior since it influences all the next steps we are going to undertake. Krug's three laws of usability stipulate that most users adhere to the following attitudes while browsing the websites:
"Don't make me think." – more often than not users don't read the text, they scan it. If you create web design elements the function of which is unclear on the spot, you are guaranteed to lose customers.
"It doesn't matter how many times I have to click, as long as each click is a mindless, unambiguous choice." – echoing the previous point, we can't stress the importance of intuitive user choices enough. The users have to flow through the website, not dwell on each point trying to figure out what you were meaning to tell.
"Get rid of half the words on each page, then get rid of half of what is left." – the principle of "let's give out ALL the information so that they won't have to ask any follow-up questions" is a classic mistake. You want users to ask follow-up questions, but you don't want them to get bored in the middle of the "About Us" page. Leave out all the weeds and make sure that all your messages are clear.
These laws should be a blueprint for everything you do in the future. Keep them in mind every time you make a design decision and ask yourself: would that action bring me closer to a transparent and understandable website? How can I improve it?
Our Head of the UI/UX team Irene says: "Once you've made it your habit to be economical with the design means, cut down the unnecessary details, and create a dynamic user flow, you're going to get through other design hurdles easily and swiftly. A successful application of all the other design principles depends on how well you implement these three laws." Let's get acquainted with the rest of the web design principles.
#1 Adhere to a visual hierarchy
The obvious principle that often gets overlooked by the designers. When users access a website and start to scroll through, their first impression is based solely on the overall look of the webpage. If it's cluttered and "messy," people will get confused and disoriented, and, unless they like to hurt themselves, leave immediately.
Some elements of your website are more crucial than others, so it's obvious they have to be made more visible (CTAs, forms, contact info), be it through sizing them up or adding contrast.
Think about your business goal and how it can be implemented visually. Let's think of an example. Most of the time, users access your website because they're already looking for the content, a product, or a service of your sphere of expertise. Our UI/UX designer Ira says: "You don't have to persuade them to buy your washing machine, but you have to persuade them to buy the washing machine with the extra function that you create." So make sure that the visual architecture focuses on that extra function and makes it instantly seen by the user.
#2 Aim for transparency
Another obvious principle that often gets ignored. We're not advising to create a black and white website with a slogan and a few photos (even though that might work in some cases) – we're talking more about the structure. Visitors don't come to your website to admire the design of the pages and save your logo pic as their new avatar. They're seeking the content, the "present." Web design is simply a wrapping paper that must not overshadow the gift.
Choose the content that you want your visitors to see and divide it into blocks. Some of it will regard your actual activity and the products or services you're offering, some will be purely informational. The trick here is to create an impression that your website is a wholesome entity that consists of equally wholesome parts within it.
"Don't be afraid of seeming "conventional." It's okay if your website structure is of a standard format – users expect it so they won't be disoriented, and you can learn how to innovate it in the process when your foundation is solid," says our UI designer Liza.
#3 Be mobile-friendly
With the number of mobile users growing every day, it's almost imperative for web designers to take into account the look of the website on mobile devices. We'll talk more in-depth about the differences between mobile-first and responsive design, but before applying either one of them, do the research on your target audience's behavior. 
How old are they? Where do they work or study? What is their typical user behavior online? Take into account your working area as well. Younger people are usually more likely to access the internet through their mobile phones, so if your product or service is oriented towards them, consider tailoring the website to be flexible on all devices at once as much as possible.
#4 Don't be afraid of the imagery
Some websites use too many images and photos, some none at all. Both suffer from the so-called "we're scared you won't like us" syndrome that makes web designers go either completely crazy by putting images and icons in every single paragraph or create pages so austere and lifeless that even ascetics would think it's going too far.
Even though we mentioned earlier that the cornerstone of any digital product is content, this content needs to be wrapped up nicely otherwise it won't be noticeable. Some images might be a great tool for ensuring your brand consistency and recognizability.
Play around with icons, colors, and shapes, create variations of logos for all possible purposes, put a gigantic photo, or, if you're a real risk-taker, an animation on your main page – users will appreciate it. You can always add or take out something if you see it impedes your work or spoils the user experience.
#5 Do the testing
When everything seems to be done and working well, it is time to carry out the usability tests that can give you an insight into issues the users might experience. This is a vital step that needs to be taken care of if you want your website to be failure-free.
The importance of testing lies in our inability to assess things in a wholesome way. When you work on something for a long time, you start seeing it from your own point of view. Things that are obvious to you might not be obvious for the users. Design mistakes are cheaper and easier to remove when detected as early as possible.
Our designer Tanya points out: "an important thing to keep in mind is that one test is rarely enough: be ready to get back to the issue several times over, even after fixing it, because users were blocked off from dealing with this point in their user experience."
Types of web design
When designing a website, one of the first things to decide on is how and where it is going to work. Are you focused on attracting more customers through mobile phones? Would you like your audience to access your website through a number of devices? Do you have resources to create several versions customized for different screen sizes?
Before you start designing your website, answer those questions, and learn about several types of web design so that you won't get stuck with a website that doesn't fulfill your needs or attract new customers.
There are different types of websites out there, but most commonly they are divided into responsive, adaptive, and mobile-first designs.
Responsive design

The websites with responsive design are developed in a way that allows them to alter their layout following the requirements of the device they're accessed through. They have flexible grids that can create custom websites at every screen size. This ensures that the content is presented identically across all devices without losing anything important in translation. Responsive websites aren't quick to make, but they're cost-effective and easy to maintain. Users will be guaranteed to have an enjoyable experience, and you will get a website that is quick and easy to modify, and great for SEO. As a matter of fact, if you desire to delegate this task to specialists, there are many diverse agencies, such as ours, that offer impeccable responsive web design services.
Adaptive design
The idea of adaptive design is that there are several layouts that fit each screen, taking into account the technical differences between them. Unlike responsive websites, adaptive ones aren't easily modified, which means that their usage is limited as they can't operate on any device. However, due to the simplicity of implementation and lack of complex code, adaptive websites are usually more fast-loading.
Mobile-first design
As the name implies, the mobile-first design approach focuses on creating pages specifically for mobile devices, then scaling them up for other devices if needed. With mobile phone usage increasing every day, this method is becoming more widespread than ever. Condensed content, bug-free, and fast-loading pages, easy to develop – those are its main advantages. What it has in terms of simplicity it lacks in complexity. Animations, videos, complex and heavy content will be hard to integrate into such a compressed and concise format.
As reflected by the information above, all types are equally valid, and some of them include elements of each other (mobile-first and adaptive design can be responsive), but in the end, picking a suitable option depends on the behavior of your target audience, your own resources, and experience. To learn more about the difference between various types of web design, don't forget to read our article that will clarify everything for you (here it is).
Web design tools
As the demand for web design keeps growing, so does the number and variety of web design tools. The choice of a fitting tool depends on your financial and time resources, the type of your website, and technical issues you might have during the process. We present you with a list of the most common web design tools but keep in mind that the list can be endless and there's always a tool fit for you.
#1 Sketch
We begin with the most obvious interface design tool ever – Sketch. It has various useful features, the most prominent ones are symbols as they allow users to reuse certain elements and automatically update them across the file ensuring consistency, and plugins and extensions that provide an array of functions for designers. Sketch is quite easy to get into, the subscription fee is not very high, it doesn't require an extensive technical background, and is user-friendly. Its only drawbacks are its Mac-based nature and a lack of collaboration features.
#2 Figma
Figma is a relatively new web design tool, but also an extremely popular one. Similar to Sketch in many regards, Figma has one important competitive advantage: it allows for real-time collaboration between designers who no longer have to download and upload hundreds of variations of files or share them on external sharing services. Figma is available in any operating system, browser, and also as a desktop app. Its only disadvantage is its subscription fee which can be rather high for certain companies or freelancers. If you're unsure about which one between the two is a better fit for you, you can check out our article on Sketch vs Figma where we give a detailed review of both apps.
#3 InVision Studio
InVision Studio is another example of a tool that has a full set of web design features you might need in the process of creating your own website. InVision Studio allows you to create clickable prototypes quickly and easily, add complex transitions and animations, and work in collaboration with your coworkers and other designers. You can also view the project in real-time to see how it looks like and test it if needed. The app can be a bit on the expensive side, but if its features are what you're looking for, it will be all worth it.
#4 Photoshop
Another powerhouse of the design world, Photoshop offers an incredible amount of colors, hues, and gradients, allows to work with lots of design tools and proves to be extremely useful for photo and image corrections. Even though Photoshop is extremely popular among designers, its interface might seem complicated at first, especially for design newbies, and capacities in terms of vector work can be limited for certain operations.
#5 Adobe XD
Adobe XD is a vector design and wireframing tool that has lots of useful functions at its disposal. It allows you to create the design in all kinds of artboards and screen sizes, has a repeat grid feature and excellent prototyping capabilities. As Figma and InVision Studio, it provides a chance to work in collaboration with other designers and alter the files immediately. However, it is not as flexible when it comes to imports from other tools, it doesn't allow to modify customized shapes, and its constant updates can drive designers mad.
#6 Affinity Designer
A great help when it comes to vector editing, Affinity Designer is a solid player when it comes to useful features. An advanced grid system, dynamic symbols, and non-destructive operations – just to name a few. It creates files that are compatible with other formats and programs, which proves to be useful when working in a team. This tool is not very expensive and is available for the iPad. Unfortunately, Affinity Designer can fall short in terms of artboard management.
As you already guessed, choosing a web design tool seems hard – every one of them has unique distinguishing features. They provide countless opportunities for prototyping, easy and quick operation with vector graphics, and editing, which covers the basics of design work. Consider how you want your website to look, and you'll know what possible hurdles you might encounter along the way and the exact type of web design tool you'll need.
Now, as we already got acquainted with tools, let's take a closer look at the web design process itself.
Web design process
Before we start a step-by-step guide on the web design process, allow us to indulge ourselves with our own wisdom: it is much easier, quicker and time-efficient if one agency or company does design and development both. Why? Here is our list of reasons.
Time efficiency. Engaging one agency to work on one website can be a bit quicker since both teams might work simultaneously at some points, discuss possible hurdles, and come to conclusion regarding them.
Cost reduction. Taking two services at once might be less expensive than working with two different companies. A lot of agencies make discounts for clients who order several services.
Better collaboration. If two teams already know each other, they can share their ideas and pinpoint possible hiccups right in the process, which greatly simplifies the cooperation and, as a consequence, the end result.
If you're thinking about hiring a web design agency who can carry out web development as well, feel free to contact us. We guarantee the best results because both development and design teams are experts in what they do and collaboration between them is impeccable.
Moving on with the web design process, let's break it down into several steps, right from the sparkly idea in your head to a fully operating website with thousands of visitors per day.
Step #1 Planning
Such a tedious process as web design can't be carried out offhandedly. It requires a long period of pre-planning, identifying goals, noting down ideas, and doing the research. The first question that needs to be answered before starting design is what objectives the website needs to perform (both business-wise and creative-wise).
At this stage, communication with the web design team is crucial: they need to understand the purpose of the work they're about to undertake, so be clear about your brand message, target audience, and website aim. If you're hesitating to provide information about these topics, don't embark on the process – every design decision and its successful implementation in the future depends on the clarity of understanding of these points.
Once you can answer every or almost every question from the designers, you can start identifying the scope of the project with them. What kind of pages would you like to have, what features do you want, as well as deadlines for all of them? In our experience, the main problem at this point is that no matter how detailed the research is, the project will always get bigger and start to "bloat" – there will be all those last-minute changes and new hurdles no one could've predicted. This should be kept in mind when deciding on deadlines and budget.
After designers analyzed the requirements and defined the project scope, they start to work on website design concepts, information architecture, site maps, or even the first mockups and wireframes. This serves as a foundation for more complex structures on the website that will be developed at the design stage. Also, at this step, the team decides on the web design software and other resources needed for the project.
Step #2 Design
Now is the time to implement everything you gathered and created at the planning stage into reality. If you're a completely new company with no brand identity whatsoever, the website will play a big part in creating one for you. If you're more or less established, the website has to take all your brand attributes such as logo, color scheme, and every other part of your brand representation on the market and seamlessly integrate it into your website. All the visual elements created at this stage must align with your brand voice and echo the previous stylistic choices that you've already made.
At this stage, the layout of your website starts to form. The main results of the design step are a clear website structure and its visual representation. This can be done in the form of mockups and wireframes, that get constantly reviewed, modified, and approved by you.
The design process doesn't only involve the creation of beautiful mockups, imagery, and illustrations. One of the main things to ensure at this point is that the user experience is as intuitive and straightforward as possible, and the website will be accessible on several devices.
Step #3 Development
Now we're moving on to the "out" part of the process. At this stage, developers build a framework or use a CMS (for example, WordPress) and load the content provided by the client. They also start developing and testing special features and ensure that everything on the website is working properly and doesn't impede the performance.
This has to become one of the main concerns for the development team: the impact of certain website elements and parts that can decrease the loading speed and performance. If any feature influences how fast the website is loading, it has to be modified or removed completely. No matter how useful or fascinating this feature is, the user experience will be compromised, which will undoubtedly impact the number of leads and revenue.
The second important factor is the security of users' data when they access your website. The developers take all precautions and ensure that the code doesn't have any vulnerable parts so that all your personal data, passwords, and user information are not available to anyone.
After that and before the launch of the product, the website is tested on a production server. This part is crucial because no matter how experienced and well-versed the team is, there will be bugs and mistakes – it's inevitable, and you should treat it as such. The website will be tested on different devices and browsers page by page with all breaks being removed immediately to ensure it's working failure-free.
Step #4 Launch
At this stage, the website is prepared for going live and being presented to the public. Mainly it's a "polishing up" stage where both design and development teams ensure that all the elements are working correctly and that the user experience is as close to the expected one as it can be.
Clients are very welcome to participate in this quality assurance step because they can look at the website from a fresh perspective as potential users. They can also check if all the consent they provided is put on the website correctly, or maybe reconsider using some of it.
The teams provide the client with all the deliverables such as source code files, brand materials, or guidelines created at the previous stages. Clients will also get the training if needed and documentation on the website and its usage in the future.
Step #5 Maintenance
Depending on the nature of your contract with the web design agency, you can carry out the maintenance of the website yourself or ask them to do that for you. In any case, you need to be informed on the technicalities of the work and be free to ask questions, no matter how silly they might seem. This stage requires strong communication and commitment to continuing the collaboration.
Even when the project is handed off to the client and all the documentation is signed, your relationship with the team doesn't end there. There's always room for improvement, especially in such a tumultuous and ever-changing environment as the internet. If your working relationship with the agency is solid, you can ask for their technical support in the future, or even for updates and modifications.
How much does web design cost?
If you decided to engage a third party to do the web design for you, the obvious question is: how much does it cost? It's not evident for everyone, but the most important thing to consider when talking about the cost is what kind of website you would like. We've provided a little insight into how hard it is to make them depending on their types, but no one can definitely tell you how much it really costs and how long it takes to create a website. It's up to you to consider the needed deliverables, deadlines, and financial resources you're willing to allocate for the final product.
There are several options to examine when discussing web design costs. First of all, you can do it yourself by using a template. You can even try to find a free one which will greatly lower your expenses, but don't expect this kind of website to change the website game all around the world and attract loads of new customers. Also, it takes a lot of time to get through the development part if you don't have any background in it. This is a suitable option for the companies who are just starting out and "testing the waters" because they're still not 100% sure about what they want to achieve.
The second option is to turn to your in-house design team if you have: you know these people, you can coordinate them at your own pace and on your own terms. They are already committed and dedicated to bring the best results and have all the competencies to achieve that. Despite all that, in-house teams might have restricted knowledge in some areas, and you still might seek an external party or other departments of your company to carry out certain tasks.
The third option is to hire a freelancer who will do most of the work for you. Their services are usually less expensive than those of design agencies (depending on the nature of the workload), but the time they might take to create a fully operational website is unpredictable. On top of that, not all freelance designers can fulfill all your requirements so that you might engage extra parties for that which means more expenses and more time spent. Also, hiring a designer who's also a developer is not a widespread notion.
Usually, freelancers are niche specialists, working in a certain field, mastering and honing their skills in that area for years. Being in contact with one person is much easier than going through a chain of people. However, you should keep in mind that not all freelancers are going to be reliable. After all, they only work for themselves and don't have the additional pressure of their management or a company's reputation being at risk.
The fourth and final option is to work with an agency (such as ourselves :)). Depending on the agency's experience and area of expertise, hiring one is the best option if you're clear about your business objectives and you're willing to pay for their high-quality implementation. Usually, web design agencies work in collaboration with developers (again, such as ourselves :)), so in the end, you get a fully functioning website that's ready to go live on the spot. Being the most expensive option, web design agencies provide the results quickly in comparison with the others.
A design agency is a great option for several reasons. Agencies operate in a highly competitive environment, so their expertise can't be doubted. Some agencies are exclusive, but mostly they operate in various spheres and with various businesses, making them extremely experienced and quick. Sounds too good to be true? It is because you will have to pay for all those extra services.
All in all, you should bear in mind that the quality of provided services varies greatly even within the chosen category. Some agencies deliver better websites than others. Some seemingly experienced freelancers can hardly keep up with the newbies. And sometimes you find yourself creating a website from a free template that's not much different from the one a web design company made for you before. It's not enough to pick an option but to find the right contractor within that option. The best thing to do here is to assess your capabilities – time- and money-wise, – as well as to reconsider your business objectives carefully, and choose the route you find to be the most profitable for you.
To help you with that, Ester Digital provides a service called Creative Art Direction. It helps clients to get through a web design conundrum, as well as to ensure that your brand voice is clear, your business strategy is in the right hands, and everyone involved in the project is on the same page about the specific process points and deliverables. We also provide such services as logo creation, development of brand strategy, and strengthening of brand identity to ensure that your website is not the only powerful tool, but your whole brand presence is homogenous, consistent, and works only for your benefit.
As you can see, picking a fitting option mainly depends on the level of expertise, the budget, and the speed with which you would like your website to be designed. The most important thing to remember when engaging a third party is to be very diligent about picking one since the end results are going to be hard to fix (we speak from our own painful and tragic experience). In the end, you pay wise or you pay twice.
On a final note
Having an effective website without a powerful and compelling web design is hardly possible. That might seem like hard work and it is, but if you want to build a brand that is both financially successful and enjoyable for the customers, you need to be flexible and consistent.
Launching a website isn't enough – it needs to be constantly checked, tested, and updated. A carefully planned out and properly implemented web design is what makes the process of maintenance much more simple and time-consuming. During the web design process, you learn more about your brand, your strong business points, and areas for possible improvement. All these only works in your favor, so no matter how tiresome and painful it seems when you're fighting the urge to kill the designers, it's going to be worth it – both for you and your customers.
Still unclear about web design? Looking for a web design agency that can fulfill your needs and not drive you insane? Contact us now and we will make sure that you will get a website of your dreams and remain sane after it.