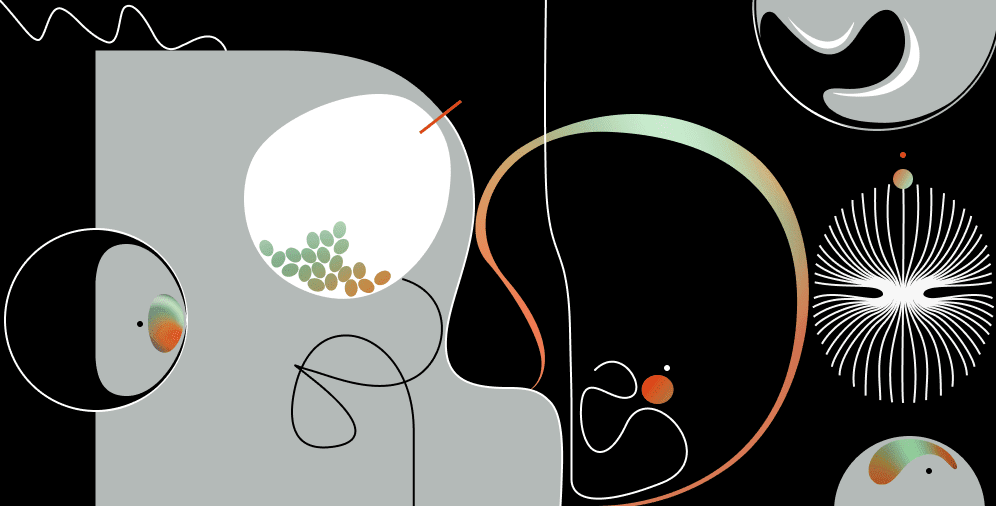 What makes visitors stay on a website? The overall picture goes without saying. Excellent design with the perfect color palette and elegant typography comprise a significant part of a user's positive perception. Splendid visuals, adding a pinch of drama, evoke an emotional resonance. Next, we have content with valuable insights. And what about functionality? You probably know that easy-to-use navigation is a big part of a game. The list can go on. But the truth is that in all this flow of top-notch website pieces, something very significant might stay behind. Even if your website is rich in detail, how to urge visitors to lose themselves in it? The answer is to create an impressive homepage that would be an incentive to explore.
Therefore, our UI UX company has compiled a comprehensive guide on how to build a powerful homepage design.
What is a homepage
When visitors enter your website, the first thing they usually see is the homepage. In a nutshell, it is an opening web page that provides access to other website's segments and serves as a starting point for further discovery. The homepage should include a link to all sections within the website, making it easier for the visitors to go through.
A homepage also acts as an introduction to the business or a company. Ideally, it contains some description of the products or services the business provides. Many websites feature only one impressive statement that is quite enough for making a fantastic and engaging presentation.
When on a homepage, the visitors expect to find out not only who you are and what you suggest, but the ways of contacting you. Thus, such pages can include some contact information: a phone number and email address, or other contact details.
These are the most common homepage components. But there is one more – intangible, probably the most paramount. Imagine you met people who didn't introduce themselves or even said a word. You try to examine their faces and look into their eyes in a futile attempt to find a mere emotion. But you see and feel nothing. What are the chances you want to continue being around them? Apparently, none. Your website's homepage works in pretty much the same way.
It is a visual storefront of a company's website. A homepage should warmly greet the audience, telling them what it's all about. It should set the tone for the overall interaction and create basics for intercommunication. Besides, a homepage is also a matter of interest that urges visitors to delve deeper into the context.
Why homepage is important
With a compelling homepage design, you have better chances to produce a lasting first impression. Well-designed homepages can easily reach users, encouraging them to get involved. And that is not the only prosperity of a brilliant homepage design: 
#1 It is leverage to a consistent user experience
Visitors come to your website with a purpose. Whether they want to check out your product line, explore blog, or find a particular service, you need to direct them right away. If visitors can't find the route and struggle with an aggressive flow of web pages, they will probably leave the site with a sense of irritation.
A well-equipped homepage helps visitors get around, go through the content, and find what they want. They don't have to desperately bounce from one section to another, as a homepage is always here for them to direct and drop a hint. That is the right way to provide your customers with an impeccable experience, showing them you cherish their time.
#2 It boosts conversions
You probably want the visitors to convert, but it won't work if you don't give them an incentive to do that. By directing the audience from the homepage, you minimize their efforts and time to complete the desired actions. Thus, you make their experience smooth and enjoyable that is powerful enough to make them convert.
Still, perfect navigation is not the only key to appeal to potential customers. A cluttered and sloppy homepage design can result in high bounce rates and lead to a deteriorated experience. You want to make a great first impression to turn visitors into customers. Then, make sure your homepage design is compelling and transmits the value, encouraging the onboarding visitors to trust you.
#3 It improves brand awareness
In today's cluttered market, each brand tries to stand out and outperform the competition. Businesses rely on strong marketing campaigns and excessive advertising to reach as many audiences as possible. The truth is that such a direct influence is more likely to alienate the customers rather than appeal to them. Luckily, there is another more intangible way.
All in all, a homepage is a door opening your business's digital space for the newly arrived. And if you have an awkward, ugly one, who will want to open it? That's why it's critical to ensure it is pleasant to look at and convenient to use. A well-thought-out homepage can effectively guide the users through the site pieces. If combined with perfect functionality, a good homepage design enhances positive impressions.
An excellent homepage can drive brand recognition much more effectively than a direct advertisement. It serves as the brand's number one representative that ties visitors' perception with the brand image by means of the branding attributes. The more the visitors land on the homepage and perceive those branding attributes, the stronger the brand awareness becomes. Since they see the logo on the homepage many times, they will probably recognize it in other environments.
What makes a good homepage
However, creating a homepage is not a bed of roses. Each web page has its own peculiarities, and the homepage is not an exclusion. It is the face and the mouth of a website, unleashing the cores of a business and introducing them to the users. To make that communication successful and the interaction enjoyable, there are many things to focus on while designing a homepage. First, let's together, with our responsive web design development company, discover what to put on the homepage of a website:
Headline. Within the first seconds, the visitors should understand who you are and what you offer, and this is the matter of a headline. A good headline needs to be short yet informative enough to transmit an idea of your business.
Sub-headline. The concept you've put in your headline is explored in the sub-headline, providing a more precise insight. Here you can develop the idea and state your message, mission, or purpose. It is usually 2 or 3 sentence-long, powerful, and descriptive text that introduces your product or service in a comprehensive and compelling way.
Call to action. The goal of a homepage is to interest visitors and drive them to dig deeper into the content. They access the website, see the headline, resonate with it, but what's next? Don't expect your visitors to know what to do – direct them. Include multiple calls-to-action and make them prominent. That is key to engaging with the visitors, starting building relationships with them.
Visual. People are hardwired for visual data. And that's no surprise, as visuals are powerful. Include an impressive image or a video on your homepage. Make use of only relevant visuals that go hand-in-hand with what you stand for and indicate your positioning. Employ images that capture emotions, action, or have some conceptual meaning. If you manage to incorporate an emotion-driven visual, you can achieve that 'wow' effect that would last long.
Navigation bar. Navigation is vital. It's like a road map that gives direction and outlines the destinations we are seeking. If your website's content is heavy, make sure you have a navigation box. It significantly helps visitors to get the necessary information without wasting too much time meandering through the pages. A clear and descriptive navigation bar improves the user experience and reduces bounce rates.
Logo. The logo serves as a mark of your business, and including it in the homepage content is a must. Thus, visitors' experience will be consistent and holistic. Also, a logo can double its function as a link to the homepage. It is a perfect alternative to an ordinary button.
Feature list. Users want to know what exactly you offer. Then, incorporate a feature list that describes the core characteristics of your product or service. Don't place unnecessary points but be precise. Users will care less about the features that don't concern them as customers, then provide only relevant data.
Benefit list. Most websites focus on displaying lots of features telling visitors in what ways they perform businesses. But what are the benefits of employing those features? Why should visitors rely on you and deal with you? Tell it in your benefits list. Prospective customers will be satisfied if you present arguments. List the benefits consistently. Don't overload it with superb and loud statements – make it simple but valuable.
Social proof. People rely on other's experiences. Social proof is a powerful assistant when it comes to the decision-making process. Then, allow people to talk about you and write testimonials. You can't be sure whether the reviews will be only positive. However, it's a great chance to cultivate credibility and grow trust among your potential customers.
Success indicators. In addition to the customer reviews, you can review yourself by displaying your best accomplishments. Success indicators can include media quotes, customer success stories, success cases and businesses, integrations, and cooperations. Such data positively associates your business with some external parties, showing you cater to the real people and do it quite well.
Homepage design tips
Even a simple homepage design takes a careful approach to details. Then, if you want to design your own homepage, you need to concentrate on numerous crucial points:
#1 Keep your homepage free of clutter
We rarely read every word on a website. We prefer to quickly scan the content, extracting the keywords, and building the meaning unintentionally. Keep this knowledge in mind when creating a homepage. Make it simple and clutter-free. The less the visitors have to read, the better they will be able to evaluate the content.
#2 Prioritize important content
That is mere physiology. We usually notice the most highlighted things. Thus, keep the most critical data above. Visitors will get what it is all about just in a few seconds, without having to scroll or click anywhere. It refers to the visual hierarchy that employs different sizes or placement to influence which elements your user sees first, second, or last.
#3 Space out the content
Our eyes seek balance, and poorly structured design can affect visitors' experiences heavily. When they land on a homepage and see the intricate composition, they will have to focus on all things at once, and the main idea stays behind. By leaving some areas blank, you can achieve balance and create a much more appealing and comprehensive look.
#4 Stick to standard layouts
Simplicity is the key. If you want to impress, you don't necessarily have to employ eccentric layouts and design formats. Keep in mind that these might be overwhelming, and not every visitor will get the point as you see it. It's better to adhere to simple formats, making them shine with details.
#5 Be less persuasive
Avoid excessive CTAs, appearing everywhere, distracting from the main points. When you put a CTA at every touchpoint, making visitors take actions they don't intend to accomplish – you fail. They are likely to abandon the idea and leave the site that is too persuasive.
#6 Incorporate additional cues
To drive the visitors' attention to the things that are most important, you can use directional cues. These are arrows or images of a person looking or pointing in a particular direction. When looking at those hints, the visitors unintentionally drive their interest towards the highlights. You are not being persuasive at that point, because they are directed smoothly.
#7 Make the color work in your favor
Colors are important. For one thing, each color has its own emotional connotation, and you can use its power. Red means urgent, green and blue are more calm and positive. If your brand identity is passionate and energetic, an exhilarating color would fit better than a tranquil one. Apart from choosing the best colors to represent your brand, you can utilize the color hierarchy for better composition. When you design a CTA, you can employ contrasting colors for:
the button and the background;

the button and the button text;

the button and the nearby elements on the page.
It will help you to effortlessly drive attention to the cores without overloading the homepage with excessive design.
#8 Employ typography properly
When designing a homepage, typography is one of the most crucial issues to consider. The same as color and visuals, it has an emotional connotation. Typography comes in a diverse array of forms, so choose the one that complements your brand best. Use sharp fonts if your headline or sub-headline is strong and loud. If you have a more romantic one, it's better to consider light and gentle styles.
#9 Utilize simple language
The easier it is to read, the more appealing the text is. Use understandable language, avoiding jargon, or fancy phrases, unless your brand deals with a specific niche your target audience knows. Readability is vital, as depending on how the text is readable, the visitors grasp the idea.
#10 Make the usage possible on multiple devices
Since visitors have various attributes to access the website, make sure your homepage loads and looks well on all devices, especially mobile phones. Responsive homepage design also influences your SEO positions.
#11 Optimize load time
No one enjoys waiting. Make the homepage load fast. Otherwise, your website will be skipped, even without taking a chance to impress.
Homepage examples
The best way to create an excellent homepage is to search for inspiration and look around for homepage design best practices. Brilliant homepage designs will encourage your creativity, helping you to build the desired image. Here are the top 10 best homepage designs:
Netflix
The Netflix homepage is the perfect example of a consistent design. Its bright, red-colored CTAs catch the eyes right away. It's clear what the company wants you to accomplish when you arrive. The red on the buttons coincides with the red logo, creating a balanced and joyful, holistic picture. This homepage employs a background image featuring a large spectrum of films and series posters. The visual is vivid and colorful, yet it's easy to consume because the black theme calms down the bright contrast.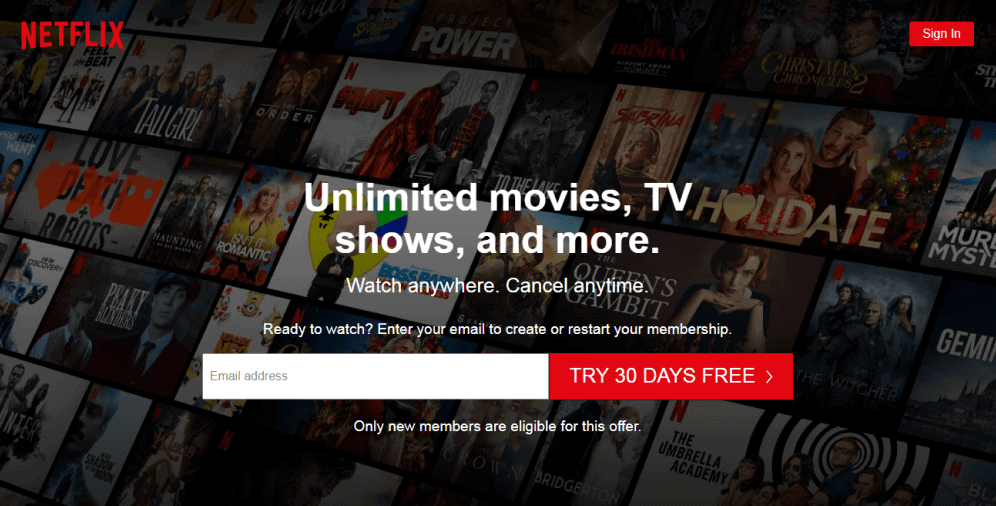 Airbnb
In just one phrase, Airbnb draws visitors and gets them involved. The headline contrasts with the background, making it easy to grasp. So do the CTA and navigation bar. An impressive visual inspires and evokes a spirit of a journey the visitors would definitely want to take. That is what the Airbnb brand is all about, and its homepage is a real brand representative number one.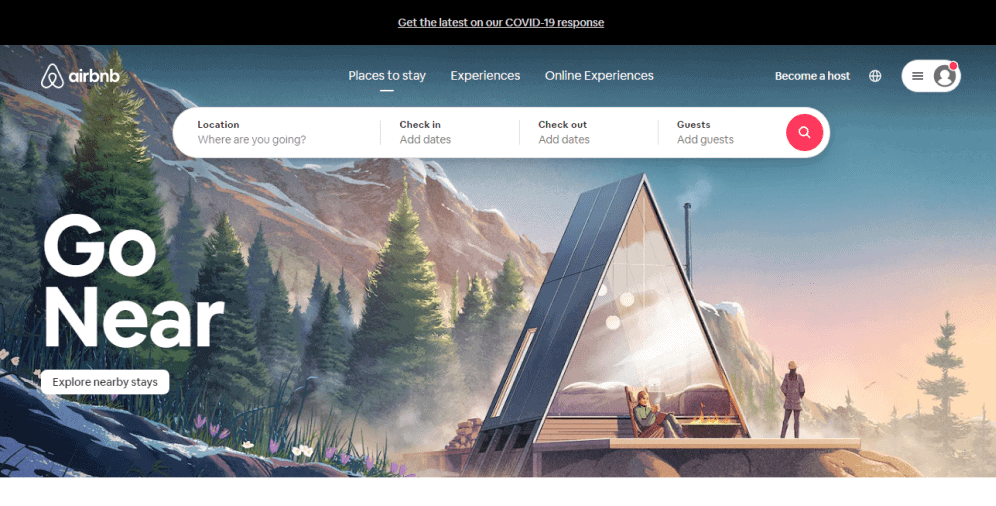 Tour Partner Group
Tour Partner Group homepage gives off an easy-going vibe, and it's critical for a business that takes a travel niche. The page is complemented with a bright color palette and high-quality, fantastic images. Visitors can scroll through the pictures, which makes the homepage design engaging and interactive.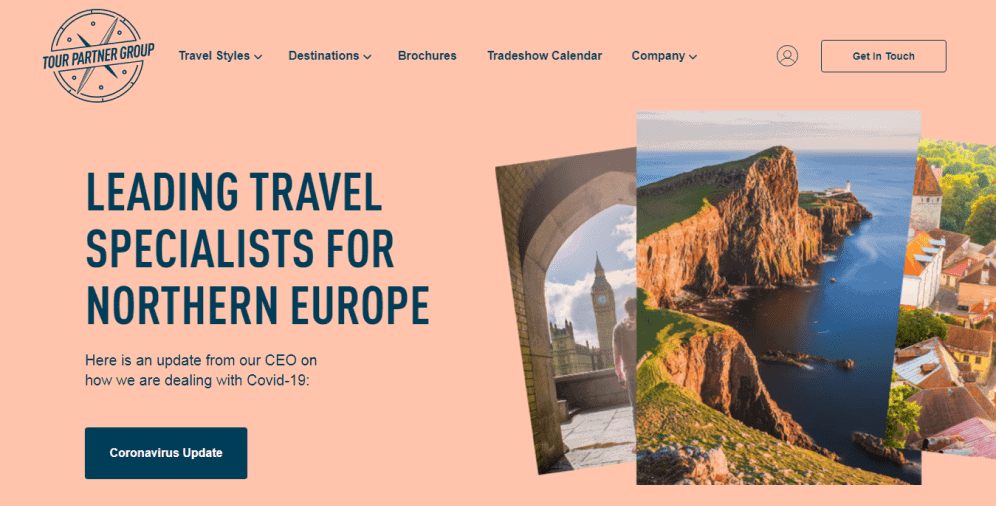 TED
TED homepage opens with a wide choice of possible subjects the website encompasses. That allows visitors to perform multiple clicks instead of endless scrolling, seeking the right themes. It is an excellent example of a user-friendly approach. The page has a clean design with a fascinating visual behind it. The image captures two people speaking, bringing the mission of the TED brand to the forefront.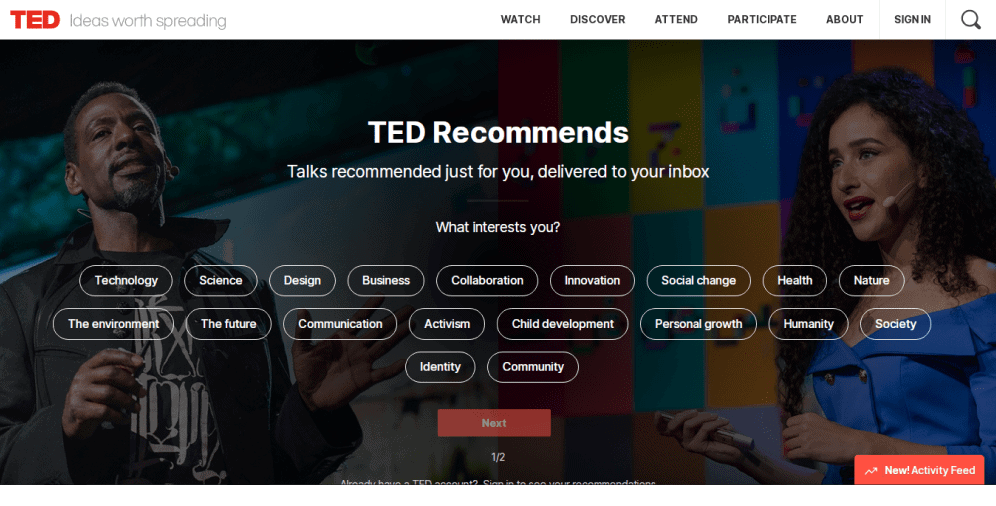 Evernote
Right from its homepage, Evernote tells its target customers it will help them to capture their ideas. It solves the customers' problems, and that is the best way to appeal. The use of white space helps to reach balance and highlight main issues – a headline, sub-headline, and a green-colored CTA. When you scroll down, you can see success indicators and social proof that arouse trust and prove the brand is worth working with.
The Brigade
When you arrive at a Brigade homepage, you're impressed by two things – the dark, quite a mystical image, and the contradictory headline. This combination captivates from a first glance and evokes an incentive to plunge into details, revealing the secrets. The typography stylization is perfect. The font color is contrasted to the background, which makes the text readable and comprehensive.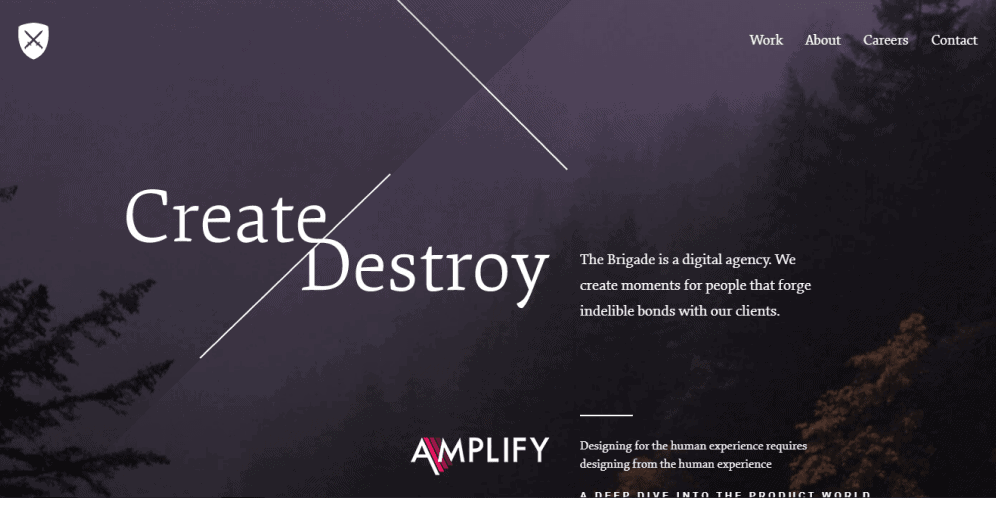 Skype
Skype homepage is an example of a simple yet appealing design. The homepage features a clear headline and an informative, short sub-headline. Along with the text, there are visuals portraying real people communicating with each other. That gives a sense of credibility and evokes emotions. Besides, the images show that the platform operates well both on a desktop and mobile.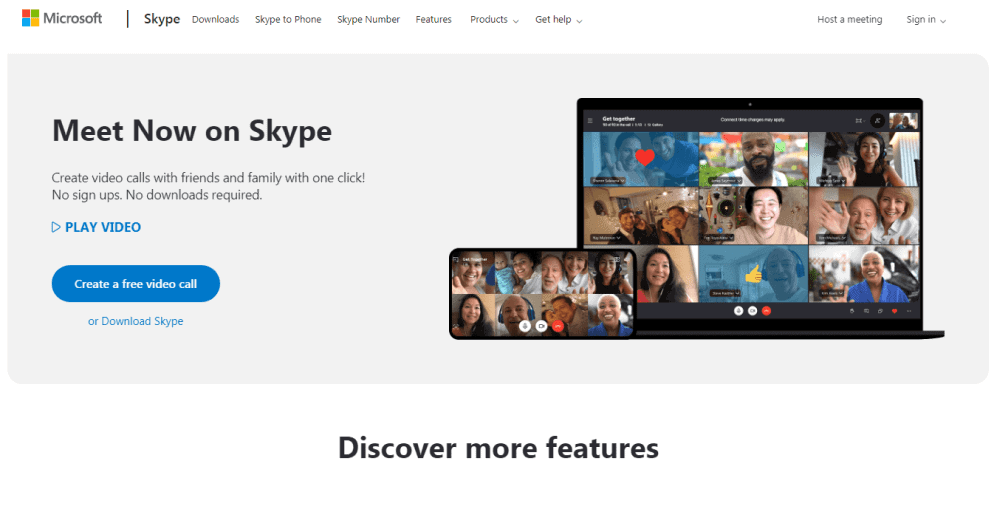 Nescafé
When you arrive at a Nescafé homepage, you experience a sense of joy and comfort. It employs an emotion-driven visual background that will probably make you smile. Another excellent feature is an interactive CTA. It produces an effect of pouring a coffee when you point at it.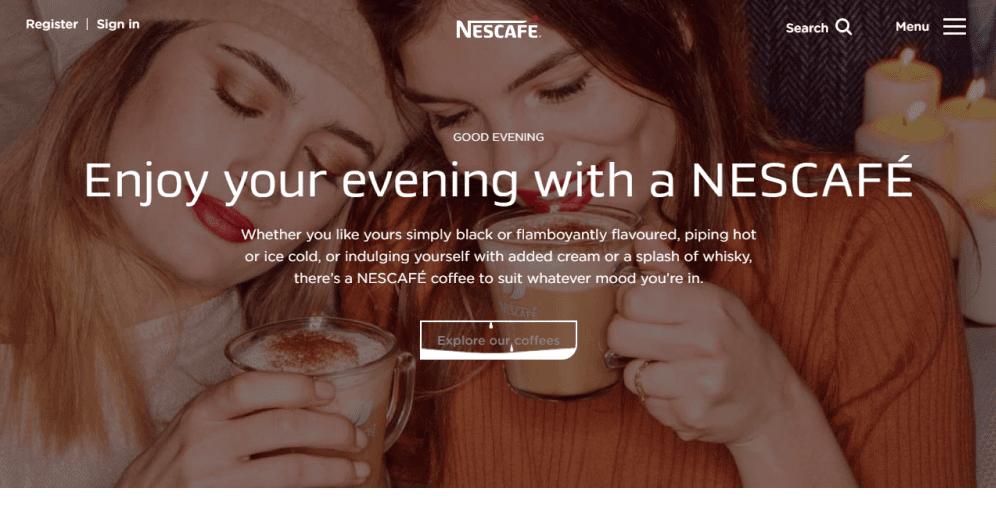 Magic Leap
When you launch the Magic Leap website, you plunge straight into a world of the future. The background video tells everything about the brand, so you don't have to extract details but watch and grasp. Along with the powerful visual, there is a strong headline with a prominent CTA under it.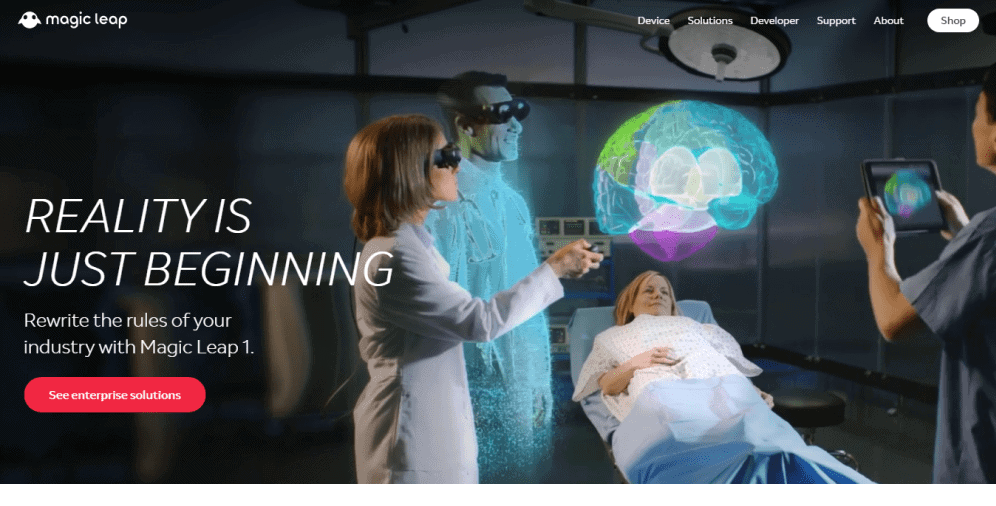 Woven Magazine
Woven Magazine homepage is elegant. The image portraying two young women laughing fascinates, evoking positive emotions. The navigation bar is polished and straightforward. This homepage proves once again that simplicity is the key.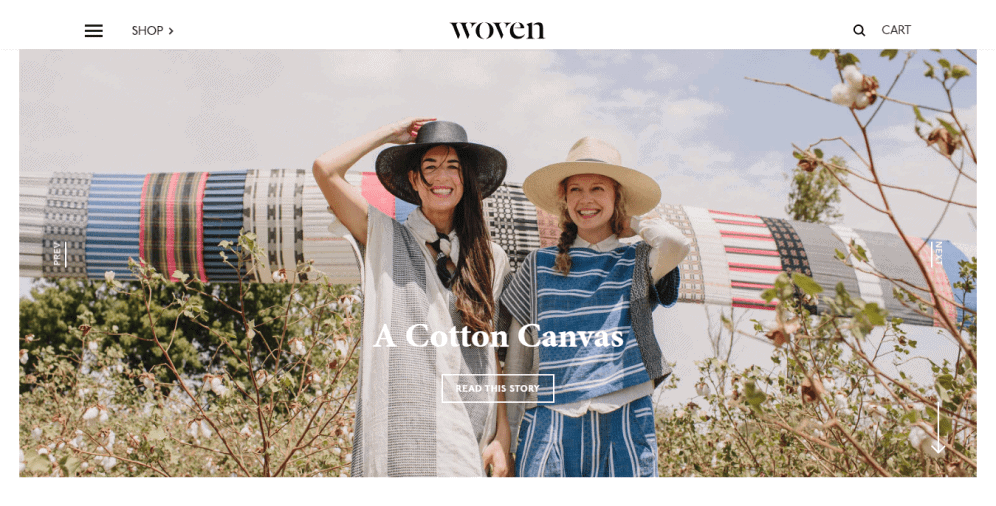 On a final note
Ultimately, the homepage is an entry point into your business. It is a customer generation machine that you need to build impeccably. So, if you want to make that good first impression and draw more visitors to stick to your website, you have to think about some critical points. From the powerful headline to the success indicators list – all details matter. If thought-out well, the homepage design can appeal to the public, making them convert. And you don't want to miss the chance to enhance your performance.
If you're still uncertain about how to make a website homepage to attract customers, feel free to contact us. We will assist you in achieving fantastic results. And provide you with more insights into the subject if needed.