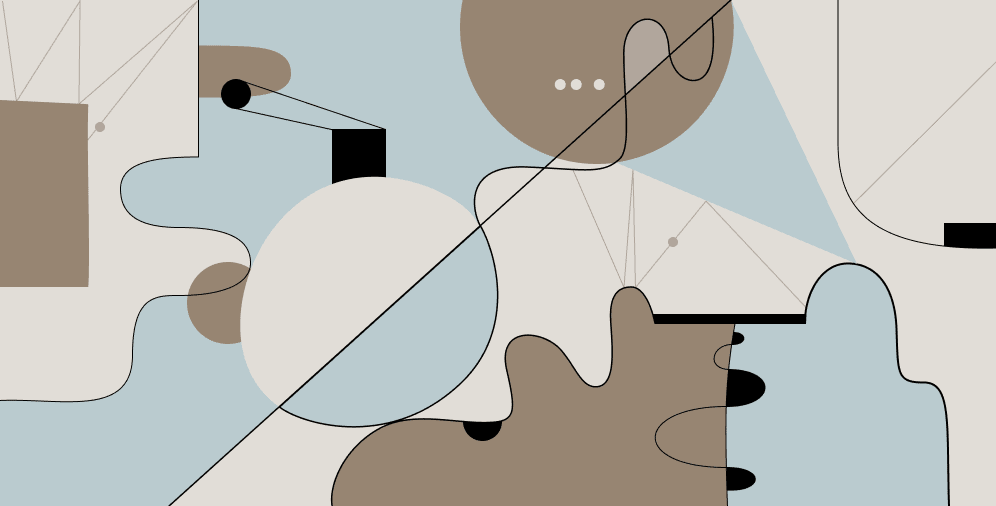 In such an image-dependent area as real estate, having a meticulously designed website is what generates interest and builds trust among potential customers. And that can make a huge difference in your business.
But how is real estate website design different from any other design? What should it communicate first and foremost? What are the points that viewers take notice of when they access a real estate website? What is the design approach that ensures better user engagement?
Of course, a myriad of photos and extensive info in the listings are a must but, besides that, a real estate website has to exude expertise, sophistication, and competence – people are putting a lot of faith in you, and they want to be sure that it won't be a miss. How to achieve that? Read our new article on custom real estate website design and learn how to grow your digital presence and build your business efficiently.
Types of real estate website
Before creating a real estate website, think about the kind of work you do and how it can be reflected in your website. Different types of websites require particular design and UI/UX approaches and tools, so it is crucial to decide on the nature of the platform before jumping into work.
Keep in mind that your specific website can have a combination of features of the websites outlined below. However, there are four types of real estate websites that are generally widespread on the market, let's take a look at them.
#01 Real estate directory website
A classic real estate website, a directory platform lists a bunch of properties to sell, buy, or rent. It allows users to put their property offerings up for potential buyers, under different categories and filters, for example, Zillow or HotPads. Their main distinguishing feature – a navigation and filtering system that makes it possible to go through a variety of options.
#02 Single property website
Unlike a directory that features a number of listings, a single property website only has one offering. This type of website is quite simple and quick to make as it doesn't have as much content and usually doesn't need any complex tools or continuous and high-level maintenance. 
#03 Realtors website
The difference between a realtor's website and a real estate directory is that the former provides detailed information about the provider of services, thus building a more personal and trusting relationship. It does not necessarily feature listings or any kind of offerings, focusing more on developing a positive image of the realtor using various design elements.
#04 Rental property website
Almost the same as a real estate directory website, a rental property website shows the listings for rental houses or apartments. A lot of real estate websites include both property and rental listing but some work exclusively with the latter – for example, Rentals.com, or Zumper.
Take a closer look at the nature of your real estate activities and determine the kind of website you would like to have. It will help to avoid unnecessary clutter and going from one project strategy to another which can impede the website development process.
When you've defined the type of website you aim to create, jump right into the creation process!
How to design a real estate website
3.1 Acquire the domain name
One of the first steps towards creating a website is getting a domain name. It is your website's address that distinguishes you from billions of other websites and becomes the primary branding element of your business.
To get a domain name, you should access a domain registrar – like Hostinger or GoDaddy, – and check if the desired domain name is available. If so, you can sign up for registration and pick the option with the price that suits you.
A catchy and snappy website name will increase your recognizability, so here a few tips on how to choose a domain name:
make it easy to remember and reproduce – streeteasy.com is easier than rentalsinnewyorkcallusrightnow2021.com, right?
make the domain name reflect the type and details of your business – if not stating directly that it's a real estate website, try adding the name of the area or something that will click with the users
use a .com in your domain – it'd be better for branding purposes, recognizability, and a trustworthiness
3.2 Include testimonials and biographies
When people turn to real estate agents or companies, they're not just asking for a service – they ask to bring their dream to life. They expect the highest level of commitment, assurance, and responsibility from you. To provide them with guarantee and support, add testimonials and short biographies of the agents and staff members.
Adding the reviews from your previous clients will give social proof of your competence and expertise, as well as show how you usually do your business. Staff biographies will persuade the viewers that your professionals know what they're doing and that they can fulfill their dreams. Also, it is an effective way to personalize the experience – it's much easier to trust and talk directly with someone you know at least something about.
3.3 Present your certifications
Any type of certifications and credentials can also be useful for convincing the clients that you're a trustworthy professional. Much like testimonials and biographies, it ensures people that they can engage with you and don't worry about the result as your professionalism is unquestionable. Don't be shy and display everything that you've achieved so far – be it a certain designation or course completion (for the staff members), or even a simple mention of memberships in any realtors associations. You can put it in text, but we advise you to transform it into visuals – icons, buttons, or clickable illustrations.
3.4 Integrate MLS and IDX
If you plan to put up listings on your real estate website (which we're sure you do), IDX and MLS integration is a huge benefit. MLS – multiple listing service – is a database with listings that can be integrated via Internet Data Exchange (IDX). Real estate agents gain membership at MLS and are registered to use it for their website to facilitate the process of buying or selling the property for their users. MLSs can be integrated via custom coding or through IDX. IDX displays the listings from MLS on the website and helps both agents and users to work more efficiently.
3.5 Add the content
Normally, real estate website design doesn't include a lot of text content, yet it's wise to publish new content in a blog or at least post some updates on how your company's doing. New and SEO-optimized content will bring new visitors to your website and increase your lead conversion rate. Besides that, regular posting of the content or properly structured and detailed service pages establish you as a professional and as someone who can help, thus turning potential customers into real ones.
A popular method of adding the content is through a storytelling technique – using the website as a means of reinforcing the objectives and goals you've set out when starting the business, rather than building a soulless lead-generating machine. Users are much more interested in developing a more personal and friendly relationship, and that method certainly achieves that.
If you feel like you're stuck and can't think of any topics to cover, look through your competitors' websites to get inspired (it's not a crime!). You can start off by posting the news and trends of the industry. When you're feeling more adventurous – list tips and tricks on how to catch that diamond of a house (wink wink) based on your extensive experience.
3.6 Work on a user experience strategy
How to make your website appealing to people? How do you urge them to scroll through your pages? Captivating UI/UX design that's attentive to the audience's need is what stimulates the lead flow. 
The beauty of the layouts is not the only thing that users look for when they access the website. In fact, they don't even know they need a properly designed user interface and masterfully crafted user experience but without them, their time on the website wouldn't be enjoyable or even productive. 
One of the touchstones in this matter is a navigation system. Place the pages on the navigation menu in the order of importance and make it easily seen by locating it in a familiar place. Keep it simple – add only the most crucial buttons (such as the service pages, the contact info page, and a homepage) and be economical with the text.
Another thing to keep in check is to always put the visitors and their comfort first. Sure, you might think that putting your face and bio on the homepage would make it easier for them to get acquainted with you but remember: your website serves them, so everything you design and put there is to make their user experience as informative, convenient, engaging, and fun as possible.
3.7 Web design
Real estate web design needs sleek and authoritative visuals that can indicate your professionalism and dedication. We've said it many times, and we will say it again – starting from a homepage, your platform establishes the first impression of your company and can be a real "break it or make it" instrument. 
In an area where so many websites are similar, building a website using a simple template that doesn't have room for anything distinct or defining wouldn't be wise. Creative real estate website design inspires users to explore, and custom design helps to catch the user's eye.
Anything from custom forms and icons, responsive layouts, readable fonts, and colorful videos must have your own voice written all over them. Create a user-friendly design system that urges users to make intuitive decisions and flow through the website, and stunning mockups that persuade people to engage. Dynamic user flow is what provides users with transparency and makes you seem like someone who doesn't try to throw the dust into their eyes.
Another vital thing to remember is to adhere to your specific visual hierarchy and follow your own branding choices. Use your brand guidelines, apply your company's corporate elements, and make sure that the tone of the platform echoes the tone of your business.
3.8 Include high-quality imagery
An obvious recommendation for such an image-focused website as a real estate website but it's worth noting. The first thing that users see and primarily look for when they access such websites is the imagery. Colorful and professionally made photos grab the attention of the users and provide them with a fuller and more real-life experience than a basic text description.
Also, if the images are of great quality, it gives a signal to the viewers that you've taken your time and resources to invest in photos and videos, learned about the property through and through, and now can give sound advice. On top of that, imagery can dilute the text and clutter and bring more structure to the whole layout. Don't forget to optimize your images – otherwise, the website's loading speed will be compromised.
3.9 Use the heatmaps
A website heatmap is an analyzing tool that determines which areas of a website get more user attention than others. It accumulates the data relating to user behavior and helps figure out how they use and interact with certain page elements and blocks. For example, what gets more views, what gets ignored, how do they scroll through the page, and how often they click on buttons and CTAs (if they do at all).
There are several tools and services, such as Crazy Egg, that visualize what areas are interacted with more often than others by highlighting the most popular sections with red. Based on that data, you can make informed and conscious design and UX decisions and introduce updates and improvements in a more perceptive and sensible way. 
3.10 Do the coding
Now it is time to turn the mockups and outlined concepts into code. This stage might take longer if you have any custom features that need to be developed. Discuss the scope of work for this stage with the web development team beforehand and decide on the functions you'd like to have.
Usually, a standard real estate website includes the following:
listings – the backbone of any real estate website, property listings and databases need to be integrated via IDX/MLS, and be efficient and highly functional;

visualization tools – from classic photos to already mentioned heat maps and VR/AR for a more immersive experience;

navigation and filtering system – allows users to go through the offerings, breaking them down into categories;

valuation tools – AI-based valuation software helps users to calculate how much they're going to pay based on certain factors.
At this phase, the two most important things to ensure are security and functionality. Smaller faults can be fixed in the later stages but any gaps that allow data leaks or grave performance issues can lead to a dramatic change in the project scope.
3.11 Choose CMS
At the previous stage, you've decided on the features and tools you would like to integrate. In order to accommodate them into the website, we are going to use the Content Management System (CMS) that suits your needs the most. In our experience, developing custom websites with WordPress is the best option for several reasons.
Firstly, WordPress offers an all-encompassing and all-inclusive experience. Unless your website needs some really complex integrations or plugins, WordPress will be more than enough for your real estate platform.
Secondly, it is highly flexible and extremely easy to use. Adding any changes is super simple even for non-tech staff. In any content-oriented sphere, including real estate, alterations and updates need to be made quickly, and WordPress can fully provide that.
Thirdly, WordPress has a huge variety of plugins and themes to choose from. Based on the budget you have, you can pick a tool to fulfill your technical requirements. The absolute majority of those themes are highly useful and can easily cover basic needs.
Finally, this CMS allows you to create mobile-friendly and mobile-first websites: with more than 4 billion people using their mobile devices daily, this feature can be more than useful.
3.12 Ensure SEO-optimization
Even if you worked spectacularly on the previous stages, the website won't attract a lot of visitors if it's not high on the search engine rankings. How to achieve that?
#01 Look for the patterns
If you analyze all your content, you might start noticing the internal arrangements and patterns. For example, if you see that some of your pages or website elements are skipped over by a large portion of the users, you might have an issue to solve. That may be a UX-related problem – then employ the UX audit, apply the changes, and keep observing.
#02 Make up the list of keywords
Users find your website based on keywords that they type in a search engine. The more keywords of their interest your website has, the better your chances of getting found. How do you do that? Start with the obvious – if you're a real estate company, it's highly likely that at some point the word "real estate" will appear on your website. Move further along, acquiring more and more keywords, or use special keyword-search tools that will do the heavy lifting for you.
#03 On-page/off-page SEO
Your SEO team must ensure that optimization is conducted both on-page and off-page. On-page SEO includes everything internal: optimization of headings, title, meta descriptions, alt texts, URLs, etc., as well as internal linking. Off-page SEO refers to the activities that can improve the website's rankings that can only be made outside of the website: guest posting, social media pages, or any kind of backlinking. That will "ensure" search engines that your platform is reliable and doesn't feature any clutter.
#04 Work on the page speed
The number of conversions is directly linked to the page speed. Users won't stick to a website that is too slow, and search engines take speed as one of the factors that influence ranking. How to speed them up? Compress files and images, avoid features and tools that might impede the website's performance, or even choose a different hosting option if you need it.
3.13 Be mobile-friendly
Mobile-friendliness is something everyone talks about but what does it take to have a mobile-friendly website? It's not simply reduced to having responsive design (the one that retains its functional properties regardless of the device) but also involves an almost entire redesign of the layout to fit the mobile screen and accommodate the content to the peculiarities of the mobile usage.
In order to be mobile-friendly, consider these recommendations:
easy navigation: on a real estate website, large buttons and CTAs, clickability, and high visibility are a must

simplified scrolling: it's hard enough to go through the listings and endless page-turning and tab-opening on a website, mobile phone layouts beg for scrolling so that nothing gets lost or accidentally closed

content accessibility: it's obvious that you're highly unlikely to fit all the data from the desktop app into a tiny mobile phone screen – leave only the essentials and break it down into blocks so it's easier to read

speed optimization: mobile phone users are even less patient with the slow websites than desktop users so make sure that your website's speed is in check
3.14 Do the testing
The website is almost done but the work is not quite over yet. It's time for the testing phase – carefully check that everything works fine and that your conversion can grow. A/B testing (or a split testing) is the classic approach that allows you to see which of the options is more likely to work for the users and bring you more leads.
In the A/B testing you basically compare two versions of the same design option, be it an overall layout, page elements, CTAs, or even text. There are different tools and software programs that can conduct the A/B testing and count the difference in conversions, providing you with the best option but you can also do it yourself. 
You can run one version of the page or an element for the users, estimate the conversion rate, then do the same with the second version and record the difference. To get a more accurate result, repeat the process several times, and voilà – your conversions are optimized!
3.15 Employ live chat bots
Let's be real: not many people have time or patience for phone calls in 2021. They can be time-consuming and stressful. Also, they never guarantee an immediate informative response. With live chats, this issue is easily solved: people type in their questions in real-time, go on with their lives while you answer (multiple people), and get a detailed response, and maybe even give you a call afterward. Everyone's happy, right?
How do you pick a live chat option? First of all, consider your technical requirements and possibilities. Can your team provide a full support service? Is it secure for the users? Then, see if you can integrate your social media accounts or other communication channels that visitors might use to contact you. Also, don't forget about the budget – most live chat options offer a free trial period so you can test if it's worth the cost.
How to set up a live chat on your website? There are tons of different software services and tools that do it for you. Among the most popular ones are Zendesk, LiveAgent, or Intercom. Some services offer specific real estate live chat options, such as Deskmoz.
Does professional real estate website design still seem scary and confusing? Let's look at the examples of the best real estate website design to get inspired. 
Top 10 real estate websites
1. Joyce Rey
A classic example of real estate agent website design, Joyce Rey's platform incorporates every little detail we've mentioned: from a separate testimonials page to the usage of VR technology. The website is rich in beautiful imagery – right from the start, you're delving deep into the world of LA's luxurious real estate properties, getting acquainted with the team, reading the news blog, and going through the listings.
The website is fully functional in the mobile version as well, easy to navigate and it even has an international marketing page, expanding its business reach outside of the US.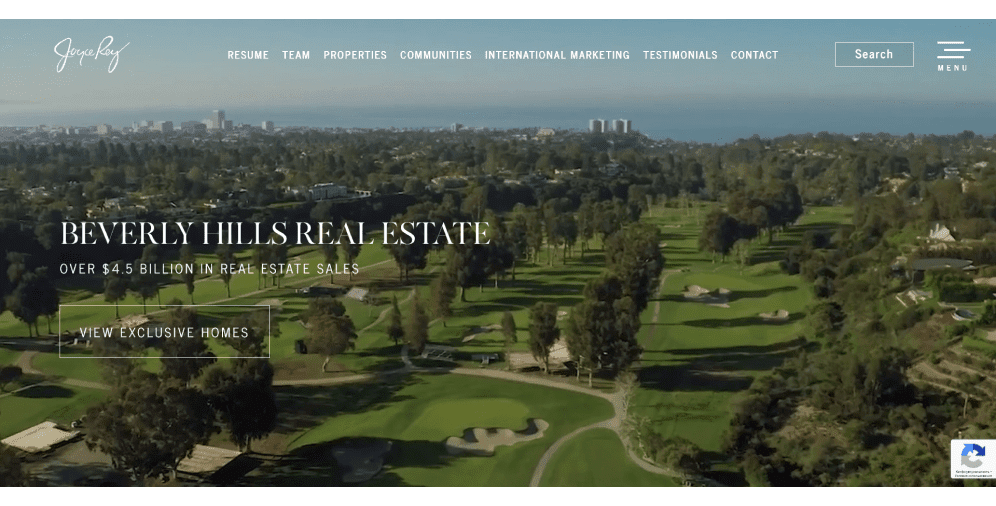 2. Dolly Lenz
Dolly Lenz's website is an NYC-based real estate company that sells luxurious properties in the New York City area. Much like Joyce Rey's website, this one also has lots of videos, room tours, high-quality photos, and extensive info about the company and its founder. 
The overall design is very sleek and professional – there's nothing that seems out of place or inappropriate. The website features numerous resources of Dolly Lenz sharing her expertise on the real estate industry in the "Speaking" section which solidifies her experience and magnitude in the business world.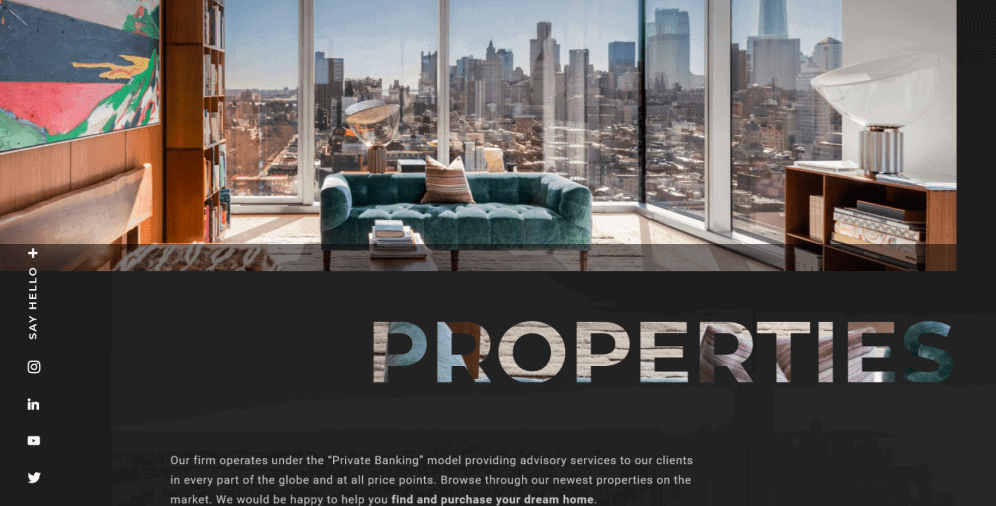 3. Zillow
Real estate agent websites aren't the only type of website present on the market. Real estate directories that post listings are also quite widely used. One of the most well-known examples is Zillow. 
It is an online real estate marketplace company that allows users to buy, sell, or rent a property. Its design is transparent and minimalist but its main advantage is its huge number of listings and a strict filter system. You never get lost on the website, can always find what you're looking for, and estimate the price of the housing via a calculating system called "Zestimate."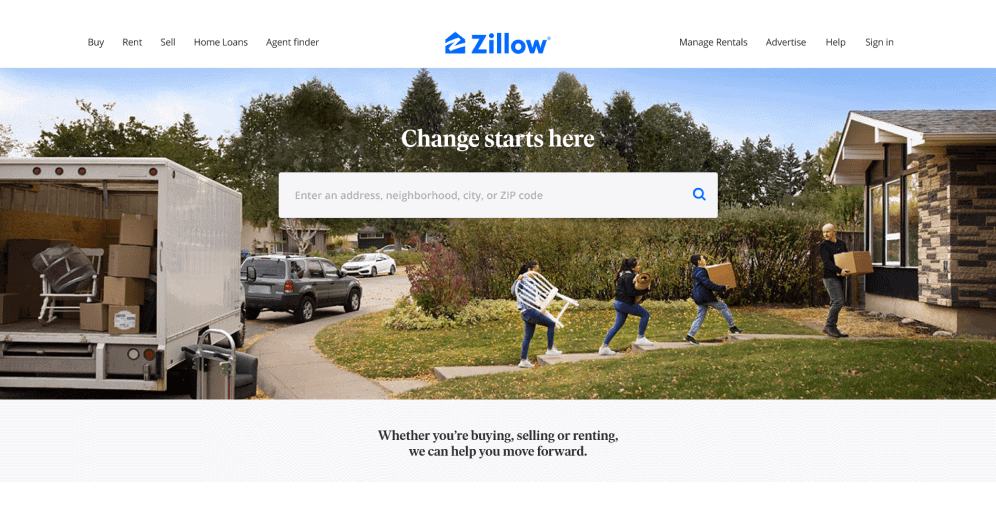 4. Trulia
Trulia is another real estate directory that resembles Zillow but applies a more personalized approach. You can not only schedule a visit or a video chat with the agent or the owner but also get a view of the street via Google Maps or explore the neighborhood map to get a better idea about the place before buying or renting.
Trulia also provides guides – for sellers, renters, and buyers, – where they share the info on how to choose a house, how to communicate with realtors, or where to start if you're planning to sell a property.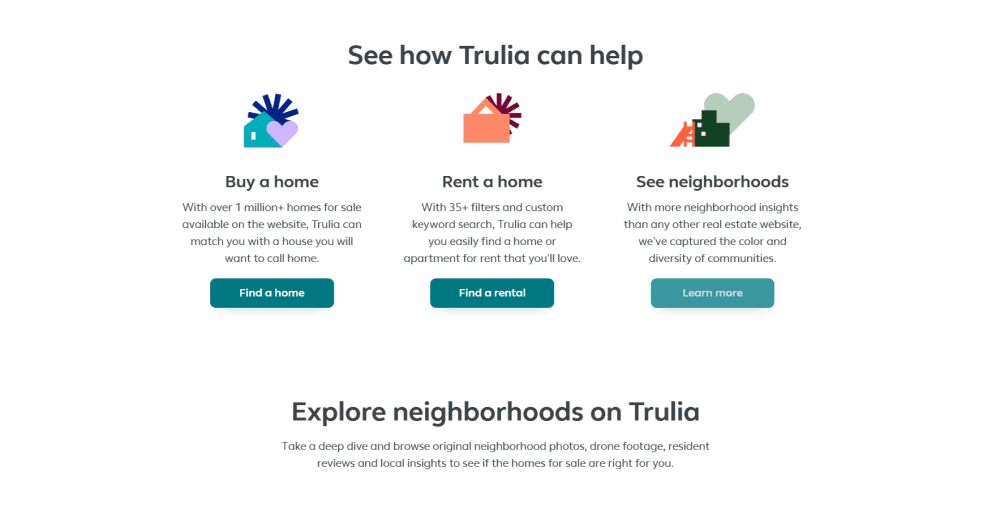 5. Realtor
Another powerhouse of the real estate industry, Realtor has one of the biggest property databases in the business. It is licensed by the National Association of Realtors which cements its flawless reputation among realtors.
Realtor has two mobile apps: one generally resembles the desktop version, and the other is designed specifically for rentals. Another great feature is the calculating system: estimate the mortgage, consider the refinancing options, as well as assess which property you can afford, or even compare whether you should rent or buy a house.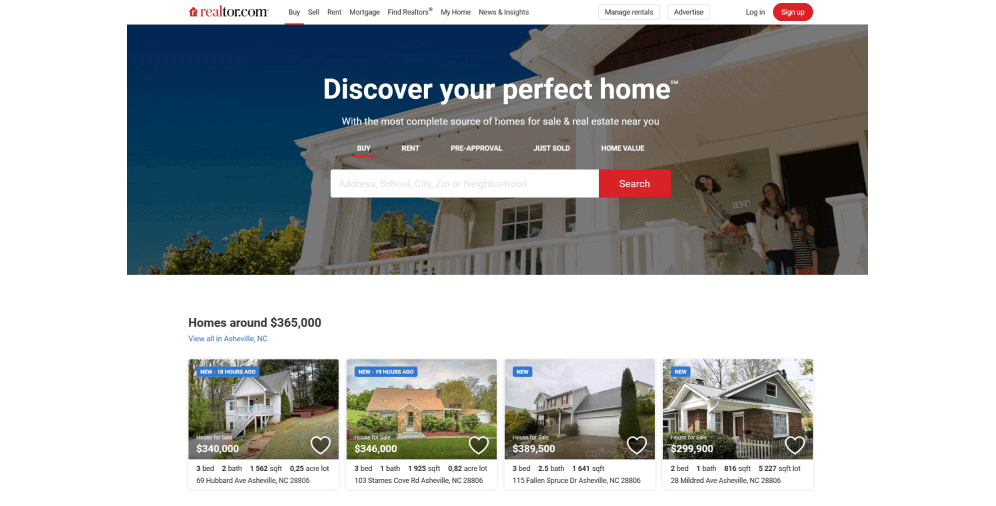 6. HomeLight
Unlike other websites on the list, HomeLight is first and foremost concerned with finding you an agent who will take care of whatever you're planning to do with the property based on your answers to a questionnaire. The internal mechanism sets you up with a broker that worked with the property that's most similar to yours. If you're buying a property, the website will find an agent who knows the neighborhood you're considering the best.
Also, like other real estate agent websites, HomeLight estimates your house value to get the most accurate price for your property.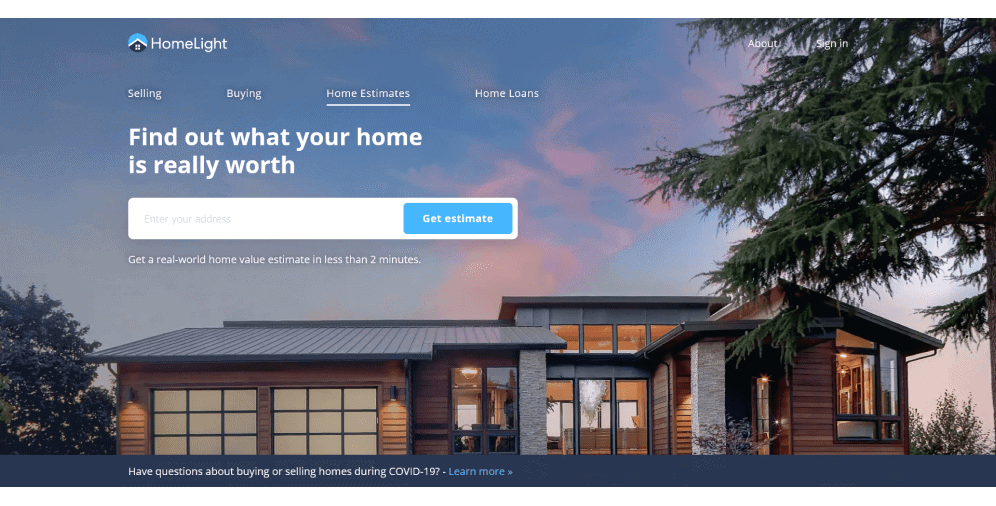 7. Rentberry
As you might notice by its name, Rentberry is more focused on renting than other websites on the list (including international options). However, it features a wide range of listings based in New York City as well.
Its design is colorful and fun without being forward or bold. Custom illustrations and icons exude more cheerful and laid-back energy which is what people need in their stressful endeavor to find a new house.
A great Rentberry's feature is a submit mechanism for renting: you put your offer up as a tenant, and the website arranges the best-suited proposal from the owner.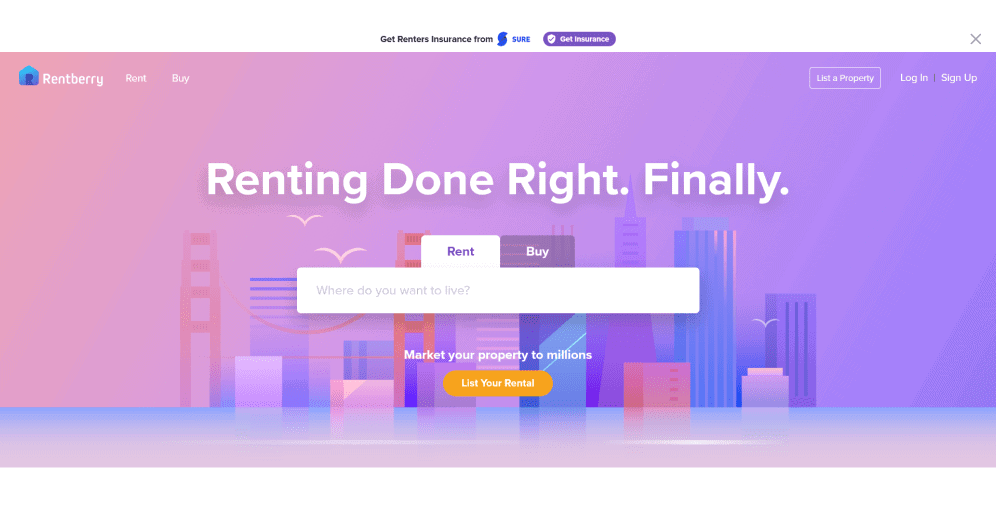 8. Core Real Estate
Core Real Estate website design manages to be both inventive and refined: when you enter a website, the first thing that captures your attention is a stunning video showcasing the beauty of New York and its classy and high-class residencies.
Every design element serves specific purposes, and there's hardly anything except photos, CTAs, and whitespace on the homepage, and this unique approach is truly captivating. You can find all the content and listings when you click on the menu button. There is a page dedicated specifically to the agents, which is great for building a more personal relationship. Also, Core Real Estate provides really detailed and fun descriptions of the NYC neighborhoods.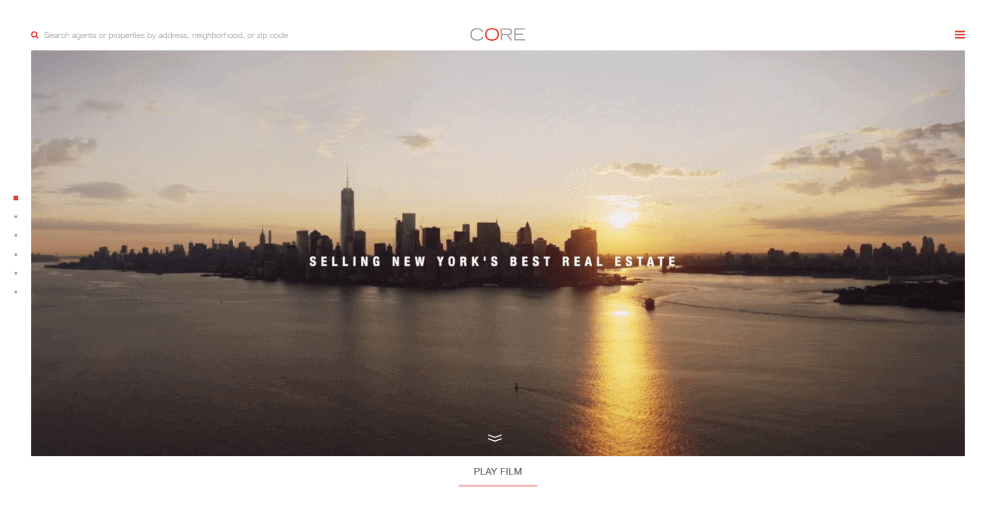 9. Parkbench
A little more than a regular real estate website, Parkbench is more about deepening the relationships within the communities. The website helps real estate agents, local business owners, and residents to interact with each other and build meaningful connections.
Parkbench website design is super vibrant without going overboard – our designers made sure that the color scheme is reduced to several colors and that there is enough whitespace to balance everything out. 
All the CTAs, web forms, and pop-ups on the website are really subtle and coordinated with the overall color design. Parkbench also has a responsive mobile version that relies on scrolling and strictly arranged blocks of content.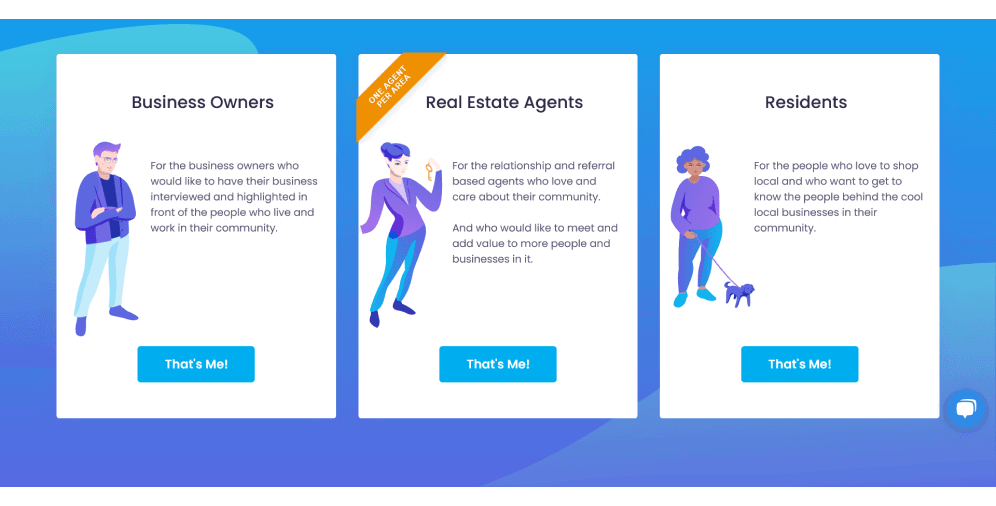 10. Landwatch
All of the examples listed above deal with houses to buy or rent, but what about real estate websites that help acquire land? Whether you want to buy a piece of land to build the house yourself, develop a farm, a ranch, or hunting sites, or for any other investment purposes, LandWatch is the best website to do that.
Not only does it have a wide range of options to choose from by state, but its filtering system is also impeccable and ensures that everyone can find a piece of land they want. The website design is clean and elegant – there are hardly any pops of bright colors except for CTAs and buttons.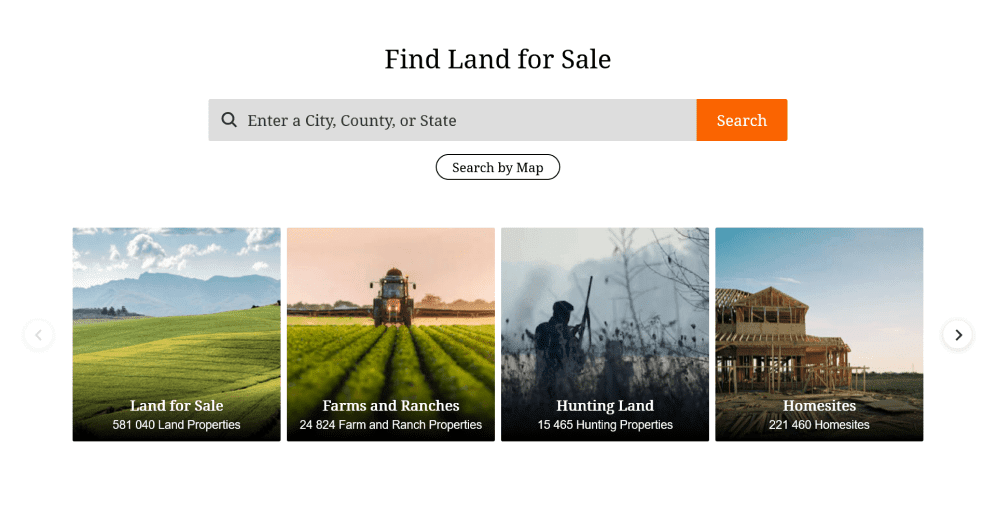 On a final note
You might think that real estate web design needs to fit a certain form: be precise and rigid, include listings, photos of smiling agents and brokers, and that's it. There's room for variation and alternatives, and you shouldn't avoid being creative and innovative.
The main thing for a real estate website is not listings, great photos, or highly functional calculating mechanisms – it's the inviting tone of the platform, its engaging and appealing attitude, and your ability to appear credible and reliable. Without these factors, visitors won't ever put their utmost trust in you, and even the most spectacular imagery or filter system won't help you with that.
As one of the real estate website design companies, our Ester Digital team can provide you with all the tips and tricks on how to get the website you and your clients need. Just contact us and get ready for an avalanche of insights and design secrets.