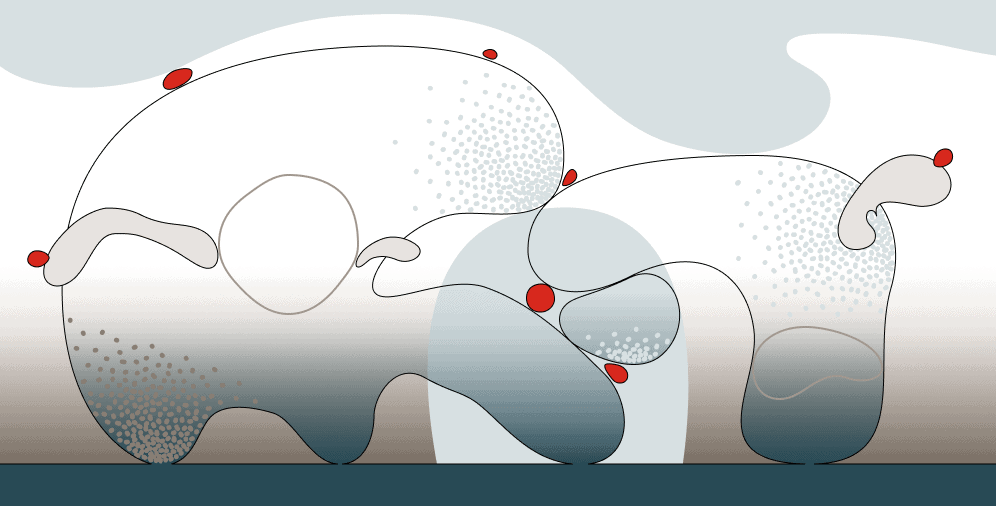 If we start counting how many products and services are introduced and advertised by companies every day, we would lose our mind. The short answer to this question is "a lot." Since most of the info is consumed digitally, promoting your work online is an indisputably reliable strategy. But what is the best way to advertise a product or a service online?
A landing page is a great tool for getting your viewers acquainted with your offer and urging them to take action, increasing your conversions, and expanding your client pool. But how does it work? What are its main elements? How to make a landing page? What is the difference between a landing page and a homepage? If this avalanche of questions doesn't make you want to close the tabs and leave, keep reading the guide our UX UI design agency prepared for you to learn more about this page.
What is a landing page
A landing page is a separate page created for a specific marketing campaign. The main goal of a landing page is to make visitors use call-to-action buttons (CTAs), thus getting the contact info from the visitors, generating the leads, and gaining paying customers. Landing pages can contain CTAs that invite you to make a purchase, contact the team, submit a form, register for a course, etc.
There are several types of landing pages that are mainly used by marketers: landing pages that generate leads and click-through landing pages. Lead generation landing pages collect "lead" data from the customers – contact information and other user-specific data. Usually, it is done via CTA forms, helping to understand the target audience better and collect the focal points that determine their interests and peculiarities to tailor your future marketing campaigns according to them.
Click-through landing pages direct users to pages where they complete the action you intend them to take. Mainly it is done through a CTA button such as, for example, "register here" or "sign up for a demo version."
How does a landing page work? What are its main elements? Firstly, it is the so-called above-the-fold section – the content the users first see when they access your website. Then, they might notice the headline and a hero shot – a phrase and an image the main goal of which is to immediately grab the user's attention. When the visitors get your message and what you're advertising, they're ready to follow through and click on CTA, which constitutes the final element of a classic landing page.
Other elements include such things as a listing of the main benefits of the said product or service, any kind of social proof that you're not a scheming con artist (usually by posting user reviews or testimonials), and a final argument that leads your viewers to do what you expect them to do.
Why is having a landing page important? Let's go through the main benefits.
#1 Increasing conversions
The obvious benefit of having a landing page is that it is related to a specific marketing offer that is much more likely to gain interest than a generalized and forgettable website or platform. They show what they offer right away, directing the users to take action the business owners need. A properly done landing page improves the user experience, helps to analyze the user behavior, and collect the essential data on the target audience. All of that inevitably leads to a significant increase in conversions in the future.
#2 Honing the skills
A landing page is a wonderful chance to try out various design themes, tools, and visual elements that you didn't feel were right for your other website pages. Landing pages are usually made in the overall brand design, but creative experiments and variations can prove to be useful for increasing conversion rate and learning which of them work and which don't.
#3 Improving brand credibility
Landing pages are a great way to introduce your brand to new users and immediately convert them into paying customers. A landing page is basically a summary of what you do and what you can offer, so telling clients right away how you can benefit them is a chance to enhance your brand recognition and expand your client base.
After having learned about landing pages and their benefits, you might wonder: how is that different from a homepage? Both present business offers, objectives and aim, but do it differently. Let's look at the differences between homepages, landing pages, and common web pages.
Landing page vs web page vs homepage
Before we start unwrapping the differences between the three, we need to get our definitions straight. A web page is a standard page on a website that contains all the necessary information about your company or products/services. Web pages tend to cover a variety of topics related to the business activities of the company. They also include several "regular" pages that need to be there, such as the contact info page or the about page.
The primary purpose of any website page is to provide information about your activities, increase traffic, or present a certain function – for example, scheduling an appointment or selling something. Basically, web pages are the foundation of your website and serve as a reference point for every other representative element of your digital presence.
A homepage is also a form of a web page. Its most crucial function is to encourage visitors to keep looking through other pages of the website. Since it is the page that visitors see when they access the website, a homepage forms the first impression of the whole digital platform. It serves as a central navigational point – every other web page is tied to the homepage.
You might wonder: what are the main differences between a landing page, a homepage, and a regular web page? The nature of a web page is clear – most pages on a website can be regarded as web pages. They serve a more common purpose, have a wider functionality, and are less frequently updated.
What about a homepage? How is it different from a landing page? First, a homepage is filled with links – in the menu, in the footer, sometimes even in the homepage text itself. Landing pages are not created with the objective of navigation and linking – the main and oftentimes the only link on the landing page is a CTA.
Besides that, homepages usually provide more general information, without getting into the specifics of an offered product or a service. Landing pages are usually much more tailored and focused since are usually dedicated to a specific marketing campaign.
Also, there is a difference between the two in terms of audience: usually, people go to landing pages when they already know at least something about your company, meaning there is a higher chance of conversion, whereas the homepage is simply the first page they encounter when they search your name or just accidentally stumble upon it while surfing on the web.
As you can see, landing pages are in a league of their own when it comes to purpose, so their design takes a lot of work and a specific toolset to match its peculiar requirements. Let's look at the landing page design tips that can help you jumpstart your marketing campaign and build up your conversions to the fullest.
How to design a landing page
There are several things to consider before starting your landing page creation crusade. You need to accumulate as much background information as possible on a few different subjects.
Firstly, since your landing page needs to fit a specific customer base, careful and thorough buyers' research is called for. You can use your current customer data or collect the bulk of data on a new client pool – the choice is yours. However, remember that being extra focused on your audience here is the only recipe for success – if your landing page tries to appeal to as many buyers as possible, the chance of it getting noticed gets exponentially smaller.
Secondly, you need to formulate what you're offering: you can't state that you're only providing a high-quality product or service – it needs to be distinguishable, particular, and unique. How is your product different from others? How is it going to solve your customer's problem? The offer should coincide with the user persona you've established before – otherwise, they won't correlate and your marketing campaign will fail.
Another important thing to consider is not only user behavior, but also the user's journey. It's crucial to note how your potential customers flow through your landing page, what goes through their minds, and how what they see on the page affects their willingness to engage. Think about data blocks that can echo the different stages of a user's digital movement.
Now let's get to the gist of it: how to design a great landing page? What makes a good landing page design? Are there any landing page design tools that can help to create landing pages that convert? Once you've done all the research and preparation mentioned above, you can finally kick off the actual designing process.
#1 Make up an appealing narrative
The first and most crucial step during the landing page creation process is to provide the key info on the product and list its benefits. Every element of your landing page – from the headline to CTA and footer – should be informative, concise, and straight to the point.
Don't forget about your unique value proposition (UVP) – it is the core of the landing page and the answer to the customer's question: "how is it going to improve my life?". If you want to convince the viewers that your offer is what they really need, you have to feature this notion over and over again without being intrusive. The easiest way to do that is to provide a list of benefits in the form of bullet points. It's important to note that this list shouldn't simply promote how great you are, but how great the user's life is going to get with your product.
After the list of benefits, CTA is the second most vital part of the landing page. CTAs should be actionable and easy to find, with encouraging words that will make viewers tempted to use your product or service. Bear in mind that the CTA should logically correspond with the other text content because the users might be confused as to where the link is going.
The footer is a convenient place to put your contact information because if the users scrolled through the whole page it means they're ready to get in touch with you or ask further questions.
#2 Incorporate stunning imagery
When the text content is ready, it's time to complement it with appropriate design elements. Usually, landing pages are not too experimental (although they can be): the main objective is to make users click, so the most focus is placed on CTA.
The obvious way to make it stand out is to use a contrasting color or a curious way of clicking. You can also use visual cues to point to your CTA – arrows, symbols, or pictures of people looking at the button. Ideally, your design should smoothly direct users to scroll and convert with the help of different visual accents and carefully divided blocks.
It's more practical to place CTA above the fold, at the top of the page, so that users won't have to scroll through the page (or in several places at once). However, studies show that landing pages with only one CTA (meaning a link, for example, to the contact or a service page) have a higher conversion rate than those with several.
Some landing pages are completely aligned with the company's branding style – they have the same color palette, fonts, shapes, and animated elements. However, it's up to you if you would like to explore your creative side a bit and add new design components. Remember that even though landing pages are not exactly parts of your branding journey, they should be consistent with the existing corporate presence.
#3 Provide detailed information
Expanding the first point, try to focus on the product description. A landing page is a wonderful opportunity to showcase your product and give the most detailed information on it. Think about the users' behavior you defined before and provide the answers to the questions they might have.
A convenient way to do it is through a short video or animation. A video will give a better idea about the product or service: its appearance, possible usage, and functionality. Also, a video is extremely useful at grabbing customers' attention. People are much more likely to watch a YouTube video than read a few paragraphs of text diluted with images that don't give the wholesome idea of the product.
The video content is optional though: you can use only static visuals and still get conversions – incorporate a 360-degree view format or a product demo, making it easier for the visitors to envision themselves utilizing the said item or service.
#4 Include a social proof
Landing pages won't work if there's no trust in your expertise and the quality of the offer. Establishing faith and trust is possible through reviews and testimonials. The reviews might be displayed via integration with some testimonials platform, having a comment section, or simply through posting screenshots with reviews.
Comments or testimonials are both proofs that your product or service is life-changing and a catalyst for prompting clients to engage. A website is not the only place where you can show off your trust level. Social media accounts can also play a role in attracting new customers and ensuring that your offer is worth trying out. However, try to stick to these rules when using testimonials:
include reviews from real people: we're not questioning your professionalism, but viewers might when they see a clearly fictitious comment from someone who conveniently looks like a guy from Getty Images;

add exact numbers and experience: general phrases and unspecified data won't prove your expertise – viewers need particular information that will urge them to convert;

don't forget about visualization: if your product is used in a way that can be shown in progress, pictures are a great way to assure the viewers that they're getting exactly what they see.
#5 Carry out the A/B testing
Once you've created a landing page you're proud of it is time to conduct the A/B testing. It entails seeing how the users interact with various elements of the page and how quickly they leave it or stay to convert. If you've created several versions of your landing page – test all of them.
The thing you need to bear in mind when testing is to check the whole process from the user's perspective. Study the metrics, scroll maps, and session recordings to see where they stumble and get lost, and look for the areas that need optimization. You might need to repeat the testing several times to make sure that all confusing points have been removed or modified.
#6 Promote your page
When the landing page creation and testing process is over, you might think you can relax, sit back and enjoy watching your conversions grow, but there's one more step to take to do that. If you're not sharing your page with the possible clients, it won't bring the results you're expecting.
The choice of platform to promote your landing page depends on your end goal: if you plan to expand your email marketing list, try to use social media platforms that your target audience uses. If you simply want to advertise a new line of products or services, you can post a link to a landing page right on your website or in online correspondence.
Extra hints
With all the steps in check, do you still find your landing page not gaining as many visitors and conversions as you'd like? There are a few additional insights we would like to share if you need to get your landing page game up:
clear out the clutter: this might seem obvious, but a large portion of landing pages are filled with unnecessary or messy info that overwhelms the users right away. Remember that the main objective of landing pages is to convince users that your offer worth trying out without turning into a rambling petty shopkeeper;

remember about the mobile format: with

so many

mobile users around the world, making a responsive or even a

mobile-first

landing page is a reasonable marketing move;

use landing page builders: if you're confused about how to get around landing pages, try out some landing page builders like

Carrd

,

Leadpages

, or

Wix

. They will help you to turn your business objective and marketing goal into an effective landing page design.
If you're still confused about creating a landing page – please, contact us, and we will manage all the heavy lifting for you. If you're simply looking for landing page inspiration, look no further.
Great landing page examples to look up to
Airbnb
Airbnb is an online service that helps to find houses and rooms to rent all around the world. The service utilizes a great deal of personalization: based on your location, and the number of guests you can host, the service can estimate how many monthly earnings you can get. The landing page has a clear-cut design, testimonials, several cozy photos, and sharply defined data blocks that feature only hosting-related info and a CTA of contrasting color.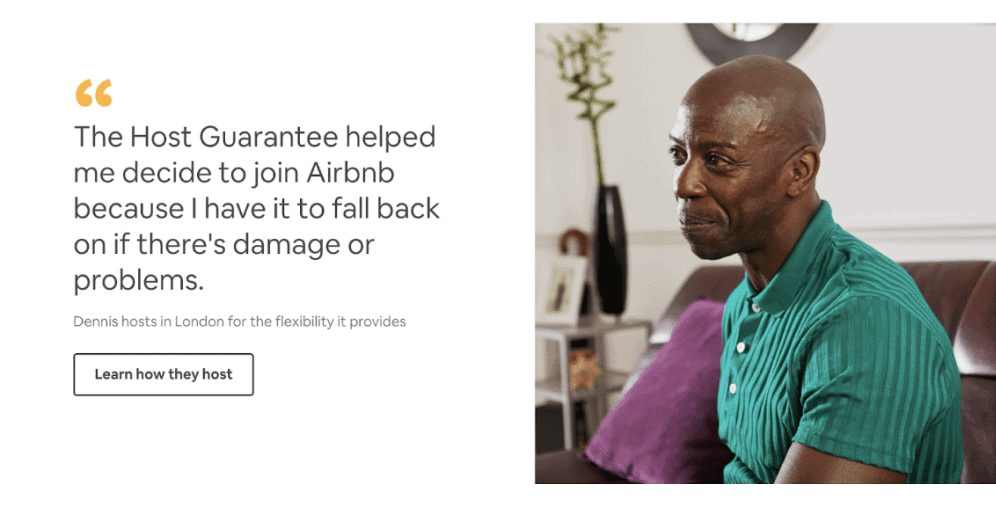 Lyft
As most landing pages, Lyft's "Drive with Lyft" page doesn't feature a lot of design eccentricities: it remains consistent with its branding colors, doesn't have any distractions, is straight to the point, listing the benefits and providing visual examples of how to use the app. On top of that, the landing page includes a FAQ section where you can learn more about the sign-up process. Lyft earns extra marketing points for having a feedback survey for people who aren't ready to engage, as well as for a smooth but effective mechanism of addressing those who are ready to take action right away and those who need to get additional info by putting two CTAs in different places accordingly.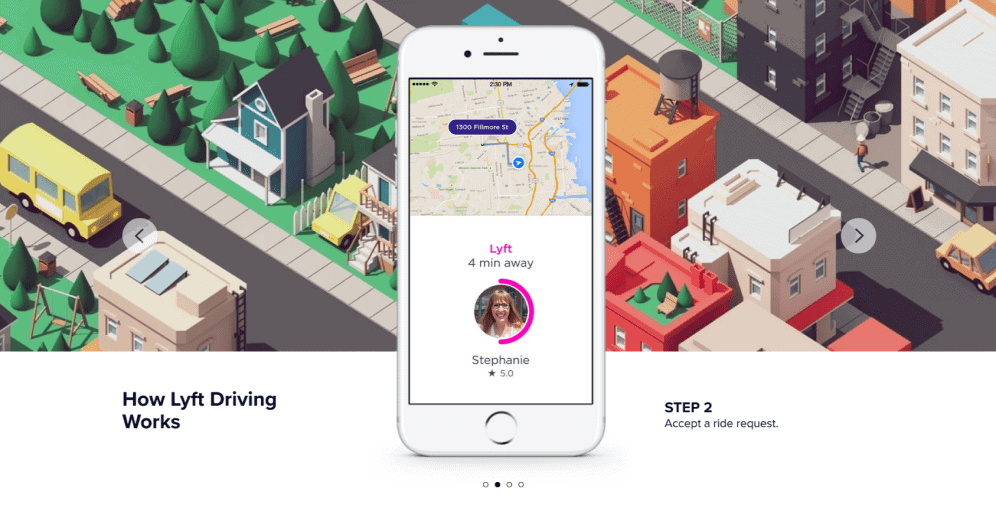 Codeacademy
Codeacademy's landing page hits the right balance between having a creative yet sleek design as well as managing to utilize its branding elements. It builds trust with the users by using such phrases as "no need to worry, we will help" and "it's time to start investing in yourself". The simplicity of the subscription form, detailed step-by-step description of the e-learning website design process, and social proof ("join the millions") lend themselves to the accessibility and reliability of this landing page. You can even take a quiz that establishes your programming personality and helps to cater more to your learning needs.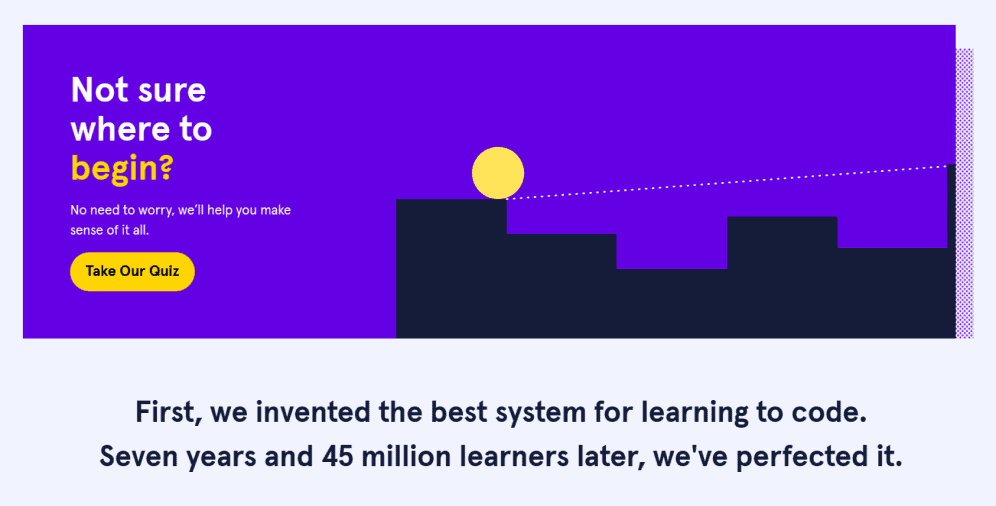 Unbounce
We admit – it's a little meta to advertise a landing page of a landing page design company, but who to listen to if not the experts in the area? Unbounce's landing page masterfully sets the "problem-solution-details" arrangement: it features a self-explanatory animation showing the effect of loading speed on conversion, ways to increase the loading speed, and CTA and pricing schemes. If you're not convinced that Unbounce is what you need by the end of the page, then you weren't really paying attention.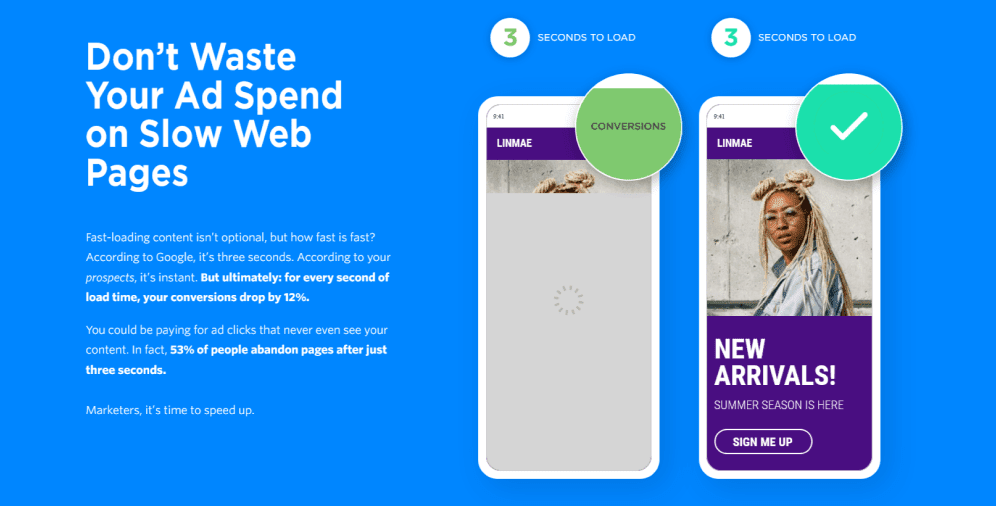 Shopify
Some homepages may serve as landing pages and Shopify is a great example of how this might work. It may seem overwhelming at first glance due to the different design elements, but it doesn't deter the attention. The text is mainly composed of bullet points or simple phrases that aim you to sell at Shopify. There are no such things as long registration forms, or clumsy and over-the-top visual features – the page is user-friendly and a joy to engage with. Shopify uses the free trial CTA across the whole page which makes it easy for the user to subscribe right away without having to look for the said button or page themselves.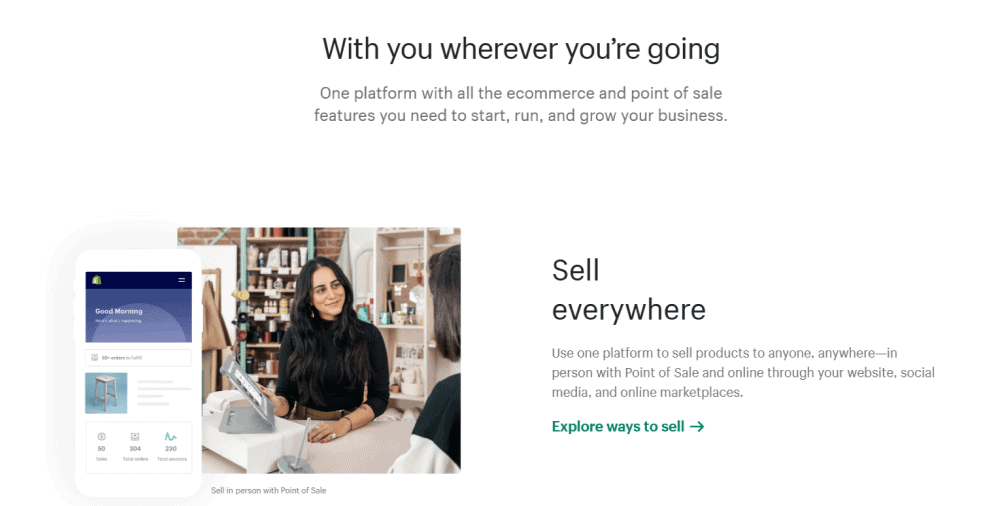 Webflow
Webflow is another web design tool that helps developers build custom websites from scratch. The layout of the landing page is extremely concise and almost airy, giving you the sense that these people don't beat around the bush. The main feature of the page is a three-block structure consisting of "Build-Launch-Grow" sections. Each of them has a GIF incorporated into the block showing the viewers the details of the developing process. Stunning and modern design, subtle lists of benefits, as well as carefully placed reviews help to create trust and turn visitors into customers.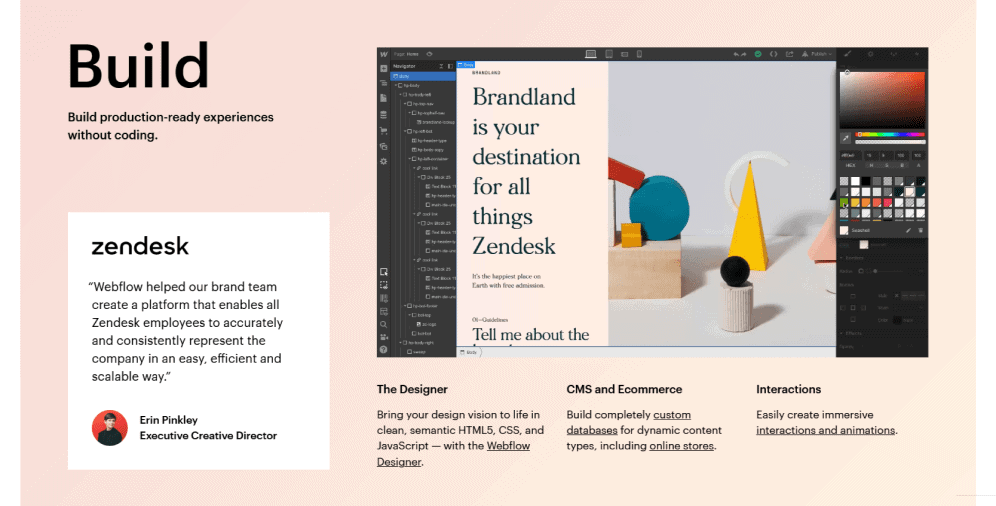 Netflix
Using verbs and clear phrases that urge viewers to take action is a great way to increase conversion. That's what Netflix does well. It might seem like an outdated approach, but it works: there's really no need to advertise the benefits of TV and streaming videos, so the company focuses on the financial advantages of using the service. Classic Netflix's dark color palette with contrasting red adds to the brand recognition and improves the level of trust the viewers familiar with Netflix already have.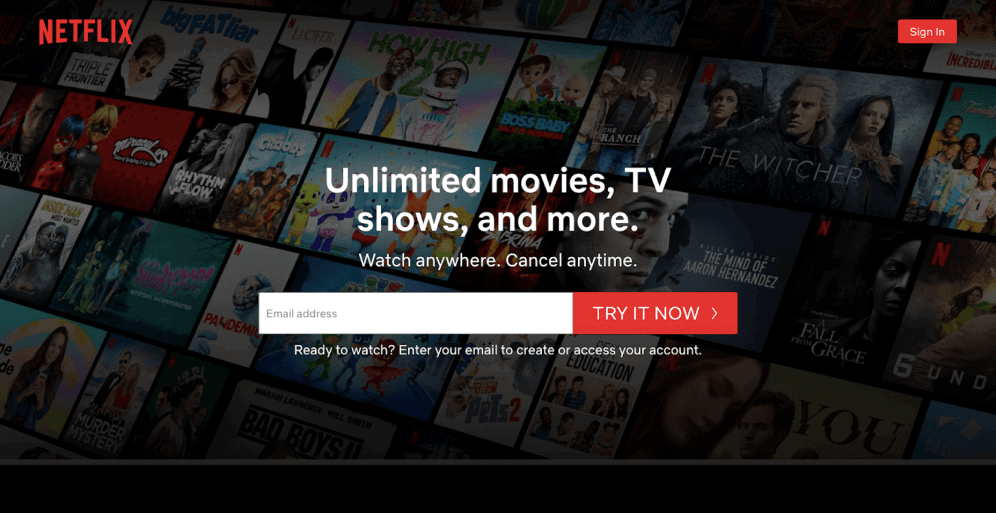 Ahrefs
Ahrefs is a popular tool for analyzing SEO parameters and backlinks. Its landing page is an incredible example of how you can both promote your brand story and advertise the service without being too grandiose and self-indulgent. The headlines are clear yet informative, the various videos, animations, and illustrations explain everything in detail, the numbers and big names support the Ahrefs claim at being the best at what they do. The color palette used here might be unconventional, but it's instantly recognizable and is great for "watering down" possible complexities and confusions, making it more fun and entertaining to use.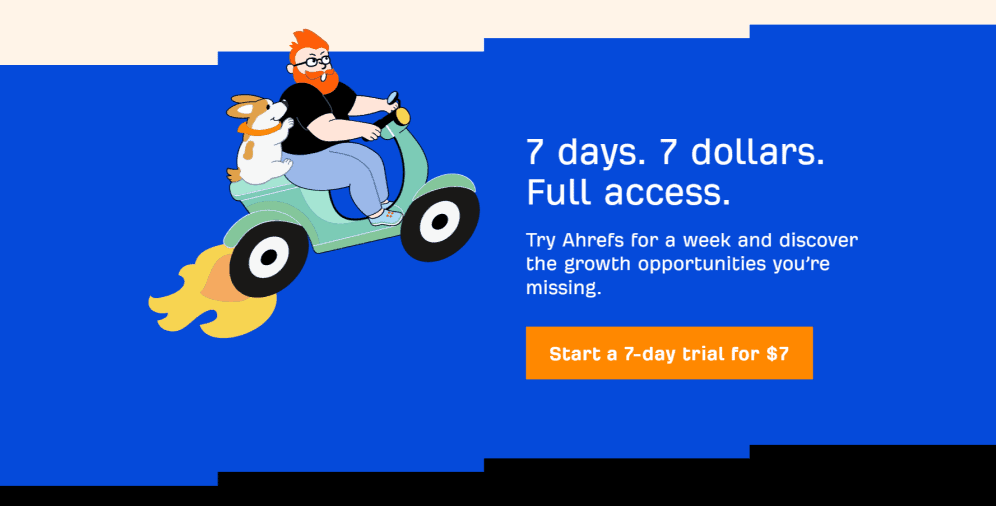 Blue Apron
Blue Apron is a meal kit delivery service based in the US. Their landing page features a video showing how Blue Apron works and what are the benefits of using it, evoking positive and familial feelings. Besides that, it's full of symbols and illustrations that serve not only as design elements but also have a complementary descriptive purpose. Another interesting thing Blue Apron has is its use of colors – blue is not a typical color for a CTA since it's not as actionable as a red or orange button. However, they play around with their name and incorporate the "blue" part of the "Blue Apron" and make it work.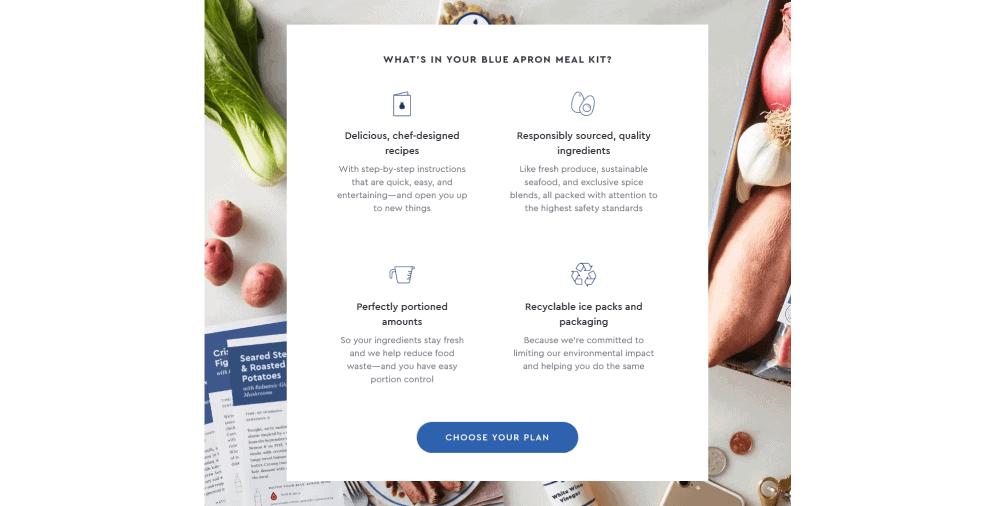 Upwork
Upwork is a freelancing platform that connects employers with employees. Its minimalistic design and an unusual color palette reduced to white and green colors offer an open and honest dialogue between "clients" and "talent". The page is equally oriented towards both target audiences and never puts focus on one of them in particular. Social proof examples feature both text and photos of former clients which solidifies the trust and shows that Upwork has strong connections with its customer base. Upwork breaks down its services into several categories making the process seem more personalized and tailored to your needs.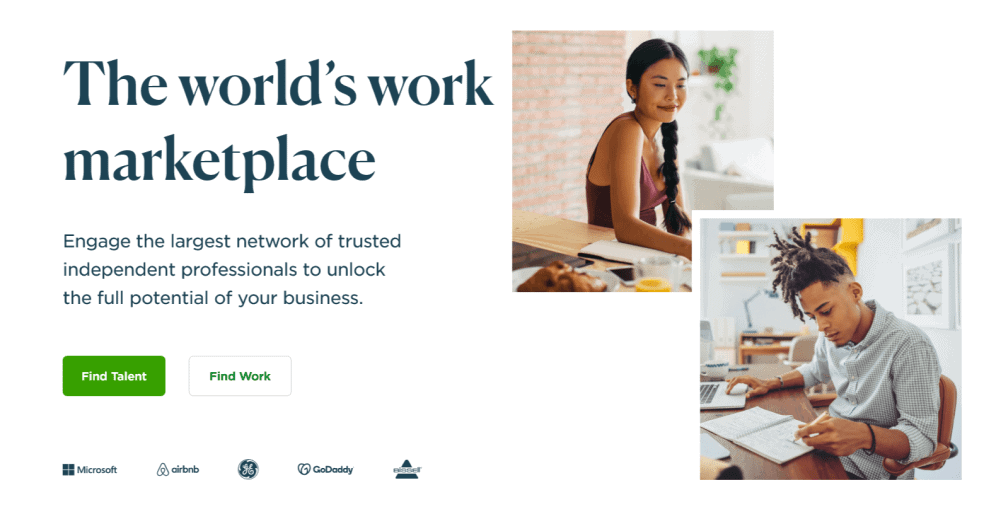 On a final note
As you can see, landing pages are not created to fully showcase your business prowess: they help to increase conversions and build trust with customers through a marketing campaign. They're more short-term oriented than a homepage or any other web page, and more dependable on a specific part of the target audience.
A well-made landing page can transform your business and help you understand your viewers and their behavior better than any other element of your website. Try out several landing pages if you want to experiment or focus on two different audience groups, but remember that creating a landing page is not enough – you've got to promote it and utilize your social media accounts to the fullest for that.
If you still have any questions about landing pages, or you simply want to cry it out after realizing how hard it is (we promise it's not) – contact us, and we will provide you with all the technical or psychological help (free off charge) you might need.