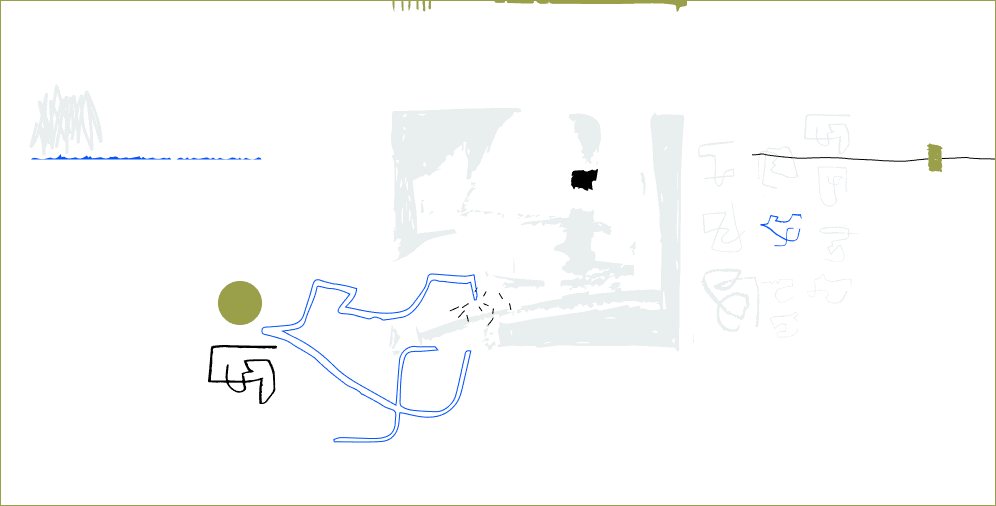 Healthcare website design is an effective advertising tool with which companies can catch the attention of potential customers, establish cooperation with new business partners, and at the same time sell their products or services. Moreover, competent development and promotion of the fitness center site can guarantee business growth and success along with a constant stream of clients.
How to develop a resource for a fitness club that will become a working tool for attracting new visitors? Can a website make it easier to work with already existing customers? In what way? In this article, we'll find the answers to these questions and discover the main features of fitness sites, along with the brightest examples that work.
Why do you need a great gym website
There are three key reasons for building a fitness website:
Position your fitness club
The website should answer potential clients' questions about who you are and what you do. Consequently, as soon as the users enter the website, they should immediately catch what this particular fitness center offers them and what is so special about it so that they have a clear idea of what they can get if they decide to join it.
Answer your visitor's doubts
When visiting the fitness club website, users are interested in various information, from the location of the club to the price list. Therefore, a high-quality website must answer these questions in advance in order to provide users with a whole image with the help of which they will be able to make a deliberate decision.
A thoroughly-developed fitness website plays an essential role in both attracting new customers and ensuring a great user experience for existing ones. That's why its development should not be neglected. Moreover, without this tool, there is a high risk that hardly anyone will know about your amazing fitness club. And we don't want that to happen, right?
There's no doubt that fitness websites are of great importance for many different reasons. Therefore, we have advice for each business interested: "Give yourself a chance to shine and let people know about you."
What do you need to include in an effective gym website
Every website of a fitness club should have distinct individual characteristics. However, there are some common techniques and elements that may significantly increase the efficiency of the website and its interaction with the target audience. Let's take a look at them.
Location and contact information
The location of the sports club is one of the most determinative factors for customers. Therefore, it's crucial to include its address (with the position on the map) on the website. If the gym has several branches, then there's a need to specify each of them, so it will be easier for users to pick the one closest to them. You should also provide the contact information: phone and email, in case the user wants to contact the company.
Mobile-friendly and intuitive user experience
We are all aware that mobile page views prevail over computer ones. That's why fitness centers should ensure that their website is easily adaptive. In addition, no one likes too complex websites with an incomprehensible structure. That is why the website interface should be as friendly and intuitive as possible so as not to confuse visitors and offer them the best experience ever.
Fitness class schedule and bookings
To ensure the convenience of customers, the schedule of classes should be posted on the website of the sports club. It is necessary that the information provided is constantly updated. Moreover, it is recommended to indicate the duration of the workout, difficulty level, and a trainer name in the schedule so that the users will have exhaustive data on the classes. Clubs should also take care of the opportunity of online booking as long as this will save time for both the gym and the user.
To catch the attention of users and induce them to choose your gym, it's not enough to write about it. Accordingly, centers should use custom illustrations or original photographs of high-quality (instead of template ones from the internet) so that the users can get acquainted with real trainers and equipment available in the gym. It will definitely increase the level of trust and loyalty.
To attract new customers, the fitness website needs to set up search engine optimization (employing keywords or phrases, for instance). Furthermore, gyms should not forget about the quality control of materials posted on the website (at least, search engines keep an eye on it) so that each new potential client sees a truly first-class service.
Eye-catching and professional web design
The design of the sports club website is essential since it serves as a business card for the facility. It can be utilized to assess many things: from the seriousness of the club approach to its level of professionalism as long as users have a direct association with the quality of the services provided. That's why companies need to ensure that the website quality doesn't deteriorate the impression of the club itself.
Additional service always pleases the customers. Moreover, new offers should be regularly introduced so that the clients are constantly interested in cooperation with the club. Not only discounts but also various promotions help to maintain their engagement. In this case, the users will feel the real benefit and will continue (or start) visiting the gym.
If the fitness club or its trainers obtain diverse awards or certificates, then the gyms are highly advisable to show them on the website since it will increase the level of credibility among users. Thus, clients will see that they are offered work with the professionals in their field and that they are in good hands.
Everyone loves and trusts the reviews. That's why we recommend gyms to gather feedback from their customers (about the classes or trainers). Centers should collect and not be afraid to show them as it builds the user's trust. The only important thing here is never to correct the reviews and display all of them (not just positive ones). That as well can play into your hands.
The list of elements to be included on the fitness website is not exhaustive and may be long continued. But we believe that the basic features provided will suffice.
How to create a fitness and gym website
Once the essence of the fitness website, along with its elements, is explored, it's time to see what steps gyms need to take in order to make their websites unforgettable and effective:
01 Choose a platform
If there are no resources and specialists that can build a website from scratch or with the help of the framework, the first thing fitness centers require is to decide on which CMS (Content management system) they want their website to operate. Since there are tons of them, a thorough analysis as well as research is required.
02 Select a hosting plan and domain name
The next step is to decide under which address they want their gym to be found by users. It's advisable to make it simple and clear, and what is most important — closely related to the sporting sphere. When it comes to hosting, then there's a need in choosing the one that suits them best (according to the scope of services offered by various providers).
03 Install a fitness theme or develop a custom one
In order to immerse the users in the world of sport from the very first second of their stay on the website, it is necessary to install a suitable fitness theme (or develop your own). It can depict a gym with the training equipment or people doing the exercises. The main thing is to convey the atmosphere of a healthy lifestyle and sport.
04 Add appropriate pages and essential elements
The following pages should be included in all types of fitness websites:
The homepage of the fitness website should introduce the users to the website and contain several blocks. Among them, there is brief information about the gym and its services, a slider with current promotions and event announcements, the list of advantages of the club (swimming pool, parking, etc.), an application form for a trial visit, and other elements that will catch the attention of customers.
While interacting with this page, visitors expect to find comprehensive information about the fitness center along with its history, mission, and values. Here, gyms should avoid standard phrases and try to be more "alive". For example, they may deliver it in the form of a short video or presentation to become closer to the clients.
This page may contain not only phone numbers and e-mail of the club but also links to social media networks where the company is presented. In addition, it should contain the location of the club (accompanied by the map) and the working hours of the facility so that the clients can see if the club position and its operation time are suitable for them.
05 Add lead generation tools
CTA, or call-to-action, is considered to be one of the most effective lead generation tools since they prompt the website visitors to take any kind of action: to fill out a form, to sign up for a free trial class, to contact the specialist who will help in picking the program or to subscribe to get the latest information on hot offers.
06 Start marketing and promotion campaign
There's no business that doesn't require advertising or promotion as long as, thanks to these, companies have an opportunity to stand out and attract as many customers as possible. And the fitness niche is not an exception. Therefore, gyms should make sure that their services are noticed through various types of advertisements (from pop-up ads to billboards on the street).
We suppose that the steps of creating and developing the fitness website will help companies in becoming not just remarkable but also prosperous in their business.
Top 10 fitness gym website templates & themes
Not so long ago, we mentioned the necessity of installing great fitness themes that will help companies to become noticeable. Right now, we'd like to share with you the brightest gym website templates and themes created in the WordPress CMS. And who knows, maybe you'll find the right one for you.
01 TheGem
TheGem is a universal creative template that provides high performance of a web resource. The template incorporates modern scrolling effects, animated section switching, slide-menus, etc. Corresponding sections (a schedule of classes, training description, special offers panel, the latest posts from the blog) are presented on the ready-made pages. The sliders show advertising banners with a request button, customer reviews, trainer profiles, and other information that customers may be fascinated by.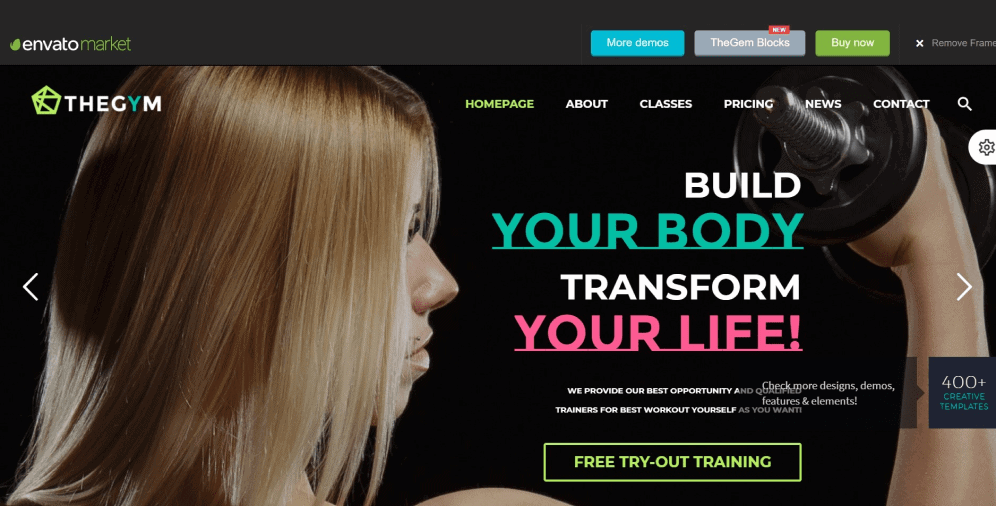 02 Gym X
Gym X is a niche WordPress fitness theme. The template has everything needed to create a professional sports club or health center website. Following the user requests, widgets for feedback, information about gyms and trainers, schedules, opening hours, and online booking were added to it. Moreover, by changing the structure, colors, and fonts of the pages, it's quite easy to achieve the style desired.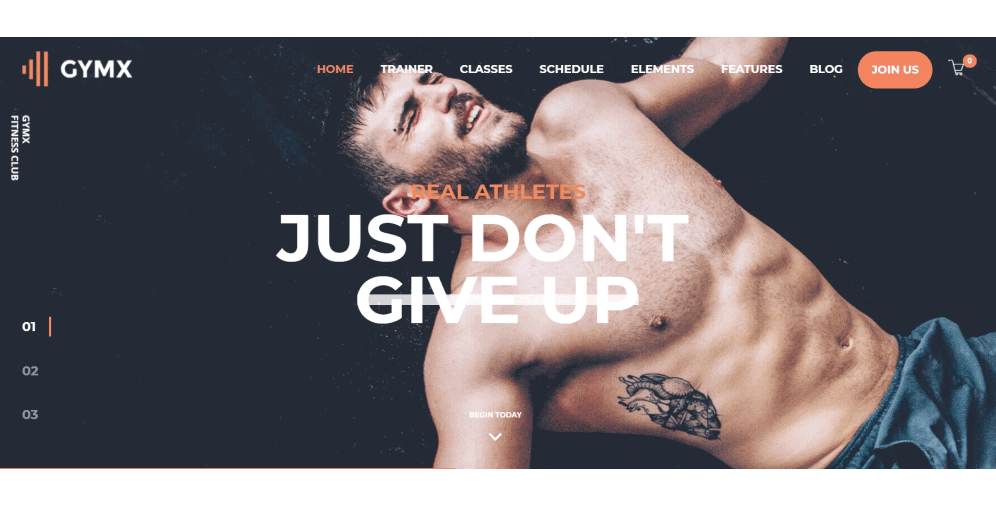 03 TopFit
TopFit is a theme for sports websites. The ready-made, high-quality websites such as fitness club templates, online sports nutrition, and clothing stores are ready to be installed in one single click. The template pages may include the following interactive elements: body mass index calculator, calendar of classes, price table, and others. Furthermore, the application of WooCommerce turns the TopFit website into a great online store.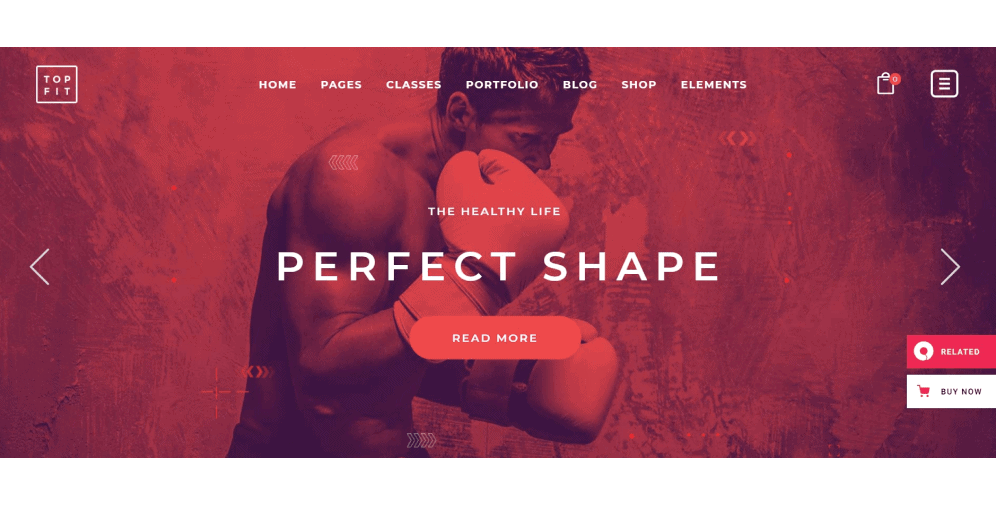 04 Yoga Fit
Yoga Fit is a template designed for websites of yoga and meditation studios, fitness centers, and dance classes. The main feature of this theme is the Visual Content Composer plugin that comprises an extensive collection of shortcodes. It means that the process of adding various elements, such as an interactive schedule or a photo gallery of different yoga poses (asanas), becomes smooth and easy.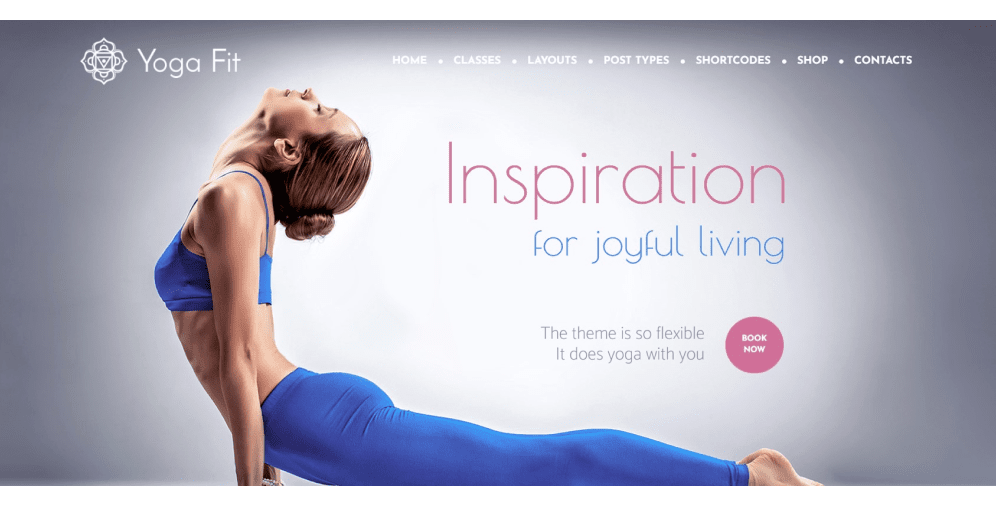 05 Fitmax
Fitmax is a well-designed and professional template intended mainly for running the business in the sports field (for example, fitness studios and crossfit gyms). Thanks to the availability of versatile demo layouts, this theme can also be employed for creating diverse websites. Here, a large set of features and tools enable users to customize everything without any issues or problems. Among them, you can find amazing animation functionality, numerous creative elements, and much more that will free you from developing a website from scratch.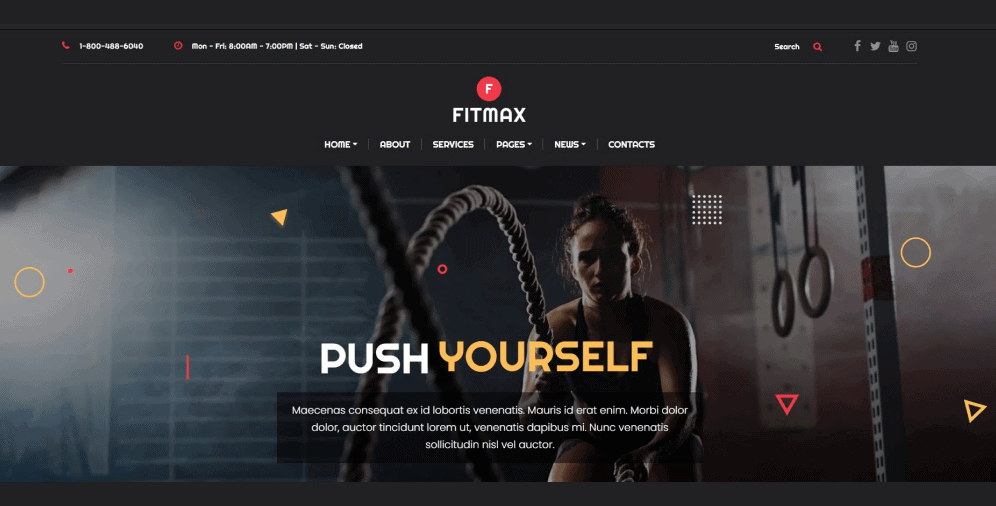 06 WizeFit
WizeFit is a fresh and modern WordPress theme that is perfect for presenting crossfit centers, gyms, fitness clubs, yoga centers, and other sports facilities. This template provides users with a unique opportunity to promote their business and attract as many customers as possible. The theme includes advanced typography along with other features that facilitate the quick and easy launching of the website.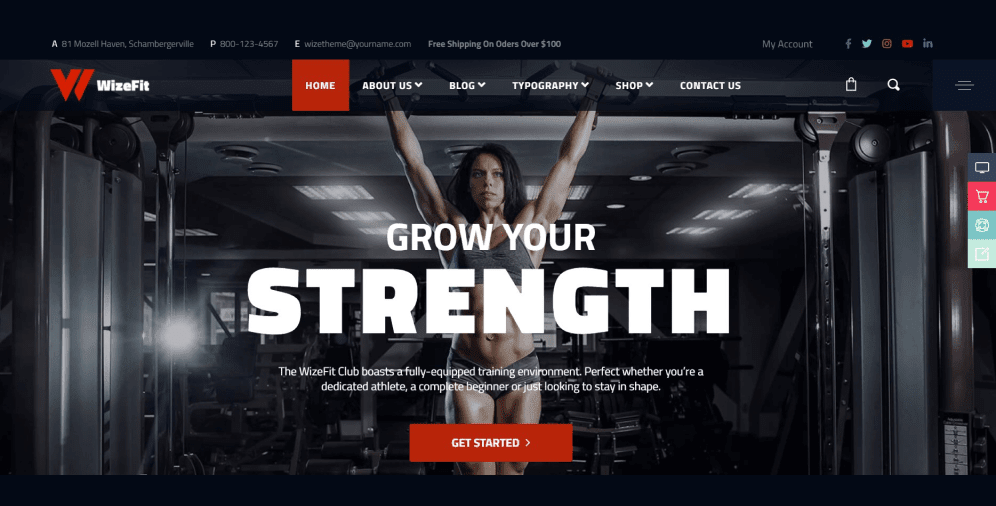 07 Namaskar
With the help of this beautiful WordPress template, the process of building yoga or fitness websites causes no trouble at all. The unique and responsive design of Namaskar will definitely make the business project stand out from the competitors. Powerful JetElements modules help to create a wonderful design in just a few minutes. The template is SEO-optimized, compatible with modern browsers, easy to install, and contains a great collection of web forms. Moreover, if users are eager to quickly build an online store, the incorporated Ecwid plugin will be of much help.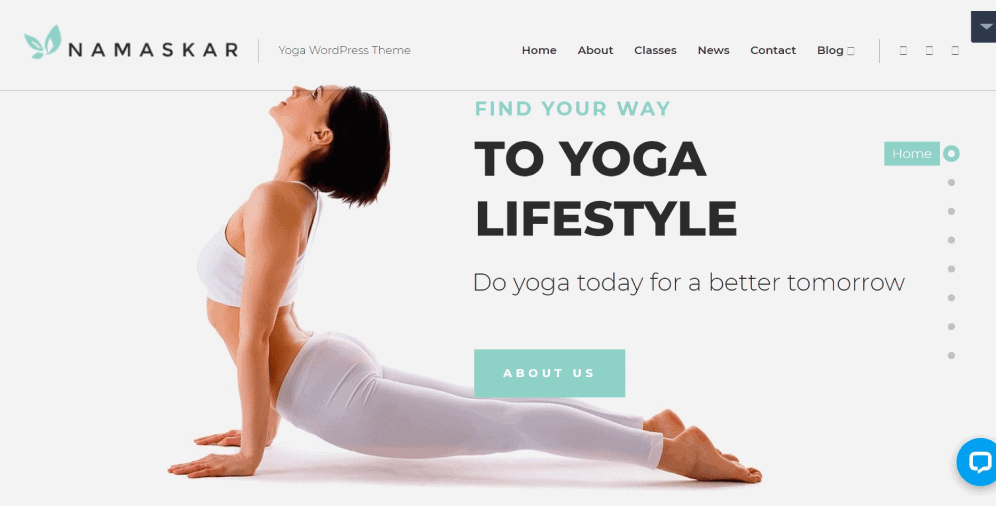 08 FitPro
This modern theme is specially designed for gyms, fitness clubs, and other sports-related websites. FitPro will look fascinating on any device since it is fully adaptive, which is its huge pro. The template offers endless color options, parallax effects for slideshows and presentations, powerful shortcodes, an intuitive administrative panel, and other elements. Furthermore, it may be used to create either single or multi-page websites with an opportunity to integrate an online store (with the help of the WooCommerce plugin).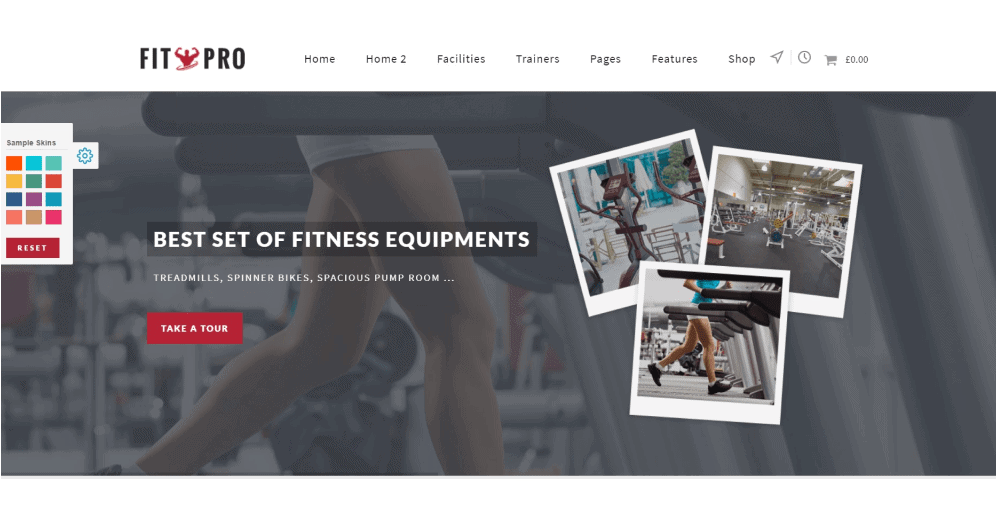 09 Gameplan
The Gameplan theme was built for gyms, fitness centers, and other websites connected to a healthy lifestyle. It has many features that assist in setting up schedules for events and classes. This WordPress theme was created with the help of Visual Composer, meaning the users are able to make their own websites utilizing the drag-and-drop page builder. The Visual Composer is optimized for working with over 40 various shortcodes, icons, buttons, sliders, widgets, and many more.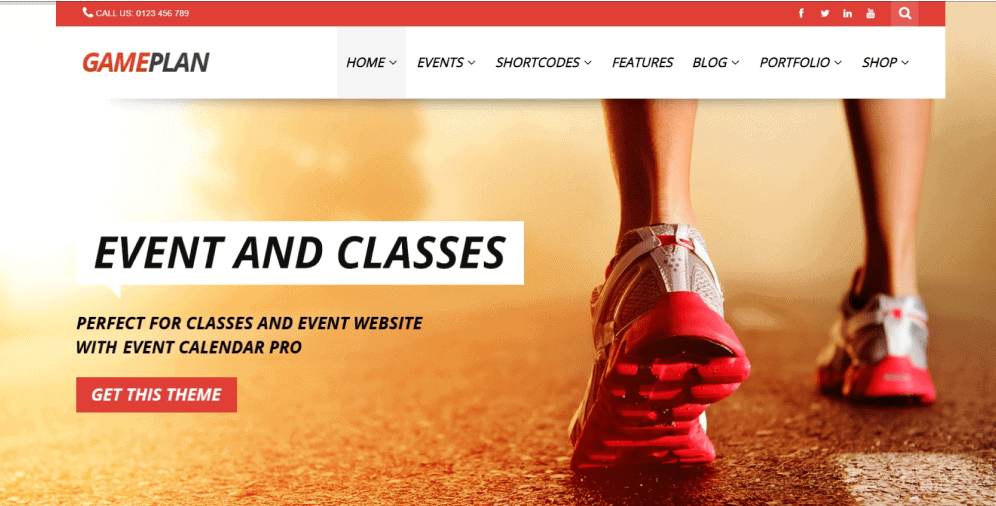 10 GymBase
GymBase is a WordPress minimalist theme. It has a responsive layout that looks great on any device and gadget. The theme provides users with lots of useful elements such as a blog page with comments, a filterable portfolio with page details, schedules, contact pages with a location map, a contact form, etc. The GymBase theme is full of unlimited color options that can be applied to any sport-related website.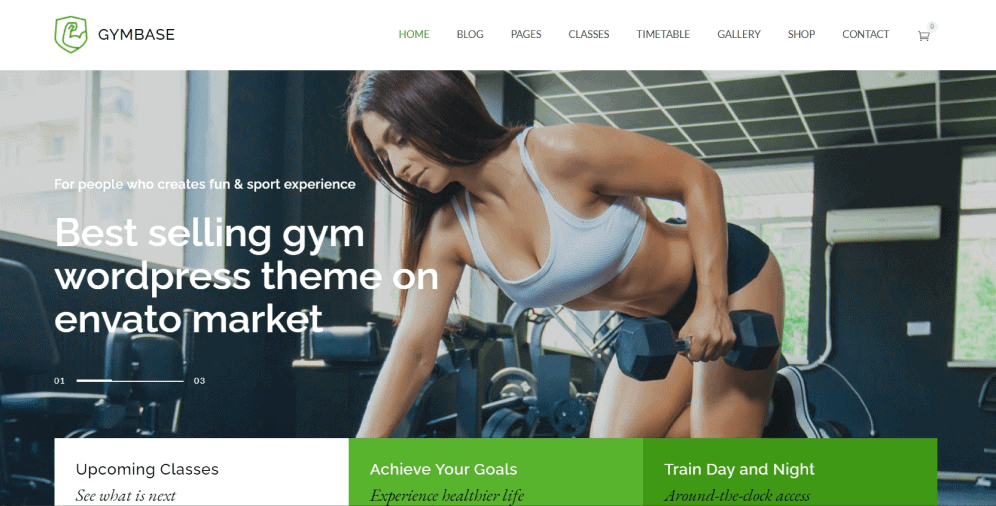 The templates and themes created for various fitness websites are designed to make the life of companies much convenient and easy. Each of them has its own scope of functionality and features that distinguish it from the rest. That's why it's up to you to decide which of them suits you and your goals best.
Top 10 fitness websites
Once the theoretical and practical parts of this aspect are explored, let's take a moment of inspiration and enjoy viewing our top examples of the already existing gym websites.
01 Live Strong
Live Strong is a website aimed at helping people improve their health from different angles (from nutrition to workouts). The website design is pretty minimalist. However, it contains all the elements required. They even provide users with a list of topics presented in an alphabetical order, which makes the navigation a piece of cake. In the right upper corner, there's a CTA after which, within a minute, users may sign up and receive any information of their interest.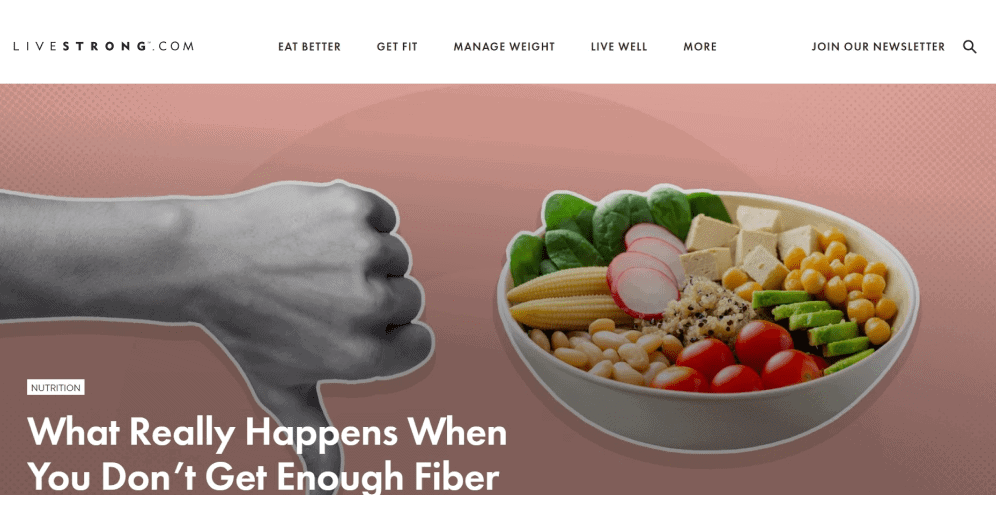 02 BodyRock
When you first visit the BodyRock website, you immediately bump into a big banner that advertises its special offers. The only thing users should do is to fill out a short form and press the button to submit it. The design is pretty simple, while the colors used here for promotion are really bright and catchy so that there are no chances to miss it out. Moreover, the support chat automatically enables and offers its help in case visitors have some questions. And that shows how much they care about the convenience of their visitors.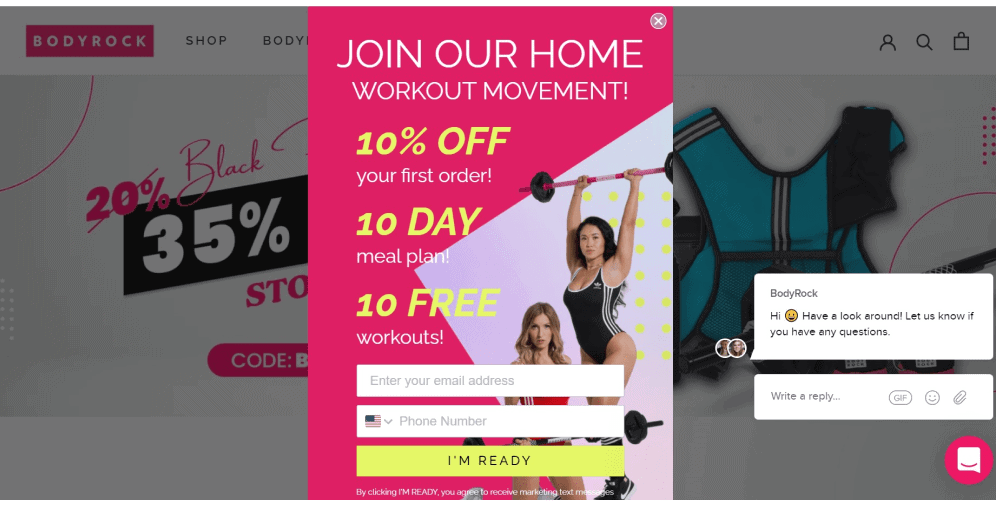 03 Echo Fitness
The design of the Echo Fitness website is incredibly soft and relaxing. And that is achieved through the image of mountains that serves as a reflection of the experience and passion of the company founder Phoebe Griffiths, who has been a ski instructor for 10 years. Among its services, the website offers personal (or group) and remote fitness training, retreats, and ski instructions (of course). Moreover, here users are provided with a blog and links to social media networks where they can find various posts about the company, its activities, and the latest news.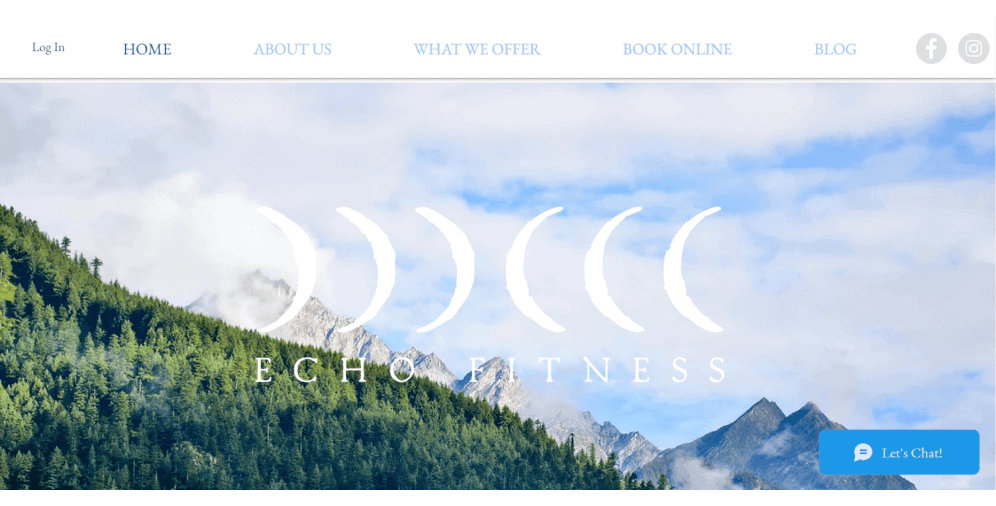 04 Junaid Dar
The JDarPT website is focused on helping people on their way towards getting a perfect body. The range of services varies from personal or group classes to boxing ones. The website comprises all the elements users may be interested in. The homepage left part is devoted to social media where users can immerse themselves in the healthy ecosystem of the company. Furthermore, on their About page, visitors may see the photos of trainers along with the pictures of transformations of their club guests. And that certainly contributes to the level of trust.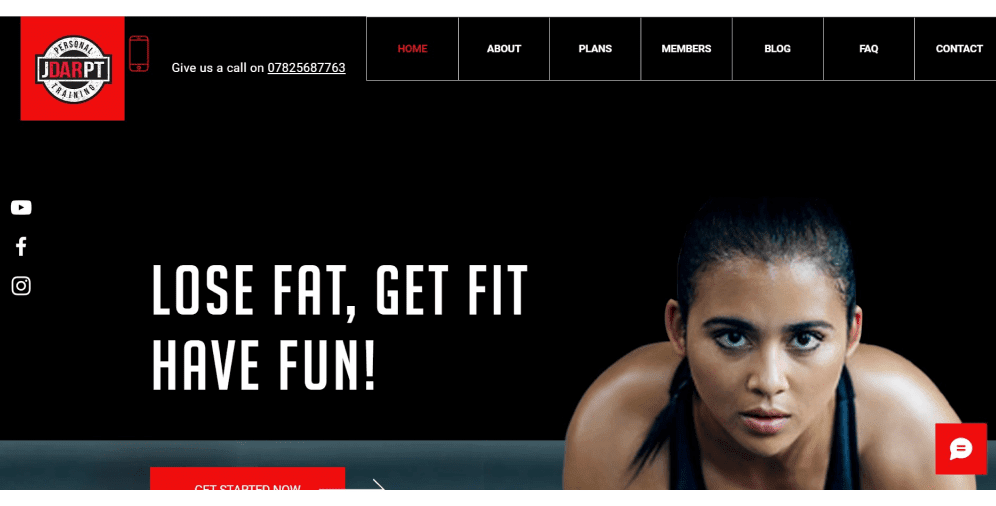 05 Be Active
Be Active offers its visitors to attend group or individual training sessions that are conducted by the club founder. Even if you click on the button with chat, you'll see his name, which means you'll have an opportunity to ask him various questions. This personal approach is felt everywhere: from the Instagram icon (with his profile) to the section "About me" where he tells about his experience and motivation to become a trainer. And that makes you feel that there are no mediators between you and the company since he's the brand himself.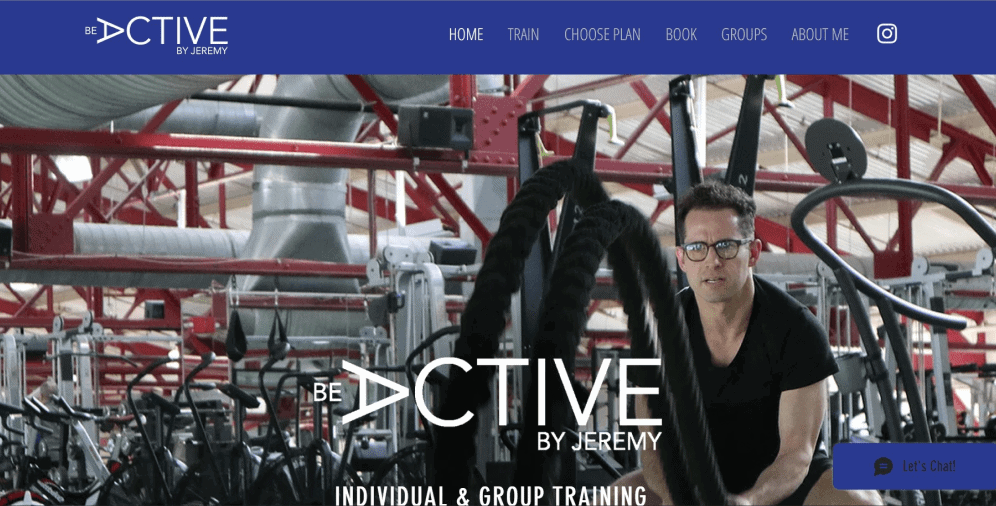 06 Blissed
The Blissed website is all about a comprehensive approach towards a healthy lifestyle that is embodied in online programs. During them, users will acquire knowledge on various topics aimed at improving their physical as well as mental health. Thanks to pastel colors and elegant fonts, the design is viewed as pretty sophisticated. Even the CTA button of subscription is not highlighted yet still prominent. In the blog, visitors can discover various psychological articles and posts about nutrition that they may find valuable and useful.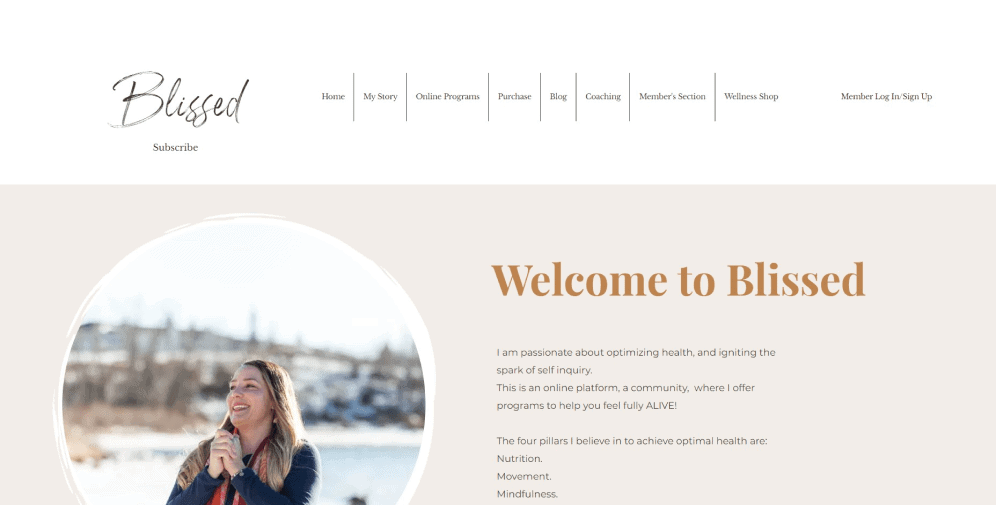 07 Belmont Shore
This volleyball club is designed in a rather minimalist way. Here, on the homepage, they have a huge picture featuring the real students and club members. And that makes this website closer to visitors since they immediately stop thinking about joining the club as something impossible or available for VIPs only. Moreover, the website, in general, is full of various dynamic photos as if it was a blog or a personal account. On the Coaches page, users can find profiles of club trainers, their personal information, and descriptions of their experience, along with their awards.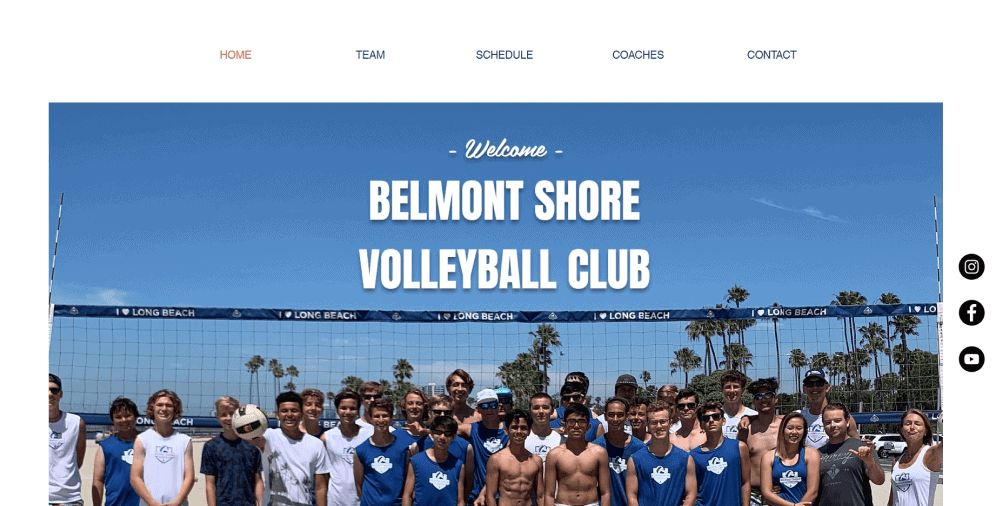 08 Octopus Academy
The homepage of Octopus Academy greets new visitors with a short video of fitness training and martial arts sessions conducted in this club. In the "About" section, users can find a table with the advantages of joining the academy. And that enables them to consider all the points mentioned and make a deliberate choice in its favor. The bright green CTA button invites visitors to join the club for free (for seven days) by simply leaving their contact details. Moreover, the website header has an option to switch the language to Hebrew, which some users may find really helpful.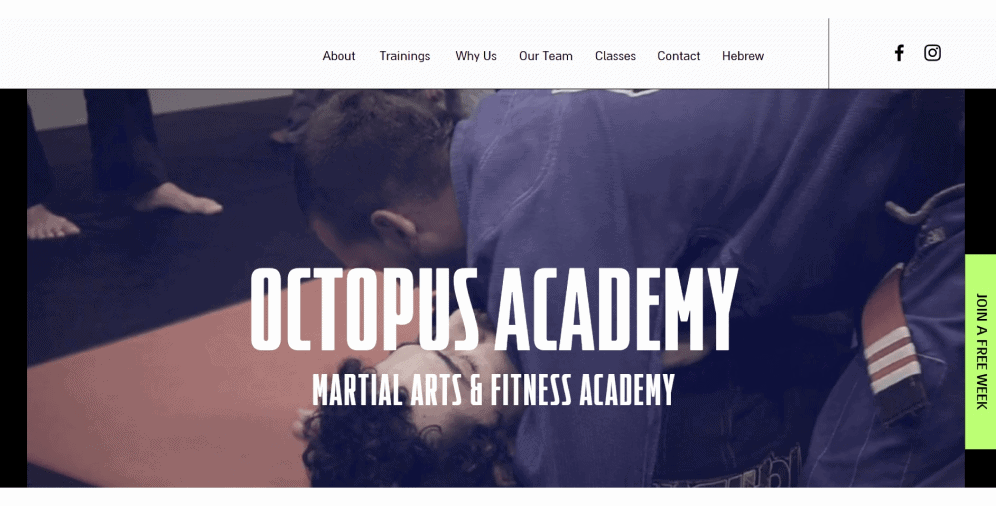 09 Bodybuilding
The Bodybuilding website deals with everything connected to this type of sport (obviously) and offers its users not only fitness workouts but also various related products and equipment. A huge banner with special offers and discounts takes up the whole space of the homepage, which is a good marketing tool since it immediately leads to making some kind of purchase. In the website header, users may choose the suitable language and country for shipping. And it's worth mentioning that the list of countries is really long. The blog presented here is divided into categories, which is rather convenient as long as visitors do not need to scroll endlessly in the pursuit of the information of their interest.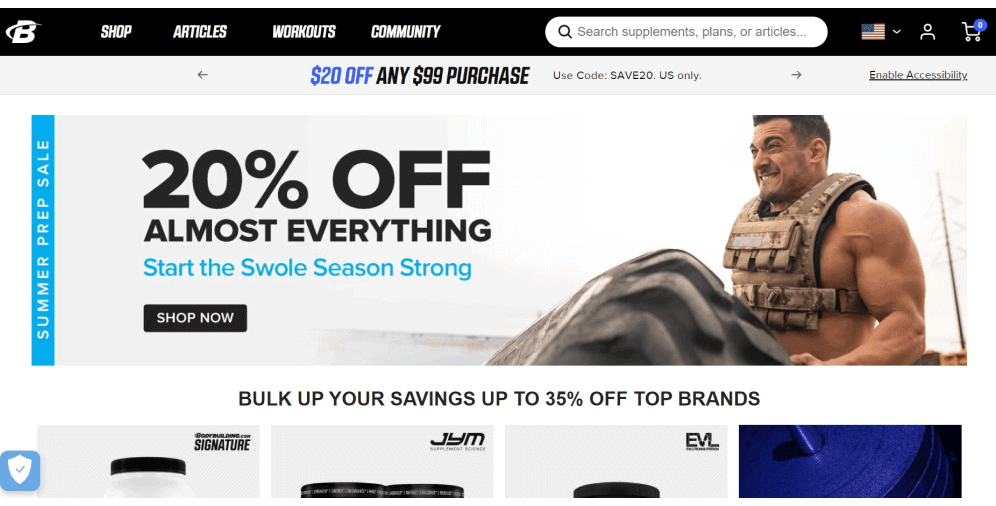 10 Brooklyn Yoga Club
The amazing design of this first body-positive yoga studio owned by two Black women truly inspires since the desire to come and enjoy the body and mind balance is almost irresistible. They offer their guests both in-person and virtual yoga classes with an opportunity to arrange corporate sessions too. Two prominent buttons with the schedule and price list somehow demonstrate that the most important thing is to pick the class and start working. Moreover, a whole section is devoted to the policies where the owners state everything that users should consider in advance, which is very thoughtful.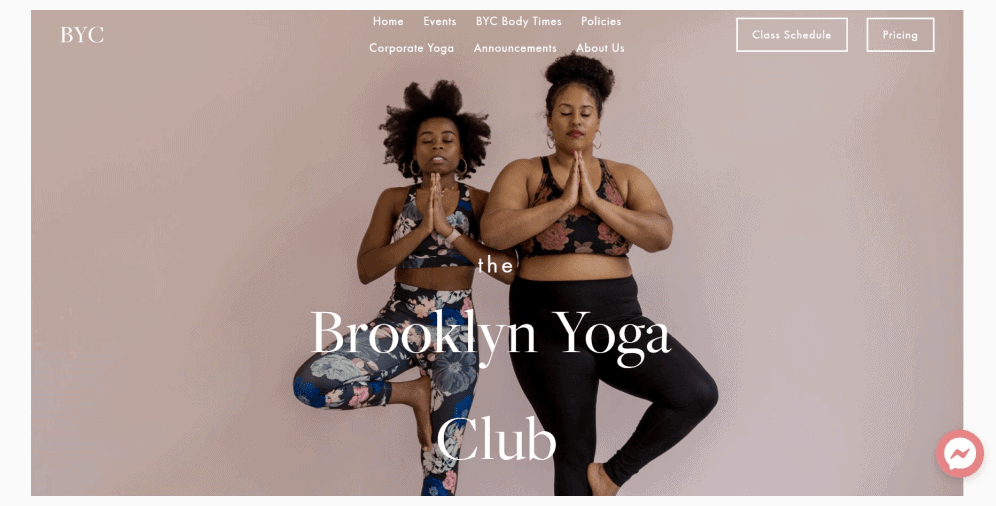 These examples are meant to show that the fitness website design doesn't have any strict rules or norms. It's all a matter of your goals and tastes. Hopefully, you enjoyed exploring this list of websites, and it helped you in determining the style and features that you'd like to apply to your own website.
On a final note
To build an amazing website for a fitness club, companies should adhere to a systematic approach since the success of the company directly depends on that. Moreover, many factors should be taken into account in order to present the gym in the best possible way.
The process of website design and creation is the result of thorough and scrupulous work that requires a clear understanding of what you can offer the visitors, who is your target audience, and how you can stand out from the rest.
In this article, we revealed the essence of fitness website design along with its features and key elements to be included. Therefore, we suppose that this information will help you in managing this issue. Nevertheless, in case of any obstacles or doubts, Ester Digital is always at your disposal. Just contact us, and we will gladly help you work them out.