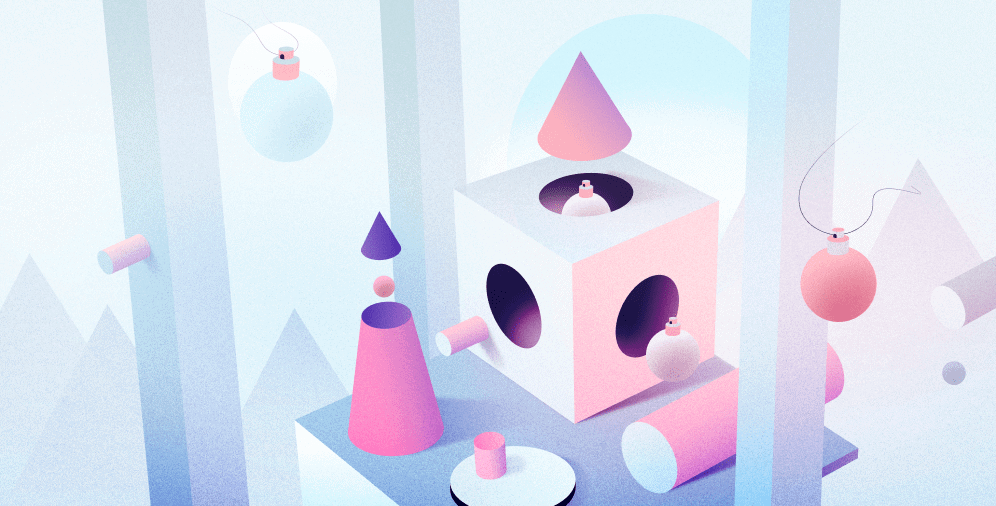 Here we are, on the edge of jumping into promising 2022 – a year of innovation and change (we hope so). As a creative web development agency, we expect this year to be full of new fascinating web design trends and top-notch solutions, looking forward to implementing them in our work. And some of them are really impressive! The 80s – the decade of bold style and colors is back in the game, rising above the minimalist vision and transforming the designs into something adventurous and magnetic. That is because of the so-called retro revolution seeping into contemporary art and culture through cross-media channels.
And that is how it all works – we remember the past and sometimes want it reborn to fill us with warm and sweet feelings when we feel lost. Here, we probably need to mention the COVID-19 pandemic, still fighting for its place in 2021, introducing new lockdowns, and barriers for businesses. However, such retrospection is a good practice as it inspires us to go further. And before we enter the new year, let's have a little retrospection of Ester's performance in 2021.
Even though this year we worked mostly remotely, that didn't prevent us from expanding to new international markets. So, now our company is presented in several countries, including the USA, UK, and Estonia. Given that, our professional crew doubled, enhancing the Ester team with new geniuses of web design and development. And you know what? That marked the boost in projects (obviously) and increased the number of our satisfied clients that continue to cooperate with us. Let's just say we did a great job.
Working with customers from different fields and industries, we significantly improved our expertise, moving far beyond the 2020's list of achievements and bringing the best service possible. As if we were having that little magic bottle that Alice in Wonderland grew herself immensely with. Well, we did have one – but ssh, it's a secret. Our assembly of design directions has risen since we vastly broadened our design vision while sipping a magic elixir from inspiration, productivity, and improvement. The development team increased in number and handled the latest technologies. And that all allowed us to complete long-term projects successfully and solve the toughest tasks. In other words, we started growing, and the range of approaches our professionals used for bringing clients' ideas to life did the same. For that very reason, we can now pride ourselves on our massive 2021 projects that were many, by the way.
In 2021, Ester Digital extended not only the range of services it provides but also the list of industries it deals with. We produced exciting designs and top-notch functionalities for the real estate industry, leaving our clients like Referral Exchange, List Pix, and Title Genius fully satisfied with their new functionality assets and visual stories. Also, we deepen the stationery design skills with every project like Garrison, Historiart, and FlowRepublic bringing our printed material design to a new level. The digital sector didn't stay aside as well – we crafted brilliant corporate websites for companies like Pontem Group, Certus, RDV, Brokeree, and Wilder. 
Another important thing for us was the EDA project. It is a non-profit organization committed to supporting sustainability and preserving vital resources by engaging in grassroots economic democracy. While working with it, we transmitted our social attitude and did our best to help the EDA team unleash their potential and involve more public in ecological issues. As a result, their new website with engaging design and polished functionality created the possibility of getting a government foundation and rising donations. And that is how we always work – everything and everyone is dedicated to bringing the best possible results every time.
Since 2021 has been not so far less tough than 2020, drifting in ongoing pandemic restrictions, it was vital for us to set up smooth and amiable communication with all concerned with our agency and content. That became rather a necessity than an option when our project's geography expanded heavily, bringing clients from all over the world, including Europe, the USA, Australia, and Africa. And our marketing team beat that gap successfully.
Being prolific experts in marketing trends, the department vastly expanded our digital presence. It may seem a brash self-advertisement here, but believe us – we are what we're saying. And if you want to make sure it is true, just check out our versatile-about-everything blog. We wrote articles about web design trends to social media branding, added a bit of pepper with exploring the technical side with articles about Laravel and React JS, helped to conquer discrepancies between UI and UX concepts, honed web designing skills in brilliant how-to-guides, and even reflected on the psychology of web design. And that all reinforced the relationships with the outer world that turned its back at times (bet we all can name a few of the "best" back views, right?).
Cutting the comedy, 2021 has been vast – sometimes enjoyable and gracious, sometimes – painful and heartbreaking. But isn't it the two sides of the coin that cannot be separated? We believe that the most important thing here is to stay true to everything you do, which Ester always manages. With everything that has happened, we are still here and can't wait to see you in 2022, continuing to impress you with our new exciting insights and stunning projects. So, stay tuned!
If you want to get a deeper insight into our work or want to know some more details – just contact us, and we promise to provide you with the necessary information to answer all of your questions.