Creating an online presence for your business is more crucial now than ever, regardless of the type of business you run. In today's digital world, you have two choices: either surrender or adapt and make the most of the possibilities it offers. Being progressive, bold, and creative can only benefit your business, especially if you own a small one and want to boost it even further by building your own website.
Your corporate web design is a reflection of your business, and it should be taken seriously. You don't necessarily need a huge team of experts or a big budget to make your site look fantastic and incorporate the best technical practices. By reading this article and learning our tips, you can learn how to make a small business website and gain valuable information that you won't want to miss. Let's get started with a vital question.
Why Having a Website for Your Small Business is Essential in Today's Digital Age
In today's world, people rely heavily on the internet for information. Thus, if you run any business but haven't yet established your online presence through a website, you may be losing out on potential customers. The size of your business does not matter, as users still need to be able to find information about it online, whether it's a small startup branding agency or a local business.
Not having a website can imply that your business is not up-to-date with current trends, which may be detrimental to your success. If you want to find your target audience, establish your business as trustworthy and professional, and increase your sales, having a website is a necessity. Therefore, take several factors into account while building your website to ensure its effectiveness.
Key Considerations for Small Business Website Development
Every business is unique, and each business website should cater to its specific requirements. To determine the most appropriate design patterns and tools for your website, it's crucial to establish your goals and desired outcomes from the outset.
For instance, if you're developing a website for your veterinary clinic, it should differ significantly from a law firm's website. Your website should embody your business's values, with each element reinforcing them. Before creating your platform, it's advisable to ask yourself several critical questions:
What is the primary purpose of my website?

What information do I need to convey to users?

What actions do I expect users to take after visiting my website?

How should my products or services be displayed?
In addition, it's important to anticipate the potential outcomes and be prepared to handle any traffic surges if your business operates beyond your local area. Although it's difficult to predict the future, knowing your goals and aligning your design choices with them will undoubtedly be advantageous.
Understanding the Purpose of Your Website
Whether you're creating a new small business website or redesigning an existing one, understanding its primary purpose is crucial. Do you intend to build an informative website with published articles or run it as a blog? Or is it solely for receiving orders? The decision is yours.
While your website may serve multiple purposes, it's essential to establish its core function. Although it's possible to process payments while also publishing articles, having an abundance of content can be overwhelming for users. It's important to avoid puzzling visitors with an excessive amount of content and ensure they know what to expect from your platform. Likewise, you should be clear about the website's purpose to avoid any confusion or ambiguity.
What to Expect in Terms of Cost for Small Business Website Design
The cost of website design for small businesses can vary significantly based on several factors. The first factor is the website's size, as even small business websites can have varying numbers of pages.
The complexity and features of your website are also critical considerations. Custom-built components and additional features increase the website's complexity, resulting in higher design and development costs. The number of features required depends on the website's purpose. For example, a personal blog typically costs less than an e-commerce website with enhanced functionality. 
Moreover, there are other expenses to consider, such as the domain name, website hosting plan, and security certificates (SSL). On average, the cost for a small business website ranges from $2,000 to $15,000.
Top 5 Website Builders for Small Business Success in 2023
Therefore, when planning to develop a website for your small business, it's essential to consider these factors and determine the features and complexity required to meet your business goals while ensuring it falls within your budget.
Website builders have become increasingly popular for small businesses, as they offer a cost-effective and user-friendly way to create professional websites without the need for coding or technical expertise. Here are the top five website builders for small business websites, based on ease of use, features, templates, and pricing.
01 Wix
Wix is a popular choice for small businesses due to its drag-and-drop interface and extensive template library. It offers a wide range of design flexibility and customization options, allowing users to create unique websites without any coding knowledge. Wix offers a free plan with basic features, but to access more advanced features and remove Wix branding, small businesses can opt for one of their paid plans, starting from $14 per month.
Key features:
Over 500 professionally designed templates

SEO and marketing tools

App Market with various third-party integrations

Mobile-responsive designs

E-commerce functionality available on premium plans
02 Squarespace
Squarespace is known for its sleek, modern designs and ease of use. It offers a variety of professionally designed templates that cater to a range of industries. Squarespace provides an intuitive interface, making it easy for small business owners to create and maintain their business websites. Pricing starts at $12 per month for the Personal plan, with the Business plan at $18 per month offering additional features and e-commerce capabilities.
Key features:
Award-winning, responsive templates

Built-in SEO tools

Blogging and e-commerce features

Integration with popular third-party services like Google Analytics and Mailchimp

24/7 customer support
03 Weebly
Weebly is a user-friendly website builder with a variety of customizable templates and a powerful drag-and-drop editor. It offers a range of features specifically designed for small businesses, such as SEO tools, e-commerce capabilities, and email marketing. Weebly offers a free plan with basic features, but for more advanced functionality, users can upgrade to a paid plan starting at $6 per month.
Key features:
Responsive templates

Integrated e-commerce and blogging features

App center for third-party integrations

Built-in SEO and marketing tools

Website analytics
04 Shopify
Shopify is a leading e-commerce platform that enables small businesses to create online stores quickly and easily. It is specifically designed for businesses that want to sell products online, offering a wide range of e-commerce features, such as inventory management, payment gateways, and shipping options. Shopify's pricing starts at $29 per month for the Basic plan, with more advanced plans offering additional features.
Key features:
E-commerce-focused website builder

Over 70 customizable themes

Built-in payment processing

Inventory and order management

Integration with popular marketplaces like Amazon and eBay
05 WordPress.com
WordPress.com, not to be confused with the self-hosted WordPress.org, is a user-friendly website builder with an extensive selection of themes and plugins. It is a popular choice for small businesses, as it offers flexibility and scalability for future growth. WordPress.com offers a free plan with basic features, but for more advanced features and customization options, users can upgrade to a paid plan starting at $4 per month.
Key features:
Extensive theme library

Customizable designs with no coding required

Integrated blogging platform

Access to a wide range of plugins for added functionality

SEO and social media integration
Each of these website builders has its unique strengths and features, making them suitable for different types of small businesses. When choosing the best website builder for your small business, consider factors such as design, ease of use, available features, and pricing to ensure it meets your specific needs.
How to Make a Small Business Website: Steps to Ensure a Coherent Web Design Process
Establishing the purpose of your website is crucial, but it's only the beginning of the website design process. To make it easier for you, we've created a step-by-step guide to building a successful small business website.
Step #1: Choose the Right Website Building Platform
Before starting, determine which website building platform suits your needs. Consider your desired budget, the range of features and tools, and choose a user-friendly solution that meets your business requirements.
Step #2: Pick a Domain Name
Your domain name should be related to your business and include relevant keywords. Try to make it catchy, easy to spell, and concise. You can purchase your domain name through website builders like Wix and Squarespace or use online generators like DomainWheel.
Step #3: Select a Hosting Provider
Unless you've opted for an all-in-one website builder, you'll require a reliable hosting provider. Popular options for small businesses include DreamHost and SiteGround, which are beginner-friendly and cost-effective.
Step #4: Choose a Theme or Template
Website builders offer a variety of templates and themes to choose from. Browse through your options carefully and select a high-quality template that aligns with your brand.
Step #5: Customize Your Website, Build Web Pages & Add Content
Once you've chosen a template, customize it to meet your specific needs. Most business websites include a homepage, a contact page, an "about" page, site navigation, and product or service pages. These components form the foundation of any website. After determining your website's structure and building web pages, add your content.
Step #6: Optimize Your Website for Search Engines
Having content on your website is crucial, but it's equally essential to attract users to view it. Search engine optimization (SEO) is an important aspect of website development for any business. By optimizing your website for search engines, you can attract more traffic and rank high on search engine results pages.
Here are some tips for optimizing your business website for search engines:
Use appropriate keywords on your pages or in posts

Choose a mobile-friendly design

Optimize your website for speed

Add internal and external links throughout your pages
Most website builders offer SEO tools and tips to improve your website's visibility. It's important to utilize these tools to achieve the best results.
Step #7: Test and Launch Your Website
When you're satisfied with your website, it's time to launch it. Before doing so, double-check for any typos, broken links, or unresponsive designs. Preview your website on mobile devices, read through your content, and ensure there are no errors.
Once you've launched your website, notify your existing customers of your online presence. Besides, promoting your business on social media can help you attract new customers and increase traffic to your website. By following these steps, you can boost your online presence and expand your small business's reach.
10 Outstanding Small Business Websites to Learn From
Now that you know all the needed information in theory, it's time to see some amazing small business website designs with your own eyes. Let's dig right into it and look at these skillful examples.
01 Maapilim
Maapilim is an online store that was built with the help of Wix. The website has lots of interactive elements which let users shop right on the page. Such a structure is similar to an Instagram's shop page and makes customers feel at ease. Another great thing is that all the products are grouped into sections and their photos are tagged. It makes the whole shopping process easier and more enjoyable. 

02 Sweet Dreams
Sweet Dreams is a beautifully done e-commerce website that specializes in CBD and melatonin products. It has both 2D and 3D illustrations and scrolling animation effects. Interactive graphics make this website even more engaging while numerous customer reviews show users the effectiveness of the products.
There are also "Blog" and "About Us" pages which help to earn the user trust as well. Generally, the website looks professional and carefully thought out which is great for small businesses.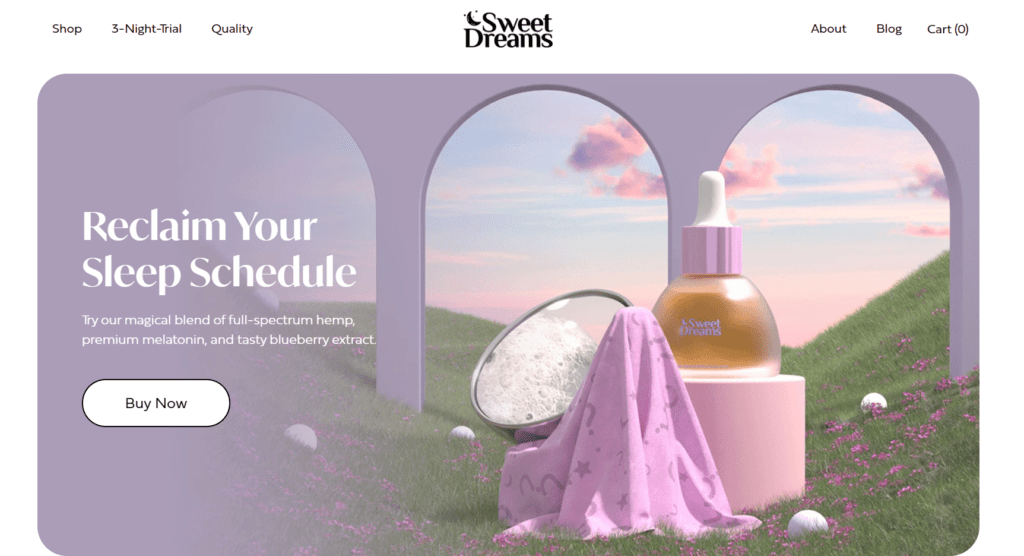 03 Soundstripe
Soundstripe is a website made to simplify the search for licensed music for video projects. It offers tons of songs and powerful search tools that help to find the right music. You can see everything you might need right on their homepage.
There is a library you can browse, some products, their pricing, and a blog. Everything is well-organized, and the variety of music genres is also impressive. This website is definitely user-friendly since you can find whatever you need within just a couple of clicks.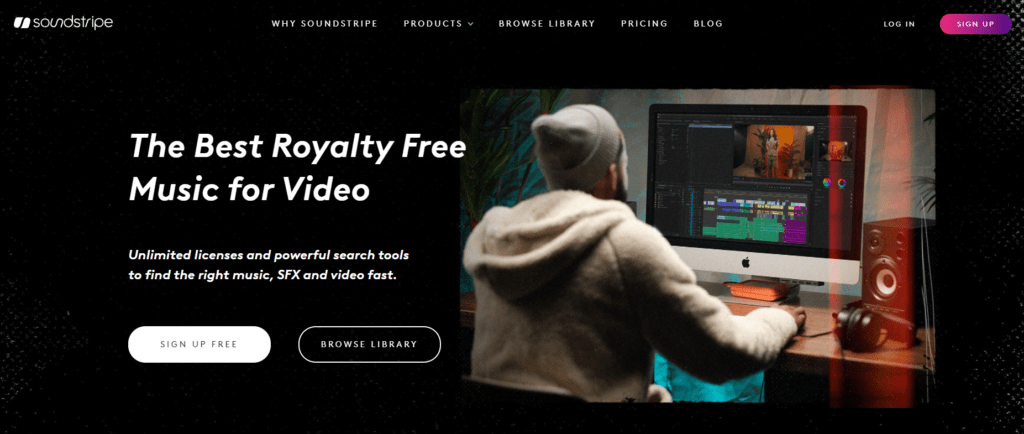 04 Yoga Studio
This website is built with Squarespace. It's a perfect example of minimalist design and soft colors which are a great choice for similar thematics. The navigation here is extremely simple, and you can find everything you need on the homepage.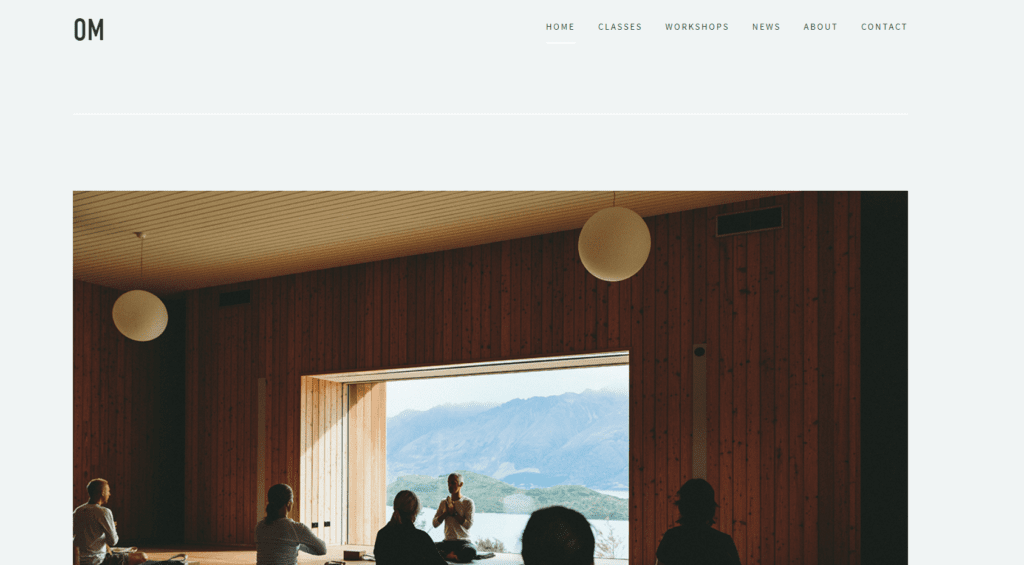 05 Allbirds
Allbirds is a footwear company with their website being just as good as those of some huge companies. It's bright and well-organized and has only high-quality images of the products. Their dropdown menu is simple and user-friendly just as whole navigation throughout the site.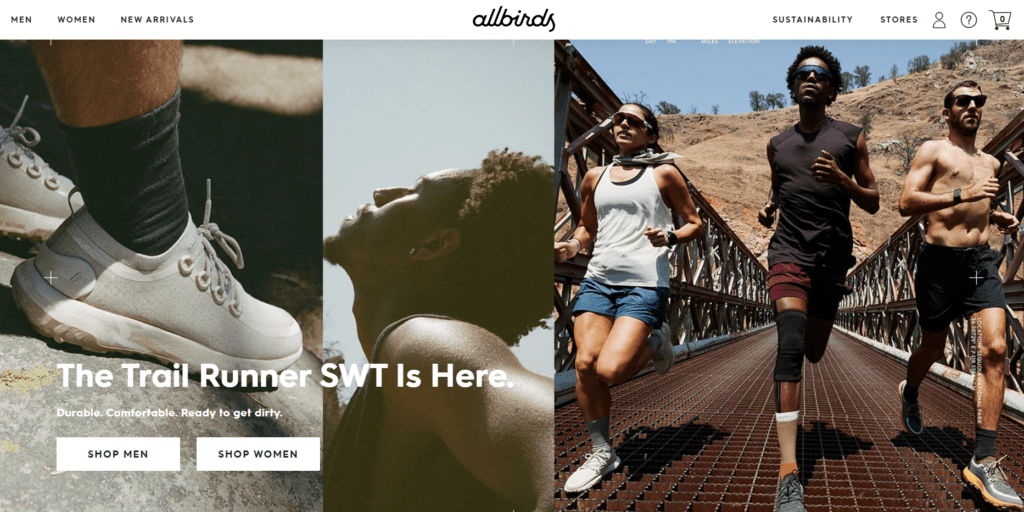 06 Wisr
Wisr is a website for financial services. It's original and not boring at all which makes it very distinctive. You can know more about it while scrolling down and following the path of a simulated marble course. When you close the website, it remembers the page you were on and opens it again next time. It's a smart move since it can influence a conversion in a good way.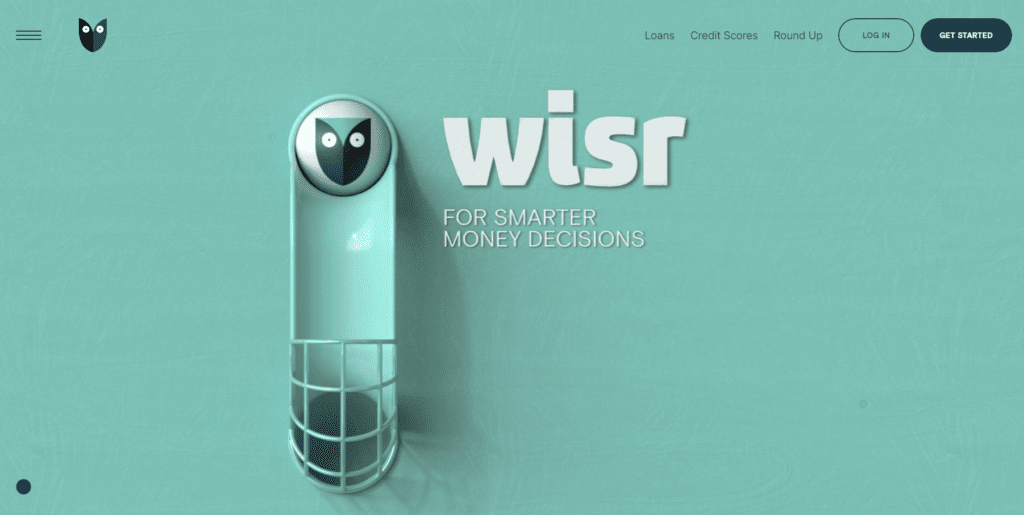 07 Lalaland
Lalaland is an online shop that offers different kinds of products designed by artists. The website clearly reflects the brand's personality with its creamy colors and intriguing images. The background is plain white which only helps to keep the attention on the content. There is also a simple dropdown menu.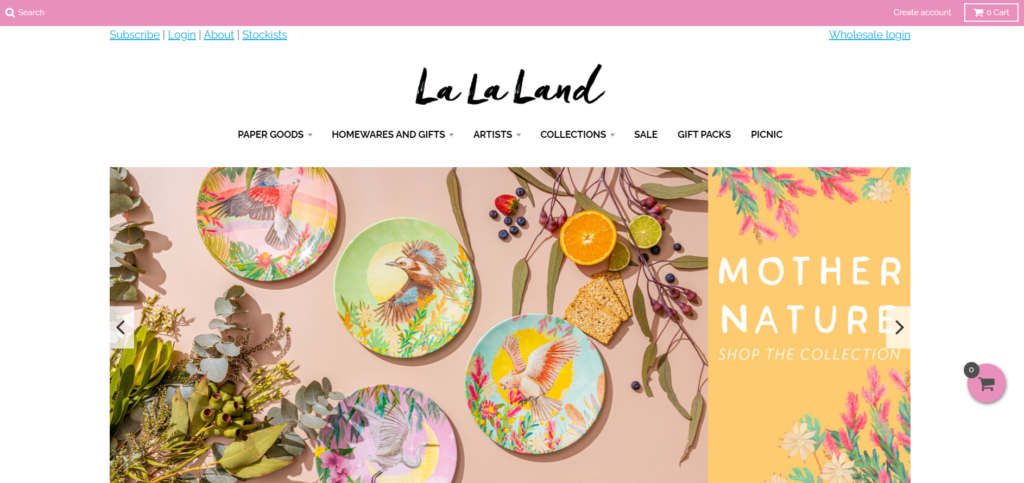 08 Coaching
This website is meant for personal coaching and is another great example of using the Wix builder. It has amazing animation and a simple navigation system. The colors are soothing, and service options with pricing are right there on the homepage as well. There are "Blog", "About", and "Contact" pages, and everything that helps users to learn more and make a decision.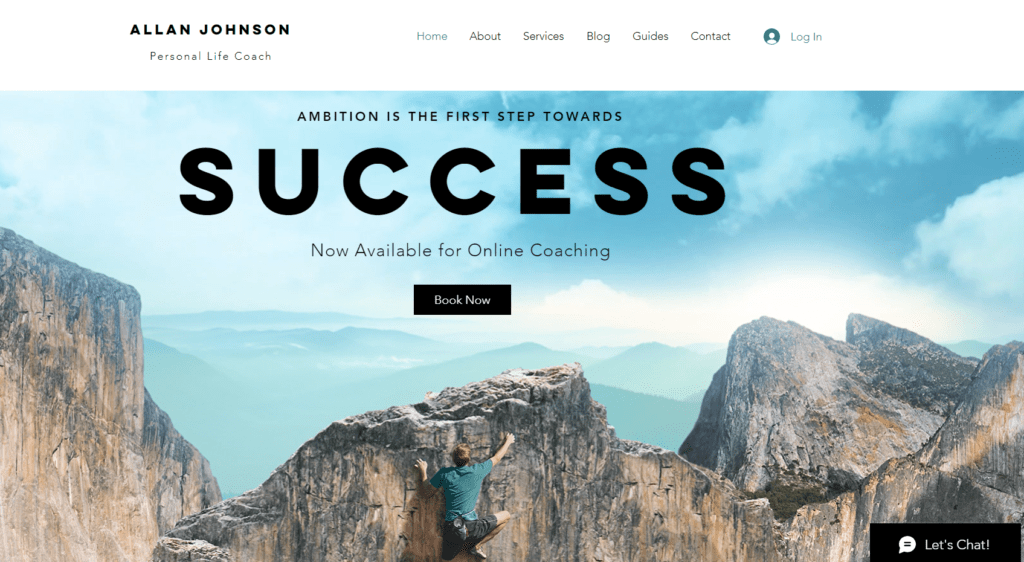 09 Treeland Nursery
Treeland Nursery is a website for a gardening center built with WordPress. It has a unique "Tree Finder Tool" that helps users to find exactly what they need and increases the website conversion. Their layout is simple and it's easy to repeat it while using templates.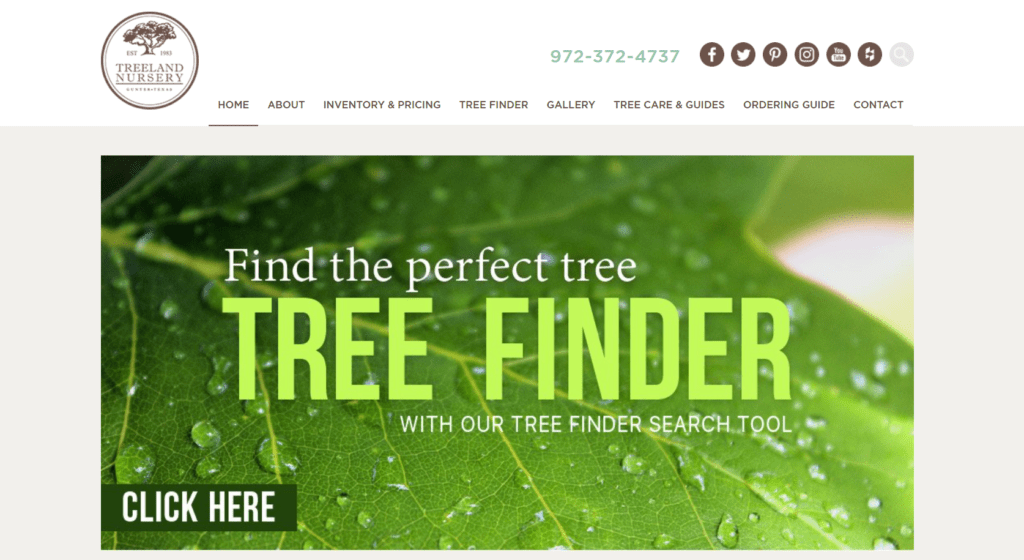 10 Patty & Bun
Patty & Bun immediately greets you with the engaging video cuts on their homepage. Although it can seem a little over-the-top, it's also pretty eye-catching. There is a hidden navigation menu at the top of the right corner and a quick order button on the opposite side. Overall, the website is very artistic and has lots of creative visuals that grab your attention all the time.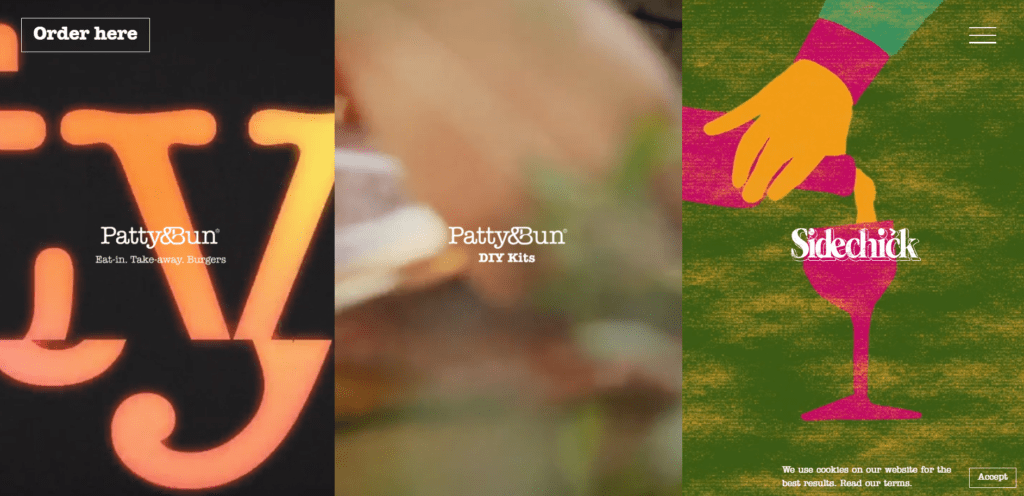 Common Web Design Mistakes Small Businesses Should Avoid
If you're a small business owner, you need to pay attention to your online presence. Knowing the most common web design mistakes in advance can help you avoid them and build a positive reputation. Here are some mistakes to avoid:
Poor User Experience Design: Your website is meant for people, and if your navigation is confusing, website structure is crude, and buttons are too small, users won't stay long. Make sure your design is user-friendly and easy to navigate.
Lack of Content:

Having too little information isn't a good way to earn users' trust. Give them the answers they want and strive for balance in the amount of content you provide.

Sloppy Templates:

While using templates is a good choice for small businesses on a limited budget, some templates may not leave the best impression on users. Think twice before deciding what you want your website to look like to avoid looking flimsy.

Poorly Placed Ads:

While advertisements are common on websites, poorly placed ads can harm website usability and scare away users. Always make sure your advertising banners are placed in the right places and don't overlay the site's content.

Vague Call-to-Actions:

Clear call-to-actions are vital for any website's conversion. People should know exactly what to expect before clicking a button, so try to avoid vague labels.

Not Mobile-Friendly Designs: With more and more people accessing websites on their mobile devices, it's essential to make your website mobile-friendly. If people can't navigate your site, place an order, or read information, you'll lose potential customers and profits.
Creating a Basic Website: Creating a website for a small business doesn't mean it has to be basic and boring. Keep in mind your target audience, business goals, and brand's personality and values to create a website that stands out and meets your customers' expectations.
On a Final Note
Creating a website for your small business is a crucial step towards growth and development. Although it can be challenging, the benefits of having an online presence are numerous. It allows you to increase traffic, attract a larger audience, and gain recognition. For e-commerce businesses, having a website can result in higher sales and significantly increase profits.
Before you start building your business website, determine its purpose and check out our step-by-step guide for assistance. To inspire your design choices, make a list of your favorite sites and consider what sets them apart. However, it's equally important to avoid common web design mistakes such as poor user experience, vague call-to-actions, and not having enough content.
If you have any questions or need assistance with creating your website, don't hesitate to contact us. We're always here to help you succeed.