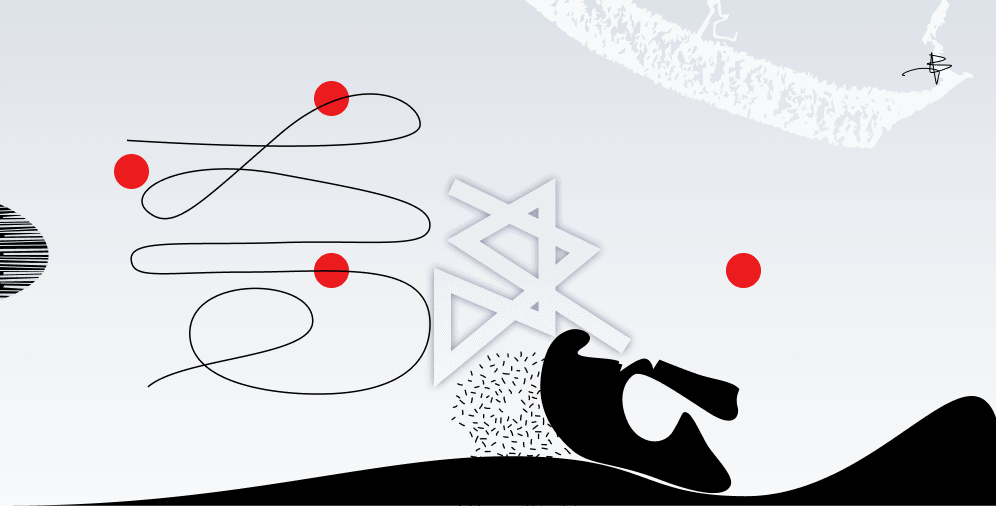 Creating online space for your business has never been more crucial than now, and it doesn't even matter what kind of business you run. We live in a digital world, so your only choices are either surrender or adapt and use its possibilities to your advantage. Being progressive, bold, and creative can do no harm when running a business. Especially if you own a small one and want to boost it even more by building your own website.
Corporate web design is your business reflection. Therefore, you should take it seriously. You don't have to obtain a huge team of experts or a big budget to make your site look fantastic and use all the best technical practices.
Start small, learn our tips, and take some notes. In this article, we're going to share the information you wouldn't want to miss right. Now, let's get started with a truly vital topic.
Do you need a website for your small business
It's no secret that nowadays people are looking for everything on the Internet. So, if you have any kind of business but still don't have your own website – you lose. The size of your business doesn't really matter. Even if it's a startup branding agency or something local, users still need to be able to find the information about it online.
Not having a website can be considered that your business is pretty much non-existent, and it's not the smartest choice for any business. If you want to find your audience, prove to them you're trustworthy and professional, and increase your sales rate – you need your own website. And here's what you need to consider while making it. 
What to consider when making a small business website
Every website is different, and there are no design patterns or tools that fit them all. To decide what are the best options for you, you need to consider your goals and desired results beforehand. 
For example, if your website is for your vet clinic, it should be much different from the law firm website. Your website should translate your values, and every detail should emphasize them. It's always better to ask yourself these questions before creating a website:
What's the main purpose of my website?
What information should be conveyed to the users?
What actions will be expected from users after checking out the website?
In what way the products or services should be displayed?
You should also consider the expected outcome and be ready to deal with it. If your business isn't local, it's possible that you'll get much more attention than you await. In that case, you should be prepared to handle the traffic. It's hard to foresee the future, but knowing your goals and making corresponding design choices will undoubtedly benefit you. 
What your website is for
Whether you want to build a new website or redesign your old one, you need to know exactly what your website is for. Do you want to make your website informative and publish some articles? Maybe, you'd like to run it as a blog? Or do you need it to solemnly accept orders? You're the only one who can decide. 
Although your website can have numerous purposes, you need to choose the core one. Of course, you can process payments along with the publishing pieces of writing, but content abundance can confuse users, so don't abuse it. Your visitors should know what they came for as well as you should know why the website exists in the first place. 
What is the average cost of website design for small business
A website cost can considerably vary, and there are a few reasons for that. First of all, the cost depends on the site's size. Most websites for small businesses aren't huge, but they still can have different numbers of pages. 
The next thing is your website's features and complexity. It's necessary to note that while some websites require only custom-built components, others demand additional features. They make a website more complex and increase the cost of its design and development. The number of additional features depends on your website's purpose. It's more likely that a personal blog will cost less than an e-commerce website.
Apart from that, there are also such things as a domain name, website hosting plan, and security certificates (SSL) which are included in the final sum. On average, the cost for a small business website varies from 2,000$ to 15,000$. 
Best website builder for small business
Website builders are a smart choice for small businesses. They are not only suitable for limited skill options and time restrictions but also allow you to make a website that's great and affordable at the same time.
Of course, you could choose to create a completely free website but beware of some pitfalls in that case. Free website creators usually don't let you use your own domain, cover your website with intrusive ads, and generally deprive you of having full control over it. That's not to mention that you'll still have to pay for any addons or templates. 
You can see our list of some of the best website builders down below, but we'd still advise you to be conscious while looking through it. Keep an eye out for the builders' offers and double-check if it's appropriate for you. 
01 Self-hosted WordPress
Self-hosted WordPress is a great choice for any business. It's completely free and very popular among small businesses. You can find lots of powerful features on WordPress and be sure your website is highly secure. This builder is available on many web hosting platforms and is easy to use. 
02 Wix
Wix is well-known as a simple website builder that's been around since 2006. It has numerous straightforward templates that can be easily customized. However, you should keep in mind that their editing tools are limited, and this build might not be the best option for advanced designs.
03 Web.com
Web.com is an amazing website builder that's perfect for beginners. There you can also find plenty of templates and create a website within a short amount of time. It doesn't require a solid budget or professional skills, which is definitely a pro. Another pleasant surprise is their great support team that is always willing to help you.
04 HubSpot Website Builder
HubSpot Website Builder is a high-quality builder with marketing automation tools and CRM. It gives you a perfect opportunity to create a website that's not only optimized for different devices but also personalized for its users. 
05 BigCommerce
BigCommerce is one of the best options for building eCommerce websites. You should definitely check it out if your purpose is to make online sales. This builder is good for beginners since it has lots of beautiful templates and is technically advanced. You can use designs for numerous industries and choose over 65 payment getaways. 
06 Squarespace
Squarespace is also a simple website builder that has lots of stylish and up-to-date designs. It's not free, but it has its own benefits. For example, you can use it with a custom domain for free for a whole year. Web analytics, SSL certificate, and eCommerce features are provided for you within the basic package which is also pretty useful. 
07 Weebly
Weebly is another fully hosted website builder that's user-friendly. It won't only let you choose your perfect template from a wide range but also help you to make your website more visible for search engines. Although some features are limited in the free version, you can still try it and see if it's the right option for you.
08 Gator Website Builder
This builder was developed by a web hosting company named HostGator. In its package, you can get a free SSL certificate, web hosting, domain name, and web analytics. It also suggests tons of themes for your liking. Gator Website Builder is easy to use and helps you to customize your website with just a few taps. 
Step-by-step guide to creating a business website
Establishing the purpose of your website is vital, but it's only the first step. Once you know what you want, be ready to go deeper into the whole designing process. To make it a little bit easier for you, we created a step-by-step guide that will help you to create a successful small business website. Let's waste no time and look at it right now. 
01 Find the most suitable website building platform for you
By now, you already know the best options you might want to consider. Whatever you choose, make sure it's the right one for you. Decide on the desired budget, range of features, and tools. Choose a user-friendly solution, and you'll hit the jackpot. 
02 Choose your domain name
Picking a domain name can seem like an easy task, but you still should put your mind to it. Ideally, your domain name should be connected to your business and include its keywords. If possible, try to make it short, catchy, and easy to spell. 
You can also purchase your domain name through tools like Wix and Squarespace. If this option isn't for you, and you still want to create your own domain name, try using online generators. For example, check out DomainWheel. 
03 Pick a hosting provider
This step is unnecessary only if you chose the all-in-one website builder. Otherwise, you'll need a reliable hosting provider. The popular choices here are DreamHost and SiteGround. They are beginner-friendly and not expensive, which is good for any small business. 
04 Choose a theme or a template
Website builders usually have tons of templates and themes for your liking. It's important for you to make a choice before starting to build out pages. Using high-quality templates always makes your website look more professional, so go through your options carefully. Scan the template or theme libraries, and you'll most certainly find something you'll like.
05 Customize your website, build web pages & add your content
After you've chosen the templates, it's time to customize them. Even though website structure can vary, there are some basic elements that most of them have. Business websites usually consist of a homepage, a contact page, an "about" page, any type of site navigation, and products/services pages.
These can be considered the foundation of any website, so keep them in mind. Once you determine the structure and build web pages, you can add your content. 
06 Befriend search engines
Having content is great, but having lots of users to see it is even greater. Search engine optimization (or SEO) is extremely important for any business. To have the desired traffic, you should befriend search engines. If you're successful in it, your website will rank high on search engine results pages. Here we have a few tips that can be useful for the optimization of your website for search engines.
– Use appropriate keywords (either on your pages or in posts)
– Pick a mobile-friendly design
– Optimize your website for speed
– Add internal and external links throughout your pages
Sometimes website builders offer some SEO tools and suggest their own tips for improvement. Don't miss out on them to be happier with the results. 
07 Launch your website
When everything's done and you're satisfied with your website, it's high time to finally publish it. Don't forget to double-check everything before that to avoid typos, broken links, and unresponsive designs. 
Preview your website on any mobile device, too. Read through your content and make sure there are no errors. Publish your website after reviewing it, and let your already existing customers know you're now online. To get more traffic, you can also start promoting your business on social media. 
Top small business website examples
Now that you know all the needed information in theory, it's time to see some amazing small business website designs with your own eyes. Let's dig right into it and look at these skillful examples.
01 Maapilim
Maapilim is an online store that was built with the help of Wix. The website has lots of interactive elements which let users shop right on the page. Such a structure is similar to an Instagram's shop page and makes customers feel at ease. Another great thing is that all the products are grouped into sections and their photos are tagged. It makes the whole shopping process easier and more enjoyable. 

02 Sweet Dreams
Sweet Dreams is a beautifully done e-commerce website that specializes in CBD and melatonin products. It has both 2D and 3D illustrations and scrolling animation effects. Interactive graphics make this website even more engaging while numerous customer reviews show users the effectiveness of the products.
There are also "Blog" and "About Us" pages which help to earn the user trust as well. Generally, the website looks professional and carefully thought out which is great for small businesses.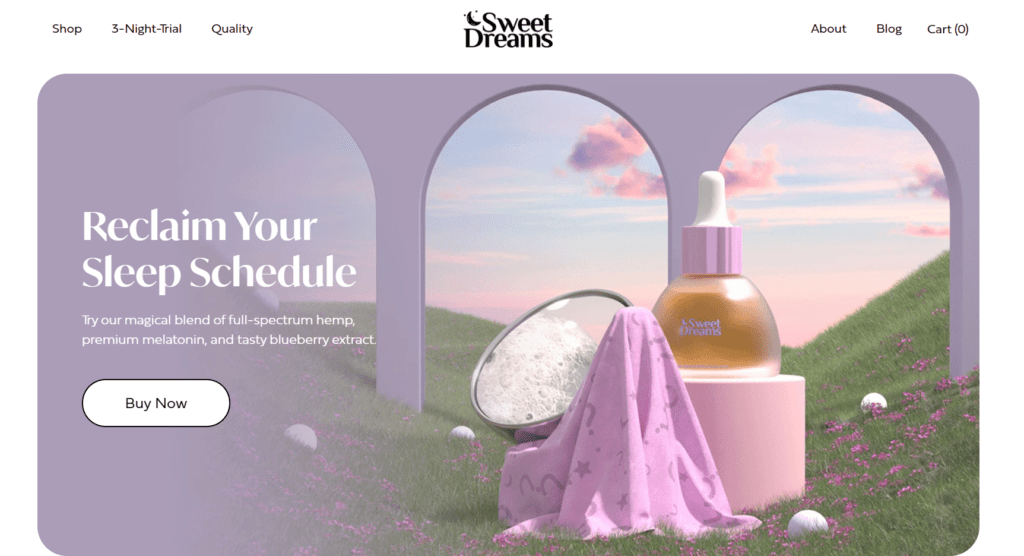 03 Soundstripe
Soundstripe is a website made to simplify the search for licensed music for video projects. It offers tons of songs and powerful search tools that help to find the right music. You can see everything you might need right on their homepage.
There is a library you can browse, some products, their pricing, and a blog. Everything is well-organized, and the variety of music genres is also impressive. This website is definitely user-friendly since you can find whatever you need within just a couple of clicks.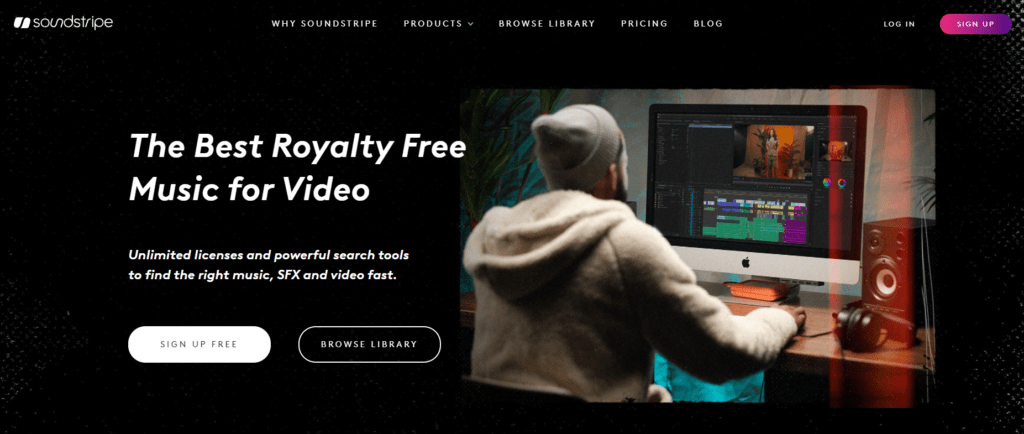 04 Yoga Studio
This website is built with Squarespace. It's a perfect example of minimalist design and soft colors which are a great choice for similar thematics. The navigation here is extremely simple, and you can find everything you need on the homepage.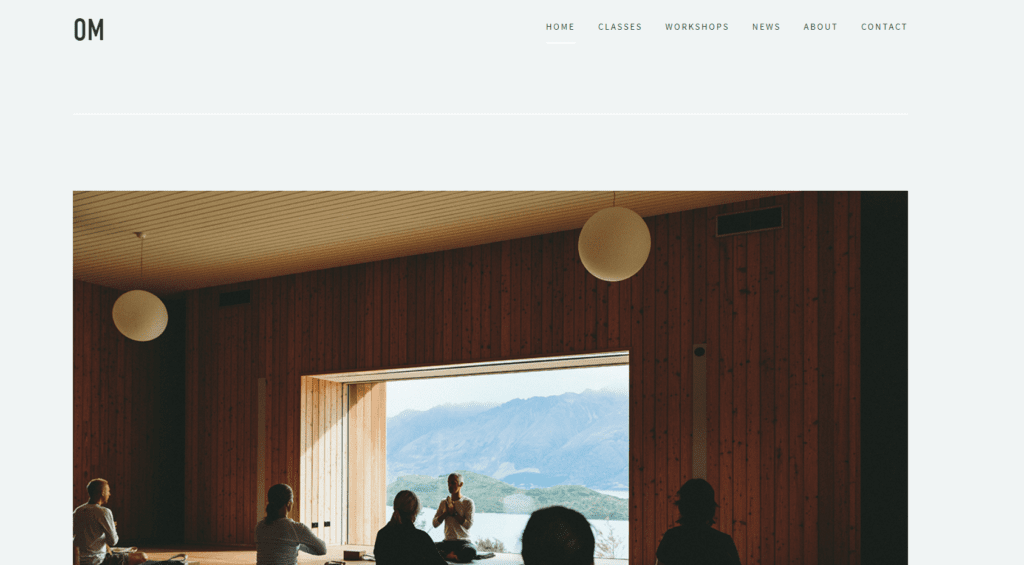 05 Allbirds
Allbirds is a footwear company with their website being just as good as those of some huge companies. It's bright and well-organized and has only high-quality images of the products. Their dropdown menu is simple and user-friendly just as whole navigation throughout the site.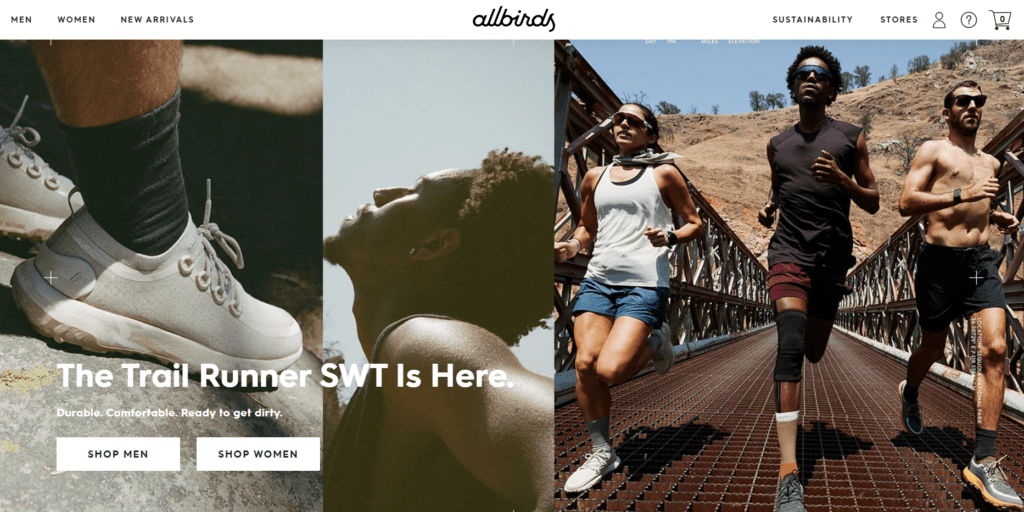 06 Wisr
Wisr is a website for financial services. It's original and not boring at all which makes it very distinctive. You can know more about it while scrolling down and following the path of a simulated marble course. When you close the website, it remembers the page you were on and opens it again next time. It's a smart move since it can influence a conversion in a good way.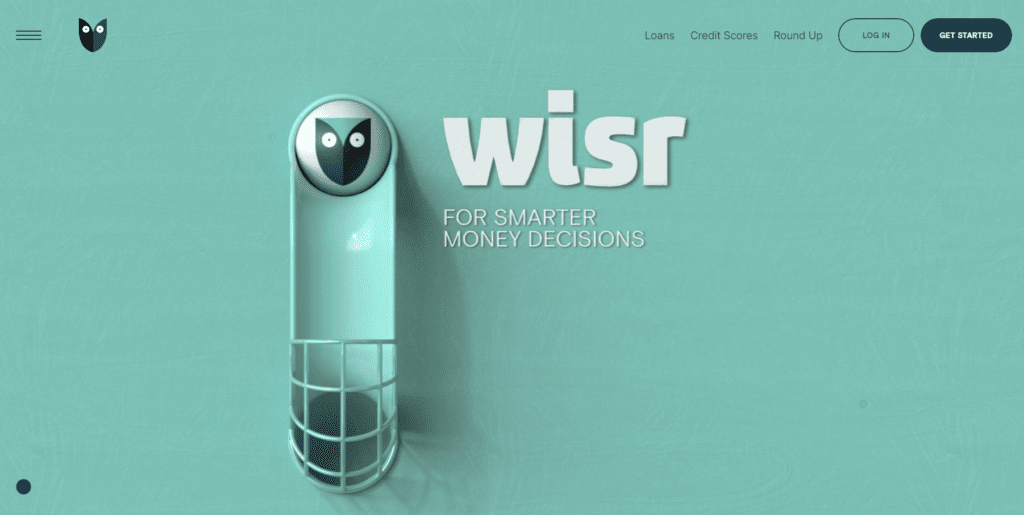 07 Lalaland
Lalaland is an online shop that offers different kinds of products designed by artists. The website clearly reflects the brand's personality with its creamy colors and intriguing images. The background is plain white which only helps to keep the attention on the content. There is also a simple dropdown menu.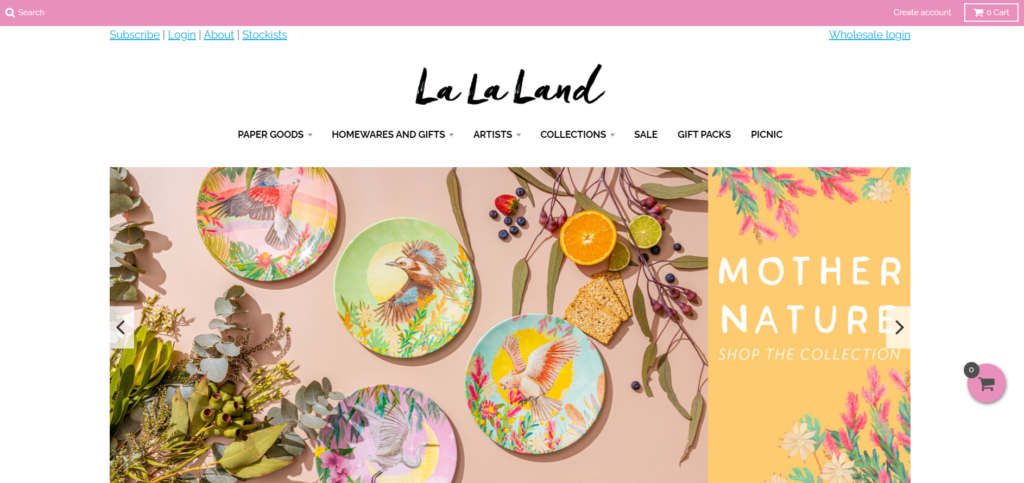 08 Coaching
This website is meant for personal coaching and is another great example of using the Wix builder. It has amazing animation and a simple navigation system. The colors are soothing, and service options with pricing are right there on the homepage as well. There are "Blog", "About", and "Contact" pages, and everything that helps users to learn more and make a decision.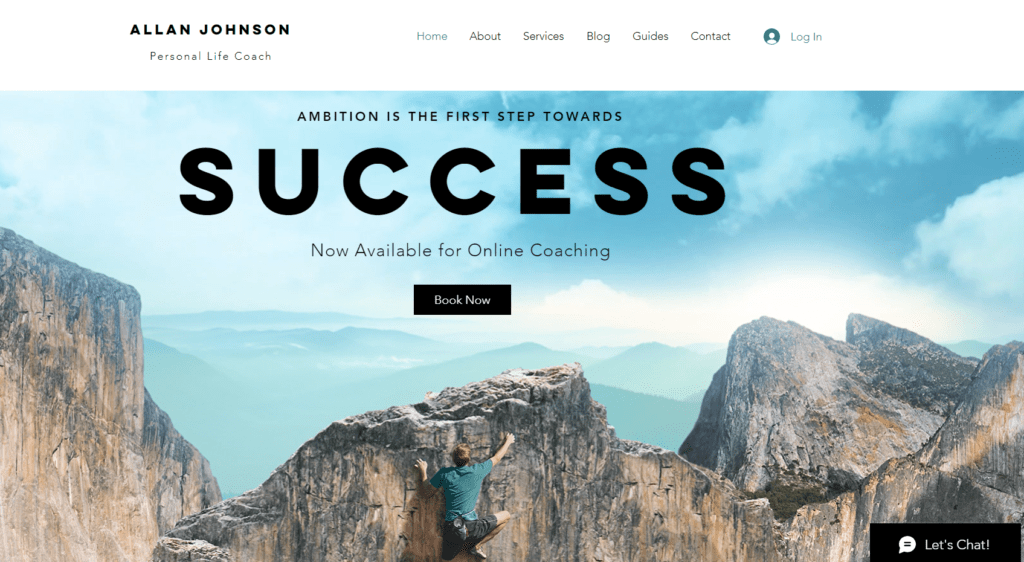 09 Treeland Nursery
Treeland Nursery is a website for a gardening center built with WordPress. It has a unique "Tree Finder Tool" that helps users to find exactly what they need and increases the website conversion. Their layout is simple and it's easy to repeat it while using templates.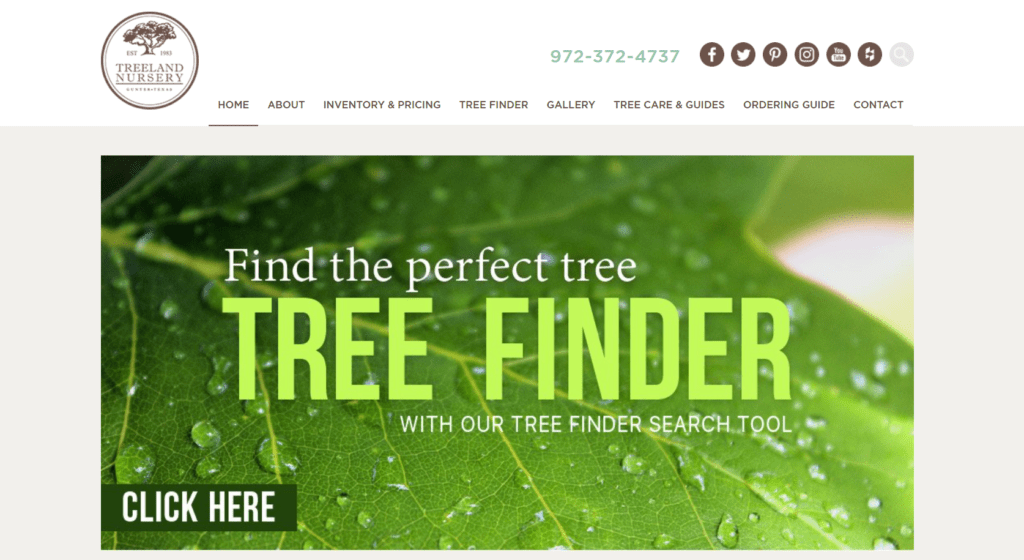 10 Patty & Bun
Patty & Bun immediately greets you with the engaging video cuts on their homepage. Although it can seem a little over-the-top, it's also pretty eye-catching. There is a hidden navigation menu at the top of the right corner and a quick order button on the opposite side. Overall, the website is very artistic and has lots of creative visuals that grab your attention all the time.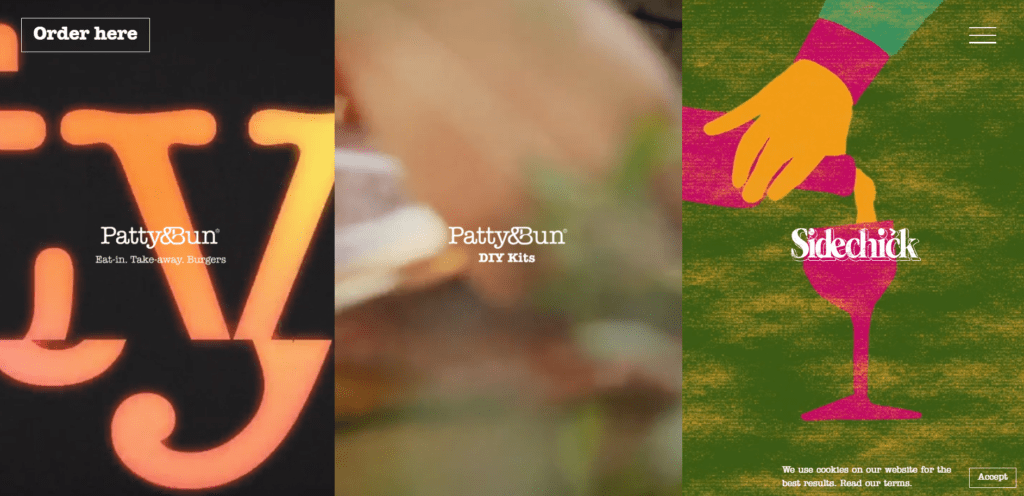 Web design mistakes small businesses should avoid
If you have a small business, you should be careful about your online presence. Everyone makes mistakes, and even though it's not the end of the world, it's always smarter to know the most common mistakes in advance. In that way, you'll be able to avoid them and earn a good reputation. Here's the list of mistakes you should be aware of.
Poor user experience design
Forgetting that your website is meant for people is a huge mistake. If your navigation is confusing, website structure is crude, and buttons are too small, users won't stay long. When they can't easily find what they need, they leave. So, make sure your design is user-friendly beforehand. 
Having too little information isn't a good way to earn users' trust. Give them the answers they want to enhance the conversion and prove you're trustworthy. However, try not to overwhelm them with the content. Putting too much information on your website isn't a good thing either, so strive for balance instead. 
There is nothing wrong with using templates while building websites for small businesses. It's a good choice if you have a limited budget and if you're skilled enough to make it look great. Nevertheless, some templates might not leave the best impression on users in comparison with custom designs. Think twice before deciding what exactly you want to see on your website to not look flimsy. 
While having advertisements on a website is a common thing, it can scare away users when done poorly. Always make sure your advertising banners are placed in the right places to not harm website usability. They shouldn't overlay the site's content as well.
CTAs are important for any website's conversion, so it's vital to make them as clear as possible. You can still get creative with them, just don't overcomplicate. People should know what exactly to expect before clicking a button, so try to avoid vague labels. 
Not mobile-friendly designs
Everyone uses their mobile phones nowadays, and it's only wise to care about making your website mobile-friendly. If people can't navigate through your site, place an order or just read the needed information, you're going to lose a lot. Not only will users promptly leave your website, but you'll also make less profit. 
Creating a website for a small business doesn't mean creating a boring website. If you want to succeed, keep in mind a couple of things.
– Your website should be suitable for your target audience. If it's for professionals – don't make it pink and erratic, and if it's for artists – get creative and don't hold back.
– Always remember about your business goals. Sometimes it's better to make everything simple, and sometimes users won't be impressed without seeing advanced tools and features.
– Don't be afraid to translate your brand's personality and values. There are more than enough similar websites that don't stand out. Do your own thing, focus on your customers and their expectations, and you'll do just fine.
On a final note
Creating a website for a small business is vital in order for its growth and development. Although it can be challenging, it's also very beneficial. This way you can boost your traffic, attract a larger audience, and get recognition. For any e-commerce businesses it's a great possibility to make more sales and significantly increase the profit.
If you're considering creating your own website, decide what it's for in advance and check out our step-by-step guide. Make up a list of your favorite sites for inspiration and don't forget to avoid the most common mistakes. If you have any more questions, feel free to contact us right away. We're always here for you to help.