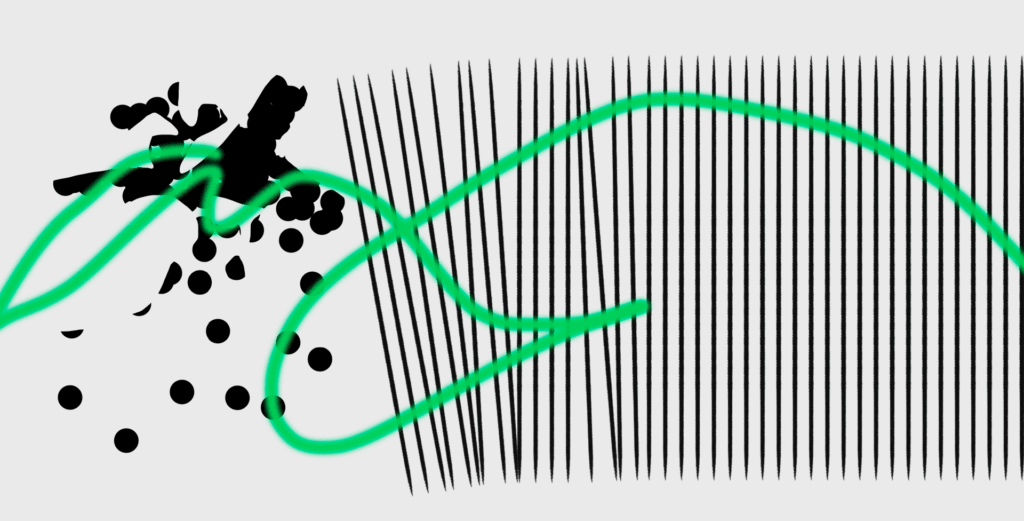 For the past few years, the term "startup" has been actively used in the business environment. And the vogue of such a phenomenon is growing every day. There are many books, sites, and other sources dedicated to startups. So, what does this word stand for? What are its features and peculiarities?
In this article, our startup design agency will try to answer these questions and discover how to make a site for this industry properly and what role corporate web development plays. We will also take a look at the top successful startup examples to inspire you and help you execute a truly catchy project.
Let's start by defining a startup.
What is a startup
The startup is a business structure based on diverse innovations, the purpose of which is to solve a specific problem by providing a new product or service in a context of uncertainty. It means that companies cannot be sure that the products they offer will succeed on the market or among consumers.
Given that, the main feature of a startup is the difficulty of predicting the results of work since the innovative component adds some kind of insecurity and can either bring the business to the level of huge turnovers or make them fail even with considerable investments.
Strategy for creating startups
Even though all startups differ from each other, there are basic principles, the observance of which will ensure their efficient operation. They are the following:
A team of professionals and like-minded people stands behind every prosperous company. It is also worth mentioning that the process of finding specialists who will gladly support a new idea is not that easy. However, the search of candidates should be carried out carefully, no matter how long it may take.
As long as the team is gathered, it is time to discover a problem that, if solved, would significantly improve the life of a particular target audience. Thus, you will have a chance to shortlist unpopular or useless ideas and focus on the most relevant ones.
Once the problem is detected, you should determine how badly people need the solution and check if a key to this issue has already been found. This way, you will make sure that your product or service has no analogs or competitors on the market.
Now, we proceed with the practical step, which implies a search for a problem solution. It may be about introducing new technologies or applying modern approaches in different processes. The main thing is that the identified problem should be effectively solved and bring benefits to the customers.
Bringing the solution to life
Here, we mean numerous processes, such as project creation, search for investors, development of a business strategy as well as preparation of various marketing and promotion campaigns.
All the above-mentioned stages should be thoughtfully studied as the company's growth and success will directly depend on them.
The strategy is a roadmap for moving your business forward, and it indicates what the business is striving for, when the desired results are expected to be achieved, and what steps need to be taken. And now it's time to talk about the web design for startup.
Vital elements of a startup website
A startup site is a tool for reaching the set goals. With its help, companies can loudly declare themselves and encourage users to look at the product or service you offer (and maybe convince them to make a purchase). To make the site work in your favor, you should consider the following aspects:
If the company has its developers, it will probably want to develop the site from scratch since only the platform specifically created for your project will 100% meet the needs and requirements set. However, it is quite expensive, and not all startups will be able to afford it. And here, ready-made platforms (for instance, WordPress or WooCommerce) come to the rescue. These platforms are pretty easy to manage, and they also provide many templates and standard features, which may be quite enough for startups (at least at the beginning). To get more information about how to choose the right platform, read this article.
Work on the website design
When users visit the site for the first time, they usually immediately understand whether they will continue interacting with the resource or not. Besides the attractiveness, which can catch the eye of clients, there is a great need to make sure that all pages and site elements are consistent in their style. In this way, the brand has a chance to fully immerse potential customers in its ecosystem, thus motivating them to take a target action. The usability of the website should also be taken into account. And here we are speaking about the visitors' convenience in staying on the site and the absence of difficulties while navigating it. To explore the latest web design trends, check out this article.
Do not forget about responsiveness
There is no secret that the number of people who surf the Internet via gadgets prevails over those who do it via laptops. Therefore, it is essential to ensure that all site pages, images, and other elements are displayed correctly on different devices, regardless of their size and shape. At the same time, when it comes to functionality, users also should not experience any challenges or troubles. Remember, developing a mobile version of the website will allow you to get more potential customers. To learn more about why it is crucial to adapt the resource, you can study another article.
There is a set of pages, without which it may become hard to increase conversion rates and make the users stay on the resource:
The homepage is the face of the brand, and, as a rule, users instantly get to it. And, after a quick acquaintance with the site, they decide whether to work with the company or leave it. In addition, this page performs an informational function — it tells website visitors where they are, what the structure of the site is, and how to find the information they are interested in. As for startups, this page should demonstrate what issue it deals with and what solutions they offer (since this is the most relevant matter for visitors).
Market newcomers know for sure how tough it is to win the audience's trust, especially if the company offers something extraordinary or revolutionary. Building trust is not a fast process, but it's important to get it right from the start. Here, we recommend you to place all the information that can make a good impression on the visitors towards your product, technology, and the brand itself:
Certificates, testimonials, diplomas, and patents will show your expertise.

Photos of the team members will make your company alive in the eyes of the clients.

The

brand history and achievements will tell users what you have already done and what projects you are working on. It is strongly advisable to avoid cliches since they tend to sound too impersonal.

Contact Us page
An opportunity to contact the company does not just propose users diverse channels of communication but also indicates that the business is real, and therefore, trustworthy. And for startups, this aspect is simply vital. Furthermore, it is not enough to leave a single phone number, but the contact page should include as much data as possible so that potential clients have a chance to reach you in a way that is convenient for them. Therefore, it is desirable to provide the following information:
An email address;

The physical address of the office (or offices, if there are several);

Working hours;

Links to

social media networks

in which the company is presented.
To find out more about the correct development of such elements, you may read this article, which will be of much help.
These and many other components will allow your company not only to take care of the convenience of site users but also to ensure the prosperity of the startup itself.
Top examples
To inspire you to create an unforgettable startup site, we have prepared the top 5 examples that are meant to show how proper work on the website design may help to succeed:
01 FRND
We know what role people's opinion plays in the modern world. Thanks to them, the company can either dramatically increase the number of clients or lose them all in no time. FRND is an iOS application with gamification elements. Here, people record reviews on diverse beauty products, clothing, and other goods. And if viewers, based on reviews, make a purchase, then reviewers acquire a percentage of the sales. Accordingly, the better the reviews are, the higher ranks people get, and more opportunities to earn money appear.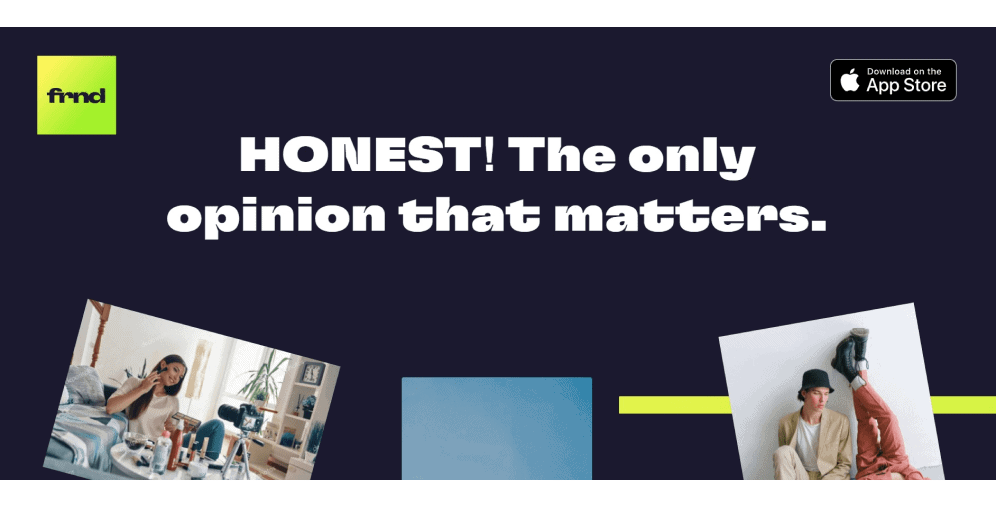 02 RCAD
As of today, companies shouldn't underestimate the importance of a virtual representation of a business on the Internet. It is particularly essential and helpful in such areas as architecture and construction, as long as it seems that the time when drawings and plans were made exclusively on paper has long passed. And RCAD certainly knows how to help its clients effectively and accurately render drafts and schemes in dynamic and most realistic models with VR elements. Looks like a real technology of the future, doesn't it?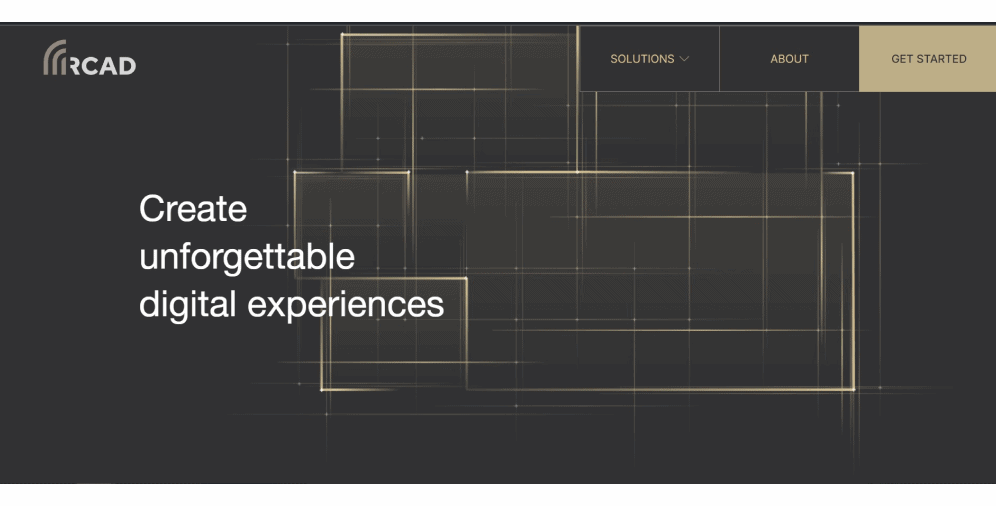 03 FLUX
Not everyone can afford to buy a new quality car, and an option of car-sharing doesn't seem to be truly attractive since once you finish the trip, the car will be almost immediately hired by someone else. To provide people with a chance to drive premium class cars without the need to pay a fortune, FLUX has developed a corresponding car subscription service. Moreover, they offer different functions that drivers may find appealing and convenient, such as insurance, concierge services, and many others.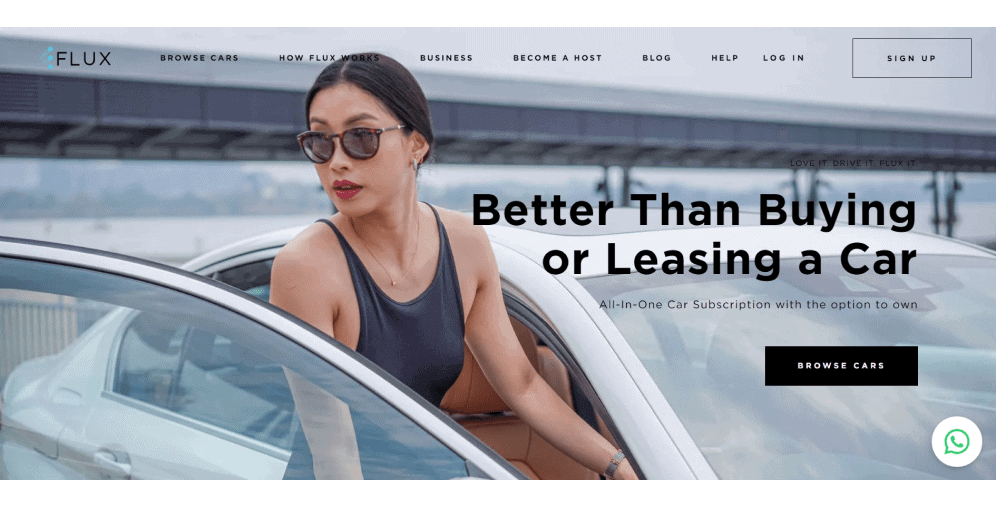 04 Javari
One of the most popular ways of spending time while traveling, tidying up, or just relaxing is listening to music. However, sometimes it might be hard to choose the melody, as there are too many options. And the founders of Javari are totally aware of that. That's why they created such a music platform, which helps to find tracks according to genres, artists as well as listeners' tastes, and preferences. Furthermore, right now, the company is working on its mobile version, which is just great.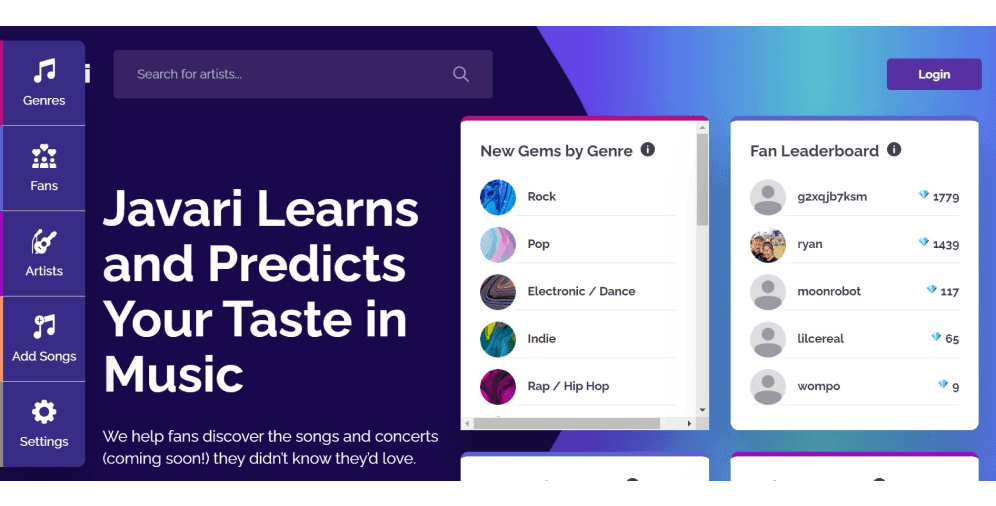 05 Thespie
The situation with the pandemic and the forced lockdown deprived many entertainment lovers of a chance to enjoy viewing numerous shows, concerts, and plays. Therefore, they were so grateful when a cross-media platform Thespie was developed. Here, users are offered various exhibitions, live streams, and other performances, that can immerse them in the world of art without any need to go outside, stand in the long queues for tickets, and return home. How delightful and convenient it sounds, right?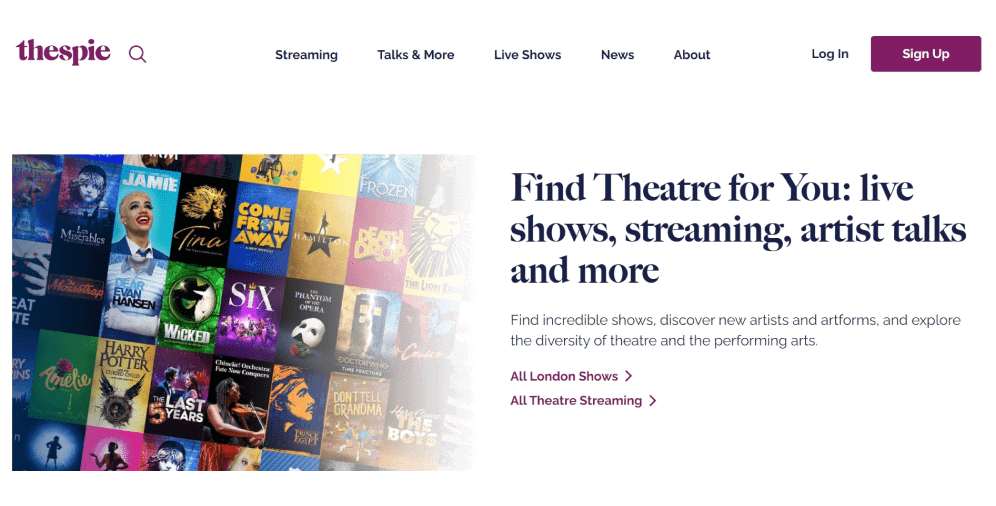 The examples of startup websites show how fresh and effective new ideas may be presented both in terms of web design and web development. And it proves that these processes cannot be neglected as long as they make a substantial contribution to the company's success and growth.
On a final note
Based on the foregoing, we can state that a startup is a project whose main goal is to improve the quality of people's lives. It is the idea that acts as a driving force, not the desire to earn more money. That is why startup and all the elements designed to make it work require the maximum effort and attention of the creators.
In this article, we found out how to properly build a startup, what elements should be included in the website, and explored the examples of the website design, which enabled companies to stand out from the competitors. We believe that the information provided sufficed. However, if you still have any questions or you would like to get some practical assistance, please, contact Ester Digital. We are always here for you.